A Deloitte survey found that 80% of employees valued diversity and inclusion when making employment decisions. With inclusion, employee satisfaction, and morale will increase. As a result, you'll be better able to meet the needs of your clients and consumers.
Still, many companies fail to align their corporate goals with inclusivity best practices.
We've compiled a list of the 10 best ways to ensure all of your employees (regardless of their age, ethnicity, gender identity, religion, ability, or sexual orientation) may reach their full potential.
Top 10 Workplace Inclusion Tips Summary
Use a Bias-free Job Description Software
Evaluate and Train Your Executive Team
Talk About Gender Pay Inequality
Create Multilingual Teams
Make a Wheelchair-friendly Workplace Environment
Develop a Multigenerational Workforce
Communicate Inclusive Workplace Policies And Measure Progress
Create Accessible Technology
Use independent groups to conduct focus groups
Personalize one-on-one discussions
Bonus Tip: Choose Your Words Carefully
Now, let's get into the top 10 diversity and inclusion tips for the workplace.
1. Use a Bias-free Job Description Software
Are you afraid your job descriptions are seen as biased or ignorant? If you're not getting a decent amount of applicants when you post your roles, it might be because of biased language. A great way to avoid this is by using job description software.
Ongig's Text Analyzer is a great place to start if you want to be more inclusive. This software helps you make informed job postings, free of any racial, gender, or other types of bias, allowing you to attract more diverse talent.
This opens up exciting possibilities for recruiting excellent employees and increasing the range of your team's abilities.
Using biased language often discourages women and other underrepresented groups from applying to work for your company. Ongig highlights potentially biased words and phrases in your job postings and flags these terms along with any racial, ethnic, sexual, religious, or disability-related offensive language. Once the terms are flagged, it offers up more inclusive replacements, so you can easily click to replace.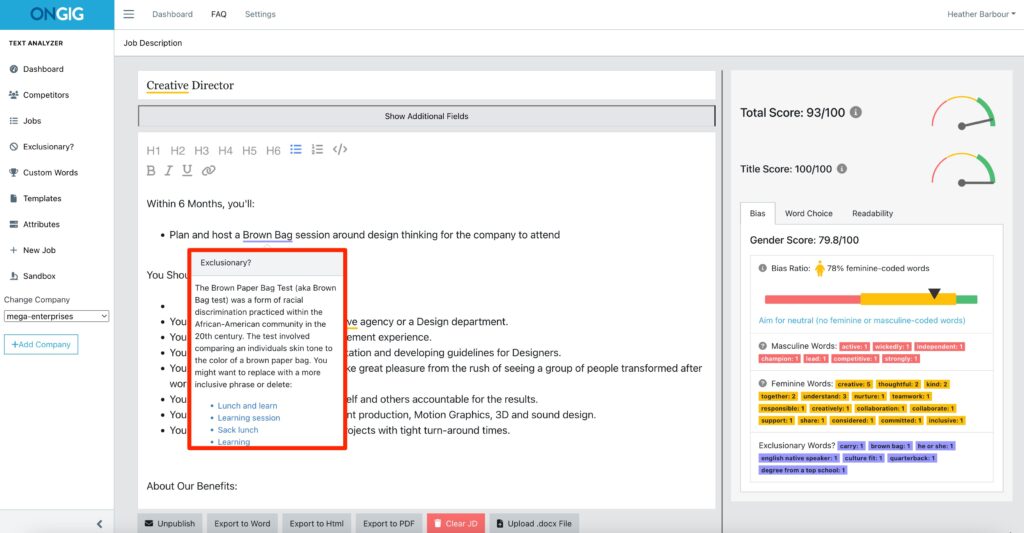 Ongig also:
Scores your job ads for readability and highlights potentially off-putting features, like lengthy lists of criteria, extra-long sentences, and complex words or industry jargon.
Uses Artificial intelligence (AI) to identify poorly formatted sections. Some job seekers may avoid applying if you don't include information on compensation, benefits, and a commitment to diversity. To assist you in maintaining consistency, Ongig flags any missing sections.
Helps you make custom job description templates. You can quickly and easily publish several job postings using the pre-made templates. Using this method is highly effective for posting jobs at scale.
2. Evaluate and Train your Executive Team
Each member of your executive team sends a powerful message to the rest of your staff, your clients, business associates, and other stakeholders. The company's upper management reflects the culture of the entire organization.
For this reason, building inclusive leadership is crucial. This includes diverse ethnicity, gender, and sexual orientation, among others. Ask yourself whether all people are equally represented. Does your management team include people from different backgrounds?
You may have little say over the people in the C-suite, but you should still make your case for diversity and inclusion if you can. You could help your company attract a more diverse workforce by encouraging its executives to interact with their staff openly and honestly.
How you build your organization's executive team tells you a lot about its commitment to diversity and inclusion. Even if a company's executive team is difficult to influence, inclusion and diversity training can help.
Try offering certification programs for diversity and inclusion to your C-suite and executive workers.
This will allow them to have more genuine interactions with their coworkers. If potential employees see that the leadership team is welcoming of all backgrounds, it will increase the chances that they'll want to work for the company.
3. Talk About Gender Pay Inequality
Do you want to create a trusting and open environment where everyone can feel welcome? Prepare to discuss the possibility of gender-based pay gaps and share some of the company's compensation statistics.
Many organizations face heated debates over the issue of the gender wage gap. When a company is open and honest about its policies and how they communicate them, they foster trust and belonging among employees.
When there is a pay gap between genders, it's vital that employees feel safe voicing their concerns.
Also, be sure to explain in detail the plan that's in place or plans to implement to close the gap. That way, they'll know the organization is serious about addressing the gender pay gap.
It's essential that your organization does not come off as defensive when giving company statistics related to its policies. Be transparent with employees if you have skewed data due to reasons beyond your control, like maternity leave versus untaken paternity leave.
4. Create Multilingual Teams
Can you see yourself in a workplace where everyone speaks in a language that's not your own?
Consider language difficulties and individual preferences if you want people to feel welcome and appreciated.
A common issue is when corporations employ diverse teams of people from different nations who all speak a different language. And they invite all of those groups to a digital event.
When this happens, in what language should the person introducing the event speak? What language will the CEO use to make their speech? The best global businesses know to provide translation services to ensure all employees may communicate effectively and feel welcome.
But it's just as crucial at smaller businesses to make sure employees may speak to one another in any language they like, especially in common work areas and during authorized events.
To achieve a multilingual workforce in the long run, it may be necessary to create employee resource groups (ERGs) and provide workers with resources to study foreign languages. This investment pays off over time, even if the initial cost seems high.
Many high-level executives have difficulty empathizing with those who speak English as a second language, for example. Put yourself in a situation where you have to go to work every day with coworkers who all speak a language that is not your own.
All of your staff members should feel secure and at ease when talking to one another. Instead of disregarding someone because they can't speak English, try giving them equal opportunity to do so in their first language.
5. Make a Wheelchair-friendly Workplace Environment
Make sure the shared spaces of your office, like the kitchen and restrooms are accessible to those using wheelchairs so you can have a more diverse and inclusive workplace culture.
Even if your facility is ADA-compliant, it's easy to cram corridors and corners, especially in older offices with uneven flooring or small steps.
Tour the entire building, and if possible, use a wheelchair to get around the workplace. This will help you gain different perspectives and see if there are any obstacles for someone who uses a wheelchair. By doing this, you can locate potential accessibility issues and improve the usability of your office for everyone.
If you are a remote company, consider assisting those who do their jobs from home. Do this by suggesting they conduct a safety and ergonomics evaluation of their office space. Make a plan to ensure they have access to the resources they need.
6. Develop a Multigenerational Workforce
The majority of today's workforce consists of millennials. According to Deloitte, over 80% of millennials are more invested in their work when their company offers an inclusive workplace culture.
Developing an inclusive and diverse workforce requires team members who can identify and work with people from different generations.
Although millennials are often stereotyped as technologically sophisticated, it's important to remember that this generation began in 1981. Older millennials are usually not as digitally savvy as their younger peers.
Practices in communication provide an example of this in action. Some workers feel more at ease communicating through social media or group chat features. But, employees of older generations may be less likely to enjoy these methods of communication.
To effectively reach all generations and increase employee engagement, communicators should use a workforce communications platform. This should allow them to quickly and easily generate and distribute messages using employees' chosen media.
7. Communicate Inclusive Workplace Policies and Measure Progress
Having policies in place that welcome diverse employees isn't enough. You must make your expectations clear to your staff.
If an employee experiences any form of prejudice, they should feel comfortable approaching a manager about it. And managers should have an open mind by not jumping to conclusions and ensuring workers are comfortable opening up.
You can do several things to create an open line of communication around inclusion issues. You can improve the experience of working for your company by routinely getting feedback from employees.
You can also use diversity panels to guarantee that the company meets inclusion goals. Having representatives from different fields on the panel keeps things open and honest for everyone involved.
Not everyone feels safe raising their voice to end harassment at work. The diversity panel's input is crucial to the company's continuous efforts to eliminate bias in the workplace.
8. Create Accessible Technology
The International Labour Organization recently released a paper highlighting the dangers of artificial intelligence in repeating biases. This is bound to happen if the data gathered and recognized does not appropriately include people with disabilities.
The Diversity, Equity, and Inclusion Forum also demonstrates awareness of potential biases and encourages action against them when using technology-enabled tools during hiring procedures.
The public and business sectors can contribute to the early integration of inclusion. For instance, the Partnership on Employment & Accessible Technology offers recommendations on how 4IR technologies, including artificial intelligence (AI), autonomous vehicles, and extended/virtual reality devices, should include people with disabilities.
Tim Christensen, CEO of SocialChorus, suggests that when it comes to technology, businesses should think about the needs of all employees when considering implementing a new digital tool.
Remember, most employees need easy access to the most current computer programs or technological advancements that office workers take for granted.
9. Use independent groups to conduct focus groups
When a company is transitioning through its many growth stages, outsourcing is a great approach to support it. Several of the biggest businesses in the world contract independent groups to create an inclusive culture at work. Striking a healthy balance between internal team members and running successful focus groups is crucial to maintain consistent growth and productivity.
Focus groups are valuable for gathering qualitative data and learning more about people through diversity training. Employees may feel more at ease communicating openly with an external facilitator, and the external organization will keep a neutral stance.
Focus groups are another method for learning more about employees' concerns and potential sources of irritation and burnout. Employees should speak freely in these groups when an outside organization mediates them. Reputable diversity and inclusion experts who don't have a stake in the outcome can create a safe space for healthier employee engagement.
10. Personalize one-on-one Discussions
Figuring out what employees' top priorities are can be done effectively through a one-on-one conversation with their manager.
But, for these discussions to be fruitful, the manager must have an open-door policy and adopt a "tell me anything" attitude. When managers are tired, stressed, or facing a big challenge, one approach to demonstrate their reliability is by communicating their difficulties. It reflects their humanity, allowing workers to feel comfortable speaking their minds openly and honestly.
Managers and leaders, in general, can create an inclusive culture using authentic executive communications.
Bonus Tip: Choose Your Words Carefully
In a perfect world, all leaders would be skilled at understanding how to communicate with their staff members. One of the biggest overlooked reasons for employees feeling valued, or undervalued, is the way that they're spoken to by management.
That said, do you make your employees feel equal when you communicate with them? Depending on the context, words can carry a great deal of weight. Consider the impact of your words carefully and use inclusive language instead.
It's essential to watch your language at all times if you want a diverse and inclusive work environment. This will help you prevent hurting anyone's feelings. And you should strictly prohibit using sexist or racist humor in the workplace.
This way, all employees will understand the importance of inclusion and respecting each other's distinct opinions and diverse backgrounds.
Why I Wrote This:
Ongig's mission is to help you create an inclusive and effective recruitment process using tools like our Text Analyzer. Our software guides you through writing unbiased and gender-neutral job descriptions with a few clicks. So why not test it out for yourself and schedule a demo with us?
Shout-Outs: