Hiring former felons might be at the bottom of your list as a recruiter. But consider that 1 in 3 Americans has a criminal record. So you'll likely find yourself screening and interviewing them.
Plus, California and New York have Fair Chance Hiring laws prohibiting employers from asking about the criminal record of candidates before making a job offer:
California's Fair Chance Act
Also known as the "Ban the Box" law went into effect in January 2018. This law prohibits employers from asking about candidates' conviction history before making a job offer. It's part of the Fair Employment and Housing Act (FEHA), California's employment anti-discrimination statute (source: California Civil Rights).
Candidates and employees denied employment (and terminated) for their criminal histories can claim damages under FEHA. Violations include actual damages, punitive damages, and statutory penalties of up to $25,000. And, candidates can also ask the employer to recover attorney fees and court expenses incurred during the lawsuit. (source: Astenehe Law)
New York City's Fair Chance Act
It's illegal for New York employers to ask job seekers about their criminal records before extending a job offer. Job ads, application forms, and interview questions cannot include questions about the person's criminal record, so applicants are evaluated based on their skills and qualifications (source: City of New York).
Civil penalties for violating NY's Fair Chance Act range between $125,000 and 250,000, plus compensatory damages, punitive damages, and attorney's fees (source: Seyfarth).
With this in mind, here are 3 best practices to help attract former felons and keep yourself out of a lawsuit:
1. Write inclusive job postings
The words and phrases you use in your job postings are critical in attracting candidates. So if you want to attract and employ "fair chance" citizens, using inclusive language is the key.
Use a tool like Ongig's Text Analyzer to avoid biases in your job postings. It detects language that former felons might find offensive, like "felons," "convicted," "ex-offenders," "no convicted felons," or "criminal background check."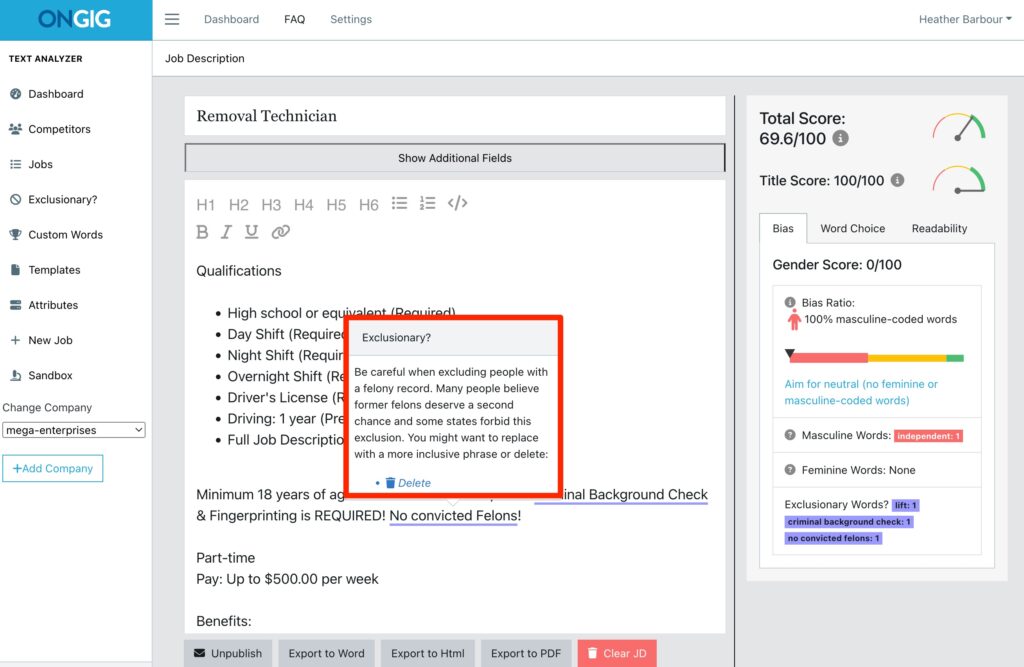 Also try using inclusive phrases like:
fresh start
fresh start employment
will consider for employment qualified applicants with arrest and conviction records
we consider second-chance candidates
we hire former felons
people with a felony record will be considered
2. Show support for "fair chance hiring" in your job postings
Encourage former felons to apply for your company by saying in your EEO statement that you welcome former felon applicants. Or create a dedicated section to your fair chance hiring statement. Here are 2 examples of companies with statements supporting fair chance hiring for formerly incarcerated individuals:
FedEx Fair Chance Hiring EEO Statement
"FedEx Express is an AA/EEO/Veterans/Disabled Employer. Pursuant to the San Francisco Fair Chance Ordinance, FedEx Express will consider for employment qualified applicants with arrest and conviction records."
Indeed Fair Chance Hiring Statement
"We value diverse experiences, including those who have had prior contact with the criminal legal system. We are committed to providing individuals with criminal records, including formerly incarcerated individuals and individuals with arrest or conviction records, a fair chance at employment. We also comply with state and local requirements such as the San Francisco Fair Chance Ordinance."
3. Use platforms that support Fair Chance Hiring
You can also reach out to formerly-convicted applicants via platforms that support Fair Chance Hiring. Here are 5 examples:
The most popular social media network for professionals (and employers) has a "Fair Chance Employer" filter for job ads. The purpose is to help candidates with a felony history find employers willing to hire them.
The filter is available in the job search drop-down listing. To ensure privacy, people who use this filter will not have the settings tied to their LinkedIn accounts.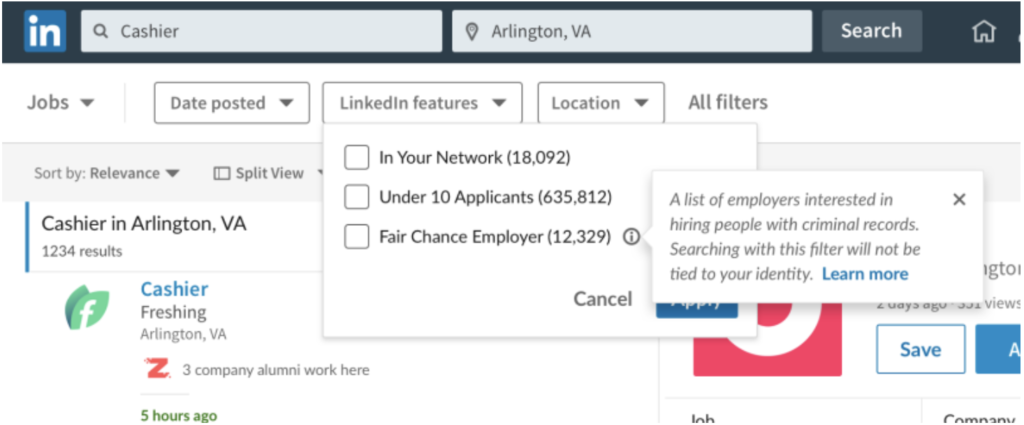 If you want to be part of the Fair Chance employer listing on LinkedIn, you can sign the Second Chance Business Coalition pledge.
Launched in 2018, Honest Jobs is the leading national job marketplace for formerly incarcerated candidates. The portal partners with 1,000+ companies that offer fair-chance employment while reducing the risks of negligent hiring at scale.
Here are some of the site features:
Accessible to job seekers on tablets inside prisons and jails across the U.S., with a reach of 5M + re-entering the workforce yearly
Established partnerships with States, Department of Corrections, Parole, and Probation to help connect applicants with job opportunities fast
Some of the most popular brands around the world use the platform to hire fair chance employees: Amazon, Nestle, Coca-Cola, Pepsico, Koch Industries, Wayfair, Hot Topic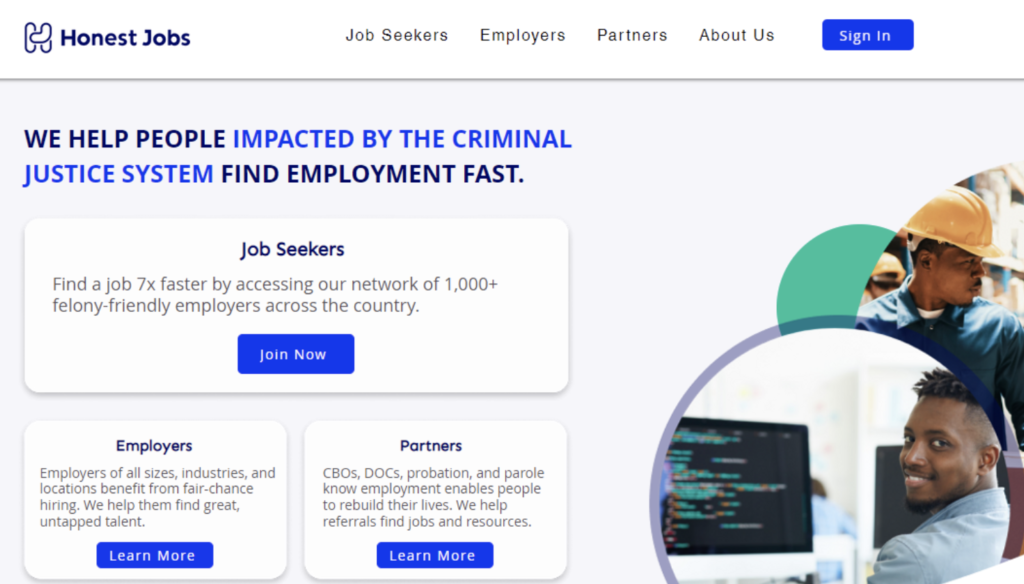 This company is a fair-chance (aka second-chance) employer, offering full-time employees medical, dental, vision, life insurance, 401(k), and PTO.
This job board claims they're the #1 source on the internet for jobs for former felons. They provide the most accurate list of companies that support fair chance hiring. And, they also list the best industries for justice-involved individuals, FAQs about jobs and background checks, and resources for former felons interested in improving their skill sets (or becoming self-employed).
This website published a huge list of employers hiring former felons. These employers have pledged to be fair when employing, training, and promoting qualified candidates with past criminal backgrounds.
The companies listed offer jobs in the tech, trucking, hotel, warehouse, retail, cleaning, cooking, professional, and healthcare industries.
This Colorado-based company aims to alleviate recidivism, elevate public safety, and provide more jobs by hiring justice-involved people in the U.S.
Why I wrote this:
If you're serious about DEI and employee retention commitments, consider adopting fair chance hiring practices. And a great place to start is by writing inclusive job descriptions. Ongig helps create inclusive JDs by flagging words and phrases that turn off former felons.