On July 13, 2021, brands like Airbnb, AT&T, HPE, Walmart & Walgreens announced they made the 2021 Best Place to Work for disability inclusion list.
This made me think…
What is this list?
How do you get on it?
Is there a fee?
How many companies made it?
Can I learn something to help companies who want to make the 2022 list? Or improve their disability awareness programs?
I did some digging for answers, and I started by reading the 2021 Disability Equality Index (DEI) report. Here are 7 things I learned:
1. Brands are chosen through the Disability Equality Index benchmarking tool
The DEI is a tool that the American Association of People with Disabilities (AAPD) and global disability inclusion network, Disability:IN use to help co.s build measurable disability inclusion roadmaps.
Who's eligible? Fortune 1000 companies and Am Law 200 law firms. Companies that participate are scored based on "self-reported inclusion practices, policies, and hiring commitment for people with disabilities during 2020."
Investing more in the criteria below gets you higher scores:
Culture and Leadership
Enterprise-wide Access
Employment Practices (e.g. Benefits, Recruitment, Employment, Education, Retention & Advancement, Accommodations)
Community Engagement
Supplier Diversity
Non-U.S. Operations
Note: There is a $600 processing fee to participate in the Disability Equality Index. The fee covers admin costs for the AAPD & Disability:IN and supports disability awareness programs.
2. 85% of co.s made the "Best Place to Work for Disability Inclusion" list
319 companies submitted their disability inclusion details. Out of the 319, 272 brands scored 80% and above on the 2021 Disability Equality Index (DEI). Scoring 80+ out of 100 means you make the list.
Here are the 191 companies that scored 100%: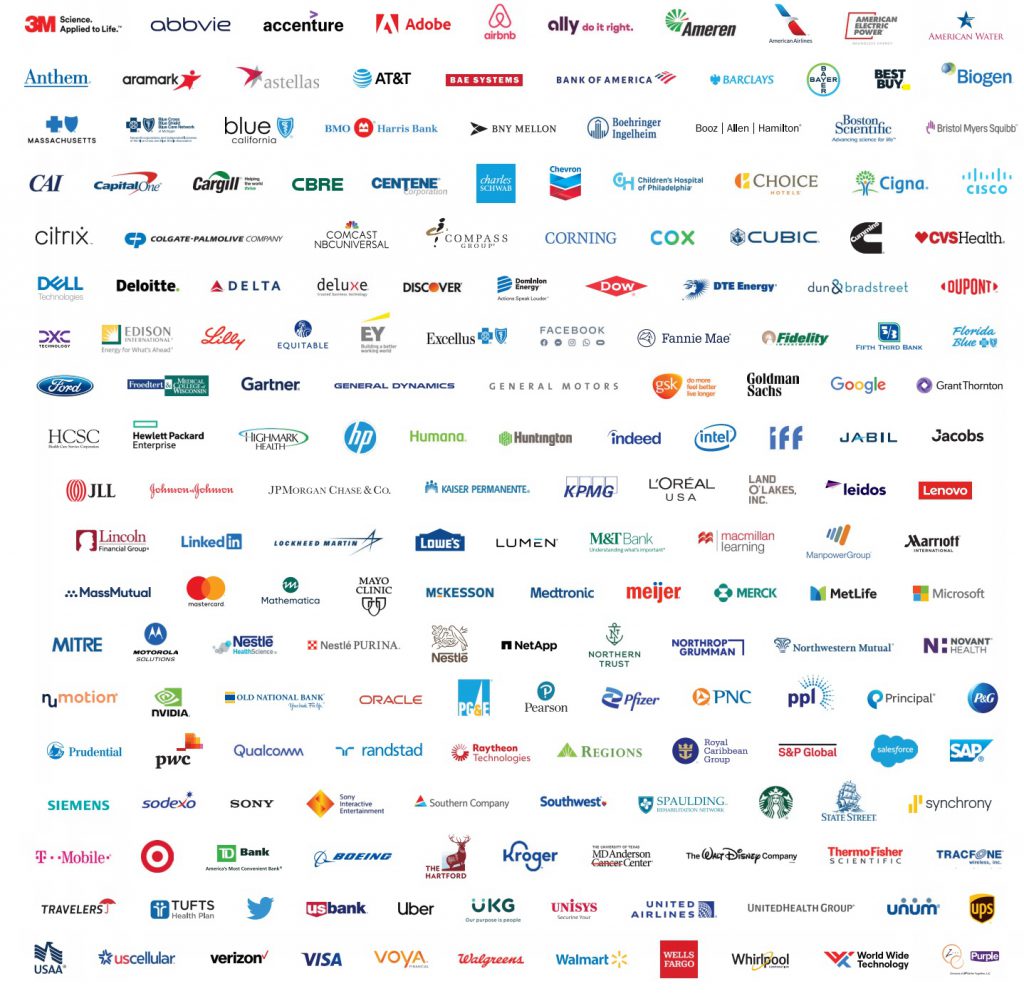 Note from the Disability Equality Index:
"A score of 100 does not mean to convey "perfection." AAPD and Disability:IN recognize there is no single best way to practice inclusion, and that some practices may be more effective for some companies or industries than others. A score of 100 on the DEI simply means that a company adheres to many of the numerous leading disability inclusion practices featured in the DEI, but there's still room for improvement."
3. 5 Examples of disability awareness programs Accenture, EY, Merck, L'oreal [+ others] are running
The Disability Awareness Index report highlighted brands with disability awareness programs, too. Here are 5 that sound really cool:
Accenture
Accenture's "Abilities Unleashed" is a (1st of its kind) global leadership development program for people with disabilities and advocates.
EY
EY's "Neurodiversity@Work" creates opportunities for autistic candidates and employers. The program:
"provides guidance on communicating effectively with autistic colleagues and sharing internal and community tools, resources and supports for EY families impacted by autism."
Fun fact: EY also has 80 neurodiverse employees across the U.S. and held 10+ Neurodiversity@Work and @Home events in 2020.
L'Oreal
L'Oreal piloted a "Diversity Fellowship Program" to attract and engage with students from underrepresented groups, including people with disabilities (& people of color, veterans, and LGBTQ).
Merck
Merk's Universal Design program creates accessible office spaces to ensure that all Merck employees can "comfortably and safely access their workplace."
Raytheon Technologies
Raytheon's #iCount Self-Identification campaign uses employee testimonial videos, blogs, and emails from leaders to show their commitment to disability inclusion in the workplace. The campaign says:
"whether or not you have a disability, your choice to disclose a disability status says, "I count." It also sends the message to others that they count, too."
4. Only 10% of Senior Executives Have a Disability
Another metric that caught my attention is the lack of leaders with a disability. The DEI found that:
83% of companies have external recruiting efforts geared towards people with disabilities, and 96% of disability ERGs have a senior executive sponsor…but only 10% have a senior executive who identifies as a person with a disability.
Check out my blog 5 Ways to Hire for Diversity in Leadership for some tips on how to increase C-suite diversity.
5. 86% of brands focused more on disability employee resource groups than hiring goals
86% of companies that took part in the DEI have an employee resource group for people with disabilities. But, I also read that 32% don't have company-wide goals for hiring people with disabilities.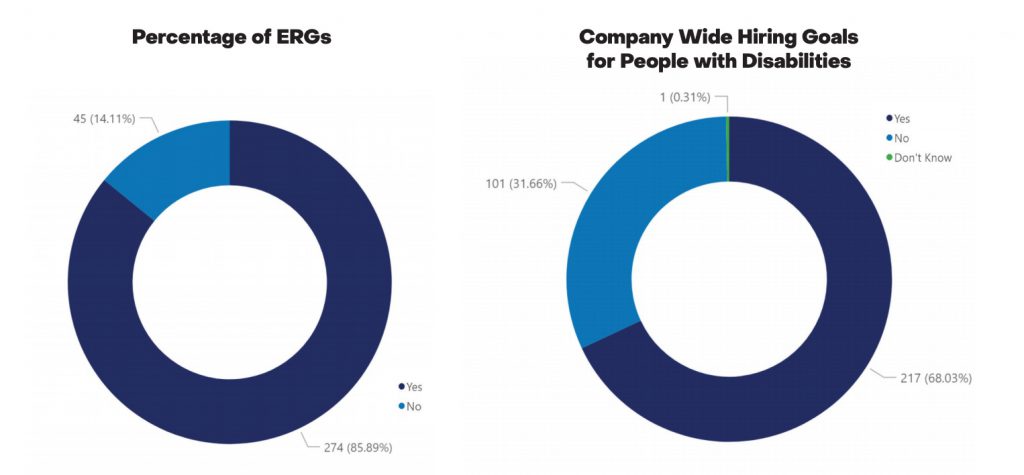 ERGs are great. Having solid diversity goals for people with disabilities is a good idea too. And…it's better to have both! You can get some ideas for diversity goals (disability-related and beyond) here: 25+ Examples of Awesome Diversity Goals.
6. 29% more companies took part in the 2021 Disability Equality Index
29% more companies participated in 2021 compared to 2020. Out of 319 co.s, 67 are Fortune 100 companies compared to 59 in 2020 (a 17% increase).
Here's what some CEOs (and other company heads) said about their DEI experience:
"To make progress in disability inclusion, companies must treat it as a business priority with goals, plans, measurement and accountability. The Disability Equality Index is critical to measuring progress, and in connecting business leaders to best practices and each other as we strive to advance disability inclusion and equality. It has never been more urgent for business to lead change on disability inclusion—and we can only succeed in making progress if we work together."

— Julie Sweet, President & CEO, Accenture
"The Disability Equality Index shines a spotlight on companies that believe they have a stake in creating a more equitable society for people with disabilities. It is a conduit for our work championing disability rights for the 60 million Americans with disabilities and knocking down barriers to employment, technology and healthcare, and we're thrilled to see the progress being made today."

— Maria Town, President & CEO, AAPD
"We are honored to be recognized as a top scoring company on the Disability Equality Index, and our hope is that this recognition will inspire other companies to identify, challenge, and remove the barriers that exclude and discriminate against individuals. Our work is far from over – we will continue to identify ways to create a more accessible, welcoming, and inclusive environment in our stores."

— Dennis Brockman, Senior Vice President, Global Chief Inclusion and
Diversity Officer, Starbucks
7. Registration is open for the 2022 DEI
If you want to show off or work on your disability inclusion details, you've still got time. Here's the 2022 Disability Inclusion Index timeline:
Registration:
July 13, 2021: DEI Registration opens
January 28, 2022: DEI Registration closes
Don't forget, there is a $600 fee to participate.
Submissions:
January 31, 2022: Registered companies start receiving access to the benchmark
April 8, 2022: Final company benchmark responses due
June 2022: DEI benchmark scores finalized
Announcements:
July 20, 2022: Top-scoring companies (score of 80 or above) announced and DEI Report available
Note: Disability:In's FAQ page can help answer your questions about joining in! Or you can email info@disabilityequalityindex.org.
More on the Disability Equality Index
Read the full report (and get a list of companies that made Best Places to Work for disability inclusion) here. There are lots of other disability awareness stats that might be useful too!
Why I wrote this?
Ongig's mission supports disability inclusion in the workplace. This starts with using inclusive language in your job postings…and we're happy to show you some examples. Just click the demo request button to learn more about Text Analyzer!