Career site job search is vital. Did you know that some candidates leave your company career site if there is no job search at all?
And if you have a career site job search already, it better be good.
Tech-savvy candidates want the job search experience to be as quick and relevant as the searches the make just about every day on Google.com, Amazon.com, Netflix.com, etc.
The more friction (clicks!) you remove between the candidate and their desire to look at your job opportunities, the better.
Note: Ping me at rob@ongig.com if you have any questions on the job search technologies used below,  Ongig offers career site job search technology like this in our Career Site Builder and A.I. Job Search solutions. 
Below are 5 examples of the best company career site job searches we're recently seen.
# of Jobs is Clear — Stripe shows the current # of jobs available without the candidate having to do anything. Candidates love this because it shows the size/growth of a company.
Jobs populate as when type in the search box (no load/wait time) — Type in "sal" and the job search gives you "sales" positions in the results. Type in  "soft" and it shows software job results. The candidate doesn't have to click anything…they just type

Wicked Fast Results — We're usually not a fan of multi-field search, but Stripe's left-most search box (below) gives candidates a super-fast first search. The other 3 search filter fields are easy to quickly narrow down the results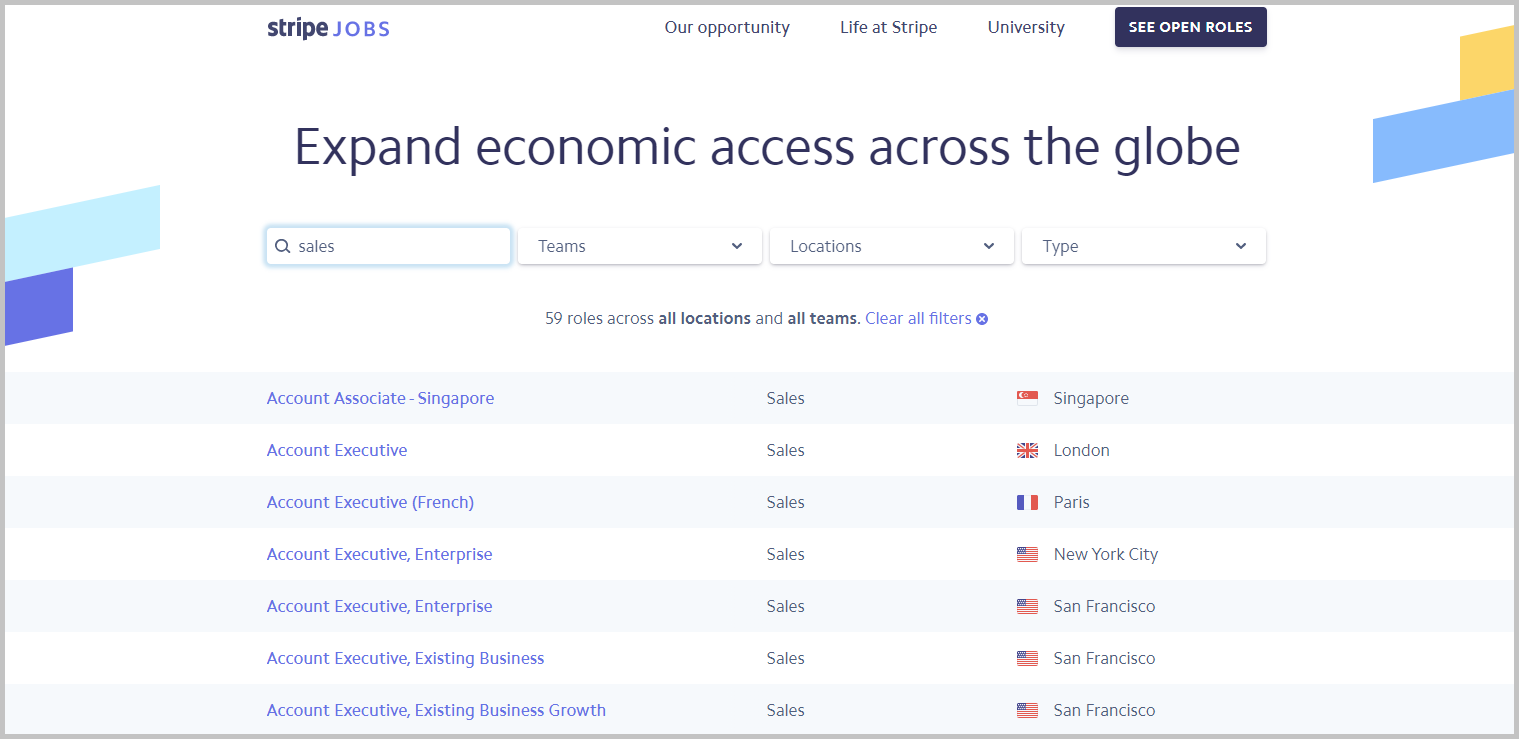 Job search powered by Google A.I. — This A.I. Job Search gives relevant results even though there are few if any direct word matches. Search "cloud dev windy city" (in the image below) and it returned all developer-related jobs in Chicago (even though "cloud", "dev", and "windy city" aren't in the job title)!
No false positives — The job search is intuitive showing only the most relevant results. Notice that the search below included only 7 results even though there are 49 jobs in Chicago. Other career site job search would return 49+ results.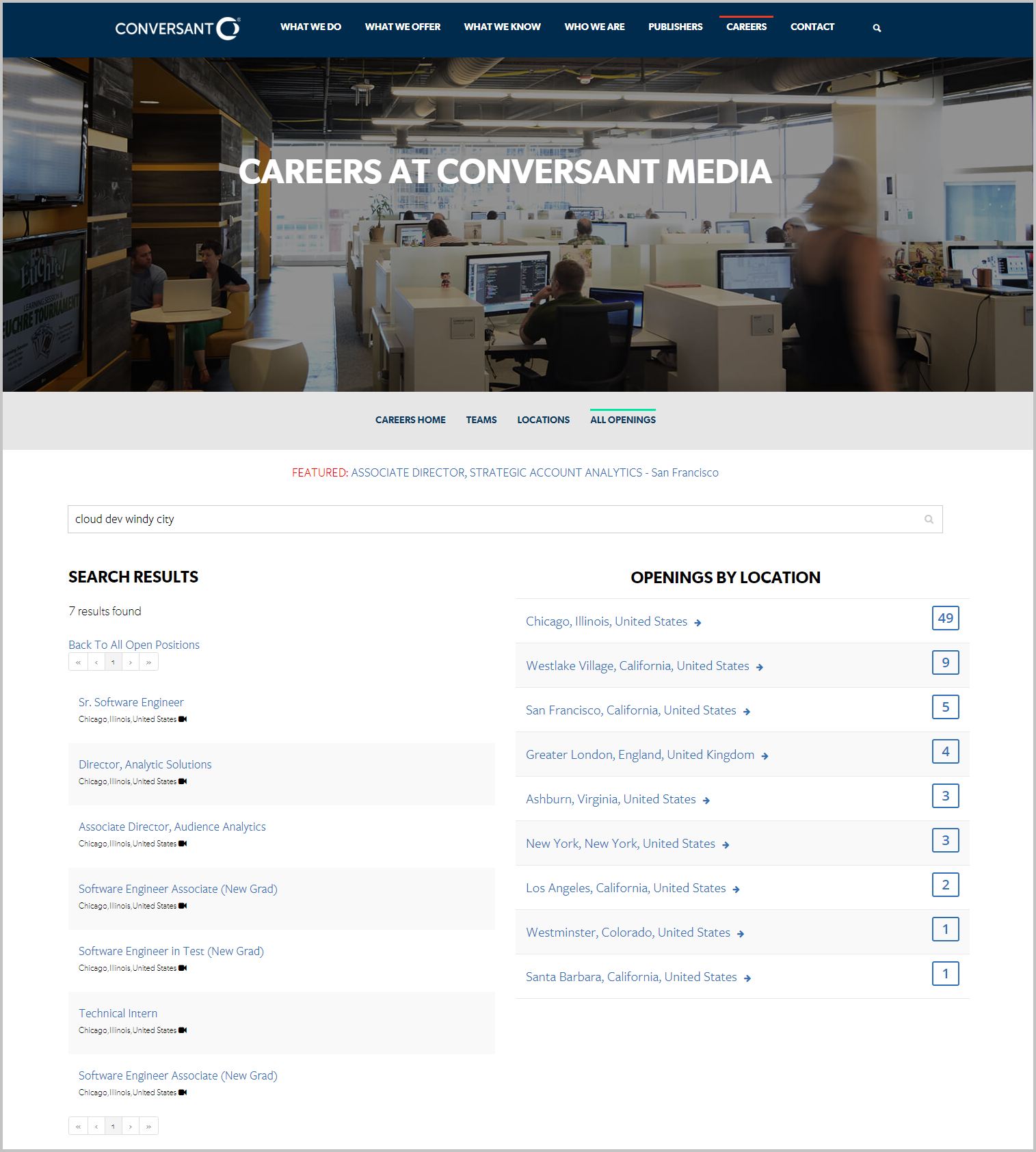 Above-the-fold Search! — Merck puts the job search front and center above the fold on their career home page. They are clear about the call-to-action (searching jobs!). After all, is there any job content more important than your job descriptions!?
Single-field Search — If you can pull off relevant/intuitive job search results (using Google A.I. or search technology from Elastic), then one search box is preferable over multiple search fields.
Once you click the search bar all of Merck's job departments drop-down.
If you don't click off to a job category, job listings drop down as you type in the search box.

The Job Search is Integrated into the hero media. J&J's implementation is the best example of this we've seen.
Military Job Code Support — Their job search is very effective. They even return specific jobs if you search military codes (e.g. the "66B" (military code for Community Health Nurse) we typed in below returns the closest jobs related to J&J nurse jobs. We dive into more military search cases on A Secret & Easy Way to Recruit Veterans from Your Career Site.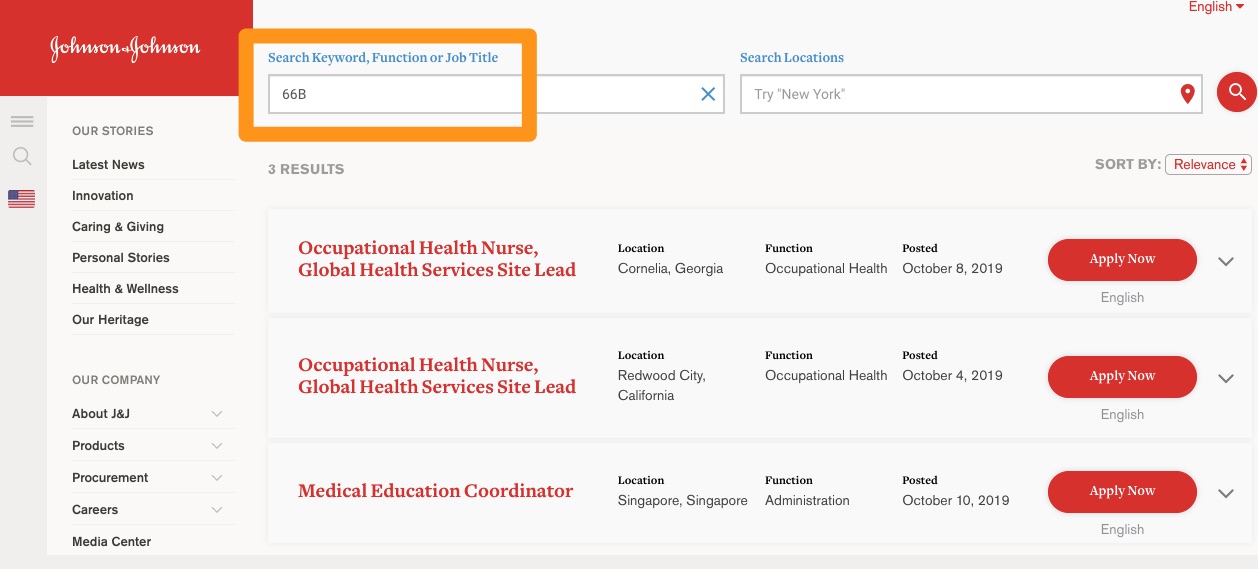 They power their job search with their own Elastic search technology. This is the same job search technology that powers Netflix's  career site job search.
As you type in to the search bar you get a drop-down of the most probable positions (examples in the images below).
Flexible for Candidate — The candidate can choose to continue the search with just the word they typed or other phrases/job titles appearing in the drop-down. For example, in the search below we typed "marketing" and can choose to click that or "marketing campaign" or "marketing campaign manager"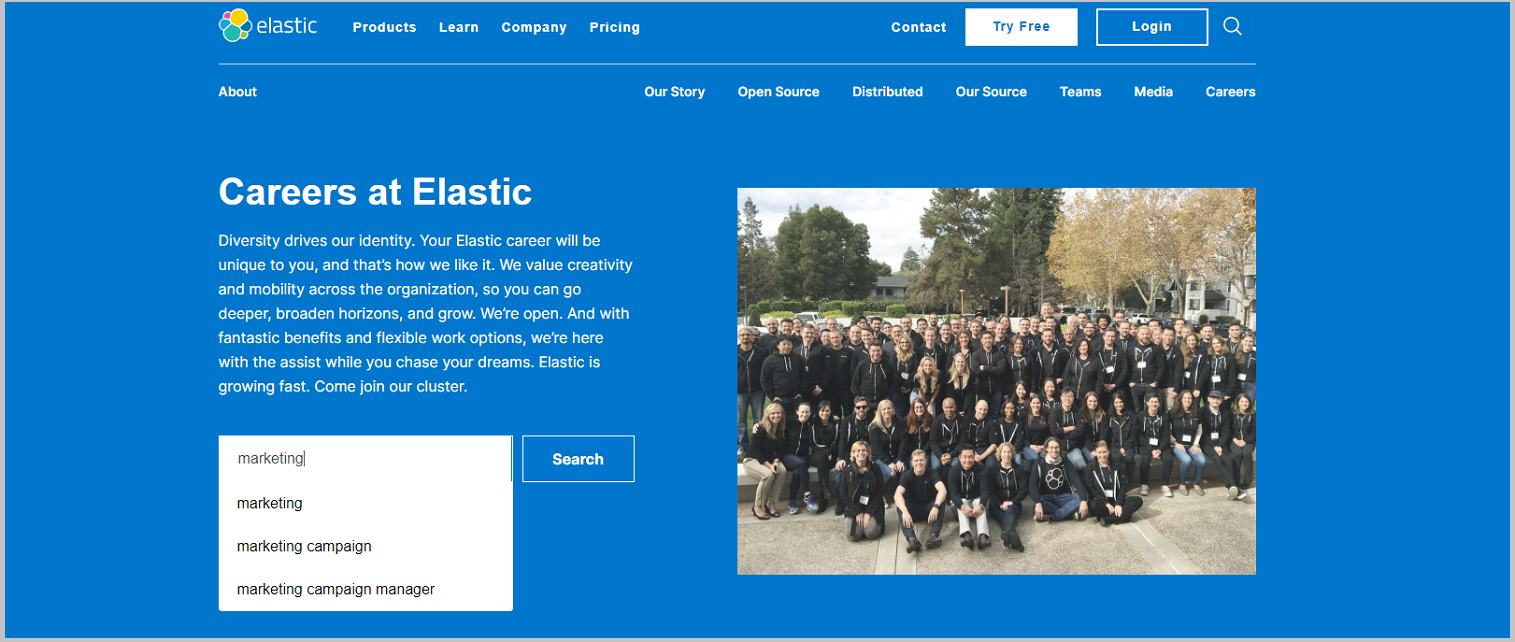 Here's another example searching Elastic for "software". The candidate gets other relevant choices.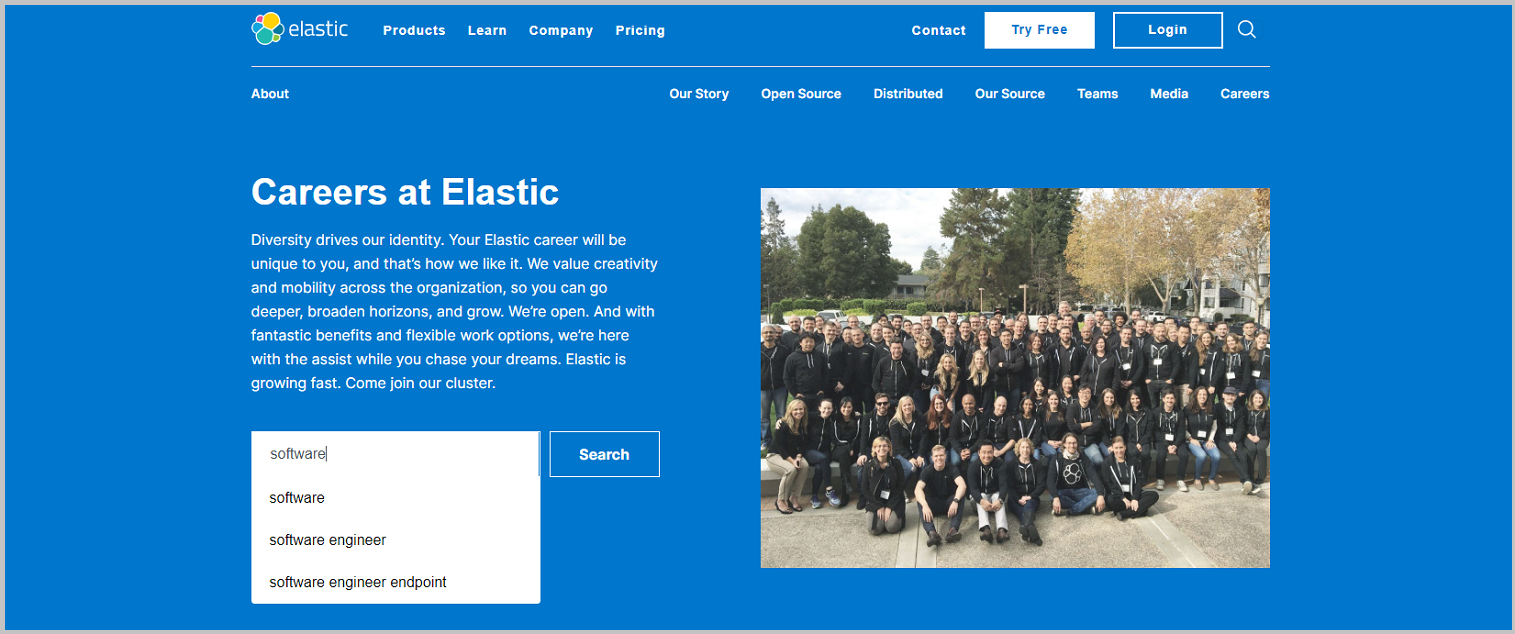 Why I Wrote This
Career site job searches are key to a positive digital candidate experience.  It's the starting point for most candidates on your career site and you'll lose them if your job search isn't effective. Ongig's Career Site Builder equips your job search with Google A.I. Job Search or Elastic search technology for an awesome search experience. Please click those links or go to Ongig.com to learn more.