Your company career page says a lot about you.
First impressions count. It might be the candidates' first time seeing such recruiting vitals as your
Employer Brand
Team
Benefits
Values
Here are 7 awesome company career pages that caught our attention (and a few bullets on why!):
Great Headline — "There's room in first class" targets quality candidates.
Solid Call-to-Action — The "SEE ALL POSITIONS" is above the fold as the clear single call-to-action for the candidate to take. Sure, the candidate can scroll to find more content but if they want to find a job fast, you can't beat this approach.
Hero Media with Caption! — What a great hero media picture. It's a happy employee who, says the caption, is enjoying a break at a cool-sounding place called "The Hangar Cafe".
Life at Avionics section — Shows the more human side of the company.

Great auto-fill job search — Awesome pre-filled text "My perfect job is…"

Good call-to-action to "Search All Jobs" — Passes the "Squint Test". Red button on blue background sticks out.

Sharp Headline — Clickable play button within headline goes to an awesome recruiting video that dives into perks, benefits, and culture.
Employee quotes — They don't have to be long, these ones are just a couple words, but get the point across.
Social proof — They show Fortune, Glassdoor, and Outside logos for employer awards.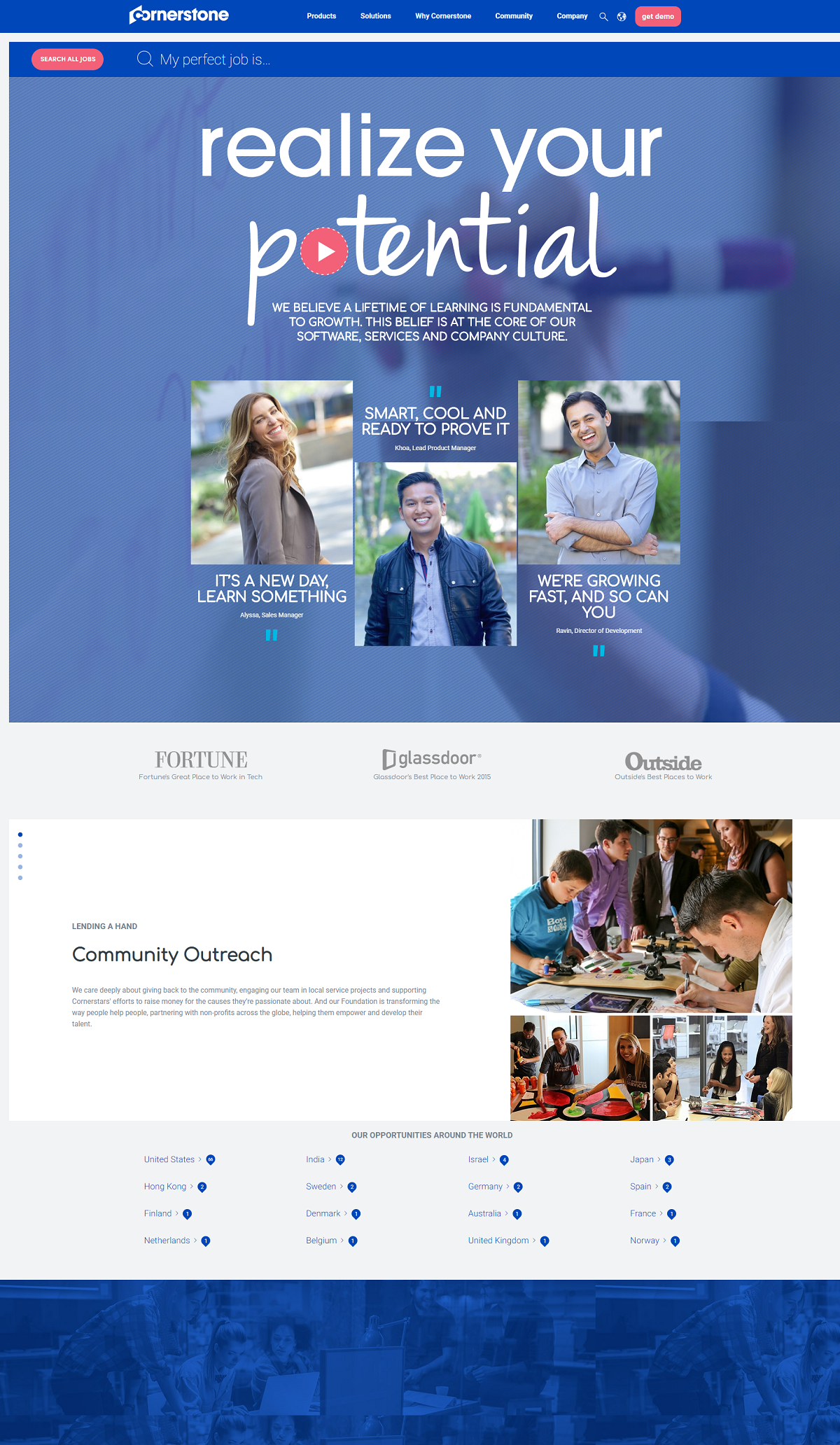 Great hero image — Represents a diverse workforce of different ethnicities and ages.
"Bring Your" theme — Theme stays consistent throughout the page (the headline of every section).l
Employee videos — There are 3 extra videos towards the end of the page.
Great career page copy — The first paragraph scores very high on Ongig's text analyzer.
Links to 3 different positions (Lawyers, Professional Staff, Law Students) —  This creates an easy way for candidates to jump in — a better candidate experience during the job search.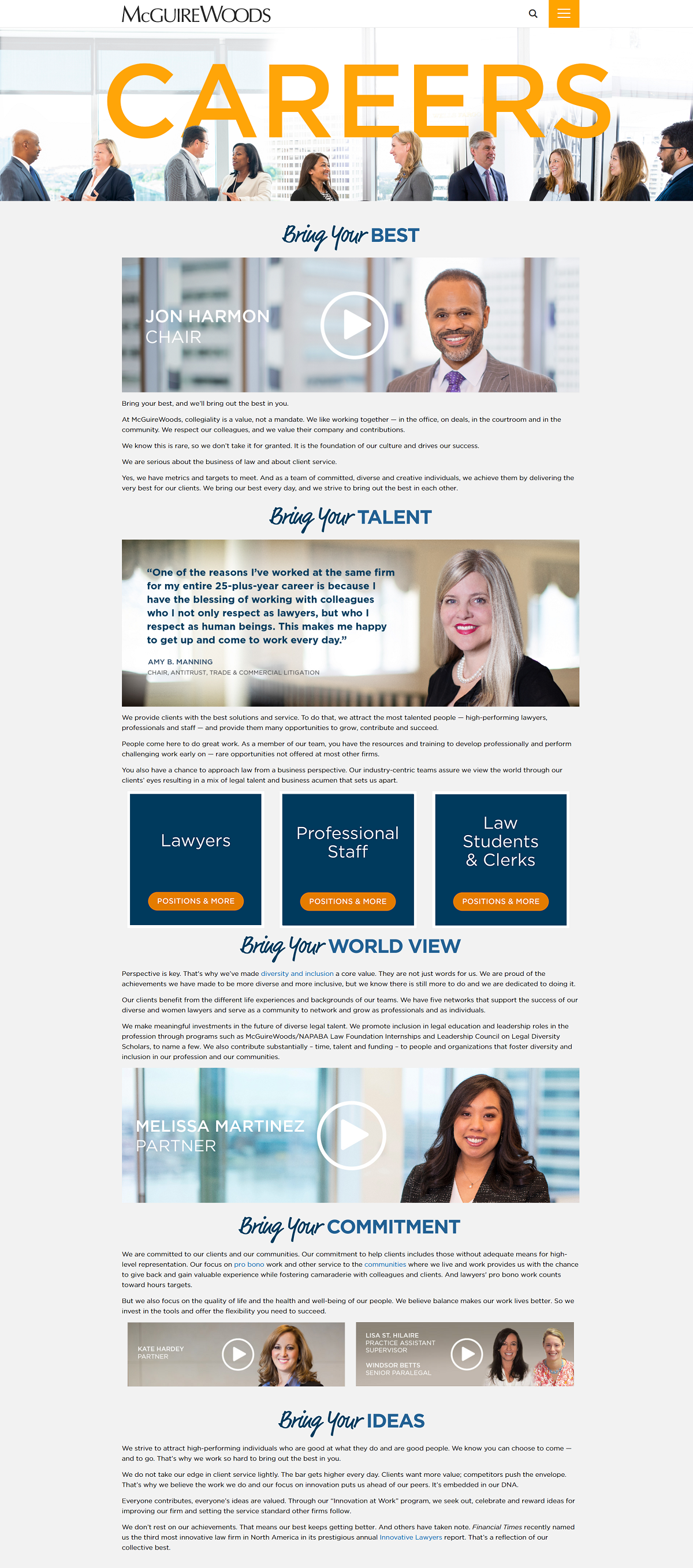 Big, engaging hero image with clear headline.
"Above the fold" job search — It's smart to make this clear. The goal of your careers page is to drive clicks to your job pages.
The Employee Voice section clicks through to awesome employee Q&A's (some of the best ones I've seen on a career site).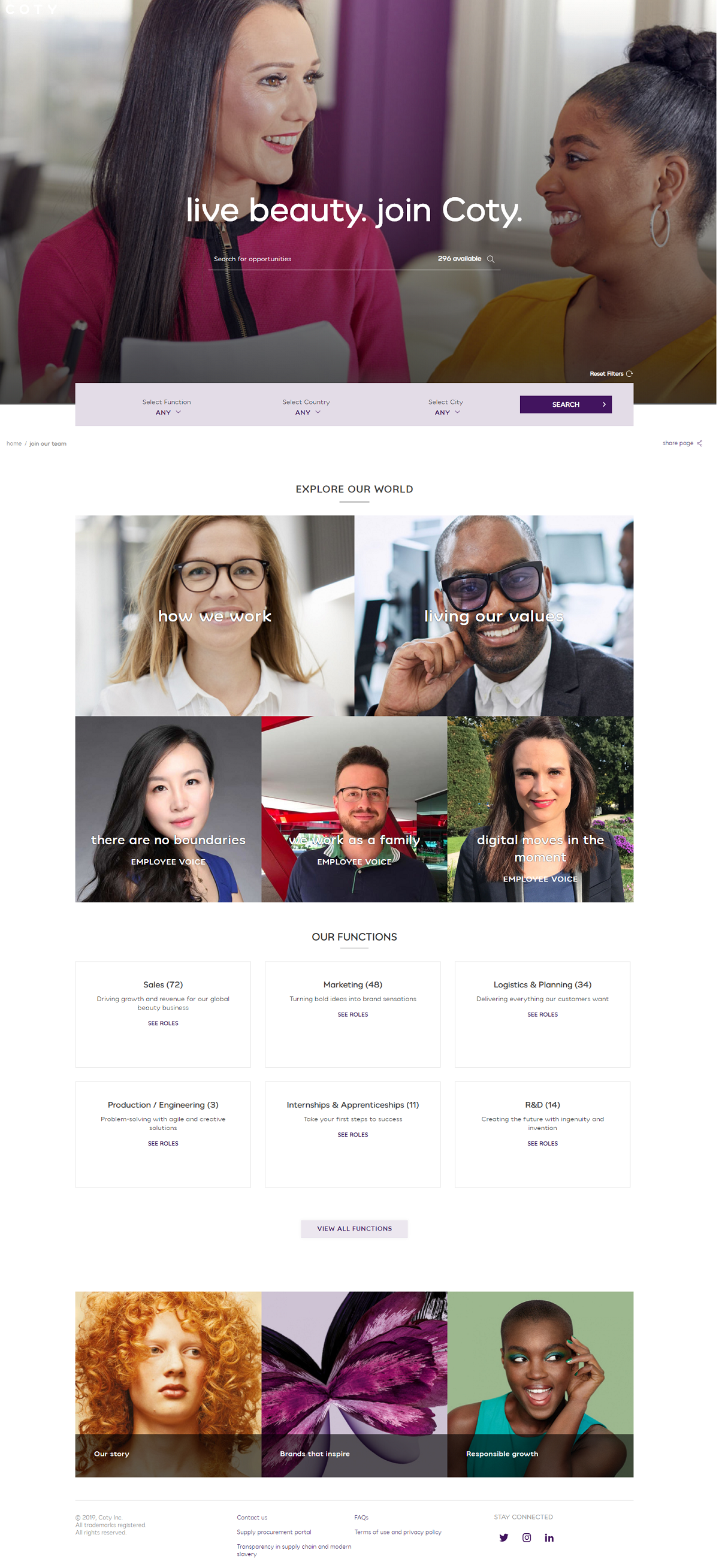 Great group pic as hero image
Show all brands — Brands effect how people think, if they're familiar with it, they're more likely to buy/apply.
They highlight 3 important areas — Values & People, Community & Commitment, Employer of Choice awards.
Upcoming Events — If you have recruiting events let candidates know. There isn't a better place to display this than on your careers page.

Branded well with company colors
Huge video — Size makes it hard to miss. Gives candidates Leidos stats like # of employees, the focus of the company, etc.
Slideshow — Has clickable slides that go to employee stories and company initiatives
Pay & Benefits section — This info should be on every career page, it's one of the top things candidates want to know about.
External Referral Program — Referrals are the best type of candidates, if you have a bonus for referrals let it be known. Leidos has a $2,000 referral bonus.

Great Headline/sub-headline — Candidates are just like any reader…they are used to headlines and sub-headlines and most will read them.
Shorter career page — It's a short and sweet career page. They prioritize info that candidates want: culture, values and benefits.
Clear first call-to-action — "Apply for our open positions" followed by "View job openings". It's clear what the next step is.
Employer branding video — Focuses on the background and notable stats of the company. It's very colorful and engaging.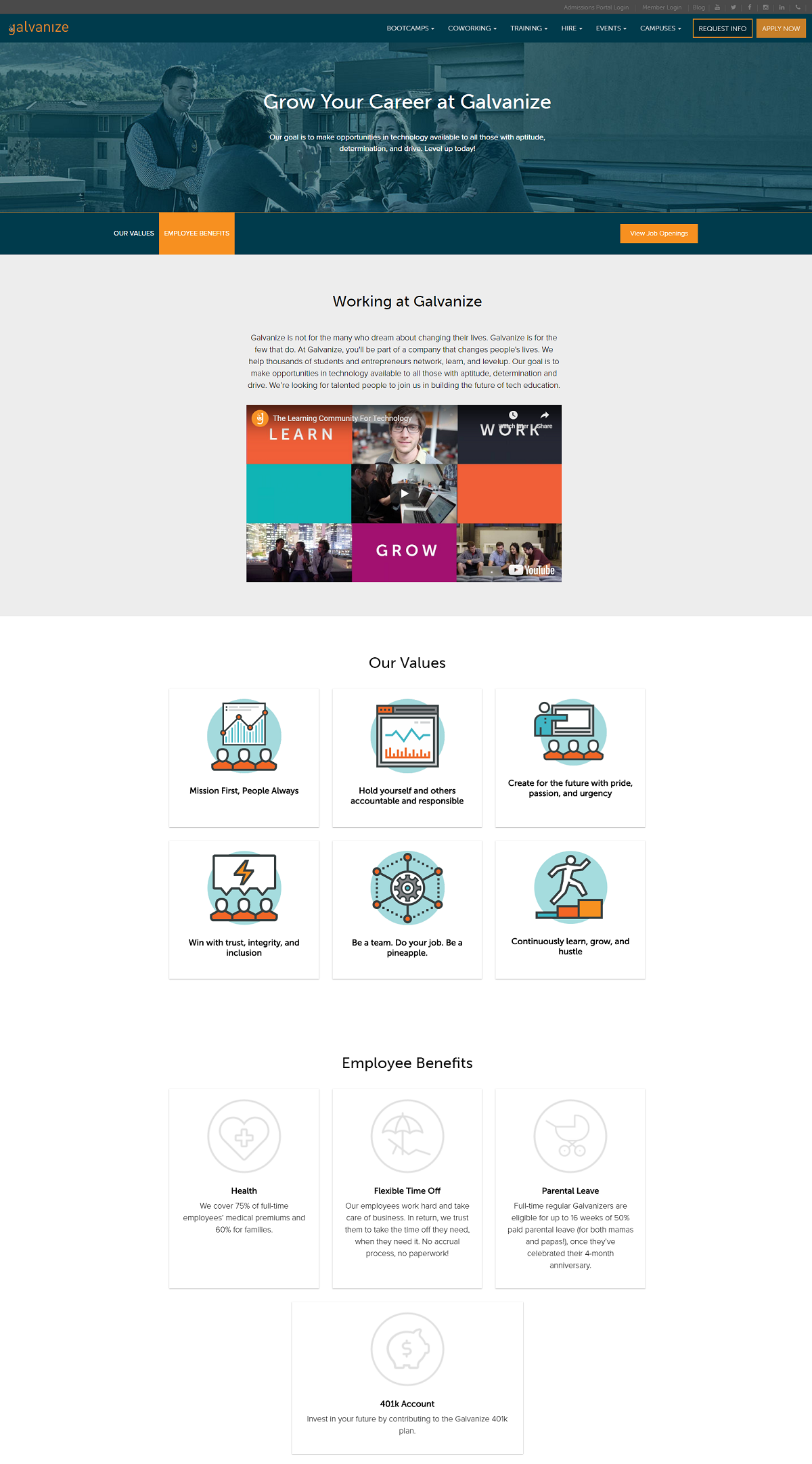 Why We Wrote This
Company career pages are an important part of the recruitment process. It's typically your first impression on candidates and one of the main steps to converting them into an apply.
Ongig's company Career Site Builder allows employers to create a company career page that is attractive and engaging.