2020 Editor's NOTE — We have the updated version for 2020 here:
Top Applicant Tracking Systems (ATS Software) in 2020
Enjoy! — Rob
——
Welcome to Ongig's 2017 Top Applicant Tracking System Annual Report!
Here are the main sections of the report and below that is the report itself chock full of ATS data, charts and insights. Enjoy!
A list of the top 99 applicant tracking systems by market share as of April 30, 2017
The top ATS systems by volume of job openings
The fastest growing applicant tracking systems by % growth
The fastest growing ATS systems by % growth in clients
The fastest growing applicant tracking systems by net increase in # of clients
New ATS software stars on the rise
A list of ATS software being used outside the U.S.
A discussion of other specific types of ATS's
ATS migrations, mergers and other integrations
A few ATS trends we expect to see for the foreseeable future
Some extra links to other great ATS software resources
The Criteria & Definitions
This year we analyzed the top 3,705 employers hiring right now and which ATS they use.
These employers have offices all around the world but are mostly headquartered in the U.S. A few other key things to point out:
Our list of top employers is different than most because we focus on the employers most actively recruiting (we call them 'top hirers') as measured by the number of current job openings they have (not # of employees). For example even if there is a Fortune 500 company out there using an ATS, but they had zero current job openings, we exclude them from the survey.
Collectively, the top hirers we surveyed accounted for roughly 935,481 job openings. To put that in comparison, there were 5.7 million total job openings in the U.S. in February of 2017, according to the U.S. Bureau of Labor Statistics.
We found a total of 99 different ATS's being used by these 3,705 top hirers.
Some employers use more than one ATS system and we counted both ATS's in those cases.
Which ATS systems did we not include? — Since the focus of this report is on direct employers and they ATS software they use, we did not include ATS software targeted specifically at staffing companies. We also excluded recruitment marketing solutions like Ongig, Phenom People or Talent Brew that primarily integrate with applicant tracking software (but are not themselves ATS systems).
What is the 'Homegrown' ATS? — You will see the term "Homegrown" ATS. This is not the name of a new software company. 'Homegrown' refers to an applicant tracking system that the employer built themselves. It may be as simple as a link that opens up the candidate's email client or something more advanced involving enterprise databases.
Our Top ATS data is by no means all-inclusive, but we believe our sample size of 3,705 top hirers using one (or more) of 99 different ATS Systems makes this a statistically valuable report.
Why Ongig Provides The ATS Annual Report
Ongig is on a mission to help clients create the best job pages in the world, supercharging your ATS to let you instantly add video, pics, chat, reviews, testimonials, maps, talent community, microsites and more to any job page. Because ATS software is what typically generates the text of most job descriptions, our Ongig team interacts with employers and keeps track of which ATS software they use. We then compile this ATS software usage data for you in this report.
This report won't tell you who's got the best ATS for you, but we hope the data and insights at least points you in the right direction
On with the data!
The Top Applicant Tracking Systems (Overall)
Note: We've included a complete list of all 99 ATS systems in the long table below (since we could only fit 20 in the pie chart above)
| | | |
| --- | --- | --- |
| Rank | ATS | 2017 Market Share % |
| 1 | Taleo | 25.51% |
| 2 | Homegrown | 8.26% |
| 3 | Jobvite | 7.04% |
| 4 | iCims | 6.64% |
| 5 | Greenhouse Software | 6.05% |
| 6 | IBM Kenexa BrassRing | 5.53% |
| 7 | SAP/SuccessFactors | 3.86% |
| 8 | ADP (apply2jobs, CandidateCare, WorkForceNow) | 3.81% |
| 9 | WorkDay | 2.94% |
| 10 | SmartRecruiters | 2.91% |
| 11 | Lever | 2.35% |
| 12 | Silkroad | 2.08% |
| 13 | Ultimate Software/UltiPro | 1.97% |
| 14 | CareerBuilder (TalentStream, jobs.net) | 1.62% |
| 15 | Peoplefluent (formerly Peopleclick) | 1.38% |
| 16 | Oracle Other (iRecruitment, HRMS, PeopleSoft) | 1.24% |
| 17 | Monster (HRDepartment.com) | 1.13% |
| 18 | Symphony Talent (Findly, HRapply.com) | 1.03% |
| 19 | Cornerstone OnDemand (CSOD) | 0.94% |
| 20 | Newton Software | 0.89% |
| 21 | Comeet | 0.73% |
| 22 | ClearCompany (HRMdirect.com) | 0.70% |
| 23 | Jazz HR | 0.57% |
| 24 | Kronos | 0.51% |
| 24 | Workable | 0.51% |
| 24 | Jobscore | 0.51% |
| 27 | BreezyHR | 0.46% |
| 27 | Lumesse (RecruitmentPlatform.com) | 0.46% |
| 29 | Infor (PeopleAnswers) | 0.43% |
| 29 | Avature | 0.43% |
| 31 | CATS | 0.40% |
| 31 | Ceridian (includes RecruitingCenter.net) | 0.40% |
| 31 | Compas | 0.40% |
| 34 | Deltek (formerly HRSmart) | 0.38% |
| 34 | MyStaffingPro (AppOne) | 0.38% |
| 36 | Prevue (APS) | 0.35% |
| 37 | gr8 People | 0.32% |
| 37 | Healthcaresource.com | 0.32% |
| 39 | Hirebridge | 0.30% |
| 39 | ExactHire (Hirecentric) | 0.30% |
| 41 | ApplicantPro (JobMatch) | 0.22% |
| 41 | ApplicantStack | 0.22% |
| 41 | Google Hire | 0.22% |
| 41 | PCRecruiter | 0.22% |
| 45 | RecruiterBox | 0.19% |
| 46 | Bullhorn (includes Maxhire.net) | 0.13% |
| 46 | Technomedia (Hodesiq) | 0.13% |
| 46 | iApplicants | 0.13% |
| 49 | PageUp People | 0.11% |
| 49 | PeopleMatter | 0.11% |
| 49 | Pereless (submit4jobs.com) | 0.11% |
| 49 | BambooHR | 0.11% |
| 53 | CareerPlug | 0.08% |

| | | |
| --- | --- | --- |
| Rank | Applicant Tracking System | 2017 Market Share % |
| 53 | BirdDog | 0.08% |
| 53 | eRecruiting | 0.08% |
| 53 | Hyrell | 0.08% |
| 53 | Recruitee | 0.08% |
| 53 | Luceo | 0.08% |
| 53 | Resumeware | 0.08% |
| 53 | Vitae ATS | 0.08% |
| 53 | Hirelocker | 0.08% |
| 53 | HireTouch | 0.08% |
| 63 | AcquireTM | 0.05% |
| 63 | ATS OnDemand | 0.05% |
| 63 | Balancetrak | 0.05% |
| 63 | Gild | 0.05% |
| 63 | Snaphire | 0.05% |
| 63 | Paycom | 0.05% |
| 63 | Tribepad | 0.05% |
| 63 | Advorto | 0.05% |
| 63 | SmartSearch | 0.05% |
| 72 | ApplicantPool.com | 0.03% |
| 72 | JobDiva | 0.03% |
| 72 | EasyRecruit.com | 0.03% |
| 72 | Erecruit | 0.03% |
| 72 | Hiredesk | 0.03% |
| 72 | Hireology | 0.03% |
| 72 | HospitalityOnline | 0.03% |
| 72 | Humanic ATS | 0.03% |
| 72 | iRecruit Software | 0.03% |
| 72 | Jobscience | 0.03% |
| 72 | Konetic | 0.03% |
| 72 | MyTribeHR | 0.03% |
| 72 | Njoyn | 0.03% |
| 72 | NovaHire | 0.03% |
| 72 | Paychex | 0.03% |
| 72 | PeopleAdmin | 0.03% |
| 72 | PeopleCapital | 0.03% |
| 72 | Rullion Solutions | 0.03% |
| 72 | Simplicant | 0.03% |
| 72 | SnagAJob | 0.03% |
| 72 | SpeediARMS/SpeedWare | 0.03% |
| 72 | StaffingSoft | 0.03% |
| 72 | TalentHire | 0.03% |
| 72 | TeamWorkOnline | 0.03% |
| 72 | Prescreen | 0.03% |
| 72 | Decision Toolbox | 0.03% |
| 72 | The Applicant Manager | 0.03% |
| 72 | Zoho | 0.03% |

Note: The above list includes 99 ATS's but ends with Rank #72 because there are a number of ties in market share.
Top Applicant Tracking Systems by Market Share
This year we broke out the top ATS systems by hiring volume so that you can see which ATS systems have the most market share based on your typical # of job openings.
We use the following 6 tiers of volume of current job openings:
1,000+ current job openings
250 to 999
100 to 249
25 to 99
10 to 24
1 to 9
Top Applicant Tracking Systems for Employers With 1,000+ Job Openings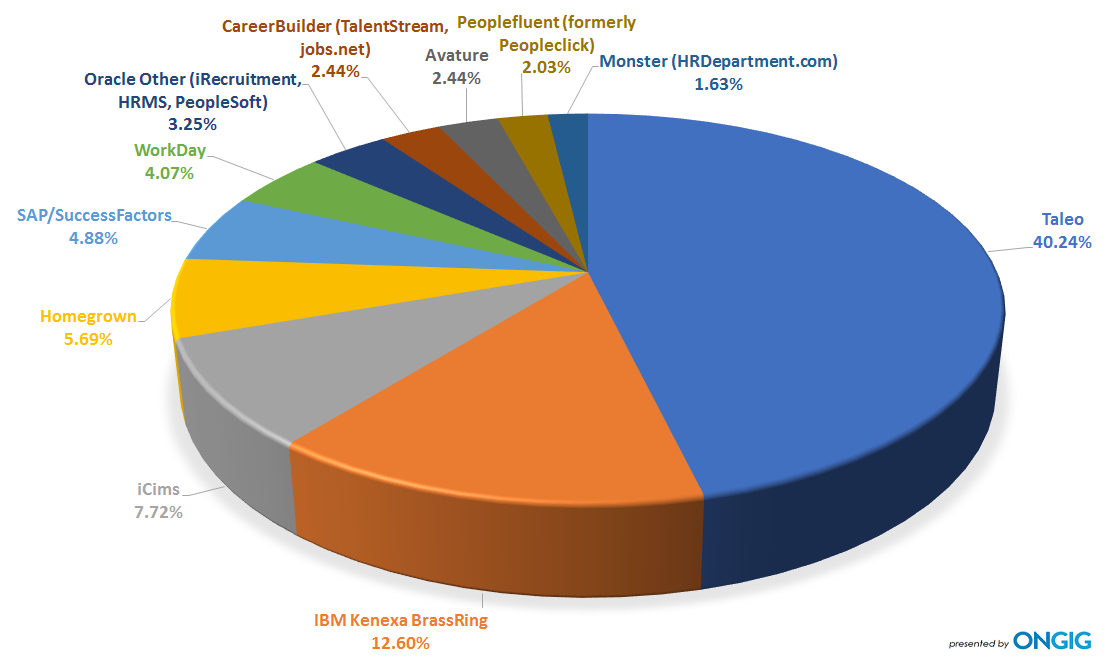 Top Applicant Tracking Systems for Employers With 250 to 999 Job Openings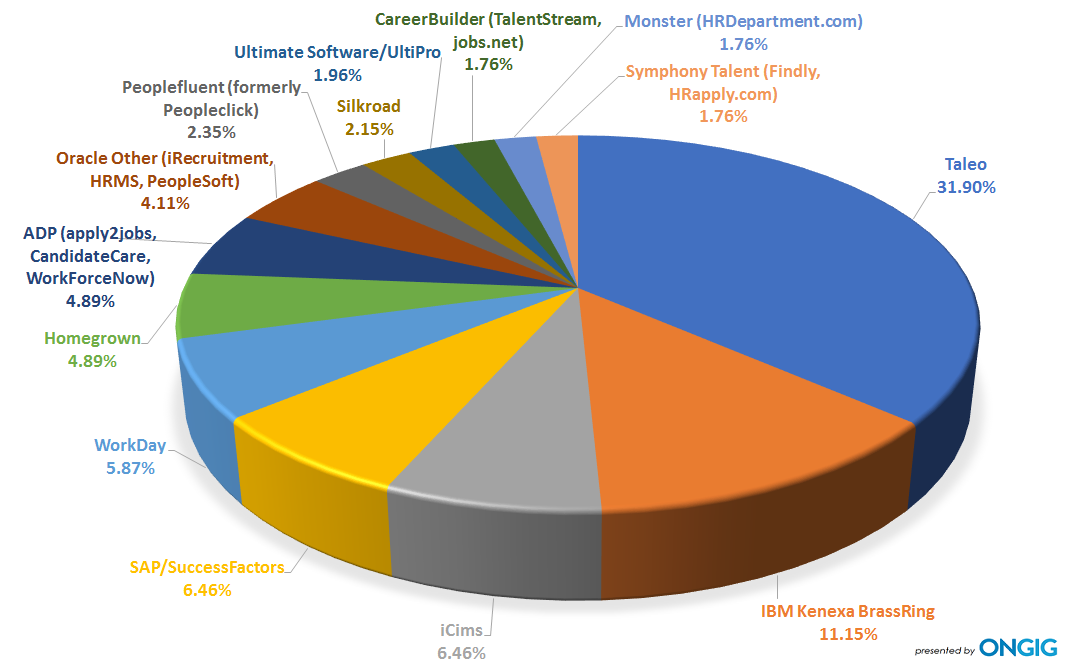 Top Applicant Tracking Systems for Employers With 100 to 249 Job Openings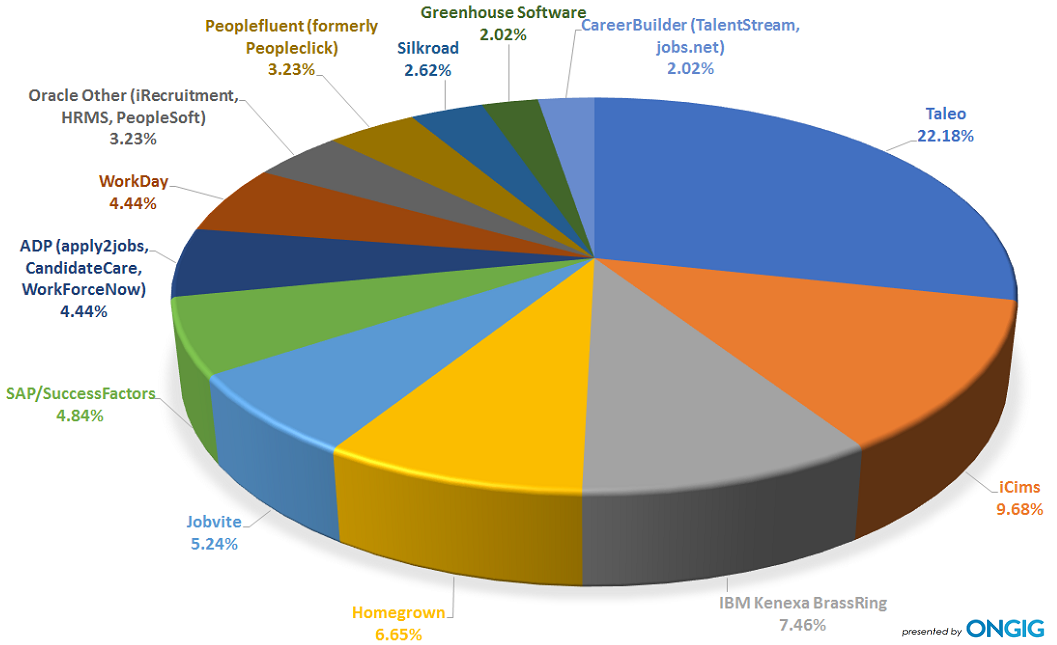 Top Applicant Tracking Systems for Employers With 25 to 99 Job Openings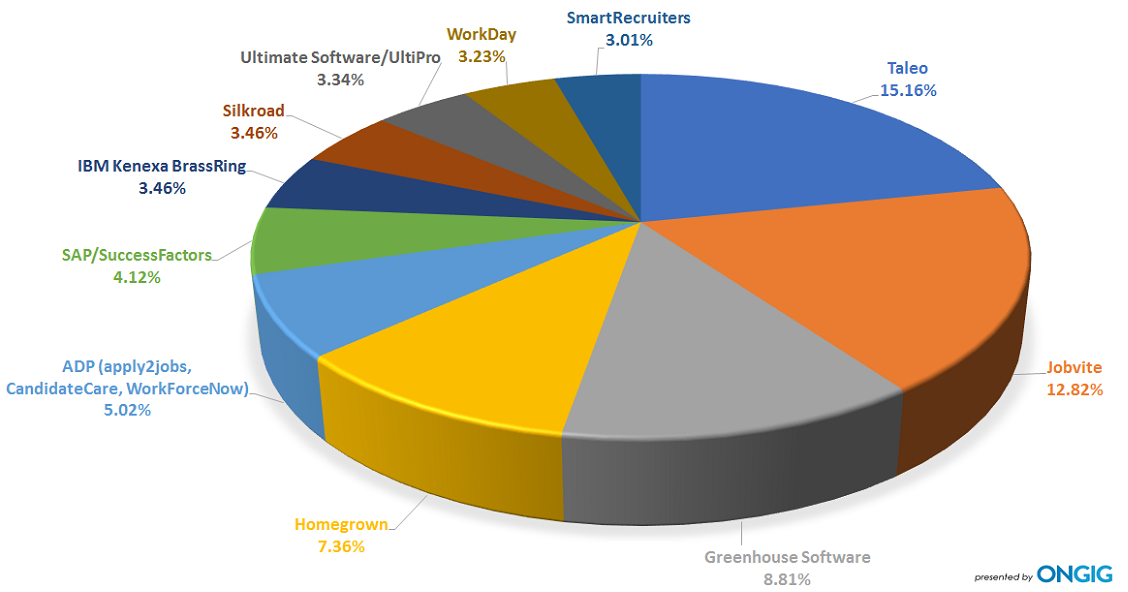 Top Applicant Tracking Systems for Employers With 10 to 24 Job Openings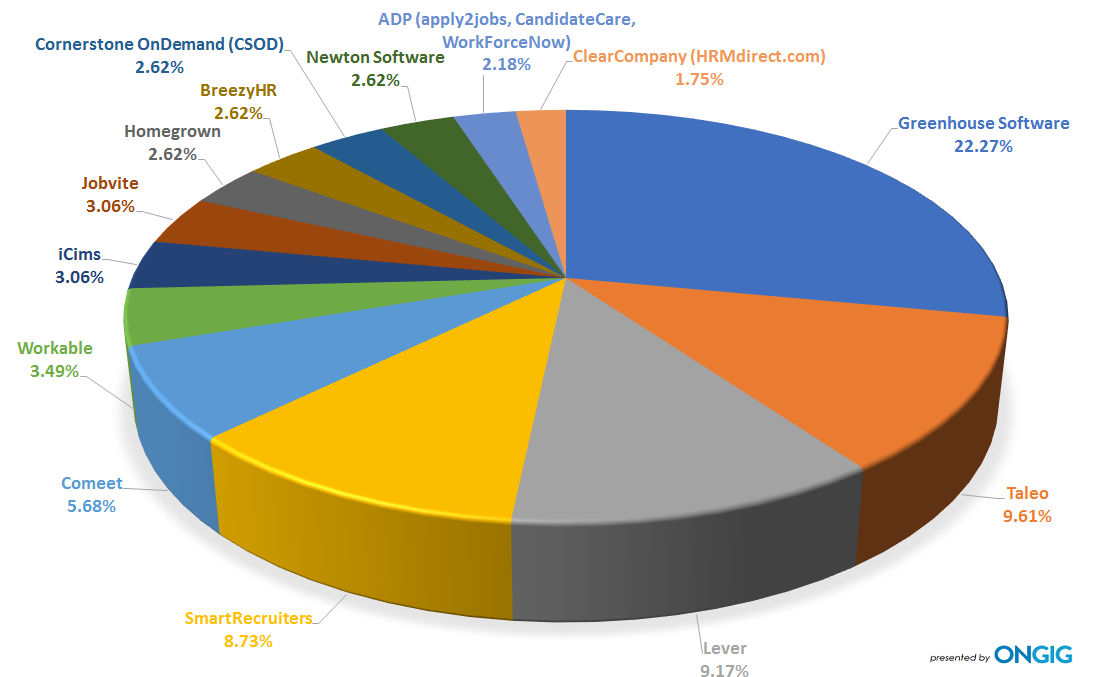 Top Applicant Tracking Systems for Employers With 1 to 9 Job Openings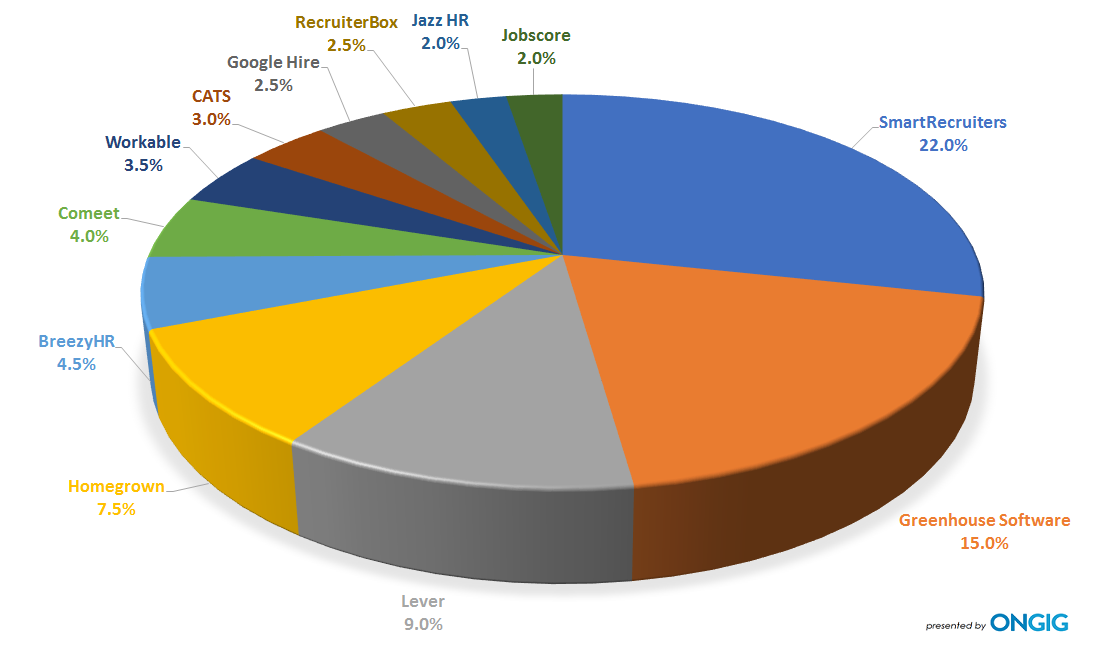 Note: The market share of ATS software in the pie chart above has more rounded numbers than the others. It's not an error. This 1 to 9 job opening tier contained a round number of employers (200) which caused every ATS company's market share numbers to contain a ".5%" and ".0%"
The Top ATS pie charts above offer a good snapshot of the ATS software market share by employer size, but we wanted to show you the growth trends of ATS software usage too.
Fastest Growing Applicant Tracking Systems
Here are 3 charts showing which ATS systems are growing the fastest this year versus last year.
This first chart is showing change in market share points (e.g. Greenhouse Software 1.58% last year to 6.05% in 2017 in market share versus last year).
Fastest Growing Applicant Tracking Systems by Market Share (gain in points)

This next chart shows the % growth in total number of clients (among our pool of 3,705 top hirers):
Fastest Growing Applicant Tracking Systems by % Growth (in # of clients)
Fastest Growing ATS's by # of New Client Additions
In the growth chart below, you'll see the fastest growing ATS systems by net new clients added among the pool of the top 3,705 'top hirers' Ongig surveyed.
Keep in mind that the actual number of new clients these ATS software companies added is likely much higher because we are only showing the activity among the 3,705 'top hirers' surveyed.
We still like this chart because we believe it is directionally accurate in terms of who's gaining the most new clients among top hirers.

New ATS Stars on the Rise!
There were 12 ATS systems who seemed to come out of nowhere (i.e. we did not see a single top hirer using their ATS 12 months ago and now they've got multiple tip hirers as clients).
They are:
BreezyHR
Prevue (APS)
Gr8People
ExactHire
Google Hire (more on Google Hire below)
BambooHR
PageUp People
PeopleMatter
CareerPlug
Hirelocker
Hiretouch
Recruitee
Other ATS Systems Used Outside the U.S.
Because our research focuses on ATS software used by top hirers headquartered in the U.S., there are many dozens of ATS's serving markets outside the U.S. that are not in our list of top 99 ATS systems above.
GetApp mentions the following ATS systems as ones who say they support regions outside the U.S. (they are ranked by GetApp user rating):
ATS Systems in Europe
Marketing 360
Dapulse
Breezy HR
ATS Systems in EMEA
Dapulse
Breezy HR
BambooHR
ATS Systems in APAC
Marketing 360
Dapulse
Breezy HR
Other ATS systems we hear employers talk about using outside the U.S. include TalentSquare, Talentsoft, Qandidate and HR-Office.

A Few Other Types of Applicant Tracking Systems
There are other topics of ATS systems that employers often ask us about. Here are thoughts on a few:
Homegrown Applicant Tracking Systems
A number of top hirers use a homegrown applicant tracking system for all or part of their hiring process. As seen in the ATS market share charts above, use of a homegrown ATS is most common (7.5%) in small employers with less than 10 job openings, but many large employers also use a homegrown ATS– they include:
Apple
Facebook
U-Haul
Juniper Networks
GEICO
Northwestern Mutual
Patagonia
Some employers use a homegrown ATS system for awhile and then migrate to a commercial ATS (e.g. Netflix moved from homegrown to Lever around 18 months ago).
Applicant Tracking Systems for Compliance
If you need to be compliant with the OFCCP, EEOC and other regulatory groups, you will need what many call a "compliance-oriented ATS". Compliance ATS systems allow you to pull the types of reports needed to comply with government-type agencies.
Traditionally, the top ATS software systems for compliance have been Taleo (now owned by Oracle), IBM's Kenexa-Brassring, iCims, ADP and SAP/SuccessFactors.
Applicant Tracking Systems for Small Businesses, Startups/High-Tech
For employers in the startup/tech space, the dominant ATS systems are Jobvite, Greenhouse, SmartRecruiters and Lever.
These 4 popular tech startup ATS companies are well-funded: Jobvite ($55 million in funding ), Greenhouse ($60.1 mil.), SmartRecruiters ($54.9 mil.) and Lever ($32.8 mil.); and often tech startups prefer to use software from other tech startups.
There are plenty of other ATS systems that are successfully going after this lucrative tech startup market, including Breezy, Workable and CoMeet.
Free Applicant Tracking Systems
Some free applicant tracking systems out there include:
BreezyHR
iKrut ATS
OpenCats
Fitzii
Zoho
Qandidate.com
Only OpenCats and Qandidate appear to be completely free while the rest are free for limited use — check out the 'free applicant tracking system" section of this article for more details including which parts are free and which are paid.
Applicant Tracking Systems for Staffing Agencies
There are many ATS systems designed for staffing and search firms that we have not focused on in this report (because our research centers on ATS software for direct employers).
Top ATS systems for staffing and search firms include Bullhorn, PC Recruiter, BrightMove, CATS ATS, Crelate.com, TargetRecruit, Compas (60% of their clients are staffing companies and 40% are direct employers), JobDiva, Jobjet and Talent Browse.
We also notice that staffing/recruitment process outsourcing companies Randstad and AMN Healthcare are both using the Gr8people ATS system.
ATS Migrations & Integrations
Employers are regularly migrating, merging or integrating their ATS systems.
Here are some scenarios of the most common ATS migrations we noticed during the past year:
Taleo to Workday
Dell
Levi Strauss
Equifax
Abbott Labs
Cardinal Health
Transamerica
Booz Allen
Valmont Industries
Taleo to Successfactors
Mars
Metlife
Cintas
Whirlpool
Fifth Third Bank
Jobvite to Greenhouse
Docusign
Hubspot
Fitbit
Lithium Technologies
Mozilla
Jobvite to Lever
MZ (MachineZone)
DAQRI
Credit Karma
Successfactors to Workday
Whole Foods Market
The Bill & Melinda Gates Foundation
Employer Spin-Offs & Applicant Tracking Systems
Sometimes an employer spins off a business unit into its own independent business, and that spin-off uses this as an opportunity to migrate to new ATS software.
For example, when ADP (which used the VIrtual Edge ATS) spun off CDK Global, CDK stayed on Virtual Edge for a short time and then migrated to the SuccessFactors ATS.
When Google created Alphabet to be the umbrella brand for its many businesses, it was essentially spinning off multiple brands such as it's largest brand, Google (search), from its many smaller businesses like Calico, [x], Sidewalk and Nest.
Many of these Alphabet spin-off brands will be weaned off of the Careers.Google.com careers page/job search that Google uses (which is a homegrown-based applicant tracking system) and get their own ATS/careers page of their own. The Sidewalk business, for instance, now uses Greenhouse for their ATS software.
Not all spin-offs result in an ATS migration: Danaher (a Taleo ATS client) spun off Fortive Corp. and Fortive continues to use Taleo.
Mergers & Acquisitions of Employers & Applicant Tracking Systems
Employers regularly merge with, and acquire, each other, resulting in the new larger organization using 2, 3 or 4+ ATS systems.
For example, Quintiles (Taleo) and IMSHealth (Workday) merged recently and this means that they will either:
Combine their 2 brands into one (in which case they would likely unify on one ATS); or
Keep separate brands (in which case they may keep their respective ATS systems)
Another recent blockbuster merger is CenturyLink (SuccessFactors) and Level 3 (Taleo) — CenturyLink seems to be the buyer in this case, but it's unclear yet if Level3 will keep their brand (and Taleo) or fold into CenturyLink's which uses the SuccessFactors ATS.
Some mergers/acquisitions keep both applicant tracking systems for a while. In June of 2016, Altice (iCims) closed its acquisition of Cablevision (Brassring) for a Northeast presence and now candidates visiting AlticeUSACareers.com are forced to choose between 2 separate paths (one link for iCims and another for Successfactors) when searching for a job.
In some mergers/acquisitions, such as Danaher's 2015 acquisition of Pall Corp., Danaher (a Taleo ATS client) kept using Taleo for the job search on their careers page while Pall Corp. (which had used PeopleClick) soon starting linking their job search to Danaher's Taleo job search. This can negatively affect candidate experience because the users visiting Pall's career site who click 'search jobs' now suddenly see the Danaher name (which might be foreign to them).
We recommend that if you have multiple ATS systems that you unify the candidate experience. Westrock (the merger of MeadWest Vaco and RockTenn) did a great job merging their respective ATS systems (Brassring and Successfactors, respectively). Note: Westrock has since migrated to Cornerstone OnDemand.
Some Trends to Expect with ATS Systems
There are a number of trends going on that affect ATS software. Here are a few:
Yes, Google Is Offering a New ATS!
On April 14, Crunchbase reported that Google is piloting a new ATS called Google Hire with 10 clients.
The reason Google's entry might be scary to other ATS providers is that Google could easily make Google Hire a free-to-cheap applicant tracking system because they have back-end products like Google's "G Suite" for business paid products (Gmail, Docs, Drive, Calendar) and their Google Cloud enterprise offerings (Storage, Administration, etc.).
Google could also make the Google Hire ATS free-to-cheap by integrating it with their Google Ads service (e.g. they let employers use Google Hire and then up-sell them on paying Google to advertise those jobs through Google's search engine (e.g. the job could show up in that 'Ad' section at the top of Google search results ).
The new Google Hire ATS just got much more interesting because of Google's May 17th announcement that they are launching Google for Jobs. The Google for Jobs details are still murky, but it looks like a direct competitor to Indeed in which Google will shows employer jobs for free and then offers employers the option to pay to have certain jobs appear first in the "Ad" section (just like Indeed does).
Overall, the Google Hire ATS could be given away for free or cheap because Google has multiple ways to make money on the back-end.
We also expect Google for Hire to utilize artificial intelligence/natural language processing (see Trends section below).
ATS Software with Open APIs Will Continue to Gain Share
The ATS systems with open APIs (application programming interfaces) will continue to gain market share from ATS's who keep their APIs gated or charge a fee to access it. That's because when custom work needs to be done with an ATS (e.g. a custom application page), the employer's developer will usually find it quicker and cheaper to leverage an open API.
On the other hand, if that same developer is dealing with an ATS that has a more closed API, the developer will need to set up a meeting with the ATS provider and possibly even need to join an ATS partnership program (which requires forms to fill and sometimes upfront money).
Examples of ATS's with open APIs include Greenhouse, SmartRecruiters, Lever, Workable, BreezyHR and Recruitee.
Things Will Heat Up for ATS's for Hourly & "On-Demand" Workers
We expect a lot of activity in the market for applicant tracking software for On-Demand workers (hourly workers, 1099's, moonlighters and contractors (including Uber/Lyft drivers and many other of the "Shared Economy" workers who might show up at your doorstep with food and other deliveries).
The On-Demand worker has become so important to employers that we expect an explosion of ATS software built just to cater to them.
Snagajob (founded in 1999) is a major player in the hourly worker market with its Snagajob job board (candidate facing) and its 2016 acquisition of PeopleMatter (employer-facing recruiting software).
Software giant Intuit has entered the On-Demand ATS market with an ATS software-like product called Intuit Workforce that targets Shared Economy employers such as Luxe (car valet), TaskRabbit and food delivery services.
We also hear that OnboardIQ (they raised $3.3 million in 2015) is doing creative things to with its hiring/ATS software for hourly/contractor-type hires.
The Best ATS Systems Will Offer "Content-Rich Pages"
ATS software that can embed video, HTML and hyperlinks will stand above those who can not. This is because ATS-generated job descriptions need to look as good as all marketing pages, something Lars Schmidt mentioned in How To Recruit In 2017.
One-Stop-Shopping Versus "Best-of-Breed"
The major one-stop shopping HR systems (e.g. Successfactors, IBM-Kenexa, Taleo, Workday etc.) will continue to push their full platform of modules while the newer best-of-breed of ATS Systems like Greenhouse, SmartRecruiters and Lever will add additional functionality beyond just an ATS.
The new best-of-breed ATS systems are adding many new HR functions/modules by providing an open API to allow others to develop additional software for their platform.
Other software companies are getting into the ATS market too. For example, SumTotal/Skillsoft (training, talent management) will likely offer a new ATS as early as this Fall.
ATS Systems & Artificial Intelligence
There's a lot of talk about HR and artificial intelligence (AI) these days and we asked HR Tech guru Jonathan Duarte to share his thoughts on how AI will impact ATS software. He found 2 areas it will impact:
Resume Sourcing and Matching
2017 is the the first year that we see artificial intelligence (AI) being used in a major way to solve many the manual tasks involved with ATS software. Over, the course of the next couple of years, newer ATS companies will either build or partner to embed some of these technologies.

"Matching and Filtering" will either be the product of an add-on solution, or newer ATS systems will build their own, as SmartRecruiters has already announced for their 2017 product roadmap.

Larger ATS companies might start acquiring companies in this space as the first generation of products get traction.
Applicant Work Flows Automation (ATS Software will go beyond email)
Currently some of the biggest barriers to speeding the "time-to-hire" benchmarks, are communication latency issues.

For instance, most ATS systems communicate with candidates almost entirely via email, yet we know that 25% of the US workforce doesn't have a company email address. We also know that email is not a primary communication tool of Millennials or Gen Z who account for 30% our current workforce.

Try sending a personal email to a teen or twenty-something…don't expect a response. Automating the candidate or interviewing process — — from setting interview calendars to scheduling drug testing or background screening to on-boarding — all require messaging of some sort (and email is inefficient to process this).

Artificial Intelligence can help automate all this ATS-related messaging through new messaging approaches like jobbots.
Editor's Note: We also expect the Google for Hire ATS to use AI in myriad ways based on our first look at the Google for Jobs. API. For example, we expect the Google for Hire ATS to use AI/Natural Language Processing to let recruiters match resumes to job descriptions. For example, a resume that has "BD" in it will be matched to a job description that has "Business Development" in it.
Analytics
Many employers tell us that they need analytics offerings that go beyond what traditional ATS's offer. We expect to see many employers trying out new analytics programs — one early analytics solution that we see employers using is Adobe Analytics (part of the Adobe Marketing Cloud).
Other Applicant Tracking System Reports
There are plenty of other awesome resources out there to help you pick the best ATS for your business.
Here are a few other 'Best ATS' type lists that we found useful:
…and you might find these 2 Ongig articles useful in selecting ATS software:
ATS Pricing & Selection
Picking the best ATS often comes down to price. Here are 2 resources we put together on ATS pricing:
About Ongig's ATS Software-Related Solutions
Ongig is on a mission to help employers create the best job ads/descriptions in their market. Ongig's 3 main solutions are:
The Ongig Cloud— Ongig's mobile video recruiting platform supercharges your applicant tracking software to let you instantly add video, pictures, chat, ratings and reviews, testimonials and more directly to any careers/job page. The Ongig Cloud includes an advanced job search, instant microsites and the world's best job descriptions.
Job Description Rewriting — Ongig's professional copywriting team is on standby to transform the text of your job descriptions.
Custom ATS Development — Ongig's custom development team helps give you an amazing digital candidate experience whether you are merging multiple ATS systems or migrating from one ATS to another or some combination of both.
Do you need help with your ATS?
If you need help with any ATS software-related puzzles just send an email to friends@ongig.com or click the Request Demo link at the top of this page.
My Ongig team would love to chat with you about any ATS topic. Popular topics employers come to us with include ATS recommendations, how to migrate from one ATS to another and how to merge multiple ATS systems into one unified, brilliant digital candidate experience.