Well written job descriptions aren't easy to come by.
Most JDs are written by busy hiring managers or recruiters. They read more like a legal contract than clean ad copy.
Below are 7 tips based on examples of well written job descriptions I found on the web.
For more tips on writing job descriptions, check out How to Write a Job Description — Best Practices & Examples.
Tip #1 for Well Written Job Descriptions: Use Questions
Well written job descriptions are conversational. And a good conversation includes questions (not just answers).
Check out how Comcast leads off their job description below. Not only do they use questions, but they also provide examples of candidate benefit within the questions (e.g. "projects with tangible impact").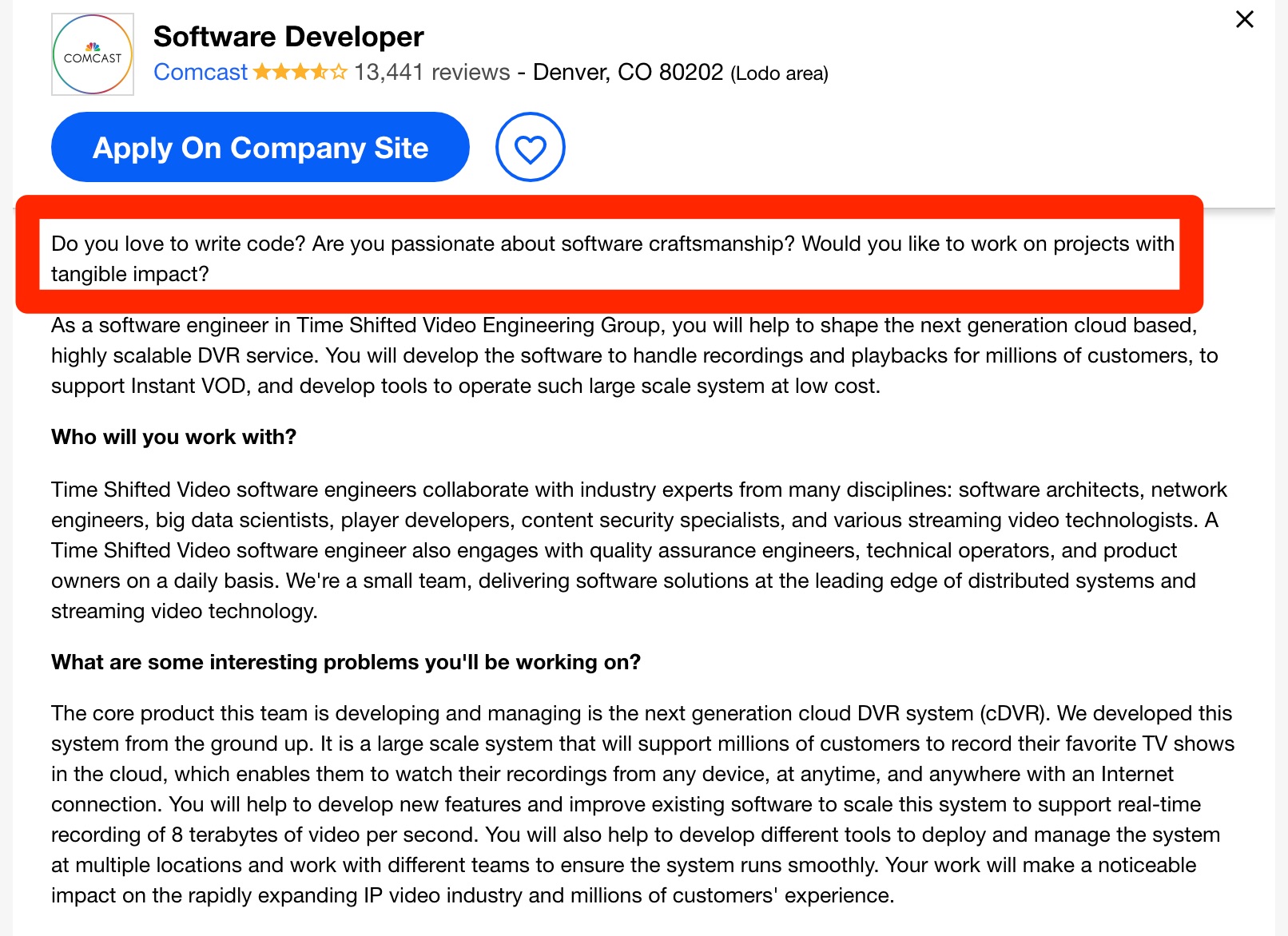 My advice: Try leading off your job description with a question or two. It sets the tone with your candidate that you are having a conversation. A good couple of template questions to use are:
"Do you love to [fill in the blank with what the job entails]?"
"How would you like to [fill in the blank with a massive benefit that the candidate will get from the job]?"
Tip #2 for Well Written Job Descriptions: Use 1st Person/2nd Person
Well written job descriptions use 1st person (I, me, we, our) and 2nd person (you, yours). Again, this makes it more conversational.
Check out an example of this in the job ad below where I've highlighted 1st/2nd person instances.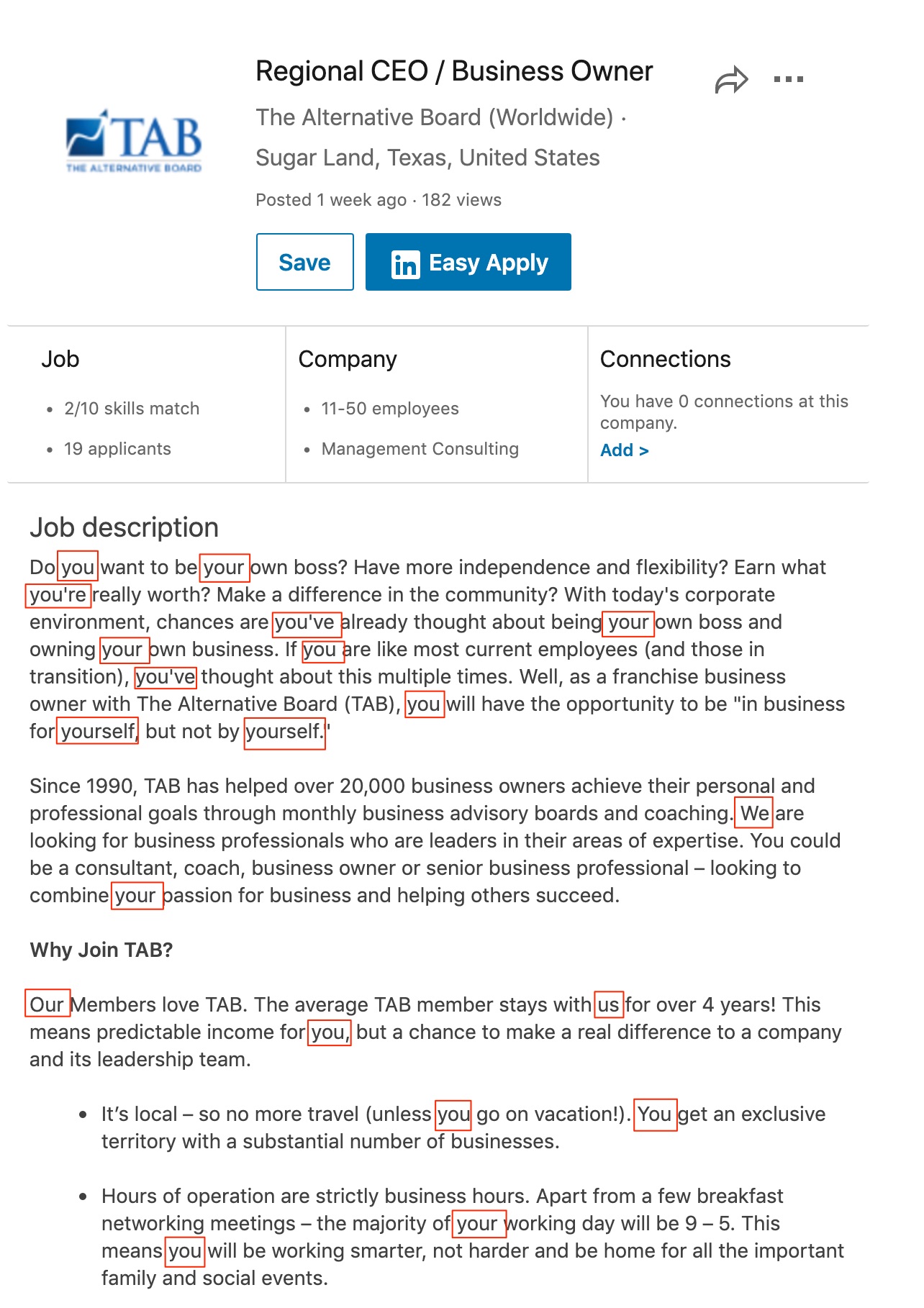 My advice: Try to use 1st/2nd person throughout your job description. If that's too much, a baby step would be to change your section headings to be 1st/2nd person (e.g. About You, What you Get, About Us, etc.)
Tip #3 for Well Written Job Descriptions: Benefits Section
Did you also know that each benefit you include on your job ad increases the apply rate 1% to 5% (see this Appcast study)? Check out Coinbase's JD below. They dedicate just about the entire right-hand rail to their benefits.
The reason that well written job descriptions use benefits is that benefits meet the basic needs of security and survival (see Maslow's Hierarchy of Candidate Needs for Job Ads.
But, you might say, "we already include benefits on our careers site." Well, that doesn't matter if your candidate comes to you from a job board or Google or an employee referral. The job posting is the point of purchase and you need that selling point there.

My advice: Include a clear Benefits section. Check out A List of 20 Awesome Employee Benefits if you're looking for ideas on the types of benefits other companies include in their job descriptions.
Tip #4 for Well Written Job Descriptions: Use Bullets
A well written job description is easy to read. One trick to making your JD easier to read is to break up the text with bulleted content. The candidate's eye will be grateful for the rest you give them.
Check out Textio's job posting below. It blends paragraphs with bulleted text sections so that the candidate can read it more quickly.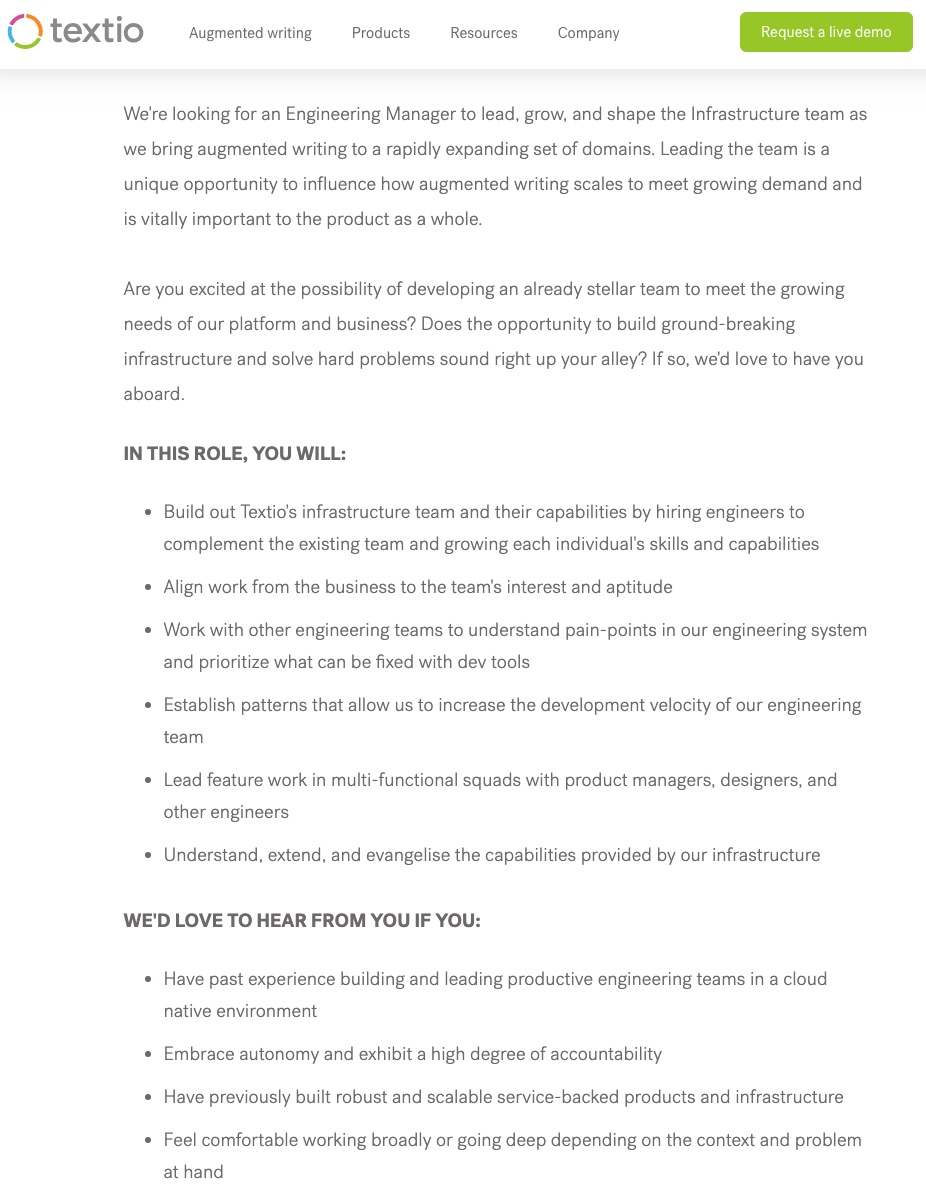 My advice: A good rule of thumb is to use bullets for 25% to 35% of your job description word count.
Tip #5 for Well Written Job Descriptions: "Day in the Life"
Candidates want to imagine what they'll do for you day-to-day.
Check out Disney's job posting below. They list out real-life things that the employee would be doing in this role on a day to day/week to week basis.
Doesn't it make the job more real?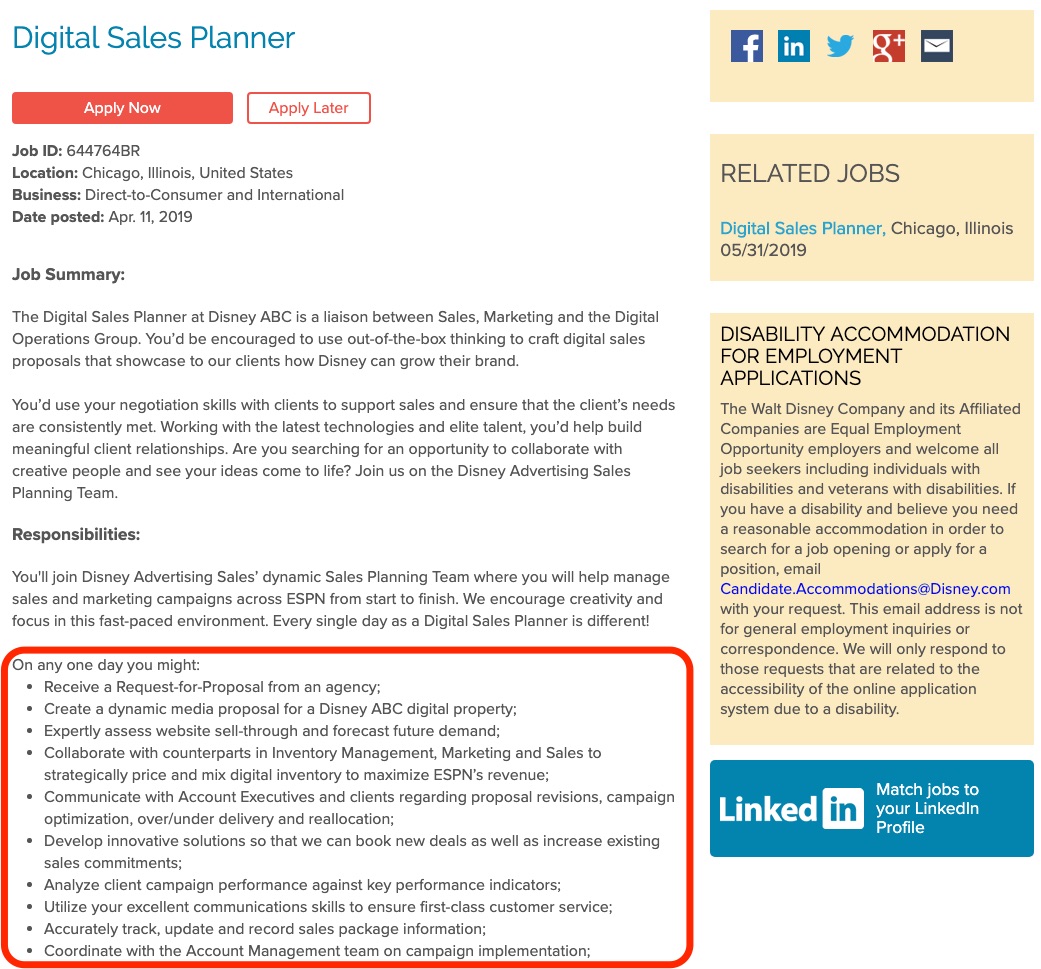 My advice: Ask the hiring manager to list a few of the top things that someone in this role might do on a regular basis.
Tip #6 for Well Written Job Descriptions: Be Specific
Fluffiness is the enemy of a well-written job description — candidates crave details.
Check out this heatmap of a job posting below that shows in bright orange and red what candidates found most appealing or that would make them apply.
Do you see how most of the things that the candidate care about are specific/detailed?
They include:
Location: "Midtown Manhattan" (not just "New York, NY" or "New York City")
An "executive training program" as a benefit
An actual salary range
"15 direct reports"
Performance/goal metrics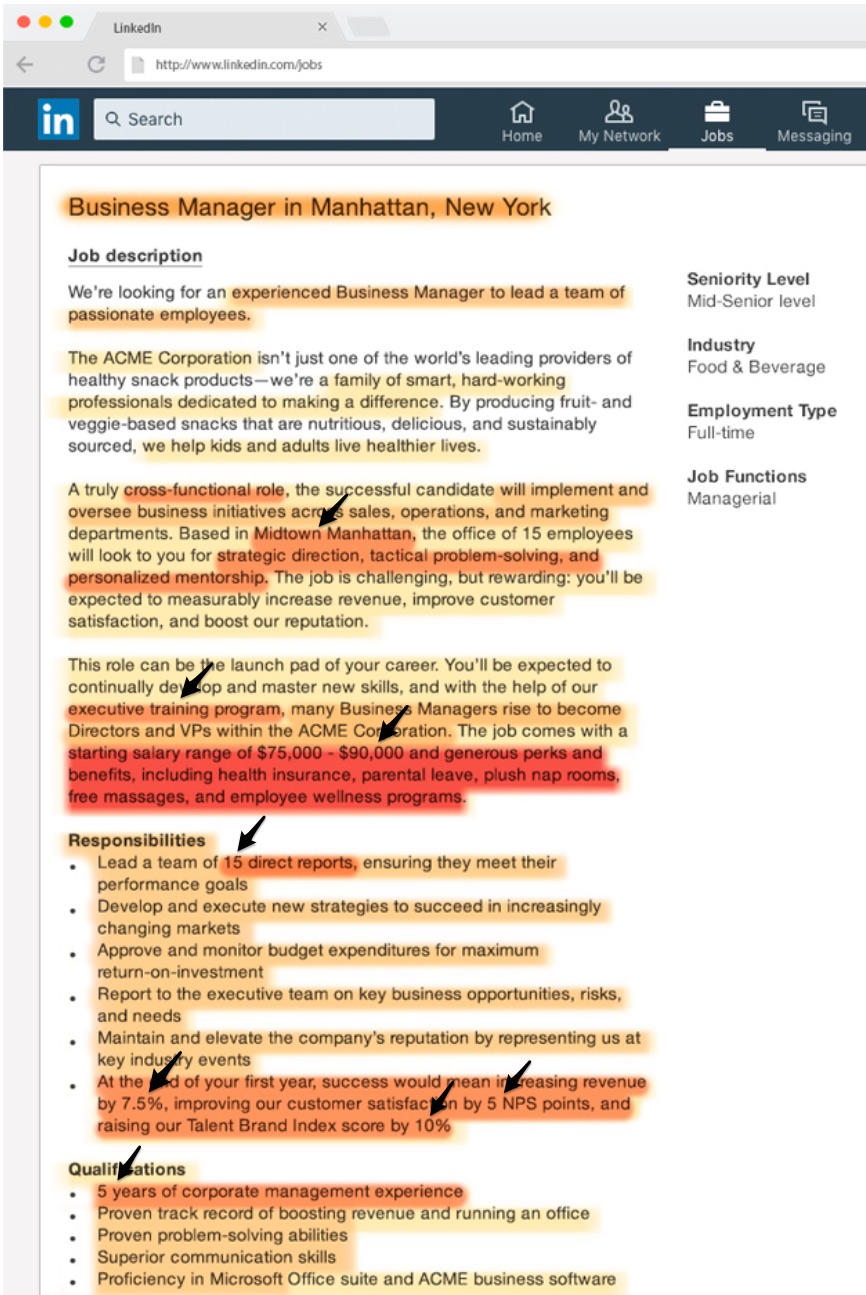 My advice: If you want to write a well written job description, you need to be as specific as possible. Don't worry about losing out on candidates who are turned off by any details. They likely won't be a fit anyway.
Try providing details on things like:
Team info (size, reporting structure)
# of years experience
Training programs
Top 5 benefits
Tip #7 for Well Written Job Descriptions: End Strong
Some candidates will scroll to the end of your job description to make sure they're not missing anything big.
So, make sure you end strong.
Notice what Huge Inc. does below. They end each job ad with a diversity/inclusiveness statement that doesn't look like the normal boilerplate/EEO language many employers use.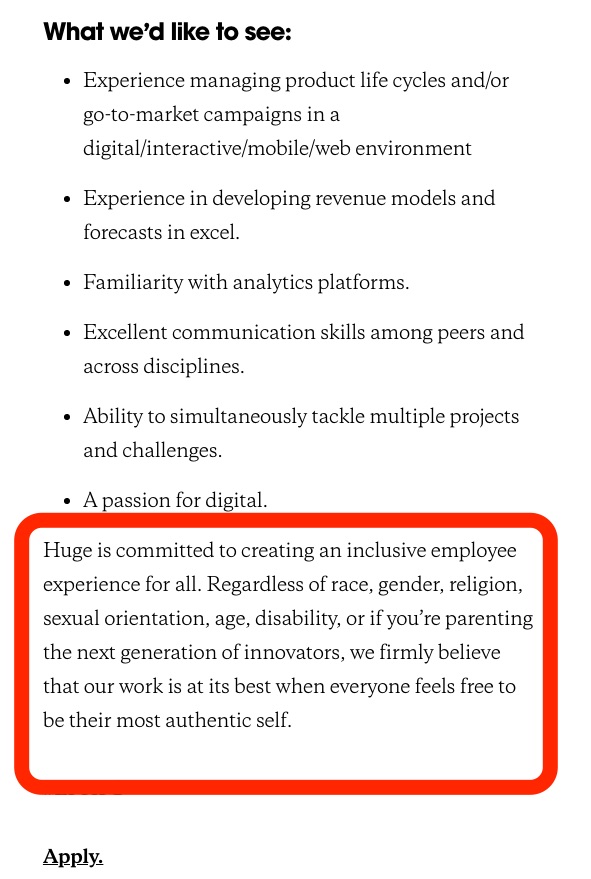 Why I wrote this?
Our team here at Ongig is on a mission to transform your job descriptions. Our Text Analyzer job description software helps you get well written job descriptions without having to hire expensive copywriters. Click Request demo if you'd like see it in action.