Video job descriptions grab the attention of busy candidates.
They also boost candidate time-on-page (engagement!).
Here's a list of tools to consider:
11 Awesome Video Job Description Creation Tools
A recruitment video production app that allows companies to make video in-house.
They allow employers to streamline video production.
They segment the production process into 5 simple steps:
Pricing: Starts at $850 per month
Notable VideoMyJob customers: Siemens, Randstad (Staffing), Davidson, People2People
VideoMyJob has 5 great recruitment video case studies published on their website that show off the results they've got for their clients.
Recommended by some of the best in the industry (Tim Sackett, Celinda Appleby), Skill Scout is one of the top options for video job description creation.
They give employers the choice to record video job descriptions on their own or with a Skill Scout production team.
For do it yourself produced videos the process looks like this:
They give you a DIY Kit
Give you a list of video recipes to pick from
You film the video
They edit the video
You get the final video
For Skill Scout video production, they take care of the whole process. From concept to delivery, they plan every detail of the shoot then film, conduct interviews and edit your job videos.
Pricing: Contact Skill Scout for pricing. They also have an end of year sale.
Notable Skill Scout customers: Unilever, Nike, McDonald's, American Airlines.
Sparc specializes in helping you get hiring manager videos onto your job descriptions.
Their Amplify Video Management System allows employers to:
Create video content
Generate visibility
Control quality
Manage centrally
Search and sort
Share easily
Described as a digital employer branding content studio, Stories Incorporated gives employers the ability to bring their jobs to life.
They cover all stages of the video job description creation process.
Their results are focused metrics like job views and conversion rate (applies).
Pricing: Contact Stories Incorporated for pricing.
Notable Stories Incorporated customers: Dell, Expedia Group, BAE Systems, Sonoco, Loews Hotels.
You can also view some of their client success stories (located towards bottom of the page).
The digital recruitment technology that utilizes video to candidate volume and quality.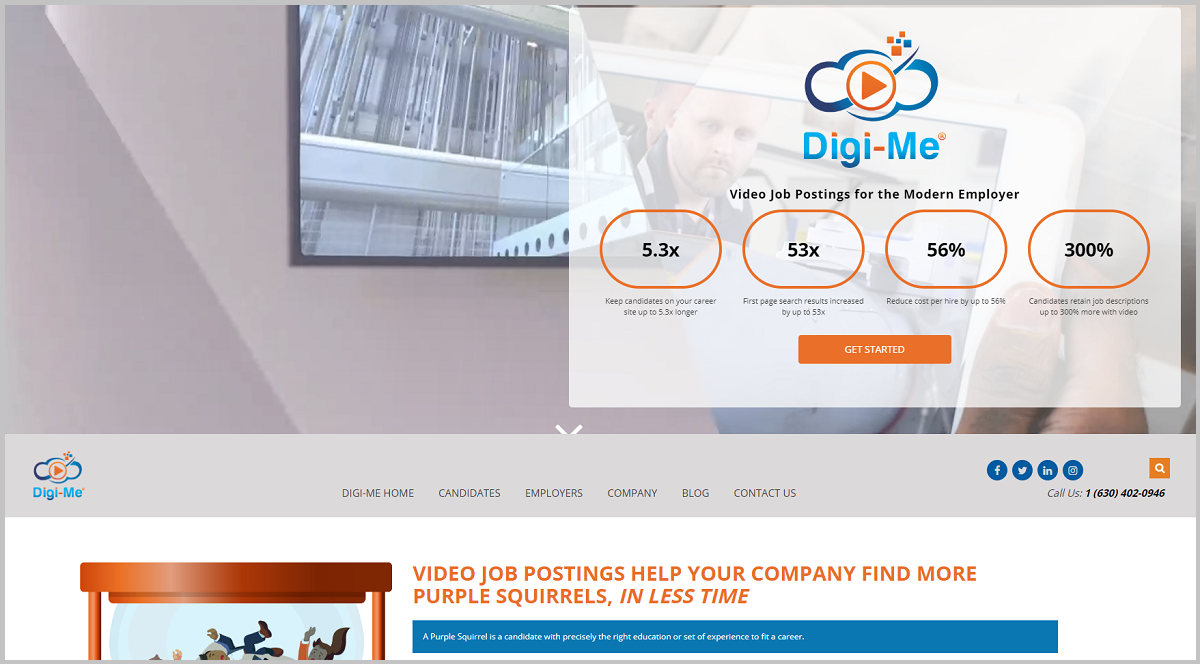 Here are some highlights of Digi-Me's custom job description videos:
60-Second compelling and engaging digital video job ad
Candidates understand and retain up to 60% more about a position versus text alone
Social, mobile and boost SEO rankings!
Tracked in real-time offering real-time metrics on views and applies by source
Integrates with your ATS
Video job ads are produced with your brand guidelines in mind
Pricing: Contact Digi-Me for pricing.
Notable Digi-Me customers: USG, Radiometer, Gonella
Here's a Digi-Me video job description example.
The mission of Altru Labs is to build an authentic view of what it's really like at your company with video.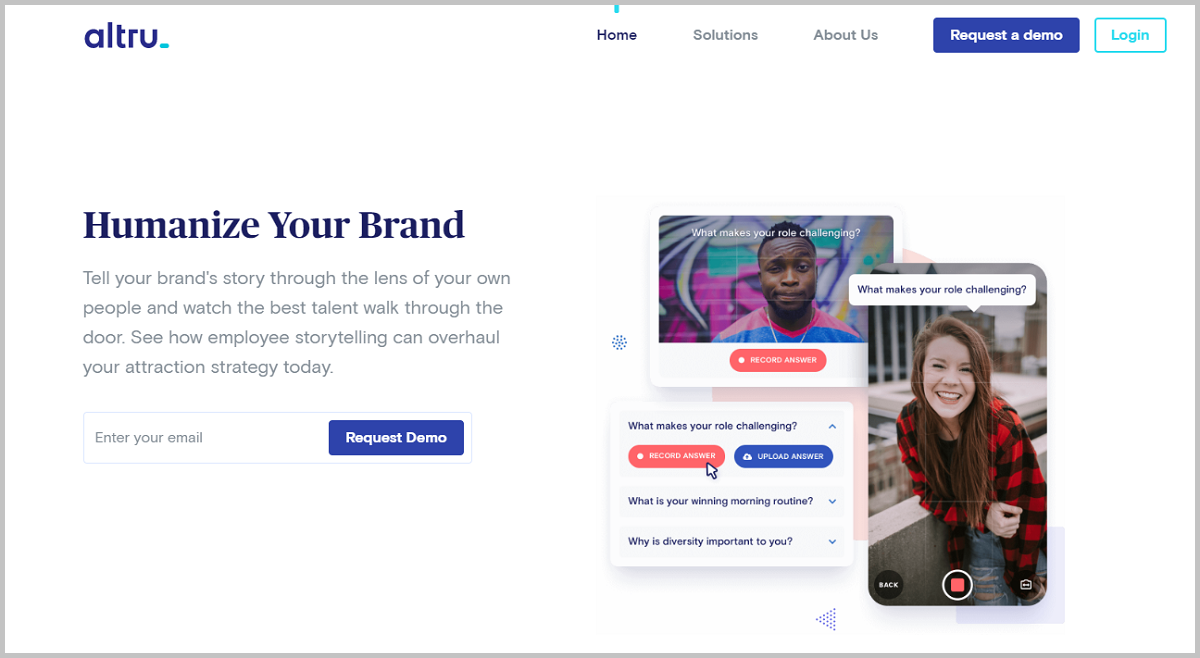 Altru Labs gives employers the ability to:
Capture recruiting content anytime, anywhere.
Easily edit videos after they have been created by employees.
Integrate videos directly into job description pages.
Make real-time decisions and optimize performance to prove the value of employer branded videos.
Pricing: Contact Altru Labs for pricing
Notable Altru Labs customers: Holiday Inn, Target, Capital One
A mobile app that enables talent acquisition and recruitment teams to record, edit, and publish videos quickly.
Known as one of the most popular job boards, Monster is now giving employers the ability to turn their text-based job postings into videos.
Here's a Monster Studio video job description example:
Pricing: Monster Studios is being offered as a value-add to customers who purchase Monster Job Ads.
Notable Monster Studios customers: Volvo, Raymour & Flanigan
With Biteable's browser-based video maker, you can create your own studio-quality video job descriptions in a matter of minutes.
Here's how to make a video job description with Biteable:
Choose a professionally designed video template (or start from scratch).
Customize your video using 1.8 million stock video clips, images, and one-of-a-kind animations.
Upload your own footage, add effects, create animated text, and more.
Share your video using a clickable link and measure its success with Biteable analytics.
Pricing: Try Biteable for free or upgrade to a premium plan starting at $19/per month.
Notable Biteable customers: Amazon, Microsoft, Google, Disney, Salesforce, BBC, Shopify.
For extra inspiration, you can browse all of Biteable's recruiting, hiring, and HR video templates.
Other Great Video Job Description Creation-Related Tools
Why I Wrote This
We get tons of employers looking to create video job descriptions.
At Ongig, we're on a mission to transform job descriptions. As part of that, our career site content management software lets you easily add video to any job page after the video is created.
This includes:
Putting your video job descriptions on job pages (regardless of ATS).
Providing a video job description library where all of your videos can be kept in one place.
Easy video distribution to specific job pages via tagging (i.e. tag a video "engineering" to be distributed to all engineering job pages with a single click).