Want to recruit veterans or enlisted members of the military? I'm guessing yes. There are 1 million+ people in the U.S. Armed Forces and 250,000 per year transition out of the U.S. military.
If you want to recruit veterans better, first you have to speak their language…their job lingo in particular.
Veterans and enlisted members speak of jobs in terms of "military job codes". The U.S. Military uses the following sets of military job codes:
The U.S. Army and Marines use Military Occupational Specialty Codes (or "MOS Codes" for short). Their codes are here: Army MOS Codes List
The Air Force uses "AFSC Codes" (short for Air Force Specialty Codes). See the Air Force AFSC List
The Navy uses NEC Codes (Navy Enlisted Classification Codes). Their codes are here: Navy NEC Codes List
Military job codes are usually around 2 to 6 characters each. Some examples:
26B = Information Systems Engineer
42B = Human Resources Officer
66B = Nurse
5J = a Paralegal
So, for instance, a veteran looking for an HR job might search the Web for "42B jobs" (not HR jobs).
To recruit veteran and enlisted member candidates you can't rely on just the job posting title and job description. You need to weave in that military job code somewhere.
The Good News: Top Boards Help Recruit Veterans for You
The good news is that leading job boards already support military job codes to help recruit veterans for you. The following job boards support military job codes in their job searches:
Indeed
Glassdoor
Google.com
CareerBuilder
LinkedIn
For example, if you search "42B" on one of those job boards, you'll likely get a list of senior HR job postings. Many military-centric job boards support such searches too.
The Bad News: You Likely Don't Support Veteran Job Search
The bad news is that your own company career site likely doesn't support military job codes. You're probably using your ATS job search on your career site and I don't know of any ATS that supports military job codes.
So, when a veteran searches your career site for 42B or any military job code they will likely get zero results (or some irrelevant results) on your career site.
That's not a good way to recruit veteran and enlisted members.
But there's relief in sight.
Solution: Use New AI Veteran Job Search For Your Career Site
You can now leverage the awesome AI Job Search technology coming out of Google's Cloud Talent Solutions. Google's AI Job Search tech includes support of military job codes.
Here are some examples:
On J&J's career site, if you search 66B (code for "Community Health Nurse"), you get these 3 relevant results (out of 1,667 jobs!):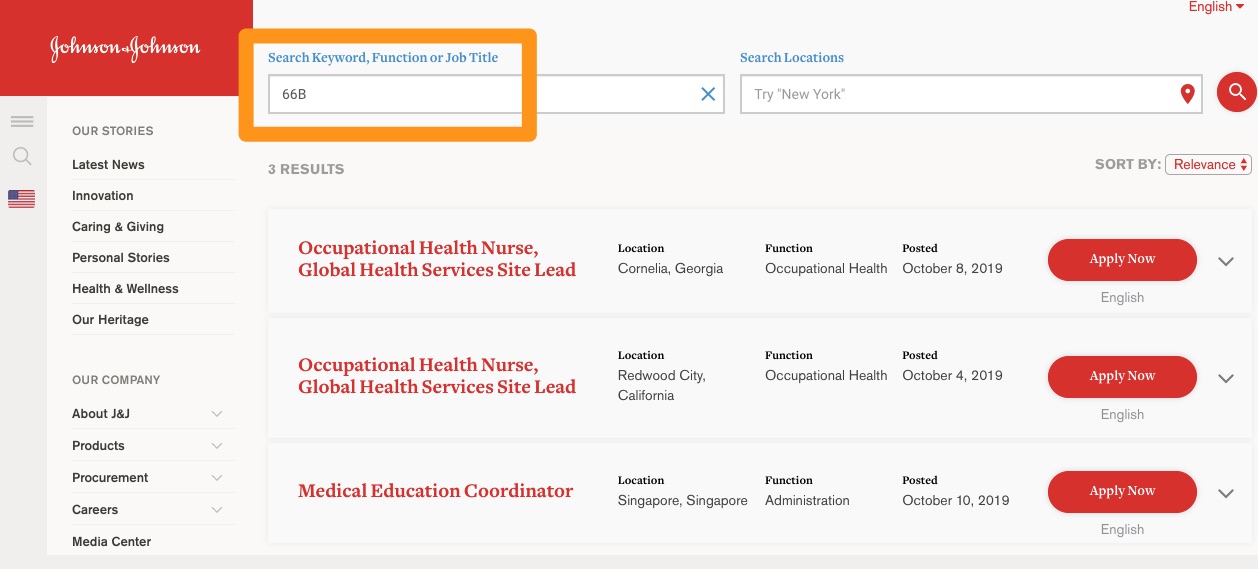 On Westrock's career site (see below) if you search 42B (code for "Human Resources"), you get HR-related jobs: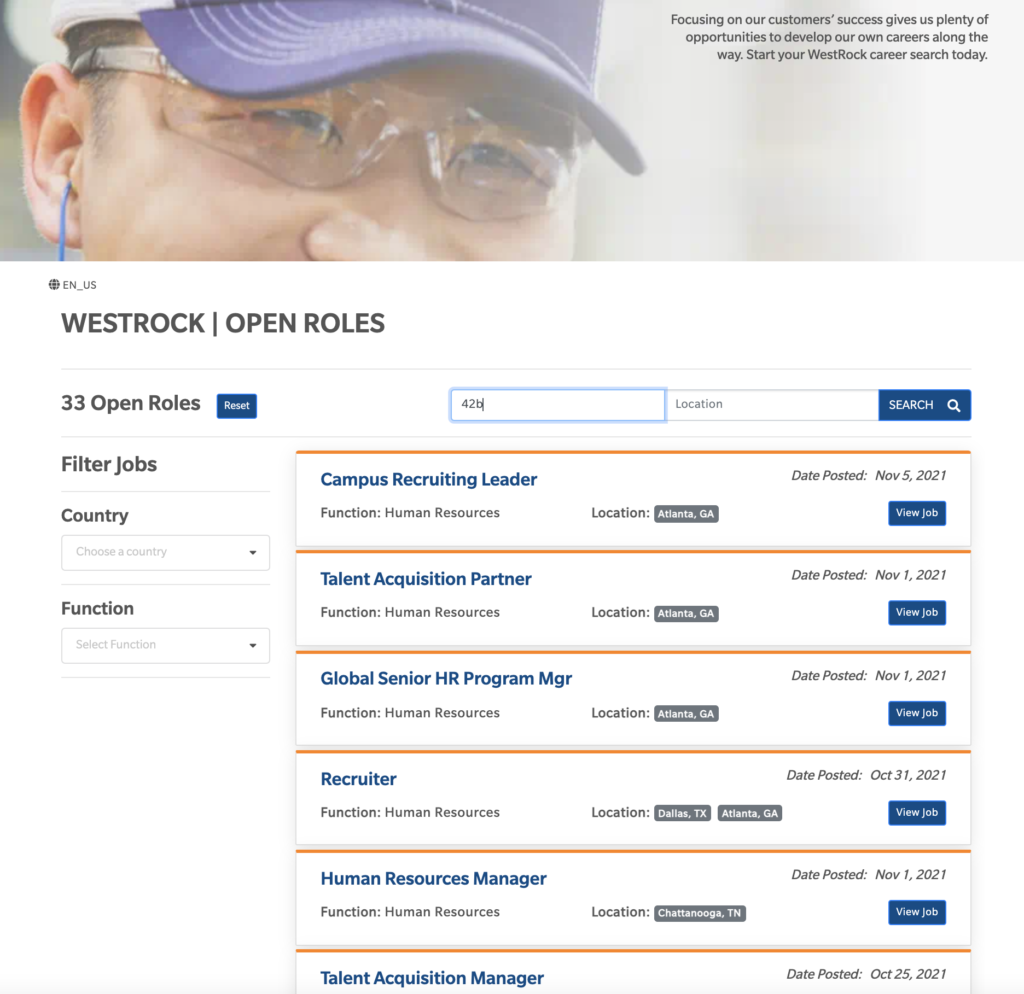 On Synopsys' career site, if you search 26B (code for "Information Systems Engineer"), you get 5 relevant results like the ones below.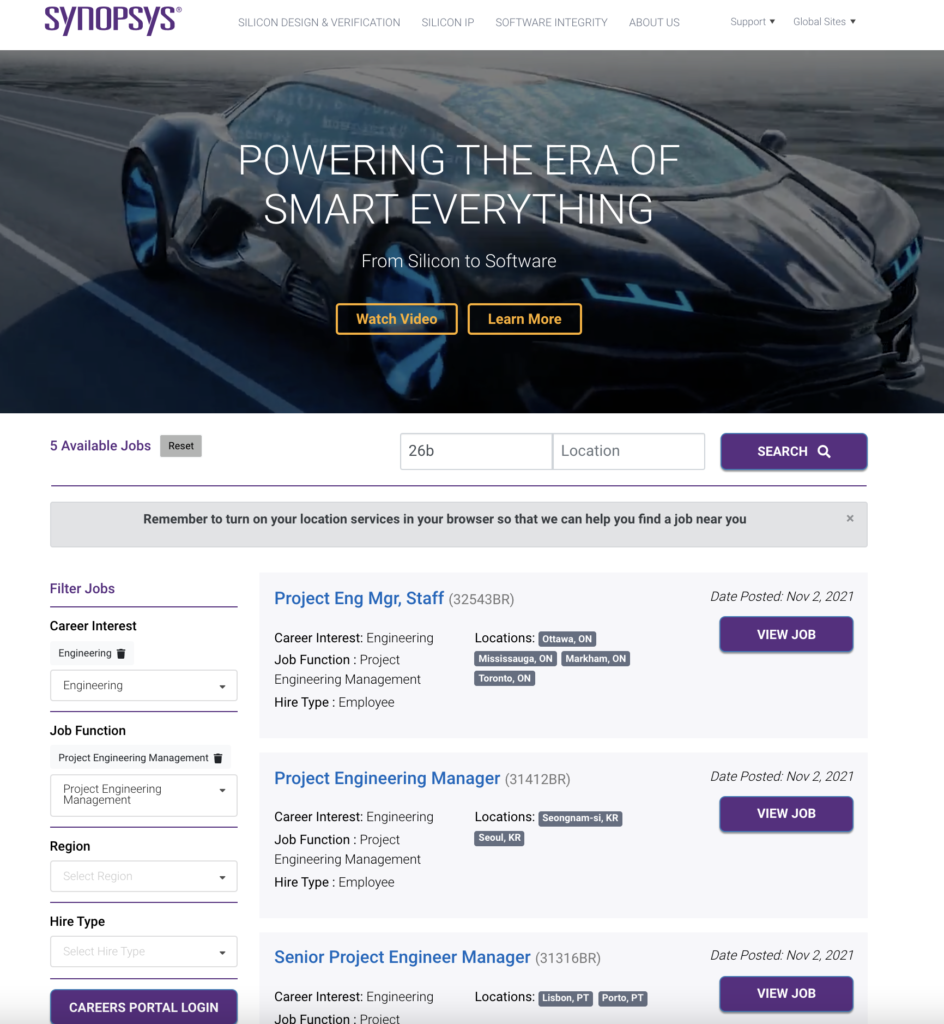 "We were really excited when we learned that Ongig's AI job search extends to and supports Veterans. Synopsys is focused and committed to recruiting Veterans and this functionality supports our commitment and is a step in the right direction for us and our job seekers."

— Caitlin Perez, Talent Programs Manager at Synopsys
On Anixter and Peak6's career sites (below), you'll see that a veteran searching 25a (code for "Signal Officer"/Operations) generates the closest jobs both co's have for someone with that background: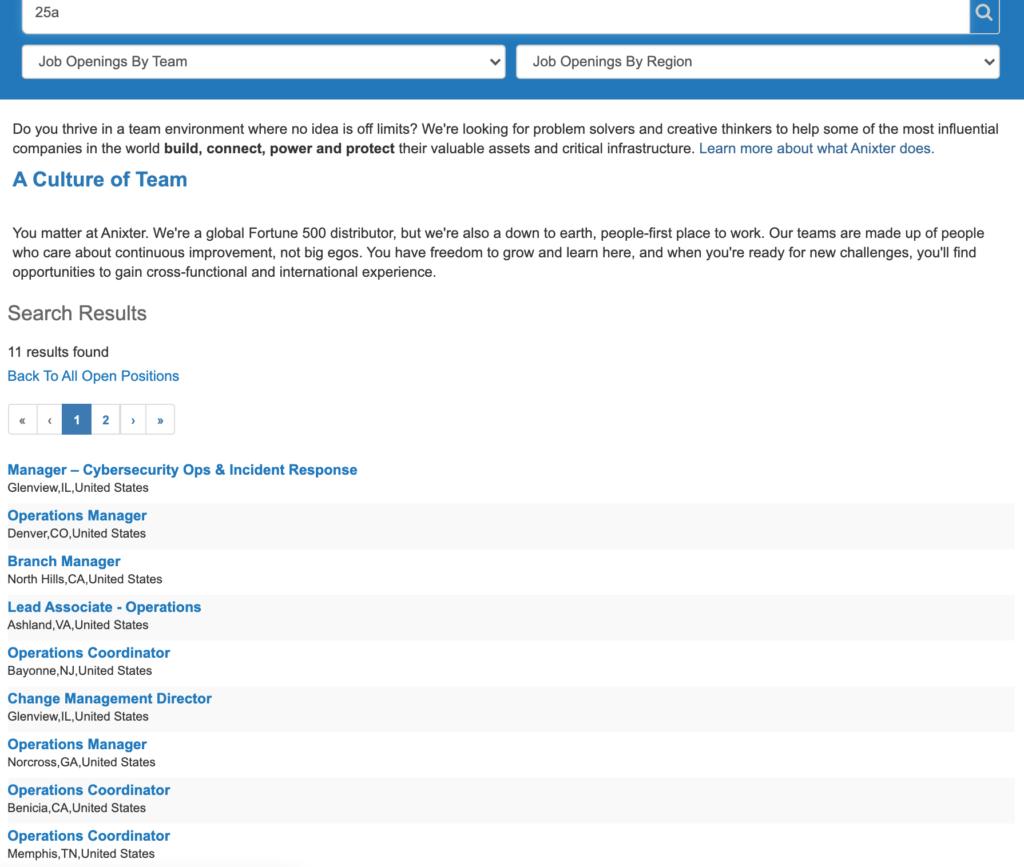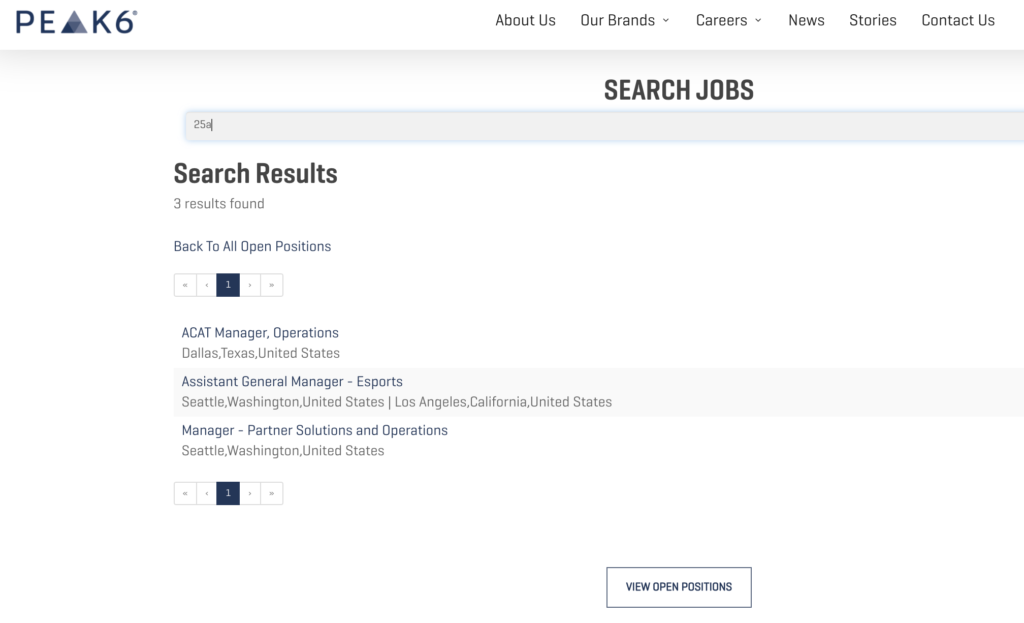 3 Options to Get Veteran Job Search on Your Career Site
If you want to recruit veterans better using the types of job search above, there are a couple of choices.
Hire a Custom Developer — You could hire a custom developer and work with Google on building the veteran job search into your career site. You'd pay Google a subscription fee per query. The developer would need to work with your ATS's APIs (if your ATS has one). You'd need the developer to monitor the new job search on an ongoing basis.
Subscribe to a Career Site Builder Software Solution — If you're in the market for a new career site, Google has partnered with 11 companies that have access to Google's tech. Some of those partners sell career site builder software solutions that include the veteran job search. The 2 Google partners I see offering the veteran job search are Jibe (now part of iCIMS), and Ongig (yes, that's us — shameless plug!). Career site builder software solutions tend to range in price from $10,000 to $150,000 per year.
A.I. Job Search Embed — If you want veteran job search without revamping your entire career site, there's one more option. You can invest in Ongig's AI Job Search Embed. Ongig gives you 3 lines of code to add to your career site that lets you embed just the Google AI Job Search box. The job search then searches any jobs coming out of your ATS and when the candidate clicks on the awesome results, they are sent to your usual job posting pages.
Why I wrote this?
Ongig is on a mission to transform job descriptions. One way to do this is to allow job postings to be easily searchable by any group (including veterans). That's why we partnered with Google on AI Job Search. Click the demo request button on this page if you'd like to learn more.