Human Resources might have the most complicated set of job titles of any department. In this article, I share 4 pieces of research I hope will assist you in using the most effective HR job titles:
HR Job Titles Hierarchy — An pyramid of the basic org chart of HR teams
Examples of the job titles used in the 6 tiers/levels of those HR titles
A pie chart of the 40 most popular HR job titles that candidates search for on Google
A list of the top 22 HR job titles that HR teams ask about (with a brief description)
Note: This article is part of our ongoing series on job titles called: Job Titles: The Definitive Guide.
Enjoy!
HR Job Titles Hierarchy
Below is an example of a typical HR org chart with different Human Resource designations: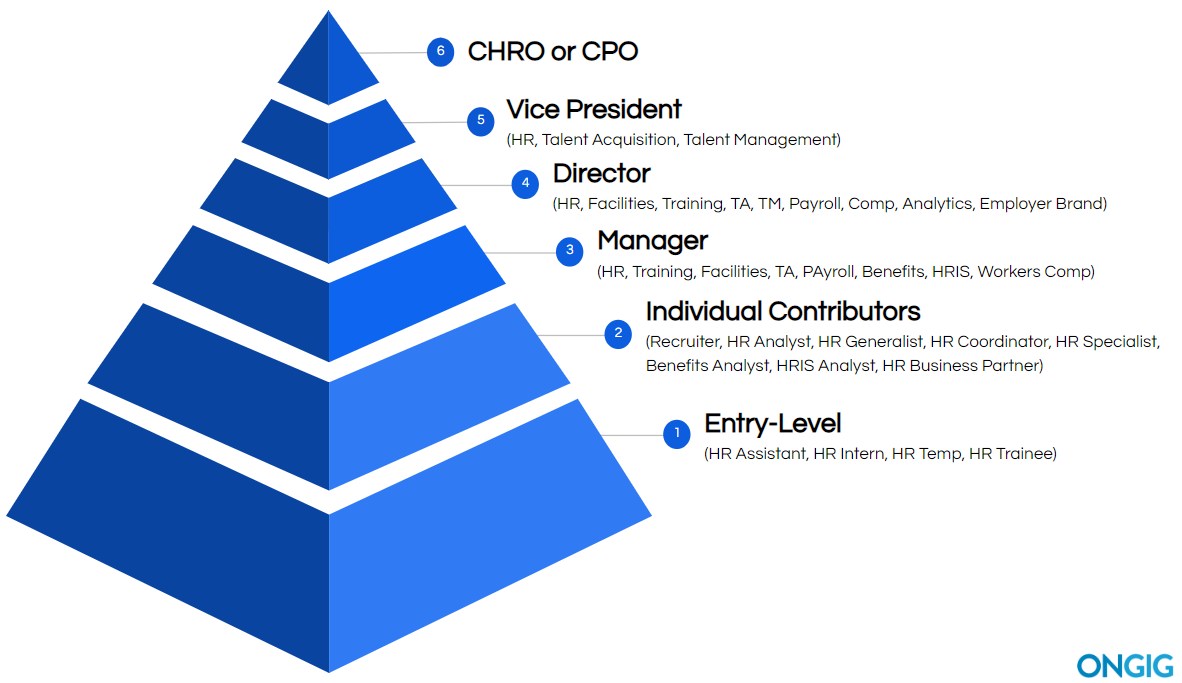 The HR titles hierarchy above is typical of many other departments with the normal 6 major levels of job titles (Chief, VP, Director, Manager, Individual Contributor and Entry-Level HR positions).
Disclaimer Note: For this article (including pyramid above) I exclude variations of human resource position titles such as Senior VP, Junior Manager, Associate VP, etc. Those qualifiers are commonly used at many companies but I wanted to keep the pyramid simple with the 6 broadest position levels. Diversity: Many companies have diversity reporting into HR. But there is also a movement to have diversity be its own department and some parts of diversity stretch beyond HR (e.g. making sure vendors and customers are diverse). For that reason, I am going to do a separate article just on diversity job titles.
Ok, ready? Let's start at the top.
Common HR Leader Job Titles
The Chief Human Resource Officer (CHRO) is the most common HR leader job title at a large enterprise. Most CHROs report to the CEO.
CHRO Meaning?
The meaning of CHRO is simple, CHRO is an acronym for Chief Human Resource Officer. Here's a quick definition of the role:
"a corporate officer who oversees their organization's HR management and labor relations policies, practices and operations. Some organizations may refer to this position as chief people officer (CPO)."

source: Gartner
If a company is large enough, there may even be multiple CHROs. Pepsico, for example, has Ronald Schellekens as the overall CHRO. But they also have a CHRO for business units (Pepsi Beverages, Worldwide Flavours) and regions (China, Kazakhstan, etc.).
CPO
The titles CHRO and CPO (Chief People Officer) are often used interchangeably. At Mastercard, for example, their corporate leadership Web page lists Michael Fraccaro as the "Chief People Officer" while Michael's LinkedIn profile states that he is the "Chief Human Resources Officer."
Some companies don't use the CHRO title at all and use another name in their human resources executive job description.
Microsoft, for example, describes their top HR person Kathleen Hogan with 2 different titles: Executive Vice President, Human Resources and Chief People Officer.
Chief Talent Officer and other C-Level HR Titles
Then there's the title "Chief Talent Officer". The Chief Talent Officer might sometimes be used for the top HR position at early-stage companies where recruiting "talent" has outweighed importance. But when the Chief Talent Officer title is used at larger enterprises it usualy reports into the CHRO. At Mastercard, for example, Kelly Joscelyne is the Chief Talent Officer responsible for:
"Setting the vision, strategy, and overseeing Talent needs across the global organization. This includes responsibility for talent attraction, acquisition, leadership development, succession planning, employee engagement, and change." management.
In a larger organization like Mastercard, the Chief Talent Officer usually reports to the CHRO. In an earlier-stage company, the Chief Talent Officer often reports to the CEO.
A company as large as Pepsico might also use other C-level HR job titles. Pepsico, for example, also has a Chief Learning Officer. Other companies have a Chief Training Officer as part of HR.
Now for a more detailed human resources job titles list:
VP of HR Job Titles
Examples of top VP job titles at a large enterprise include:
Vice President of Human Resources
VP of Talent Acquisition (or VP of Recruiting)
VP of Talent Management (or VP Talent Development)
VP of People and Culture
VP of Benefits (or VP Compensation And Benefits
VP of Payroll
VP of Workers Compensation
VP of Mobility
Large enterprises will also often have VPs for many of these practices above divided out into regions (e.g. VP of HR, Latin America).
…and might also have HR VPs for different business units (e.g. Walmart (which has 80 VP HR job titles) has a VP People, US E-Commerce Merchandising).
Other companies, like DHL (which has 78 HR VPs), has VP titles for different departments (e.g. VP Employee Experience, VP, Global HR for Finance, VP Group Learning and VP People Management & Platforms).
Director of HR Job Titles
Director of HR titles fall along similar lines (Director of HR, Director of Talent Acquisition, Director of Talent Management, etc.) as the VP level. But they also begin to have more specialized practices/positions. Here are the top 15 most-searched Director-level HR jobs on Google:
HR Director
Facilities Director
Benefits Director
Payroll Director
Training Director
Compensation Director
Talent Acquisition Director
Director Of Recruiting
HRIS Director
Director Of Workers Compensation
Employer Brand Director
Director Of People Analytics
Director, Employer Branding
Recruitment Marketing Director
Director Recruitment Marketing
HR Manager Titles
At the manager level, HR titles continue to get specialized.
Here are the top 20 most-searched HR job titles at the manager level:
HR Manager
Training Manager
Facilities Manager
Payroll Manager
Talent Acquisition Manager (or Recruiting Manager)
Benefits Manager
Compensation Manager
Sourcing Manager
HRIS Manager
HR Project Manager
Regional Human Resource Manager
Strategic Sourcing Manager
Executive Compensation Manager
Employer Brand Manager
Workers Compensation Case Manager
Employment Equity Manager
Employment Case Manager
People Analytics Project Manager
Industrial Relations Manager
HR Safety Manager
Individual Contributor HR Titles
At the individual contributor (IC) level (i.e. the individual is not managing anyone), the list of HR titles continues to get more specific.
Here are the top 20 most-Googled individual contributor HR job titles on Google.
Recruiter
HR Analyst
HR Generalist (aka HR Associate)
HR Coordinator
Virtual Recruiter
Remote Human Resources
Training Coordinator
Payroll Clerk
Human Resources Generalist (aka Human Resources Associate)
Recruiting Coordinator
Corporate Recruiter
Technical Recruiter
HR Business Partner
HR Consultant
Benefits Specialist
Campus Recruiter
Benefits Administrator
Payroll Administrator
Executive Recruiter
HRIS Analyst
Entry Level HR Job Titles
At the bottom of the pyramid are the entry-level HR job titles.
The 7 most Googled-for entry-level HR jobs are:
HR Assistant
HR Intern
HR Temp
Recruiting Assistant
HR Administrative Assistant
HR Trainee
Junior Recruiter
Top 40 Human Resources Job Titles (by Candidate Search Volume)
The chart below shows the top Human Resource position titles by candidate search volume: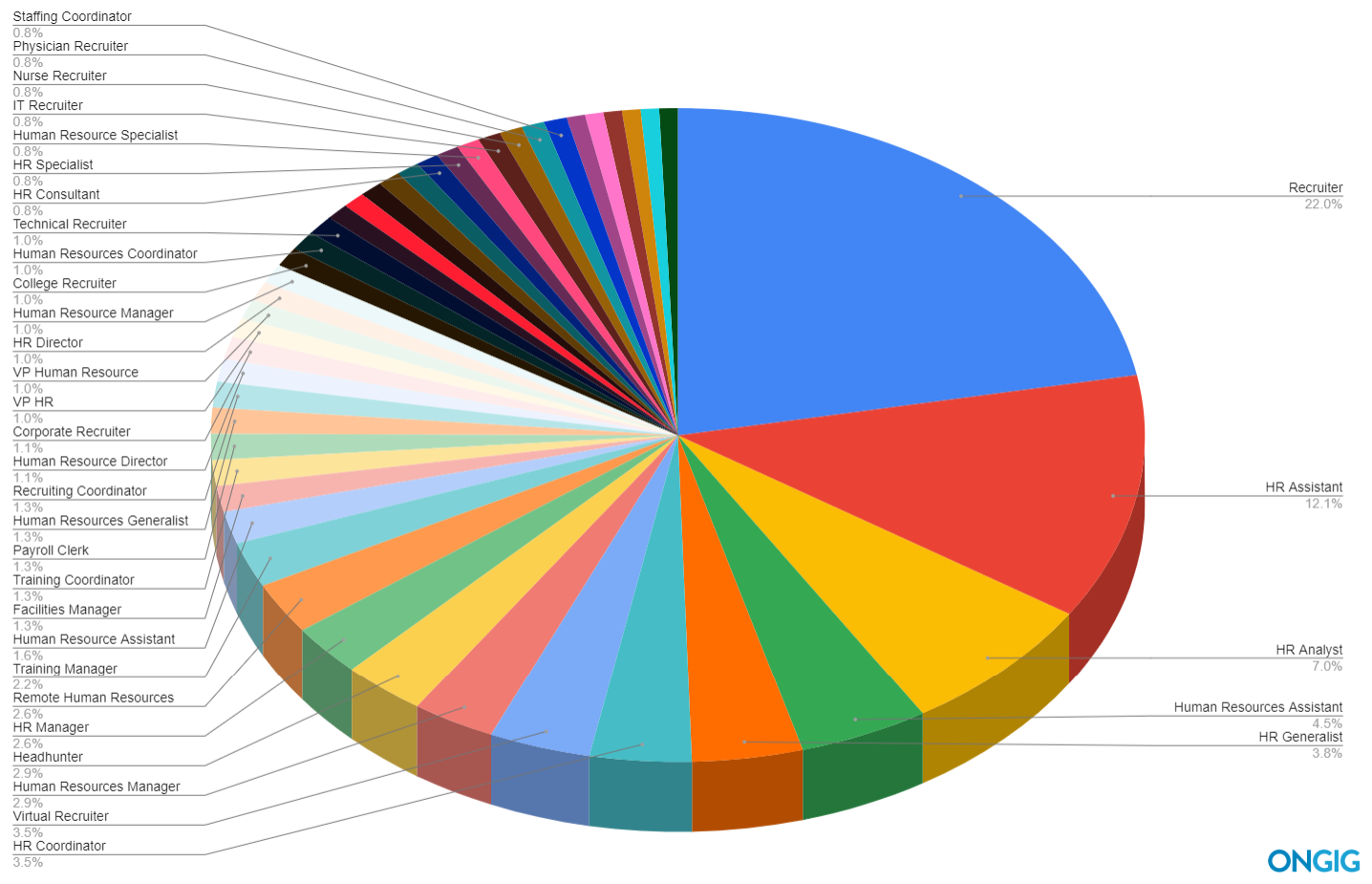 HR Job Titles and Descriptions (by Employer Interest)
Here are the top 22 HR job titles that employers request job descriptions for (along with brief descriptions of the HR positions):
1. Human Resources Generalist
A human resources generalist, also known as an HR generalist, is responsible for the day to day management of human resources operations within an organization. A human resources manager manages the administration of policies, procedures, and programs for a company. Human resources generalists also manage staff recruiting and staffing logistics.
Note: Companies like IBM and Target use HR Associate as an alternative title to HR Generalist.
# of Google Searches per Month: 2,700 (HR Generalist: 2,000); (HR Associate: 60)
2. Recruiter
The Recruiter job title is a broad, catch-all general description for a recruiting role at an employer or agency. A Recruiter working directly for an employer might be called Recruiter or Corporate Recruiter. A Recruiter working for an agency might be called an agency recruiter or headhunter. The key responsibilities of a recruiter are to pre-screen and present qualified candidates to the hiring manager, and also to serve as the main point of contact throughout the hiring process. A recruiter may also participate in employee onboarding to ensure the employee is ready to begin their new position.
# of Google Searches per Month: 2,200
3. Corporate Recruiter
A Corporate Recruiter is an internal employee recruiting for one company (as opposed to an agency recruiter, staffing recruiter or headhunter). The Corporate Recruiter works closely with hiring managers to define needs and structure the recruitment plan. The Corporate Recruiter usually organizes most of the communications with candidates and short-lists candidates for the company to try to close.
# of Google Searches per Month: 2,200
4. HR Manager
An HR Manager (Human resources manager) is the link between the employees of an organization and the management structure. An HR Manager is responsible for guiding the administrative tasks of an organization, human resources job responsibilities, handling employee management, and coordinating the functions within various departments. HR Managers are critical to the flow of an organization.
# of Google Searches per Month: 1,800
5. Human Resources Assistant
A Human Resources Assistant, also known as an HR Assistant (or Human Resource Assistant), is a vital position that supports the overall employee experience and ensures legal compliance. A human resources assistant manages the day-to-day HR functions like the following:
Employee application process
New employee orientation
Payroll
Record maintenance
Vendor management
Employee recognition and rewards
# of Google Searches per Month: 1,300; HR Assistant: 700; Human Resource Assistant: 300
6. Human Resources Director
A Human Resources Director, or HR director, is responsible for operating a company's human resources department. An HR Director supervises human resources employees and provides support to upper-level management for strategic staffing planning, compensation and benefits, employee training and development, and labor relations. An HR Director also promotes a positive work environment and culture. HR Directors' daily tasks include:
Employee orientation implementation
Database management procedures
Employee records management
Benefits program management
# of Google Searches per Month: 1,300; HR Director 500
7. HR Coordinator
An HR coordinator, also called a human resources coordinator, works directly with the HR director or manager to address any issues raised by current or newly hired employees. An HR coordinator organizes and schedules employee orientations, and manages other HR functions like training and development. HR coordinators focus on improving HR policies, processes, and recommending changes to Human resources management. An HR coordinator may also oversee labor negotiations and analyze employee productivity data.
# of Google Searches per Month: 1,100
Human Resources Coordinator 400
8. Headhunter
Headhunters are usually employees of a recruiting agency (or independent contractors) hired by a company to find, vet, and present candidates for a position. They are sometimes called a "contract recruiter".
# of Google Searches per Month: 800
9. Human Resource Business Partner
A Human Resource Business Partner (aka HR Business Partner or HRBP) aligns business objectives with management in designated business units. The HR Business Partner has an effective business literacy about the business unit's financial position, midrange plans, culture and competition.
# of Google Searches per Month: 800; Human Resources Business Partner: 200
10. HR Specialist
An HR Specialist, also known as human resources or human resource specialist, serves as a liaison between employees and management. An HR Specialist is responsible for negotiating with unions, resolving disputes within the organization, and managing employee health and safety programming. HR Specialists also work with hiring managers to develop candidate criteria, attract qualifies employees, and coordinate new hire relocations. An HR Specialist may also manage the development of benefits and compensation packages for an organization.
# of Google Searches per Month: 600; Human Resources Specialist: 450; Human Resource Specialist: 400
11. Resources Manager
A Resources Manager works with senior management and project managers to identify and allocate resources for organizational projects and initiatives. A Resources Manager is responsible for the management and allocation of various types of resources, including a budget, technology, time, and people. A Resources Manager works with multiple employees within an organization to foster efficiency.
# of Google Searches per Month: 600
12. Human Resources Administrator
A Human Resources Administrator, or HR Administrator, is responsible for overseeing human resources personnel within and organization. The HR Administrator handles specific tasks like creating employment contracts, scheduling interviews for open positions, and recruiting. HR Administrators are the first point of contact for HR-related requests within a company.
# of Google Searches per Month: 450; HR Administrator: 300
13. HR Intern
A Human Resources Intern, also known as an HR Intern, works in an organization's human resources department. An HR Intern works directly with a supervisor or manager to assist with day to day HR operations. Duties of a human resources intern include:
Posting jobs
Assisting in conducting interviews
Researching and developing job descriptions
Updating personnel paperwork
# of Google Searches per Month: 400; HR Intern: 200
14. HR Analyst
An HR Analyst is responsible for collecting and studying information related to human resources issues, costs, and different types of jobs within an organization. An HR Analyst uses human resources information systems (HRIS) to manage HR data accurately and efficiently. Other tasks managed by an HR Analyst are compiling salary information, collecting employee data, and maximizing human resources efficiency.
# of Google Searches per Month: 250
15. HR Recruiter
An HR recruiter is responsible for finding and placing qualified employees for an organization. AN HR recruiter assists with the development of job descriptions, job postings, application screening, and scheduling interviews. Other tasks completed by an HR recruiter are:
Conducting initial phone interviews
Contacting references
Drafting job offers
# of Google Searches per Month: 250; Human Resource Recruiter: 250
16. Technical Recruiter
A technical recruiter (aka an Information Technology (IT) Recruiter) sources and assesses candidates for technical roles within an organization. Technical Recruiters often use their specialized knowledge of technology systems to find qualified candidates in the technology field. A Tech Recruiter arranges interviews, discusses compensation and salary packages with potential employees, and reviews the company's job requirements.
# of Google Searches per Month: 250
17. Vice President of Human Resources
The Vice President of Human Resources positions runs the planning, directing, and coordinating of HR administrative functions of an organization. VP of HRs are executives that consult with other executives on strategic planning that includes the recruiting, interviewing and hiring of new staff. The VP of HR serves as a link between high-level management and the employees in an organization, handling the following tasks:
Planning and oversight of benefits programs
Consulting on equal employment opportunity and sexual harassment issues
Handling staffing issues and mediating disputes
Coordinating and supervising HR specialists and support staff
# of Google Searches per Month: 250
18. Chief Human Resources Officer
A Chief Human Resources Officer (CHRO) (sometimes called Chief People Officer (CPO)) is responsible for overseeing the HR management of an organization. A CHRO develops and executes the human resources strategy for an organization to support the overall strategic direction. The primary duties and responsibilities of a CHRO are:
Establishing and implementing HR efforts that support the business's mission and vision
Working with senior management and various business units on key organizational and management issues
Developing comprehensive recruiting and retention plans
Developing and implementing compensation and benefits plans
# of Google Searches per Month: 200
19. Director of Human Resources
A Director of HR manages and guides the human resources services, policies, and programs for an organization. An HR Director is responsible for managing recruiting and staffing, performance management, compliance, and employee development. An HR Director also leads the development and implementation of employee training, orientation, compensation, and policy. The Director of Human Resources usually reports to the VP of HR.
# of Google Searches per Month: 200
20. HRIS Manager
An HRIS manager (aka Human Resources Information System Manager), is responsible for maintaining and supporting an organization's HR systems software. The tasks and responsibilities of an HRIS manager are:
Supervising day to day HR software activities
Recording and processing employee information
Analyzing employee data to maintain integrity
Performing assessments and HRIS improvements
Overseeing HRIS upgrades and compliance
# of Google Searches per Month: 200
21. Human Resource Administrative Assistant
A Human Resource Administrative Assistant supports management to perform a variety of human resources-related tasks within and organization. An HR Administrative Assistant is responsible for collecting and managing employee data and also assists with the hiring, recruiting, and training of new employees.
# of Google Searches per Month: 200
22. Human Resources Executive
A Human Resources Executive (aka HR Executive) manages tasks that relate to employee compensation, benefits, and motivation. An HR Executive is similar to an HR Manager, but typically is more experienced, manages more people and might, in fact, manage the HR Manager.
# of Google Searches per Month: 200
"HR jobs" queries by candidates
Candidates search for different types of HR positions on Google, so we thought it might be helpful to give you these 25 examples of exact phrases they search for [with the number of queries each month]:
human resources profiles (250/mo.)
VP of HR jobs (150/mo.)
best human resources jobs (150/mo.)
jobs in HR (150/mo.)

what are human resource jobs (100/mo.)

human resource positions (100/mo.)

best hr jobs (100/mo.)

human resource positions (100/mo.)

types of jobs in human resources (80/mo.)

what are human resources jobs (80/mo.)

executive hr job (70/mo.)

jobs related to human resources (60/mo.)

executive hr jobs (50/mo.)

top human resource jobs (40/mo.)

human resource management position (40/mo.)

top hr jobs (40/mo.)

what are hr jobs (30/mo.)

human resource position (30/mo.)

corporate hr jobs (30/mo.)

top human resources jobs (30/mo.)

human resources director positions (30/mo.)

what are some human resources jobs (20/mo.)

head of human resources job (20/mo.)

human resource related jobs (20/mo.)

jobs related to hr (10/mo.)
And, here are quite a few queries just on "entry level human resource positions" like:
entry level hr jobs (2,300)/mo.)

entry level hr positions (300/mo.)

entry level human resource management jobs (40/mo.)

entry level human resources job (20/mo.)

what are entry level hr jobs (20/mo.)
HR IT Jobs
Calling all HR techies…some of these HR IT job titles are listed above, but since they are so important, I put them all in one list. These HR job titles manage data or tech HR in some way:
Director of HR Analytics
Head of Business Behavior
Head of Workforce Intelligence
HR Analyst
HRIS Manager
HR Tech Lead
People Analytics Manager
People Data Scientist
Technical Recruiter
Workforce Analytics Director
Creative HR Job Titles
Here's a list of creative and funny job titles for HR (with their actual HR position in parentheses):
Culture Operations Manager (HR Officer)
Champion of Office Happiness (HR Director)
Chief Happiness Officer (Head of HR)
Chief Heart Officer (HR Manager)…Vayner Media
Chief People Pleaser (Head of HR)…on a stack of business cards I found (with no company name)
Culture & Geek Resource Manager (HR Manager)
Director of Attracting Talent (Director of Talent Acquisition)
Employee Experience Designer (Candidate Experience Manager (post-hire))
People Champion (Head of HR)
Rockstar Recruiter (Recruiter)
Senior VP of People Operations (Head of HR) — Google's Laszlo Bock served this role
Vibe Manager & Head of all things Awesome (Head of HR)
Looking for more funny titles? Check out 100+ Creative & Funny Job Titles [by Department & Position].
Creative Names for HR Departments
Many companies are moving away from the traditional "Human Resource Team" name. Here are some examples of creative names for HR departments with brands that use them:
Employee Experience — Airbnb
Employee Success — Salesforce
Human Capital — PwC, Rally Health
People — Apple, Facebook
People Operations — Google
People Team — GoPro
Partner Resources — Starbucks
"Head of Remote" Work — A Hot New HR Title!
The Coronavirus pandemic has caused many companies to create a new role (or roles) around remote work. Facebook, Twitter, REI, Gitlab, Okta, Amazon, and others are shifting towards a "work from anywhere" mindset, which is how the "Head of Remote" Work type roles are being born.
Here are 3 examples of these new HR titles:
Annie Dean joined Facebook as "Director of Remote Work" in November 2020. Facebook's workforce could mostly be working from home in the next 5 to 10 years, according to The Washington Post.
Tracy Hawkins, VP of Real Estate, Workplace & Remote Experience took on this role in 2021 for Twitter. Twitter is making remote work a permanent option for its employees. Tracy said:
"We want to ensure our remote folks feel a part of conversations naturally happening in the office, and we want them to have equal access to things like training and support"

source: The San Francisco Chronicle
Darren Murph started in his "Head of Remote" role at GitLab in 2019, before the pandemic. He said this about the Head of Remote hr title:
"I do think it could become the next evolution of the chief operations officer or the chief people officer or maybe the chief culture officer."

source: The Washington Post
Okta named their new "head of remote" role "Head of Dynamic Work". Samantha Fisher filled the position in early 2021.
"Before the pandemic, about a third of Okta's workforce was remote. Going forward, it expects that number to reach 85%."

source: The San Francisco Chronicle
Another "Remote Work" HR Title
Companies are not stopping at "Head of Remote" work titles. Full remote work teams are being built. Here's 1 example:
Kara Ortbal joined Quora as a "Remote Work HR Specialist" in December 2020. Our team asked Kara about her role on the remote work team at Quora. She said:
"The concept of the workplace as a static location has been completely upended over the past year. Here at Quora, we see this as an opportunity. Not only can our employees work outside of a traditional office setting, they can work
virtually anywhere in the world."
Kara was also kind enough to share a sample job posting for her position: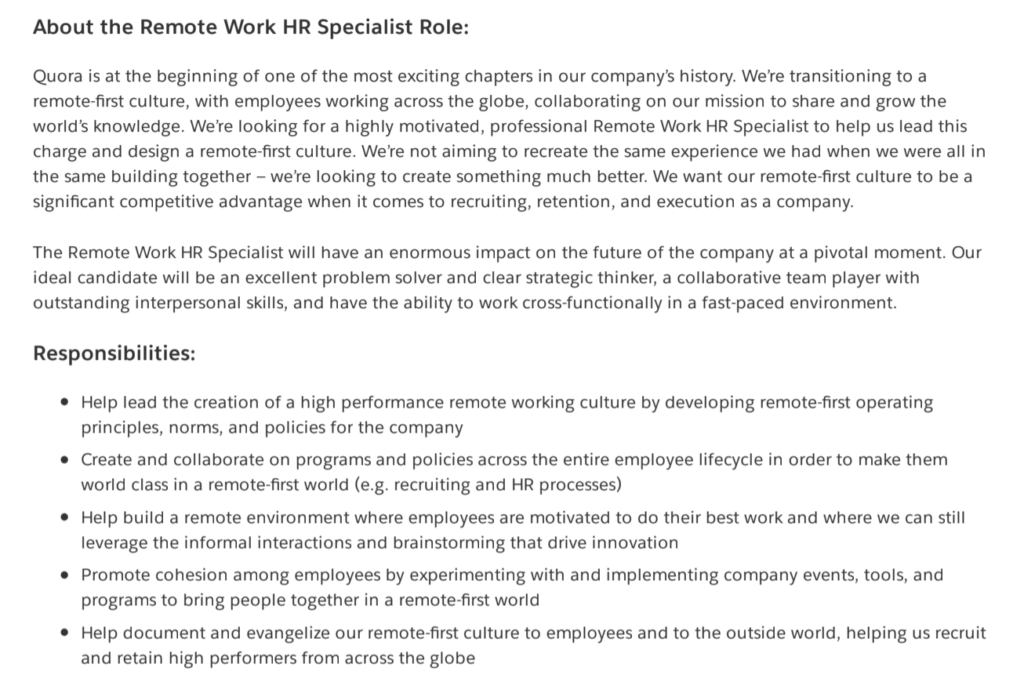 HR Positions of the Future
Companies are also moving away from traditional HR job titles. Here are 21 future HR positions found in a 9-month study with The Cognizant Center for Future of Work and Future Workplace:
Strategic HR Business Continuity Director
Chatbot and Human Facilitator
HR Data Detective
Algorithm Bias Auditor
Human Bias Officer
WFH Facilitator
Workplace Enviroment Architect
Future of Work Leader
Climate Change Response Leader
Genetic Diversity Officer
VR Immersion Counselor
Human Network Analyst
Second Act Coach
Gig Economy Manager
Human Machine Teaming Manager
University4Life Coordinator
Head of Business Behavior
Chief Purpose Planner
Distraction Prevention Coach
Director of Well Being
Employee Enablement Coach
In the study:
"Nearly 100 CHROs, CLOs, and VP's of talent and workforce transformation" envision how HR's role might evolve over the next 10 years."

source: Harvard Business Review
Human Resource Position Titles Research
I want to thank a bunch of people and resources for their research on HR position titles. They include:
Why I wrote this?
I share this research on HR job titles to help you optimize your own job titles. This supports Ongig's mission to transform job descriptions. Check out Ongig.com to learn more.