What are the best blockchain and cryptocurrency job titles for you and your team? I reviewed 35+ crypto titles searched for by candidates (and employers!) in this growing industry to find the best titles for you to choose from. This is the latest chapter in Ongig's series called Job Titles: The Definitive Guide.
In this article, you'll find:
Cryptocurrency vs Blockchain — How they're related.
The Top 15 Most Searched-For Job Titles in Crypto — A column chart of the top 15 blockchain positions candidates search for on Google.
5 Cryptocurrency Job Titles and Descriptions — A list of the top 5 crypto job titles and descriptions that employers request.
Blockchain vs Cryptocurrency
While researching crypto job titles, I found some blockchain positions using "cryptocurrency" in the titles and vice versa. So, what's the difference between blockchain and cryptocurrency?
Blockchain is the technology designed and used to support cryptocurrency. And cryptocurrency is a medium of exchange, just like the U.S. dollar, that leverages the blockchain.
For the purpose of this article, I list both blockchain positions and cryptocurrency job titles since they are so related.
Top Job Titles in Crypto and Blockchain (Candidates)
Below is a list of the top 15 blockchain job titles based on Google queries we found on ahrefs.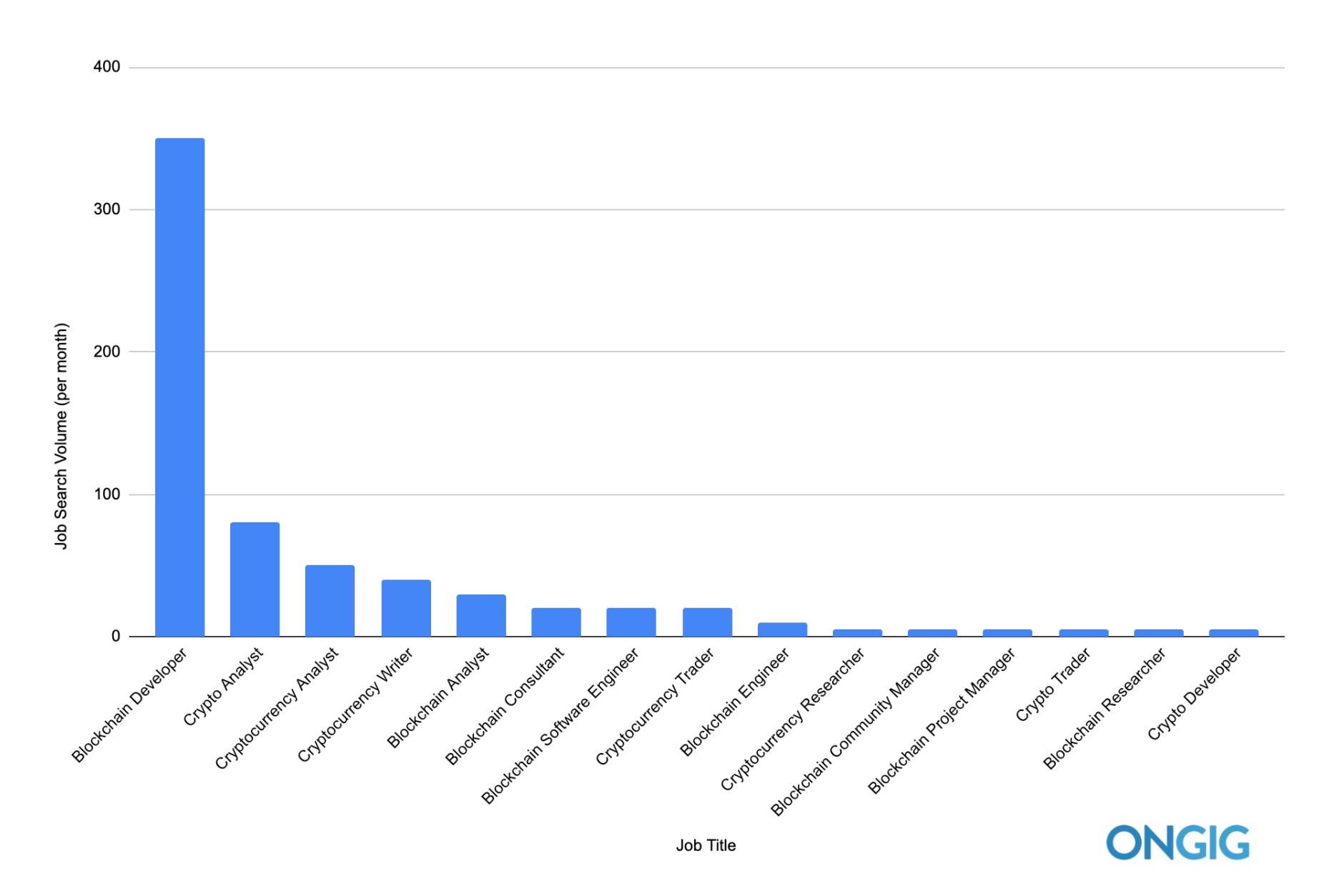 Blockchain Developer is the top searched-for job by candidates and also the most requested cryptocurrency job description by employers (see Top 5 list below). What is a blockchain developer? A Blockchain Developer is one of the most popular blockchain positions. This is a programmer role that develops applications using blockchain technology.
Top 5 Cryptocurrency Job Titles and Descriptions (Employers)
Below are the top 6 crypto and blockchain job description titles employers request on Google, according to ahrefs.
For each, I've included:
a brief description
# of job title searches per month by employers
similar job titles, and their # of monthly queries
brands who use these blockchain positions
Blockchain Developer
A Blockchain Developer is often called a Blockchain Engineer or Blockchain Software Engineer. So, what is a blockchain engineer?
Blockchain Developers create system for recording and storing secure digital transactions for cryptocurrency and other types of data transactions. A Blockchain Developer (or engineer):
develops and optimizes blockchain applications
uses cryptology techniques to prevent cyber attacks
document blockchain development processes
# of job title searches per month: 350; Blockchain Software Engineer: 20; Blockchain Engineer: 10
Brands using this blockchain job description title: IBM, EY, eToro, Robinhood, and Jobot.
Crypto Analyst/Blockchain Analyst
What is a Cryptocurrency Analyst? Another job title used for Crypto Analyst is Blockchain Anlayst. Regular duties of a Crypto Analyst or Blockchain Analyst include:
analyzing and predicting trends in cryptocurrency
researching different types of cryptocurrencies in the market
examining data in ledgers for blockchain effectiveness
recommending areas of improvement in blockchain applications
# of job title searches per month: 80; Cryptocurrency Analyst: 50; Blockchain Analyst: 30
Brands using this blockchain job description title: PayPal, Crypto.com, and JPMorgan Chase.
Cryptocurrency Writer
A Cryptocurrency Writer is tasked with writing about everything "blockchain". A Cryptocurrency Writer is knowledgeable about different types of blockchain technology and cryptocurrencies and writes about the subject for blogs, websites, social media, and more.
# of job title searches per month: 40
Brands using this blockchain job description title: RemoteHub and Blockworks.
Blockchain Consultant
The main duties of a Blockchain Consultant include:
researching and testing blockchain technologies
documenting and maintaining solutions
creating technology roadmaps
assessing and managing risks related to blockchain applications
# of job title searches per month: 20
Brands using this blockchain job description title: Symantec and IBM.
Cryptocurrency Trader
A Cryptocurrency Trader, or Crypto Trader, is responsible for researching trading models and deploying them in an organization. A Cryptocurrency Trader also analyzes and uses algorithms to create top returns on investment. This role also works with blockchain developers to launch cryptocurrency projects and researches new market opportunities.
# of job title searches per month: 20; Crypto Trader: 5
Brands using this blockchain job description title: Bitcoin, Inc. and Coinbase.
Other job titles in crypto
Some job titles might not actually include the word "crypto", "blockchain", or "cryptocurrency" but still are blockchain-related positions.
For example:
Walmart's Digital Currency and CryptoCurrency Product Lead ("own and drive the Digital Currency strategy for Walmart") (posted August 2021)
Amazon posted a job for "experienced Product Manager to develop Amazon's digital currency and blockchain strategy and leaf product route " (July 2021).
Circle's Lead Product Manager oversees blockchain products and digital cryptocurrency.
Facebook's Novi Compliance Operations Team Lead works with teams developing and managing Novi's digital wallet powered by blockchain.
Kraken Digital Asset Exchange's Software Engineer role is required to be familiar with blockchain technology.
Here are a few links where you might find other top tech job titles related to cryptocurrency and blockchain positions:
Why I wrote this?
My team and I share this research on cryptocurrency job titles to help you optimize your own titles. Check out Text Analyzer to see how our software transforms your job titles and job descriptions.
Shout-Outs