Do you have this problem? You've got a solid-looking company career site page like this:

The "Hotel Lobby Theory"
…yet your job description pages look something more like this JD below.
My friend Eric Osterman (Recruitment Marketing Manager at CenturyLink calls it the "Hotel Lobby Theory" — the lobby needs to look pretty but if the room doesn't look great, no one comes back!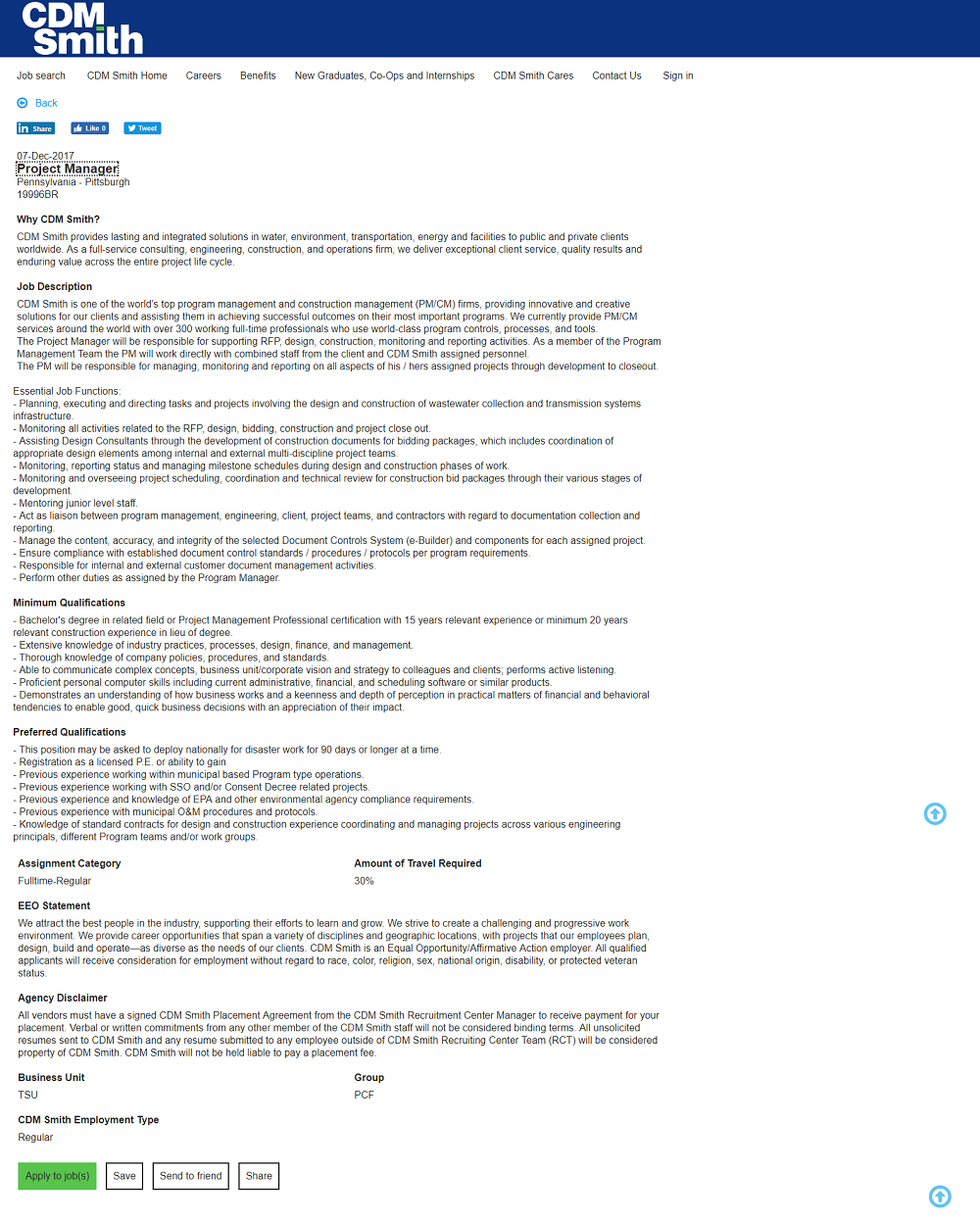 ATS's Were Designed to "Track" (not "Attract") Candidates
We used CDM Smith in the images below and we don't mean to pick on them.
They, like almost all applicant tracking system customers (they use Brassring), are handicapped by the static, text-only look and feel that most ATS-generated job pages provide. Note: Brassring customers: Check out 5 Great Overlays to Kenexa-Brassring; Taleo Customers: Check out 5 Examples of Effective Taleo Overlays.
Ya see, your company career site page can be created from scratch with the full resources of your marketing team. After all, their job is make your company/brand look great.
But when it comes to creating/designing job pages, it's much trickier because you're dependent on the ATS.
So what happens is that many employers/marketers ignore the job pages and you're left with job pages that are largely generated by your ATS. And ATS's were created to "track" candidates not "attract" candidates!
The ATS-generated job pages have little to no marketing/candidate experience thought to them
Consistent Candidate Experience is One Problem
The first main problem we're talking about here is consistency.
If you are lucky enough to get a candidate to visit your company career site, then you want them to have a consistent candidate experience when they look at your job description. Here are some items on your JD that should be consistent with your career site:
The URL (e.g. [jobs.your-company-name.com/[job-title])
The header and footer
The color scheme (including Apply button)
The font
Media
Why the "Drop-Off" is Even Worse than You Think
I'm sorry, but it gets worse.
Data I've looked at shows an even bigger problem you face if you skimp on job descriptions.
Check out the traffic sources (in page views) to a Fortune 500 employer's career/job pages during the last month:
1) Company Career Site – 122,253
2) www.indeed.com – 108,260
3) www.glassdoor.com – 27,456
4) ca.indeed.com – 4,881
5) www.google.com – 2,873
6) www.linkedin.com – 1,947
7) www.indeed.ca – 1,737
8) www.linkup.com – 1,138
9) m.facebook.com – 1,070
10) www.indeed.com.br – 544
Does anything unusual stand out to you about these traffic sources?
The top referral of candidates is the company career site — no big surprise there.
But check out the next 9 top traffic referrals — all 9 of them are external web sites (job boards, Google and Facebook) and their combined traffic adds up to more traffic than the 122,253 visits coming through this career site.
More Traffic Through your Back Door (than your Front Door)
That means that more candidates see this employer's job description first than see their company career site home page.
This happens even if you don't do a lot of paid job board advertising because Indeed, Glassdoor, LinkedIn and many other sites now scrape your web site for job postings and then send traffic to you even if you don't ask.
While that boost of free traffic can certainly be nice — the reality is that many candidates first impression of a job opportunity with you is going to be your ATS-generated job page.
What does that do for your employer brand? Ugh!
Relief is Here for this Candidate Experience "Drop-Off"
But don't fret. There are a few solutions to this "drop-off:
Hire a developer and designer — if you get a front-end developer, back-end developer and designer in a room together, they can work on improving the job description pages. Just make sure they have experience with ATS integration, mobile/responsive design and search engine optimization. And they need to be on-call regularly because ATS's, mobile and SEO change all the time. If you're lucky enough to have this resource, go for it!
Hire an agency — there are plenty of agencies who will offer to give your JDs a face-lift. Again, make sure they understand ATS's, mobile and SEO. Ask them for a customer who's used them for at least 2 years.
Partner with Ongig — Ongig has an out-of-the-box solution that gives you interactive branded job descriptions in addition to A.I.-based job search, instant microsites and job description text analysis for diversity. Everything Ongig does optimizes you for Mobile and Google and integrates with all the major ATS's.
For tips on writing job descriptions, check out How to Write a Job Description — Best Practices & Examples.