Creating the best job description format can seem like a tall task.
We have 10 tips that will help you get started. The first 5 things to focus on for your job description format are about structure:
1. A top job title
Candidates search for job titles specific to their field. So, picking the perfect job title is very important for your job description format. Some companies like to use creative and funny job titles, but these are not always successful. The best practice is to use job titles that candidates are searching for. For example:
use "Web Developer" instead of "Web Ninja"
use "Administrative Assistant" instead of " Workflow Guru"
use "Sales Associate" instead of "Sales Rockstar"
So how do you know what the most-searched job titles are? Our blog, Job Titles: The Definitive Guide, lists the most-searched-for job titles on Google (by candidates) for loads of different job families. This is also a good resource for job title hierarchies and gives tips for improving job titles.
One of these tips is job title length. To optimize your job description format, your job title should be:
1 to 3 Words
10 to 20 Characters
Less than 60 characters (because it will get cut off on Google and other search engines)
An easy way to trim down the length of job titles is to avoid unneeded words or characters such as location, symbols ($,!,*), the name of your company and whether the job is full-time versus part-time.
2. An engaging overview
After the job title, candidates are looking for a summary of what the job is and how it fits in with the company. A great job description format sample is from Uber. Their summary for the Global Brand Manager position below gives candidates an overview that is engaging and explains what the position is all about.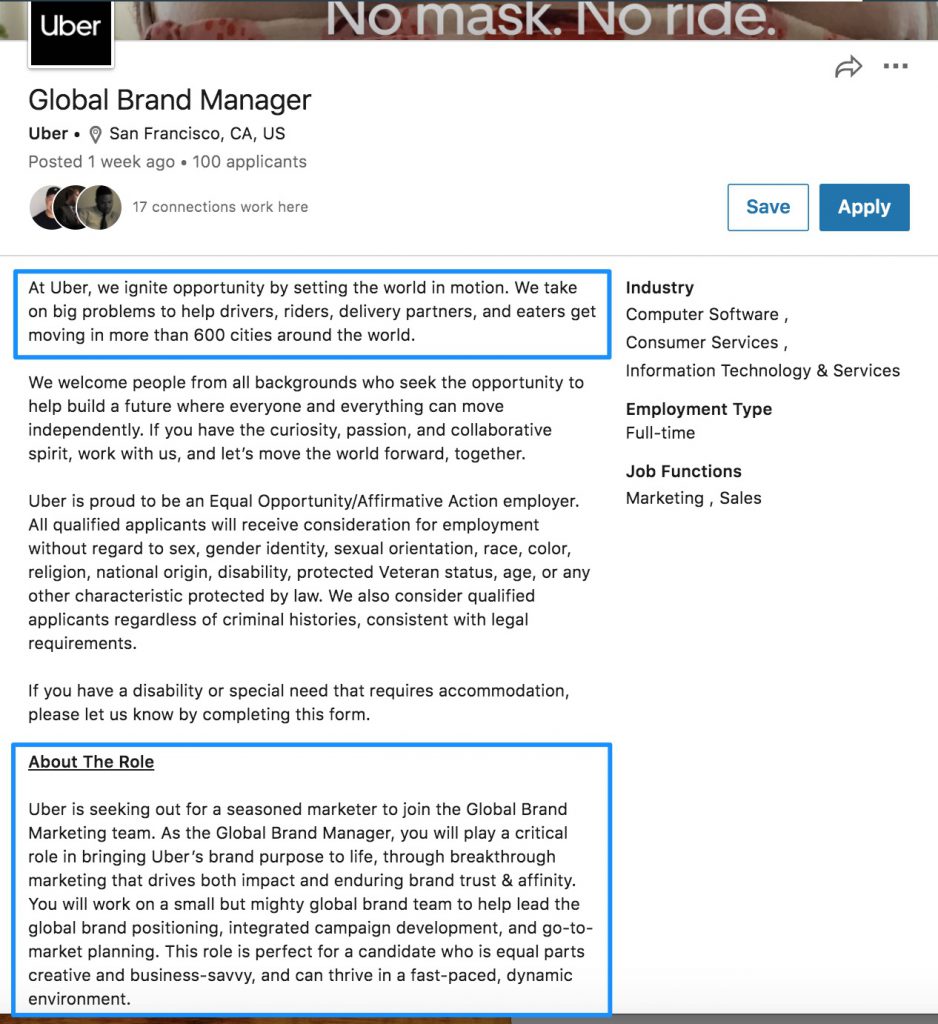 An engaging overview keeps the candidate's attention, making them want to read more. So consider adding some flair to your job description format by including interesting content about the role and the company. First impressions are lasting impressions!
3. Stand-out visuals
Speaking of first impressions…let's talk visuals in a job description format. Include colorful images with real employees. A job description with images is more likely to catch the attention of potential candidates than one without.
Elastic's Developer Advocate position below features an image of 2 current employees laughing together with their laptops. This image speaks to teamwork and collaboration without even typing a single word.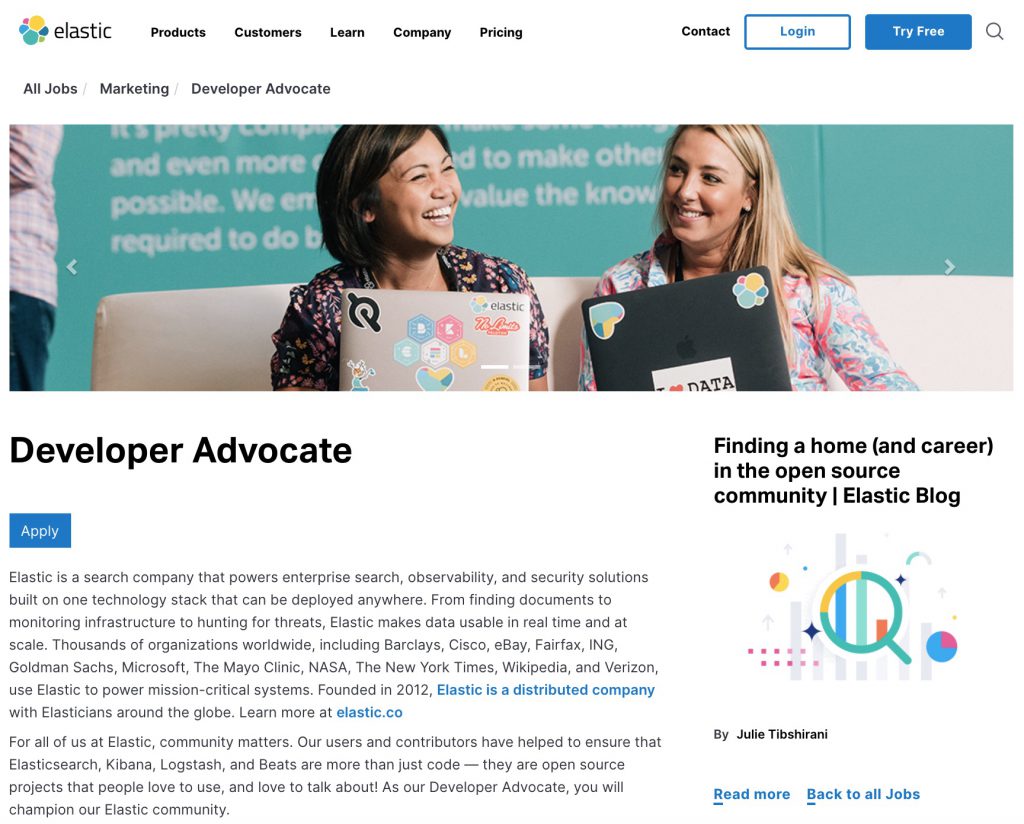 Video is also a powerful tool when it comes to improving your job description format. Pizza Hut (Yum Brands!) features a YouTube video on each job description page that tells the story of their brand and the company message. You can use video in job descriptions to talk about other important topics like company culture, benefits, or diversity and inclusion.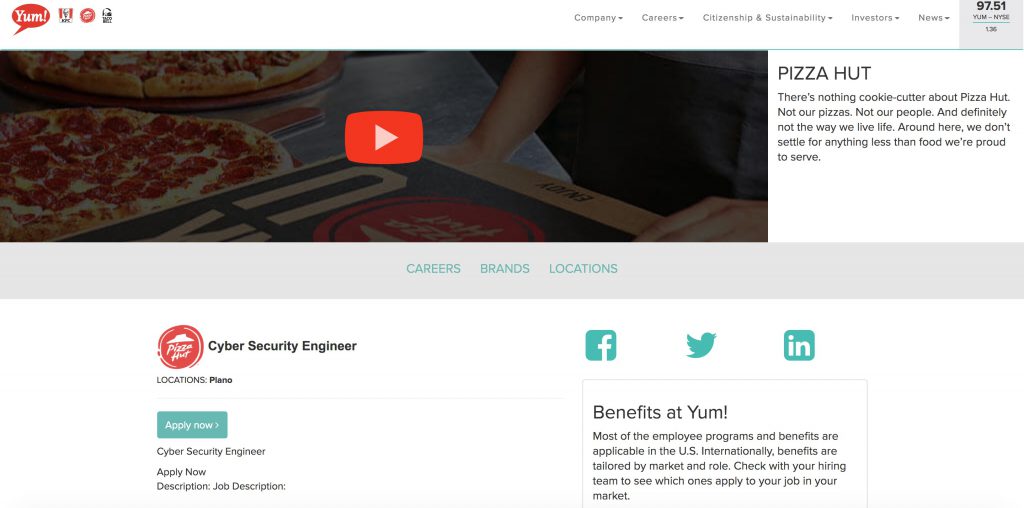 4. A list of benefits
Candidates want to know about company culture and…what's in it for them. Including a list of benefits like a flexible work schedule, paid vacation time, and monthly incentives will help attract candidates to apply. The job description format below from Whole Foods is an excellent example.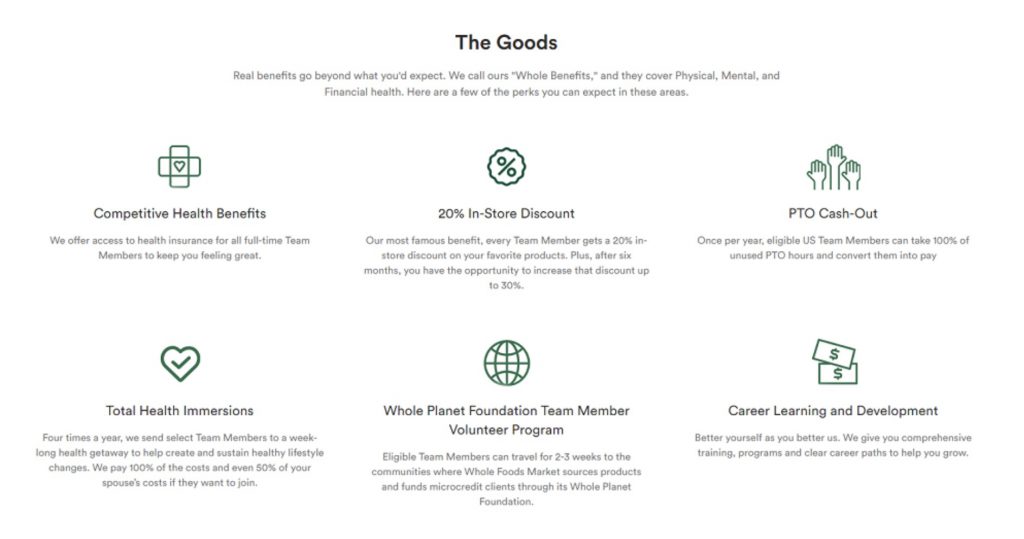 Along with a list of benefits, candidates like to read about company culture in a job description. Hewlett Packard Enterprise (HPE) includes a section called "Testimonials" in their job description format. The section rotates quotes from current employees explaining why they like working for HPE.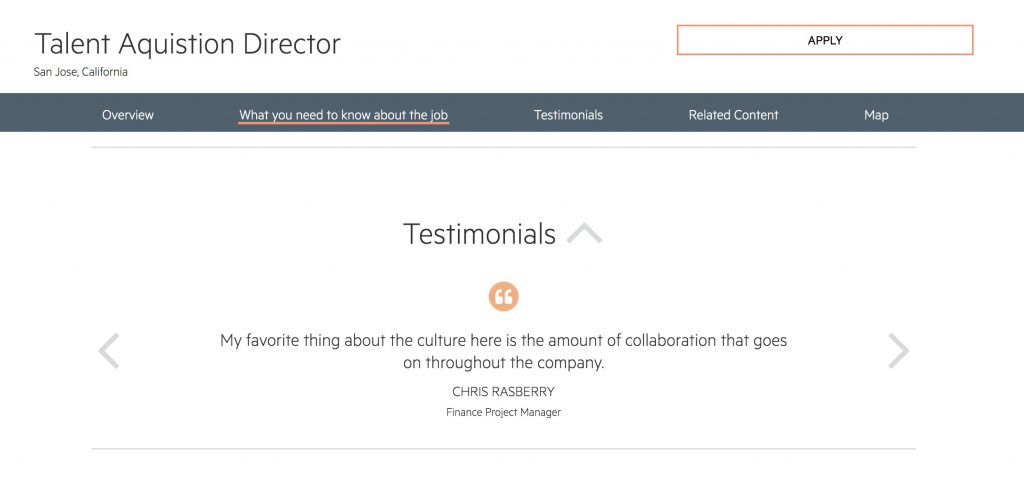 5. A call-to-action
Closing out a job description sample format with a call-to-action encourages candidates to apply right away. Even if the position will be open for an extended period of time, this gives them an extra nudge to get their application in.
Also, having an "Apply Now" button that stands out makes it easier to find, which means more clicks.
Red Bull's job description format below, does both. They ask potential candidates if they have what it takes to join the team and encourages them to apply using their personal style. The bright red "Apply Now" button also stands out on the white background.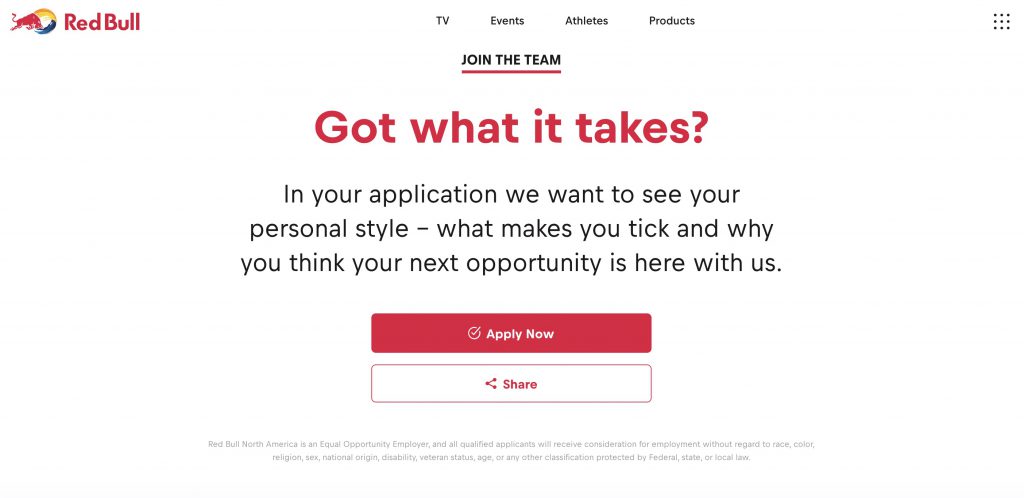 Outside of the structure of your job description, there are other ways to create the best job description format. Polishing the content with an eye towards being inclusive and brief is key. Here are the next 5 tips to improve your job description format.
6. Bias be gone
Removing bias, of all types, is crucial to building a good job description format. Here's a list of biases (with examples and replacements):
race bias — "brown bag session" should be replaced with "lunch and learn"
age bias —  "recent graduate" should be replaced with "graduate"
gender bias — "manmade" should be replaced with "human-made"
disability bias — "ability to type" should be replaced with "ability to input"
LGBTQ bias — "she/he" should be replaced with "they" or "you"
affinity bias (elite bias) — "degree from top 10 engineering school" should be replaced with "an engineering degree"
neurodiversity (dyslexia, ADHD, autism) — replacing complex words (legalese)
Using a tool like Text Analyzer helps highlight potential bias and find replacements for exclusionary words. An example of "brown bag sessions" is shown below. Our article on The "Brown Paper Bag Test" gives more background on why the phrase is considered racial bias.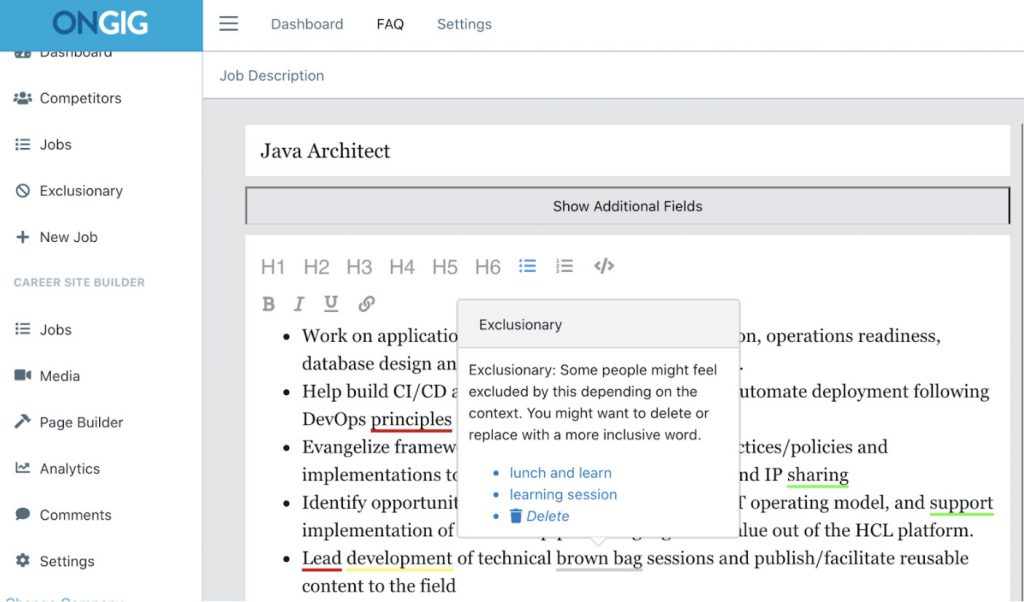 7. "You" not "we"
Use more "You's" and less "we's". It's always better to refer to candidates as "you"(e.g. "What you'll be working on" or "Things you're skilled in") than it is to write "we"-type statements (e.g. "We are looking for experience in …").
Coda's Social Media Manager job posting below highlights "you" instead of "we":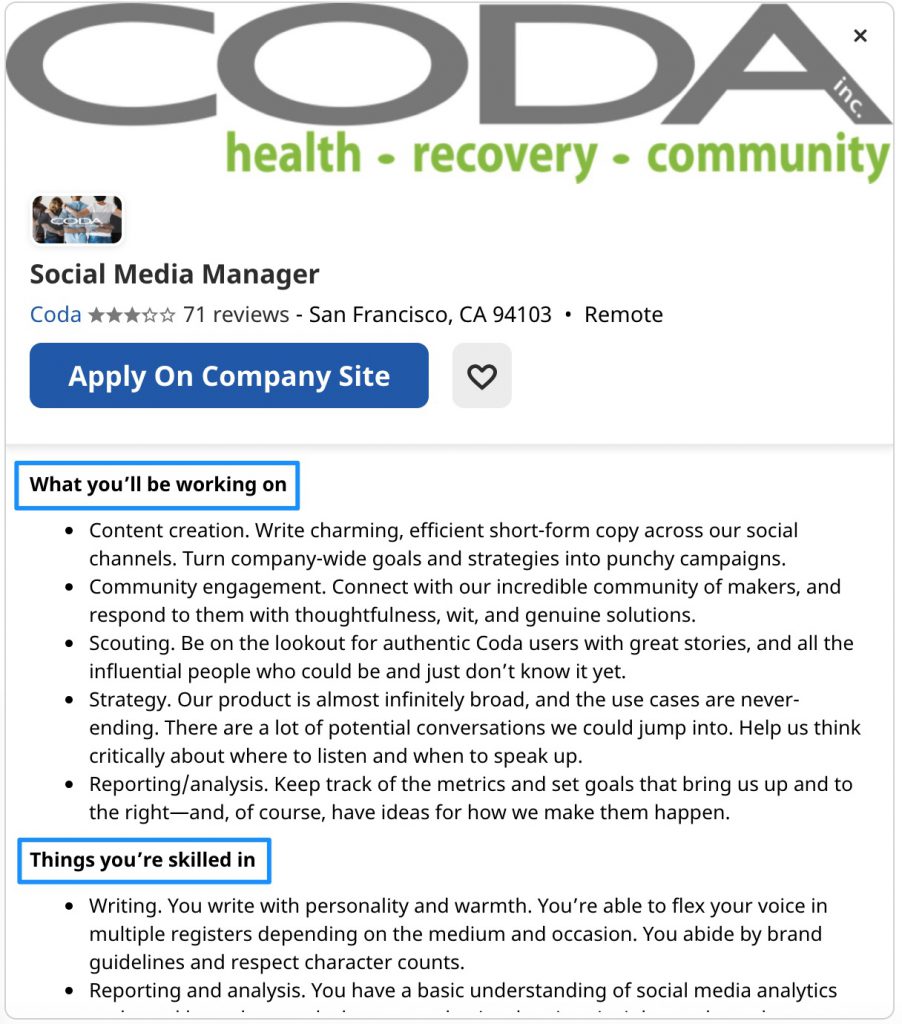 8. Cut complex words
Removing complex words ("jargon" or "legalese") from your job description sample format makes for a simpler job description overall. Using punchier content has been proven to appeal to candidates who have:
ADHD
Dyslexia
or are just busy in general
Ongig's Text Analyzer (picture below) underlines complex words and offers shorter synonyms as replacements. Using "by" instead of "in accordance with" uses fewer words and eliminates confusion.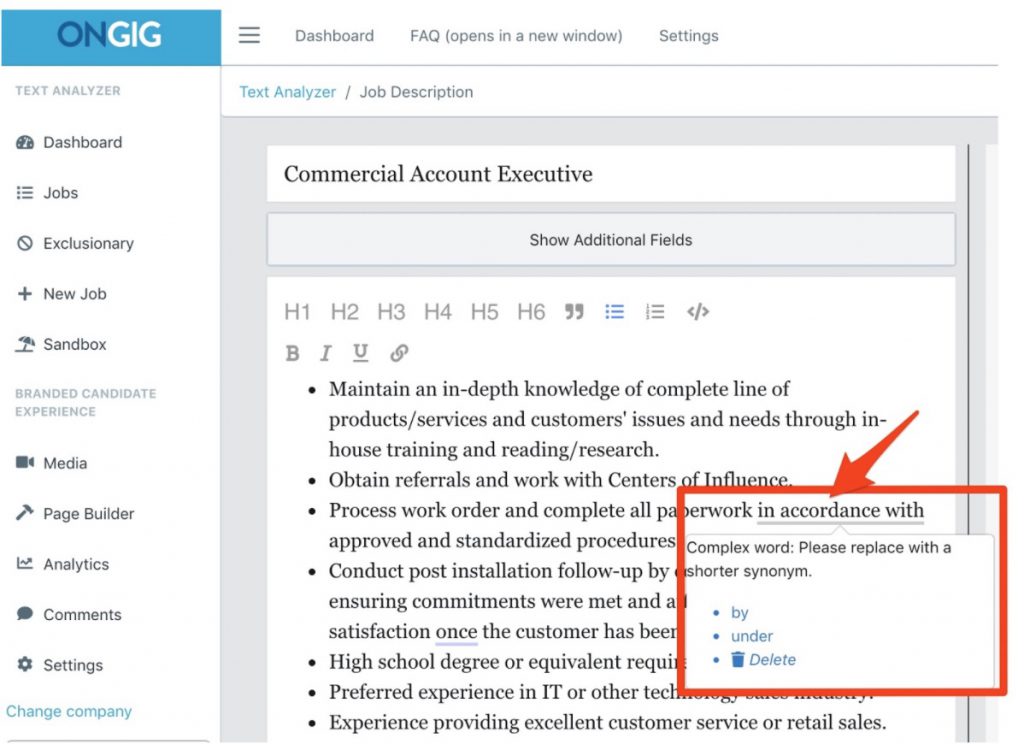 9. Word count, counts
Candidates browsing the internet for new jobs get overwhelmed when they see very long job listings. Here are a few ways to keep your job description format short and to the point:
avoid long lists — candidates get bored after the 7th bullet
avoid long sentences — use 20 or fewer syllables
aim for a job description between 300 and 700 words
Inc.com recently published a blog about 7 of the Most Irritating Things Job Seekers Wish Companies Would Change About the Hiring Process, and one of those is posting overly long job descriptions. The blog said:
"Job descriptions often include laundry lists of required attributes; the "perfect candidate" must possess an impossibly broad set of skills, qualities, credentials, experiences, etc. But you don't really need all those things. If you could only pick one attribute, what would you choose as the most important skill or quality a great employee needs to have to succeed in the position?"
Include only the most important points in the job description format, and still get your point across. A good example of a before and after job description format pdf is from Disney below. What a difference, cutting down on word count makes: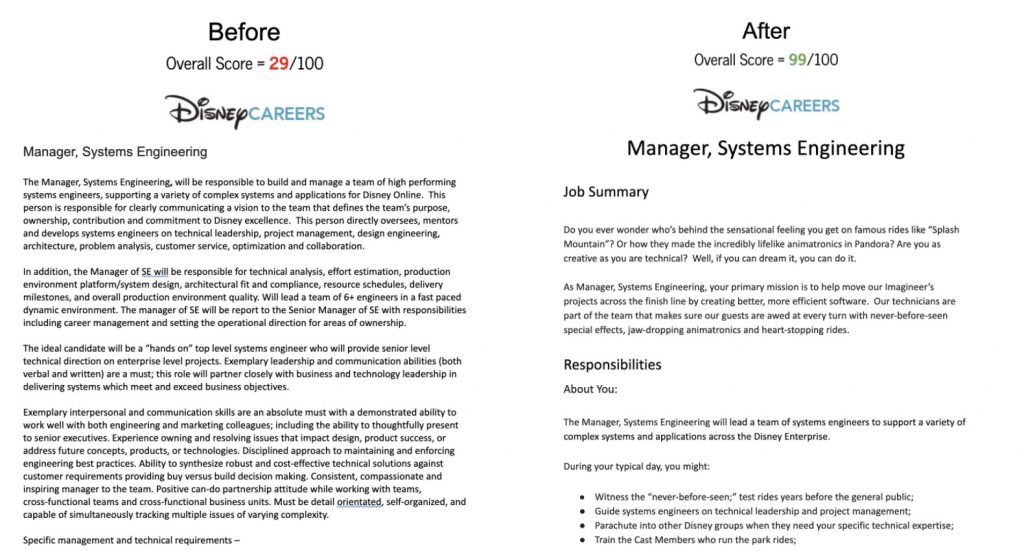 10. Spellcheck & grammar
If you are creating a job description format doc (or template) to keep on file for future job postings…spellcheck it before you post. Potential candidates pay attention to what you are saying, so you want to avoid spelling errors.
Grammar is also important, so tools like Grammarly and the Hemmingway App help catch spelling errors and grammar mistakes (e.g. writing in a passive voice, instead of an active voice below). These tools can even check for plagiarism, clarity, and engagement.
Want to know more about creating the best job description format?
Check out our blog 10 Examples of Awesome Job Descriptions (and Why!), for more examples. For even more tips on writing job descriptions, check out How to Write a Job Description — Best Practices & Examples.
Why I Wrote This
Ongig is on a mission to give you the best job descriptions. Check out Ongig's Career Site Builder software to see how we transform your job descriptions with visuals and engaging recruiting widgets. Please check out Ongig's Text Analyzer software if you'd like to transform the text of your job descriptions. Ongig also offers both in one complete solution. Please click the request demo link if you'd like to learn more!