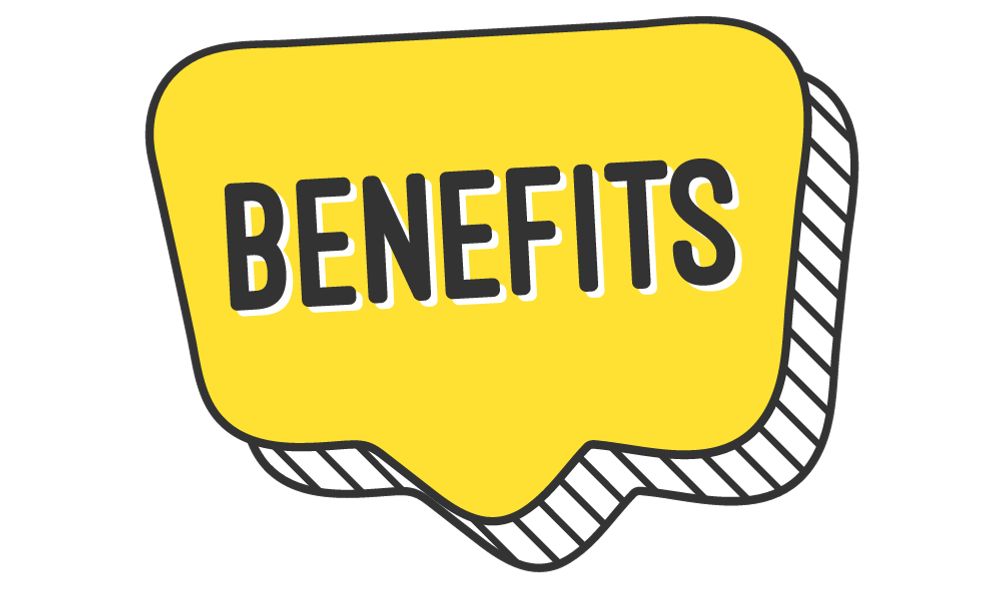 Employee benefits are a crucial part of a job description and can significantly influence a candidate's decision to apply.
A Glassdoor study pointed out that 63% of job seekers and employees pay attention to employee benefits in job ads.
Aflac also revealed that 83% of companies believe their benefits package positively impacts productivity. In comparison, 84% reported that it enables them to recruit top talent.
Whether you are writing job ads for the first time or tweaking them to increase your applications, here's a list of 60+ top job description benefits to consider:
Attractive salary
An attractive salary can hugely influence an employee's performance and job satisfaction. 61% of applicants highlight compensation as the number one part of a job description, while 32% of employers believe that a competitive salary is the top reason employees quit.
Health insurance (medical, dental, vision)
Health insurance aims to support the health and well-being of employees by helping them manage and afford their healthcare expenses. It covers preventive care, prescription drugs, emergency care, specialized care, maternity, and family planning. 67% of employees and 68% of employers believe this to be the most important benefit.
Retirement savings plans (401(k), pension)
A 401(k) plan is a company-sponsored retirement account in which the employee can contribute income while their employers may match their contributions. Workers consider this the second most important benefit, and 34% of employees agree that planning for the future is essential.
Paid time off (vacation, sick leave, holidays)
Paid time off is the compensation an employee receives when they are away from work: when they are sick, during holidays, or during personal time off. Employees put more value on PTO than employers, and 31% named this a top benefit. Almost 40% of 42–57-year-olds are most likely to want mandatory paid time off from their employer.
Flexible work hours
Flextime allows employees to start and end work at the most convenient time. Work-life balance has become a priority for most people, so flexible time is considered the most essential remote work benefit for 34% of employees and 40% of employers.
Remote work options
Remote work options enable employees to work anywhere they want outside the office. 62% of employers continue to permit hybrid work arrangements.
Paid parental leave
Employees who are parents are given paid time off to care for their children or dependent family members. Under FEPLA, paid parental leave is limited to 12 work weeks and may be used during the 12 months starting on the date of birth or placement.
Employee wellness programs
Wellness programs support and maintain employees' physical, emotional, and mental health. Examples include onsite fitness classes, healthy and nutritious food, wellness challenges, financial education, parental counseling, and smoking cessation programs. Employees said they need more wellness benefits to avoid burnout.
Professional development opportunities
Professional development can energize employees by gaining new skills and perspectives, which could help advance their careers through job rotation, mentorship, and skills training. The majority of employers cover the cost of their employees' professional memberships (87%), certifications (78%), and licenses (77%).
Tuition reimbursement or education assistance
Employers cover a specific amount of continuing education or college coursework of their employees to be applied towards a degree. US corporations spend almost $28 billion on tuition assistance, and Gen Z employees believe it is the best benefit employers offer.
Career advancement pathways
HR collaborates with line managers to develop a career roadmap for their team members so they can move seamlessly into future roles inside the company. It can include discussions between managers and direct reports, training and development, and promotion. Career advancement is one of the most popular motivations for employees, and career pathing is an excellent way of retaining employees.
Performance bonuses
Employers reward employees when they meet performance goals or exceed performance expectations. It can take the form of commissions, incentives, and spot bonuses and can be given either in a lump sum or at the end of the year.
Employee assistance programs (EAP)
A company provides EAP to assist employees in resolving issues that could interfere with their work performance, like divorce, childcare, recovery from substance abuse, and traumatic events. It can be in-house, contracts with third-party organizations, or a combination. Companies that offer EAPs experienced a 69.2% decrease in absenteeism.
Life insurance
Employers provide death benefits to the employee's beneficiary while employed with the company. They may pay for some or all of the premium costs of the employees' insurance. 45% of employees and 43% of employers named this a top benefit.
Disability insurance
An employer can pay an employee who cannot work because of illness or accident. It can be short-term (between 3 to 12 months) and long-term (2 to 10 years). Once short-term disability benefits are used up, a long-term disability policy continues to provide employees with some income until they can work again. 60 of employees see disability insurance as a must-have employee benefit.
On-site fitness facilities or gym memberships
Employers have an in-building gym where employees can easily exercise after work. They can also offer gym memberships where employees are entitled to free or discounted gym membership to a fitness club.
Transportation allowance (parking, public transportation subsidies)
Employers provide transportation allowance to employees to cover the cost of daily traveling to and from work. They can reimburse employees for parking fees, commuter fares, gas expenses, ride-sharing services, tolls, and vehicle maintenance.
Stock options or equity
Employees can buy stocks at a specific number of shares at a predetermined price within a specified timeframe. Equity gives employees actual shares of the company on specified conditions.
Diversity and inclusion initiatives
Diversity and inclusion initiatives are the strategies and processes that companies implement to foster an inclusive workplace. DEI initiative examples include employee resource groups, flexible holidays, mentorship programs, and DEI training.
Employee resource groups (ERGs)
ERGs are small groups of employees with similar backgrounds (race, sexual orientation, age level, etc.) and work together to support employees, enhance their careers, and foster an inclusive work environment.
Paid volunteer or community service hours
Paid volunteering permits employees to give back to their communities. It benefits employees by improving their mental health. It helps organizations attract and retain top talent.
Health and wellness workshops
Health workshops educate employees about healthy habits and lifestyles and benefit employers by lowering absenteeism rates or reducing health insurance usage. Examples of topics covered are stress management, burnout reduction, mental health, financial literacy, and work-life balance.
Childcare assistance or on-site childcare
Employers build childcare centers at the workplace to cater to the schedules and needs of employees with children. It can help employees balance work and family responsibilities while boosting productivity, which benefits employers. Almost 11% of businesses now offer on-site childcare.
Employee recognition programs
Employees are given recognition for their hard work, loyalty (years of service to the company), strong work performance, and outstanding achievements. These programs can help retain employees, boost productivity, and enhance employee morale. Rewards may vary — loyalty bonus, paid days off, vacation, gift cards, or training.
Mental health support resources
Employers provide mental health resources to teach employees how to manage stress, build resilience, and cope with work pressure. It could be mental health counseling, clinical screenings, and covering medications in health insurance. 33% of employers named this a top benefit, while only 23% of employees listed it.
Paid sabbaticals
Employees are still paid and employed even if they are away from work for an extended period in which they can either rest, pursue personal projects, travel, or learn new skills. It can boost the company's recruitment and retention.
Casual dress code or dress for your day policy
Employees can wear informal and more relaxed clothing, less stringent than business casual clothing but not something they would lounge at home. A casual dress code can enhance company culture by improving employee morale, providing flexibility, and increasing loyalty.
Flexible spending accounts (FSA) or Health savings accounts (HSA)
FSAs and HSAs are pre-tax accounts employers can use to cover healthcare-related costs. Preferred provider organization (PPO) plans remain the most common type offered. High-deductible health plans (HDHPs) connected to a health savings or spending account (health savings account, health reimbursement arrangement, or flexible spending account) continue to become popular among employees.
Employee discounts or perks
Employers provide special offers to employees to buy goods and services at a discounted rate. It can be a markdown of the regular price exclusive access or special deals and promos. 24% of workers named discounts as an essential perk for in-office workers.
Professional memberships or association fees
Employers pay membership dues on behalf of employees for their professional development, which contributes positively to organizational growth. An SHRM study revealed that 77% of companies pay for the professional dues of their employees.
Telecommuting options
Employers allow employees to work outside the office or via telecommunication tools like email, messaging, phone, and video conferencing. Many employees enjoy this work arrangement because they can have a work-life balance and save on travel/gas and lunch-out expenses.
Paid bereavement leave
Employers give paid time off to employees who experienced a family loss to handle funeral arrangements and grieve. Giving this benefit acknowledges the well-being of their staff and shows understanding to balance the demands of work and personal life.
Adoption assistance
Employers provide financial support to employees by covering expenses related to adoption, like adoption agency fees, travel expenses, and legal proceedings. Employers must also grant parental leave for people who have adopted a child.
Paid time off for civic engagement or voting
Employees receive paid time off to engage in civic duties like voting, jury duty, campaigning for a political candidate, canvassing, and attending a school board meeting.
Technology and equipment allowances
Employers give allowances so their remote employees can buy work equipment like noise-cancellation headphones, power banks, USB drives, laptop stands, office desks, and chairs. 59% of them subsidize the expenses for the home office, which covers tech costs and office supplies.
Paid pet leave
Also called 'pawternity' leave, some employers offer this paid time off to employees so they can care for their pets, like going to the veterinary, adopting an animal from a shelter, or bereavement when their pets pass away.
Mobile phone or device allowance
Mobile phone allowance is the stipend employers give their employees for their mobile phone use when working, such as checking emails, making work-related phone calls, and attending online meetings. It's especially valuable for employees who are always on the go, like field sales specialists. It covers cellphone load or credits, phone vouchers every 2-3 years, and even mobile phone repair.
Elder care assistance or support
Employers offer elder care benefits to support their employees' caregiving duties, covering in-home and back-up care. It permits employees to find a reliable solution to care needs to be more productive at work and enjoy a work-life balance.
Employee stock purchase plans (ESPP)
Employees can purchase stock in their organizations at a discounted rate, usually between 5% to 15% off the fair market value. This amount is deducted from their payroll.
Legal assistance programs
Employers give legal assistance to their employees in cases of divorce, bankruptcy, buying or selling a home, traffic violations, and issues with contractors. It may be included in the company's employee assistance program (EAP).
On-site or subsidized meals
Employers provide free meals to their employees on duty. Though it may seem expensive to subsidize the meals of their workers, it may actually be cost-effective because it removes or reduces the time employees spend outside of work when they travel or wait for food.
Financial wellness programs or workshops
Employers implement financial workshops to educate employees to manage their budgets and address their financial problems. Some topics covered are managing debt and credit, saving, investing, and taxes.
Employee referral bonuses
Employees receive incentives when they refer candidates to work for their company based on current job vacancies. The bonus is a percentage of the new hire's starting salary, which they receive after 3 to 6 months of the new hire's employment.
Employee development funds
To enhance performance and skills, employers provide stipends and sponsorship to help employees cover the costs of learning and development activities like seminars, conferences, workshops, and classes. Funds may be used for registration fees, gas, meals, and lodging.
Generous relocation assistance
Moving can be a stressful experience, so employers provide relocation assistance to employees moving to another city or state as part of their employment. It encompasses packing service, home-selling assistance, moving company and insurance coverage, temporary housing, auto travel reimbursement, and even paid-for house-hunting trips.
Health screening and preventive care programs
Onsite health screenings are given by organizations to their staff to ensure they routinely receive preventive care and handle chronic and acute health conditions so they are healthy enough to do their jobs. Screenings include biometric screenings like blood pressure, BMI, blood sugar, and cholesterol. Preventive care programs make employees feel supported in their well-being, which leads to higher employee retention.
Access to on-site amenities (napping pods, relaxation rooms)
Popular with Silicon Valley companies, onsite facilities like sleeping quarters give workers a quiet space to nap, meditate, or chill. The purpose is to increase employee productivity and engagement.
Childcare stipends or discounts
Employers provide childcare stipends or allowances to help employees pay for childcare services, in-home childcare, and after-school care. Childcare benefits are a good way to help employees balance work and family life and improve their overall well-being.
Travel incentives or travel discounts
Companies send their employees on a free trip as a reward when they hit their sales targets, have outstanding achievements, or stay with the company for a certain amount of time. Travel incentives can be in the form of free plane tickets or sponsored vacation packages.
Health coaching or personalized health programs
Health coaching reinforces your company's wellness programs by working with individual employees to create goals and strategies to improve their overall health. These coaches may specialize in exercise, nutrition, chronic condition management, smoking cessation, and mental health.
Cross-training or job rotation opportunities
Cross-training involves employees learning and performing duties outside their job responsibilities to expand their knowledge and skills. Not only does it enhance engagement and productivity, but it also lowers recruitment costs and boosts internal mobility.
Company car/car allowance
Employees receive a company-provided vehicle, including associated costs like repair, insurance, maintenance, and gas. Or they are given a car allowance to offset their personal vehicle expenses like gas, insurance, and maintenance. This benefit is particularly attractive to employees who require regular transportation for work-related tasks.
Employee loans
Employees can borrow money at a low-interest rate from their employers to pay for unexpected expenses like medical, home repair, or children's tuition fees. This type of loan not only contributes to the staff's financial well-being but also creates a sense of financial stability and loyalty to the company.
Leadership development programs
Leadership training programs develop and enhance employees' leadership skills through workshops, coaching, and mentoring. The goal is to identify and prepare high-performing employees for future leadership positions and creating succession planning and retention.
Cross-functional project involvement
Cross-functional projects involve assigning individuals to work on projects or tasks that require collaboration with people from other departments of business functions. The employees gain new knowledge and skills after the project, essential to their job satisfaction and career growth.
Language learning programs
Language classes allow employees to learn a new language and have an understanding of other cultures. These programs are delivered via on-site classes and online courses or can be accessed on language learning software, applications, and resources.
Housing assistance
Employers support employees with housing-related needs like housing allowance, home-buying assistance, rent subsidies, temporary housing, real estate services, home purchase loans, lease negotiations, homeownership counseling, and home maintenance. This benefit can help employees enhance job satisfaction and reduce financial stress, especially when housing costs are constantly rising.
Fertility assistance
Organizations support their staff facing fertility, family planning, or reproductive health challenges. It covers fertility treatments, fertility counseling, prescription coverage, egg/sperm freezing, and diagnostic testing. In 2022, 61% of employers with more than 500 employees provided at least some infertility coverage.
Pet insurance
Employers help their employees cover the costs of veterinary care and medical expenses, including prescription medications, accidents, illnesses, diagnostics, preventive care, emergency care, behavioral therapy, specialist care, and chronic conditions.
Signing bonus
Employers offer signing bonuses to attract top talent and persuade them to accept job offers. It can be an effective hiring strategy, especially in competitive hiring environments or during skills shortages.
Profit sharing
Profit sharing is an employee benefit that allows employees to enjoy the financial success of their organization. It is usually tied to the organization's profitability, and employees receive a portion of its profits as a bonus or additional compensation.
Retention bonus
An employee retention bonus encourages current employees to stay with the company for a specified period. It is typically offered when an organization faces a possibility of employee turnover, like mergers, acquisitions, or restructurings, or when key employees are at risk of leaving.
In-house mentorship
Mentoring within an organization is a partnership between employees to foster learning and growth. Senior and more experienced employees are partnered with their younger colleagues to coach and advise them about business.
Why I wrote this:
Ongig aims to help recruiters create job descriptions that attract top talent, including employee benefits and perks that are just as valuable as the basic salary. Keep in mind to offer benefits based on your budget and employee needs. Schedule a demo to learn more about how Ongig's software helps templatize your benefits in JDs.
Shoutouts: