In the years since a great deal of white-collar work started at a computer, work-from-home (WFH) policies have become more popular.
But the COVID-19 pandemic, which forced all but the most essential employees to work from home (or otherwise temporarily put them out of work altogether), made WFH policies more mainstream.
What was originally viewed as a brief policy change (to keep employees safe during the pandemic) has become a permanent fixture of many workplaces — even now that the worst of the pandemic is over and we've returned to "normal."
Some organizations have opted not to renew their leases on costly corporate office space, switching to an entirely remote work model. Others have created a hybrid policy where employees work remotely for a few days each week. Still, more employers never went virtual at all, either by choice or because it isn't possible for their type of work.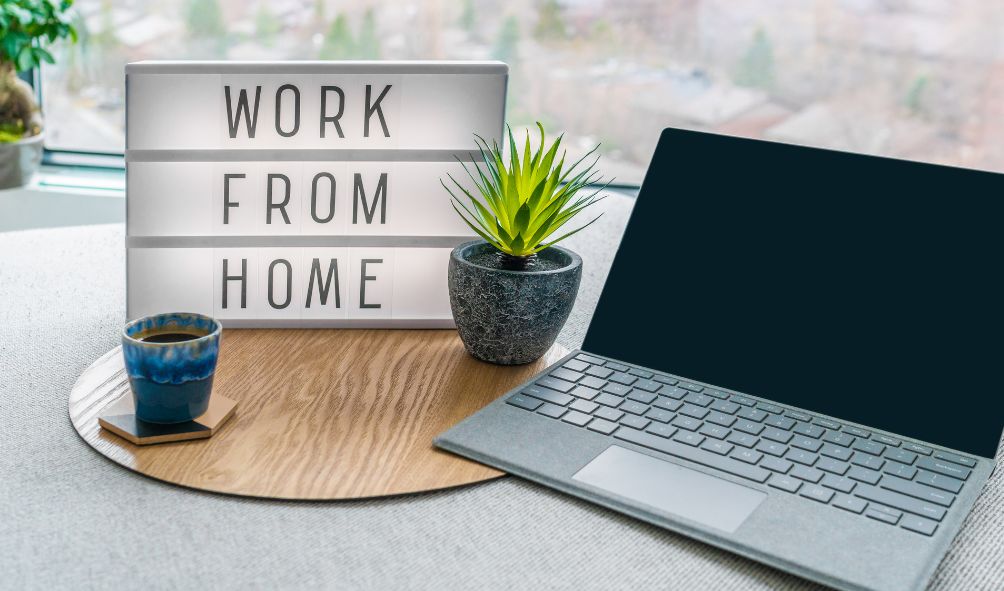 Regardless of work style, companies are now adding their work policies into their job descriptions. A job description is a unique opportunity to market directly to potential employees.
Since WFH policies have become so common, how you discuss them in job descriptions is changing. You need to articulate exactly why your company chooses to allow (or not allow) remote work.
There are some standard reasons, namely whether or not employees can efficiently and successfully accomplish their work from home. But it goes deeper than that— especially now that hybrid work is becoming common, too.
10 Unexpected Benefits of WFH Policies
Here are 10 unexpected benefits of WFH policies you can use to brighten and clarify your job descriptions.
1. Environmental benefits
Remote work may offer some environmental benefits by cutting back on pollution from commuting and the resources necessary to heat or cool a large office building. Reducing pollution by eliminating commuting among your employees benefits the environment.
One study shows working from home 4 days per week corresponds with a 10% drop in personal nitrogen dioxide emissions — nitrogen dioxide is a pollutant that indirectly contributes to climate change. Early in the pandemic, the massive reduction in commuting, along with a decline in electricity consumption, caused U.S. carbon dioxide emissions to drop by 15%.
These may seem like small changes, but personal and cultural behavior changes like these are exactly what we need to fight climate change. Allowing your employees to work remotely can cut back on your company's carbon footprint and reduce the emissions of greenhouse gases and other pollutants.
2. Employee financial benefits
Remote work can save employees some serious money in the long run, making this a powerful point to include in your job descriptions. When considering the merits of a job, most people don't consider the costs associated with working.
The unexpected financial benefits of WFH policies can seriously cut back on transportation, work clothing, and work lunch costs.
Transportation costs include car purchases, auto repairs, electric vehicle charging or gasoline, parking, and car insurance. If an employee takes public transportation to work, like a bus or train, there is usually a cost associated with that too.
If your office has a dress code, that comes with its own price tag for employees. It's common for employees, especially women, to spend 5-10% of their take-home pay on keeping up their work wardrobe.
And unless your office provides free, catered lunch daily, employees will also be responsible for cooking or purchasing lunch during the work day. Many find it's easier to avoid buying lunch from restaurants during the work week when they work at home, so close to their own kitchen. Avoiding eating lunch out every workday can add up to thousands of dollars of savings each year.
3. Lower overhead
The financial benefits of remote work policies aren't limited to employees. Employers can save money with WFH policies by eliminating or significantly downsizing their office spaces.
The exact overhead cost for a business office involves many factors (location, utilities, whether or not they own the building). In the United States, office space costs an average of $38/square foot/year.
There are also other overhead costs associated with keeping an office space, such as snacks, cleaning, maintenance, office supplies, and phone services. Many organizations use some of the money they save to eliminate or downsize their physical office to help employees set up a comfortable space to work in their homes.
If you offer this kind of home office benefit, you should definitely mention that in your job descriptions.
4. Employee mental health
Working from home can have some significant mental health benefits. For one thing, commuting has been shown to increase stress. For many people, eliminating their commute allows them more time to prioritize what is important to them — like spending time with family, reading, journaling, or exercising.
People also report feeling more calm and relaxed when working from home, which may help increase job satisfaction and overall mental health.
Survey respondents said that working from home helps reduce their stress by cutting back on time with toxic coworkers and office gossip and allowing them the opportunity for deep focus without interruptions.
WFH policies aren't a substitute for substantive mental health benefits, but many people find that working remotely lifts their mood without compromising productivity.
5. Physical health benefits
There are many potential health benefits to working from home. Studies have shown that the longer a person spends on their commute each day, the less time they spend preparing meals and exercising, which can have negative health effects.
Many people use the flexibility of remote work to exercise more using a treadmill desk. Others find that remote work allows them to step out for short walks, exercise with their pets, or work out in short bursts throughout the day.
While it's up to each person to make healthy choices, the time flexibility and extra spending money (see above) enable many to fit home cooking and exercise into their routines.
6. Larger talent pool
Because remote work allows people worldwide to collaborate and share ideas, employers can recruit qualified talent from anywhere, regardless of where a person lives.
Working asynchronously and across cultures brings its own challenges, but access to the greatest possible candidates offers an equal or greater competitive advantage to companies willing to make this leap.
Companies that require in-person work must recruit only people who are local to the area where their office is based or else potentially contribute financially to an employee's move.
In terms of incorporating this perspective into your job descriptions, remote work can be a tool to connect talented and like-minded people in pursuit of a common goal— something many find inspiring and an attractive trait in an employer.
7. Benefits for working parents
It can be very difficult for working parents to raise children and work full-time. Single parents and two-parent households where both parents work full-time face particular challenges in managing childcare, extracurriculars, school pickups, meal prep, and other childrearing features.
Remote work can be a significant benefit for working parents. The absence of a commute gives employees an extra free hour each day on average. Parents can use this time to grocery shop, take children to school or childcare, or simply catch up on sleep.
Surveys show that households with two parents working remotely share household duties more equitably. This is significant because even in families where both parents work, women do a larger share of the housework and unpaid labor of raising children.
Working parents who are on the job search look for roles that support parents and families. For this reason, it's important to communicate your support for working parents in your job descriptions. A generous parental leave policy is one key way to show your support for working parents. Still, if that's not possible, remote work could make balancing work and family easier for employees who are also parents.
8. Flexibility
Remote work is not the same thing as flexible work. Many people work remote jobs that don't offer any flexibility whatsoever. The nature of their job requires them to be fully present and in front of their computer for work or meetings throughout the day.
For those folks, the unexpected benefits of WFH policies come from the extra time in the absence of a commute and working from the comfort of their own home. However, remote work does pair well with flexible work, and this flexibility can greatly increase an employee's quality of life. The ability to step away from work for a while to answer a personal phone call, make lunch, or pick a child up from school is one of the features that makes flexible work so enjoyable.
Flexible work respects that we all have demands on our time outside of work and that a little less rigidity can lend itself to the workplace.
9. Better productivity
Since so many organizations switched to remote work during the pandemic, the debate has been raging on— is remote work more or less productive than working in the office?
Managers and employees disagree, which is part of the reason there has been such a disconnect between employee attitudes and managers' insistence on returning to in-person work. But employees are right— remote work really is more productive!
Studies show that remote workers actually log more hours, and the hours they work are more productive. When remote workers are unproductive, surveys suggest that it may actually be the faltering leadership behind their declining productivity (a phenomenon that exists in the office, too).
10. Pet ownership
1 in 5 American households adopted a pet during the pandemic. This statistic isn't surprising, given that pets reduce the stress hormone cortisol in humans and help us combat feelings of loneliness. But caring for a pet is much easier when you work from home. While cats are relatively self-sufficient, dogs require more exercise, mental stimulation, and bathroom breaks during work.
Many people are struggling to afford doggie daycare or dog walking services for their dogs now that WFH policies aren't as common. Remote work allows pet owners to stay home with their animals. Caring for them is easier and more cost-effective when working from home.
There are many reasons to set up a remote work policy for your business or organization. Still, regardless of why you pursue that route, you should think about how to articulate the policy to potential employees in your job descriptions. J
ob descriptions are an opportunity to present your company's values to potential employees, and what better way to do so authentically than with some unexpected benefits of your chosen work policy?
Why I wrote this:
Candidates want to understand your company's values. Show them by highlighting some uncommon benefits of your remote work policy. Request a demo to learn how Ongig's Text Analyzer software can help you templatize WFH policies in your JDs.
Shout-outs: