Hybrid work policies are a key consideration for almost all companies operating in the post-COVID world.
In a 2021 study of 743 US corporations, 51% indicated that they'll require a return of the workforce to the office but with the option to work remotely for part of the week. This is the hybrid model — team members work between 1 and 4 days from a remote location and attend the corporation's office space on the remaining days.
Although a hybrid work model is not a new idea, the volume of positions offering it is. With this comes a need for many corporations and HR professionals to formalize their hybrid work policies.
In this article, you'll find:
4 examples of hybrid work policies
the difference between hybrid and flexible work arrangements
statistics on hybrid working, 100% remote employees, and in-person work
a free copy/paste hybrid work policy template
First, let's clarify the difference between a hybrid workplace and flexible working.
Hybrid vs Flexible Work Policies
Hybrid workers split their time between a remote office location – usually their home office – and the company office. A hybrid work schedule usually takes the form of 1-4 days working from the remote office location. For the remaining work hours, the staff members work in-person from the physical office. In some cases, a hybrid workspace may allow for other hybrid arrangements. For example team members may only come in for team meetings but otherwise work remotely. The hybrid work model is always about the location of work.
In contrast, flexible work policies pertain to location and hours of work, including part-time hours. A flexible work policy example could be a team member with young children finishing work at a time that allows them to collect their children from school.
Flexible work arrangements are often considered on a case-by-case basis but are common to many industries or to a particular position. For example, in real estate, it is common for agents to have an office, be out of the office doing viewings, and work varying hours. These positions and industries appeal to workers who like the freedom of setting their own hours and prefer not to be tied down to one location on a regular basis.
Fun fact: In the UK, companies must consider an employee's request for flexible working arrangements and can only deny it based on specific guidelines.
In the US, 80 million workers are engaged in flexible work (the workforce totals approximately 166.95 million). But, a hybrid work environment may represent the future of work:
The hybrid model is expected to grow from 42% (2021) to 81% (2024).

Is corporate America ready for The Future of Work? by Kennedy Pereira
Remote working – where employees are never expected to attend in person – has declined in the years following COVID. 16% of the workforce works entirely in a remote environment. Perhaps unsurprisingly, the Computer and IT sector leads the industries in this arena.
Hybrid Work Policy Examples
Now we have an understanding of the differences between hybrid work policies, flexible work policies, and remote work arrangements, let's take a look at 4 examples of hybrid work policies.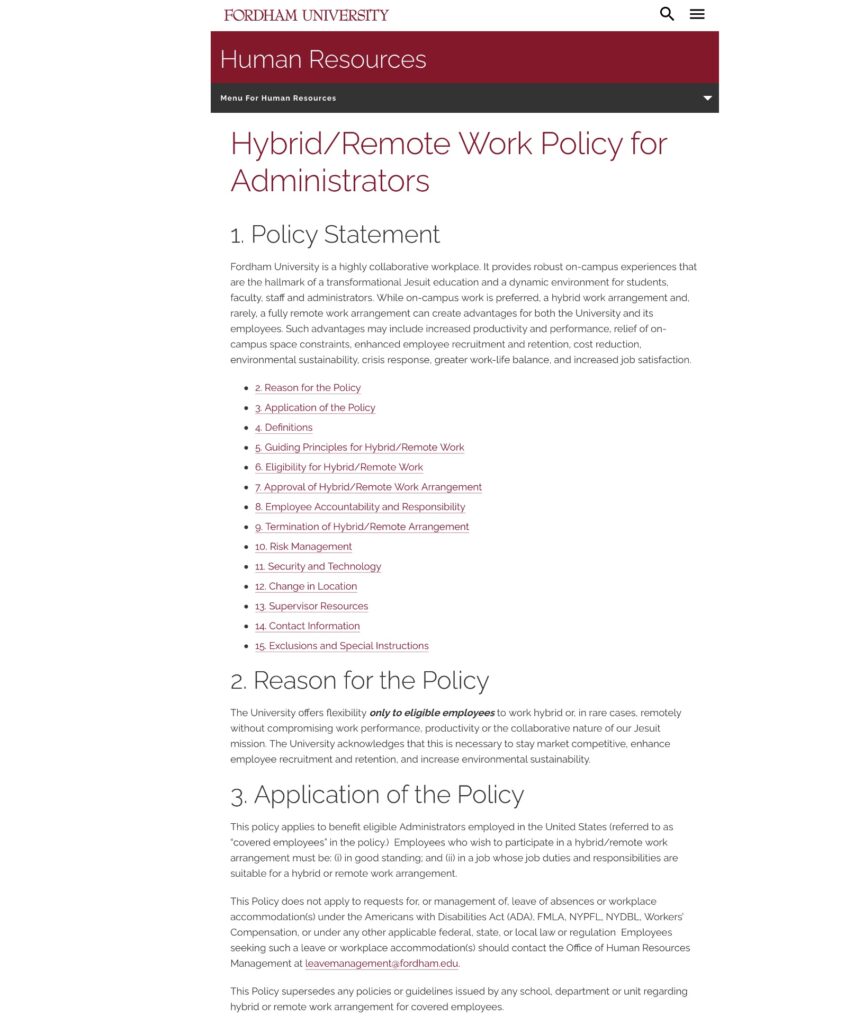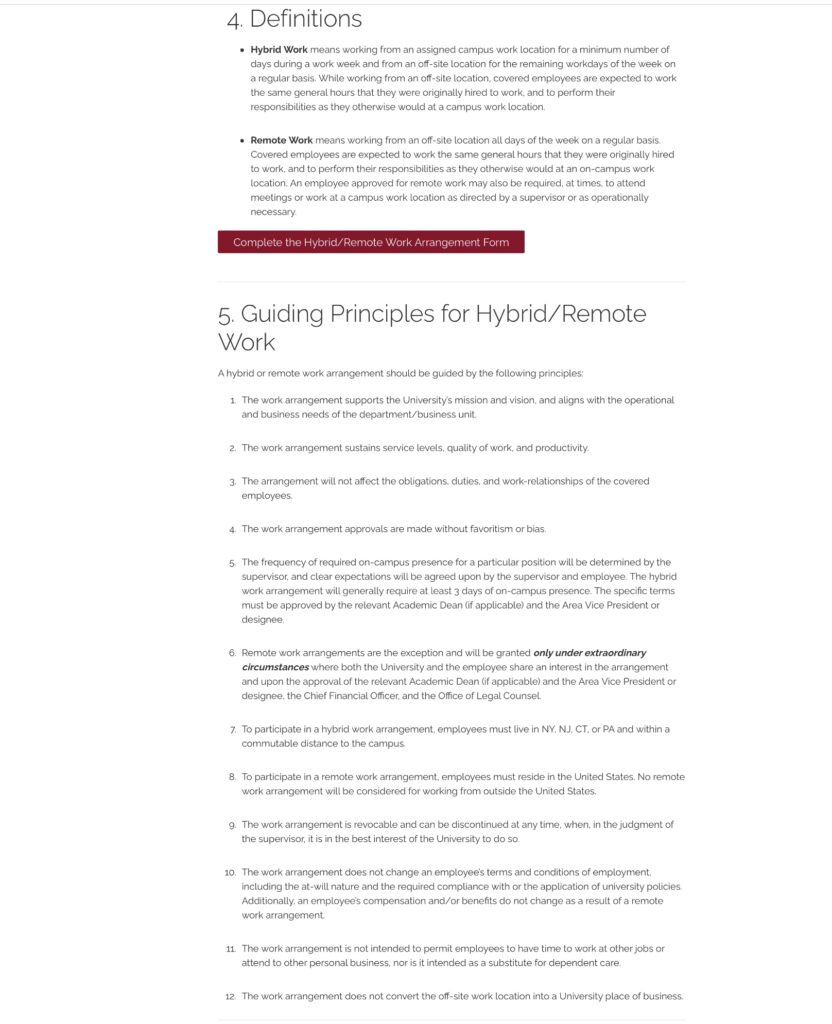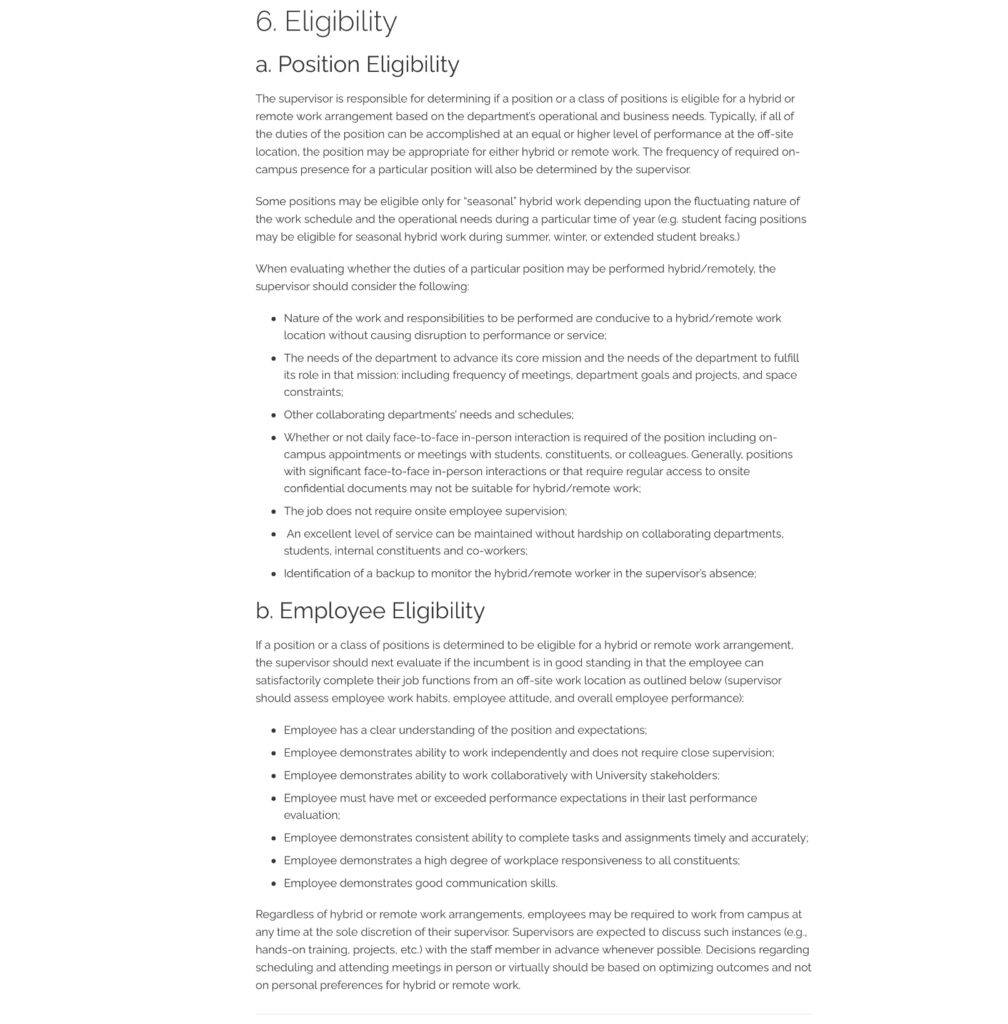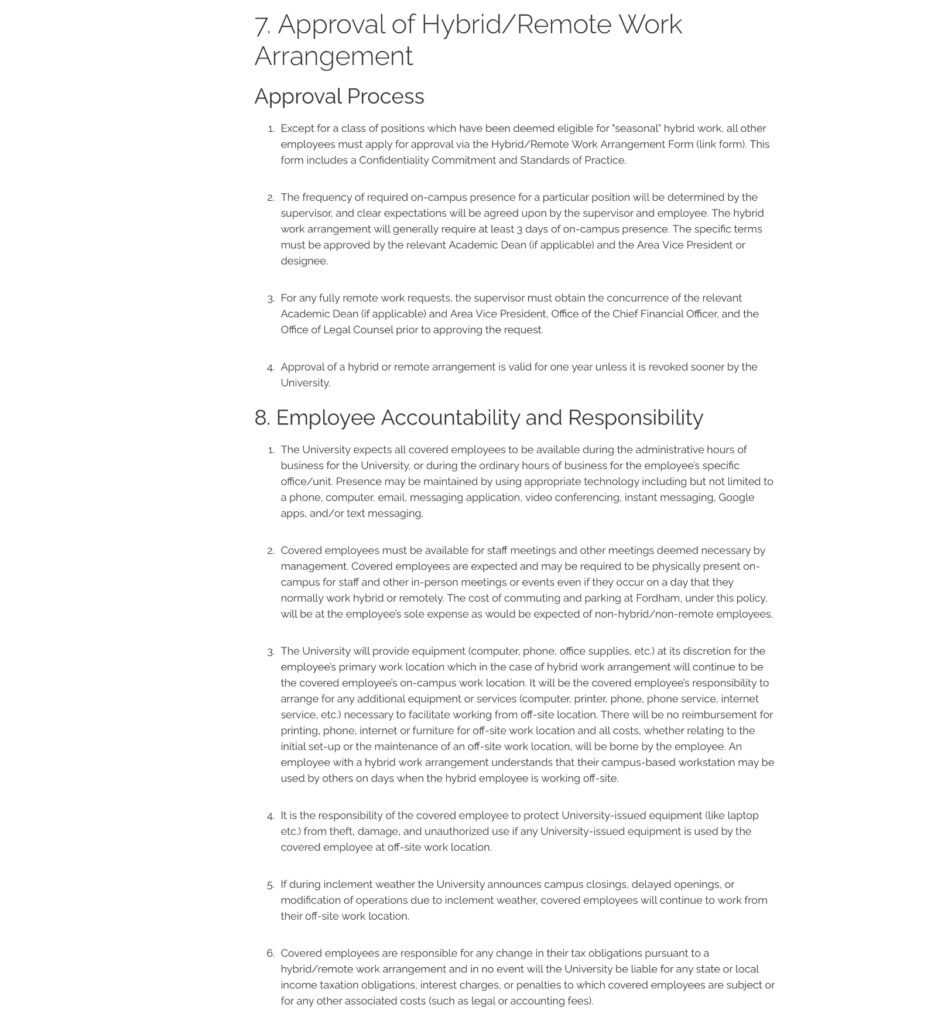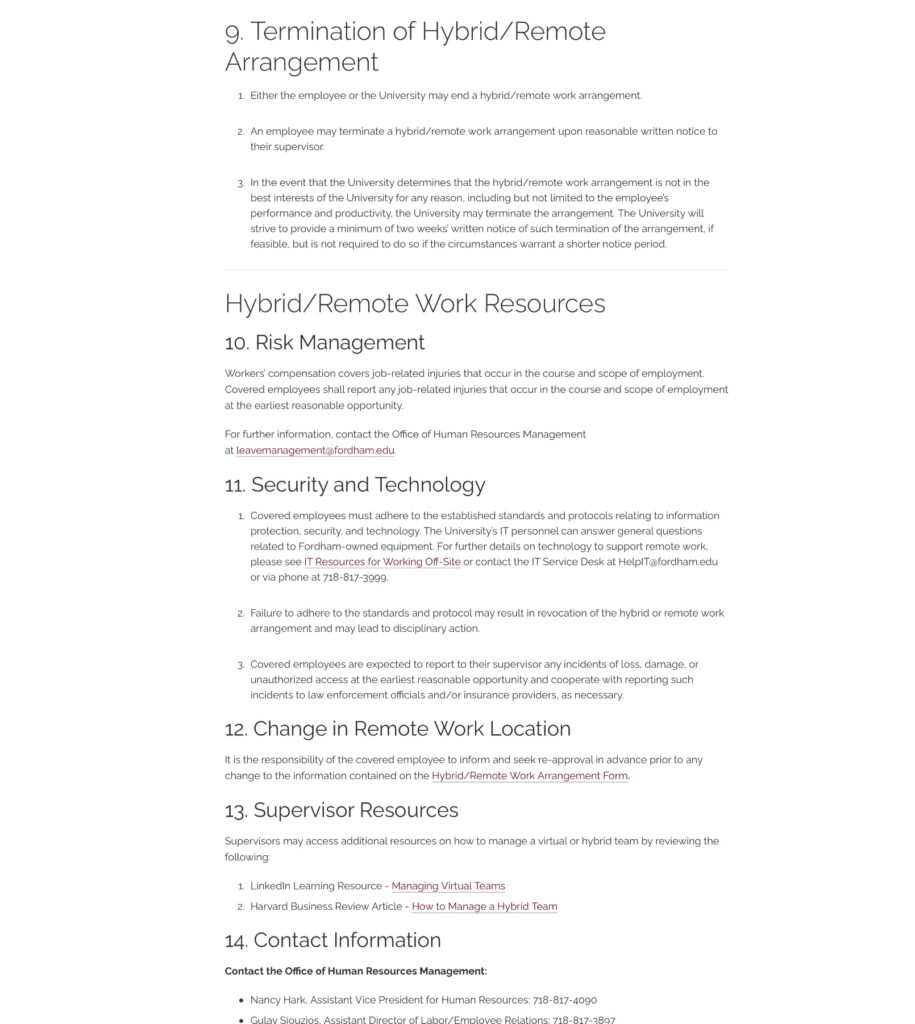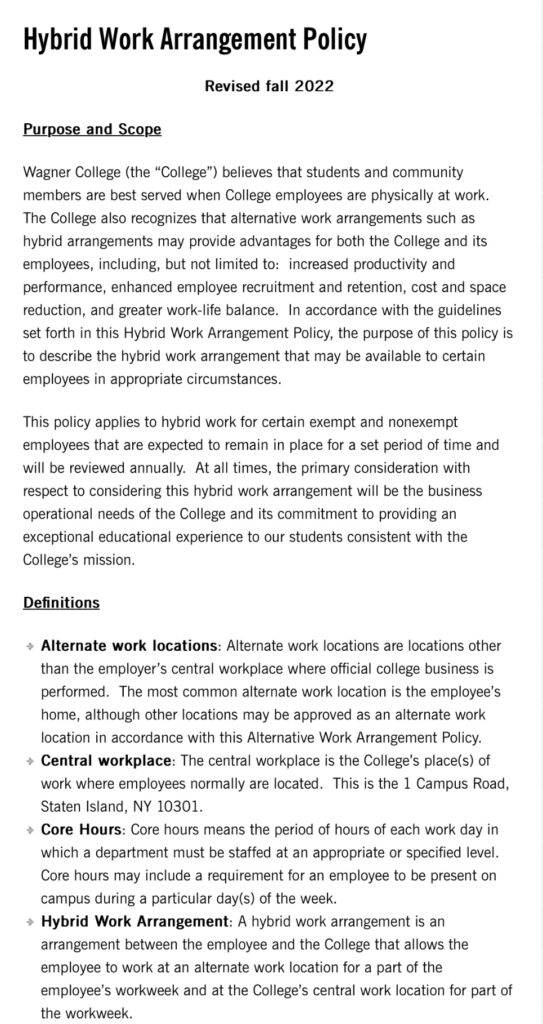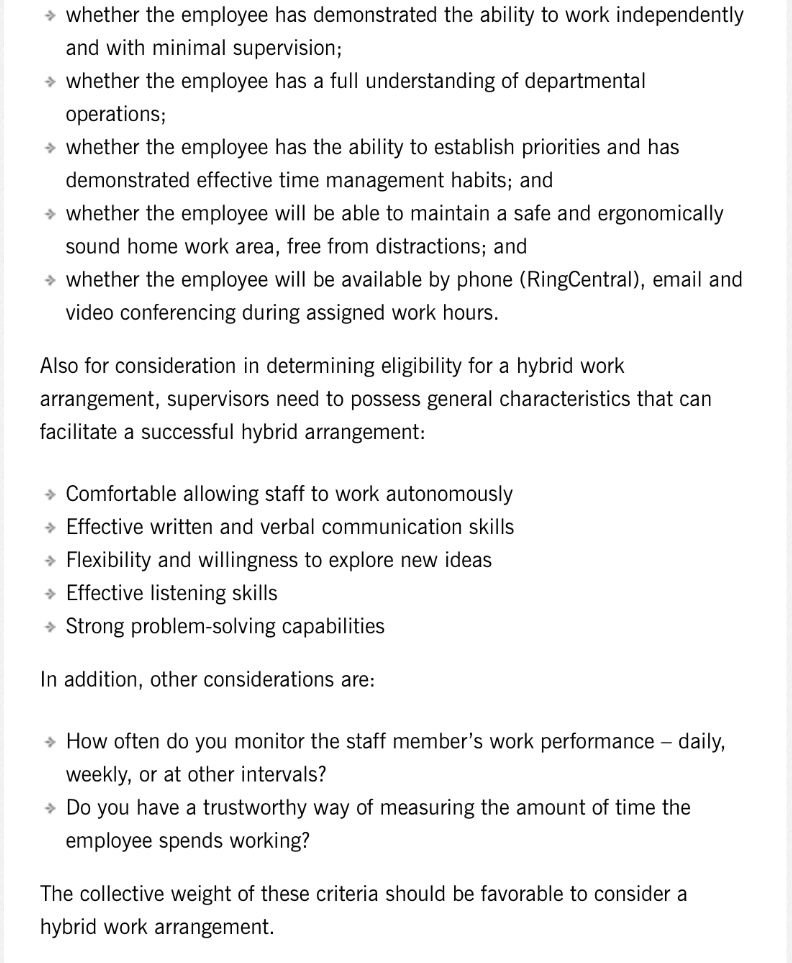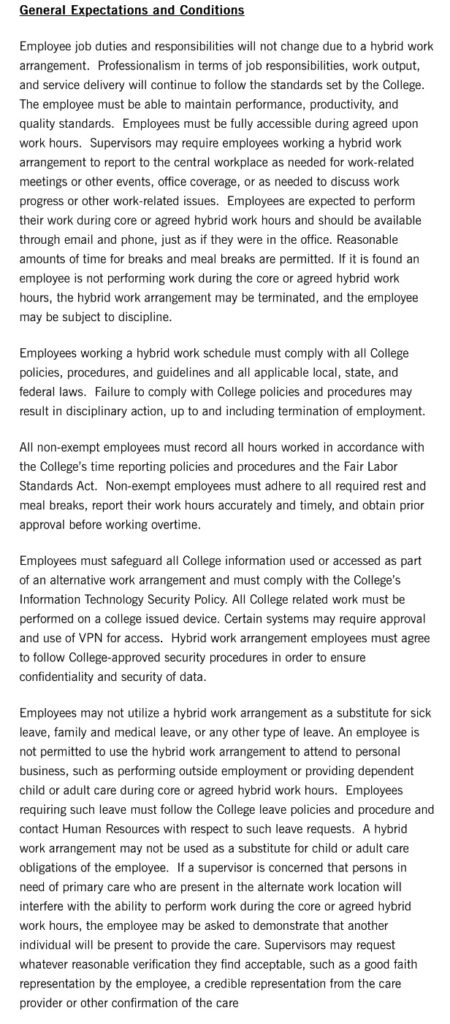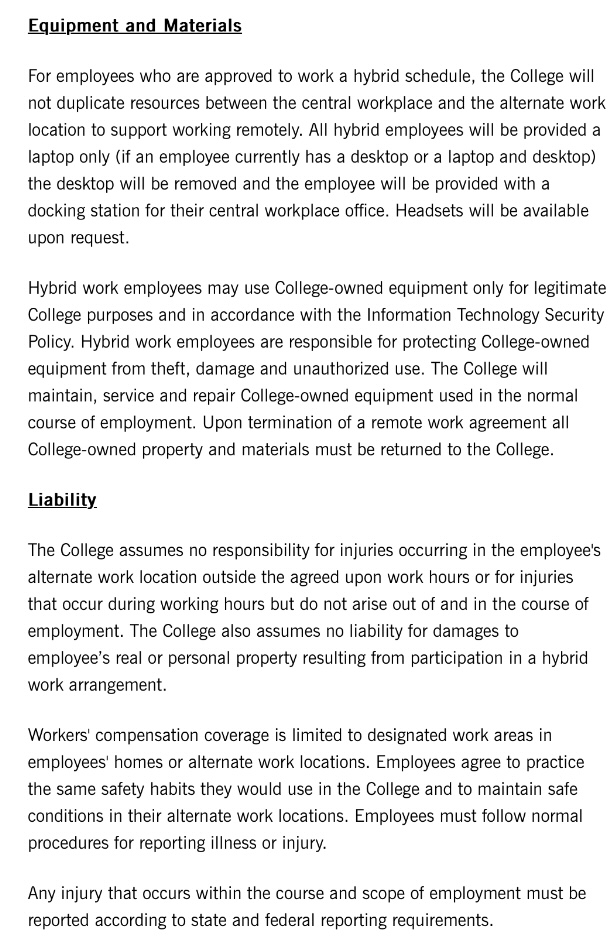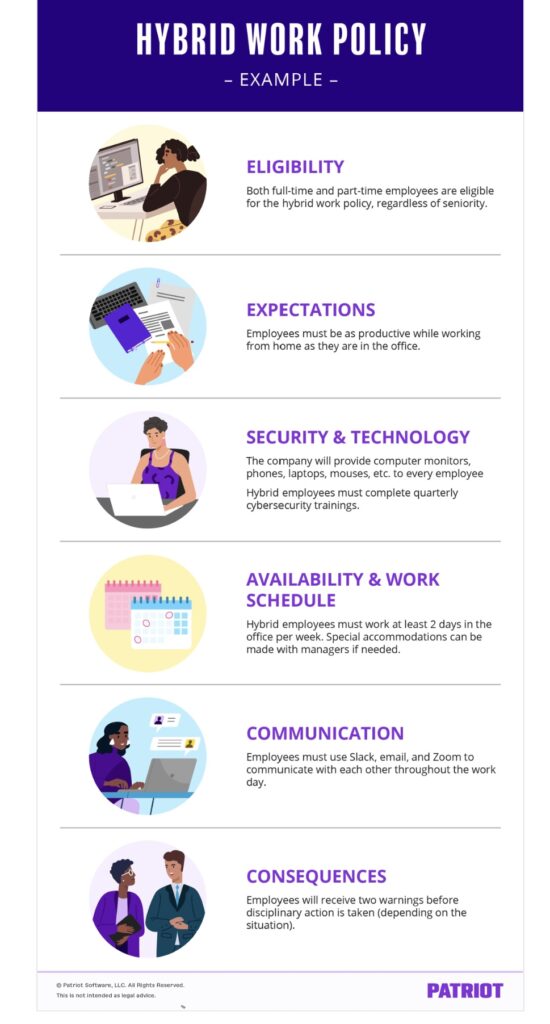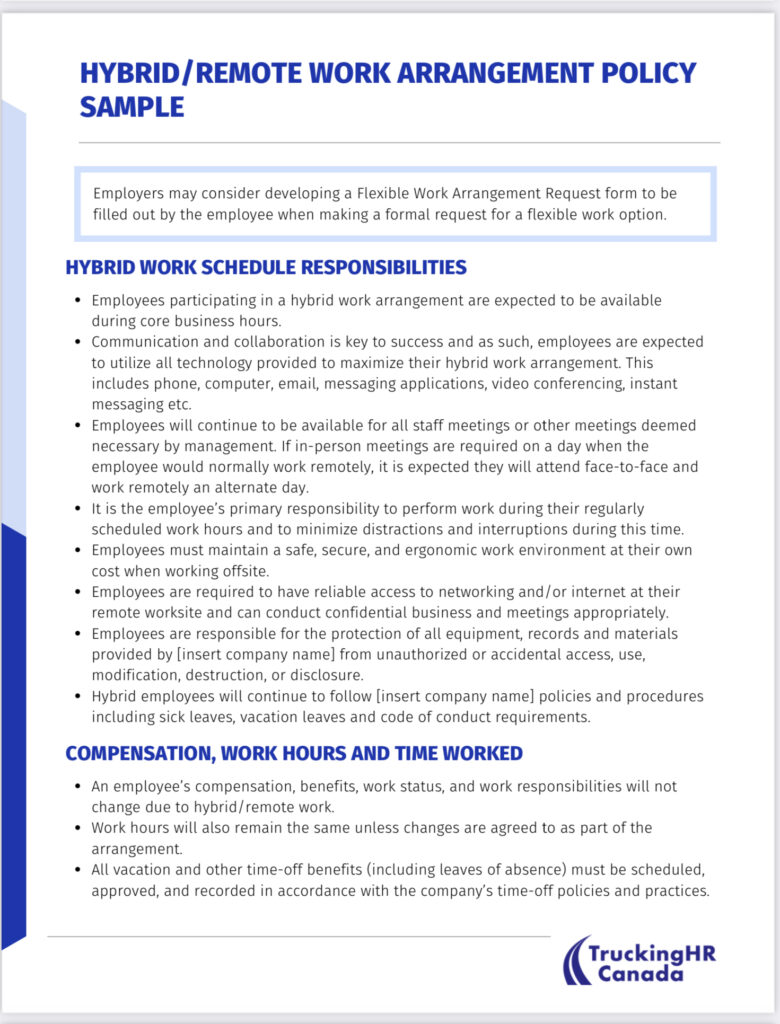 Hybrid Work Policy Template [copy & paste]
You can use this hybrid policy template to create your own hybrid policy. Remember that writing a hybrid work policy is only the first step. The hybrid arrangements policy must be distributed and communicated effectively to your team members.
Company Statement
Write about your company's position on in-person, hybrid and remote work. For example:
in-person preferable
hybrid is encouraged
100% remote opportunities for some positions
Eligibility
If employees need to meet certain criteria to be eligible to work remotely, list those requirements here. For example:
seniority
location
role type
past performance
Expectations
state when the employees are expected to be in the physical office
explain productivity expectations
be specific about special events that will require in-person attendance
The more detail in this section, the better.
Security
In this section include information on technology and access to the physical office. For example:
corporate laptops
ID badges
Communication and Accessibility
Let your employees know how they will be contacted and how accessible they must be. For example:
contactable by company cell phone and Zoom during office hours
must have the ability to join an unscheduled video meeting without notice
must adhere to a strict one on one meeting schedule once per week
How to Apply/Learn More
Let your team members know who to contact to apply or to obtain more information on the policy.
Why Hybrid Work Policies Benefit Business
Still unsure? Consider these points in favor of hybrid work schedules:
An increase in work-life balance leads to more satisfied employees
People working in more comfortable and personalized settings leads to higher productivity and efficiency
Less in-person employees reduces overhead costs for the business
More options for employee schedules and locations creates access to a wider talent pool
Satisfied, productive people engage more and retention is improved (another cost-saver)
Why I wrote this
Ongig is on a mission to support HR professionals in creating awesome, diverse workspaces with software like our Text Analyzer. Book a demo here.
Shout-Outs: