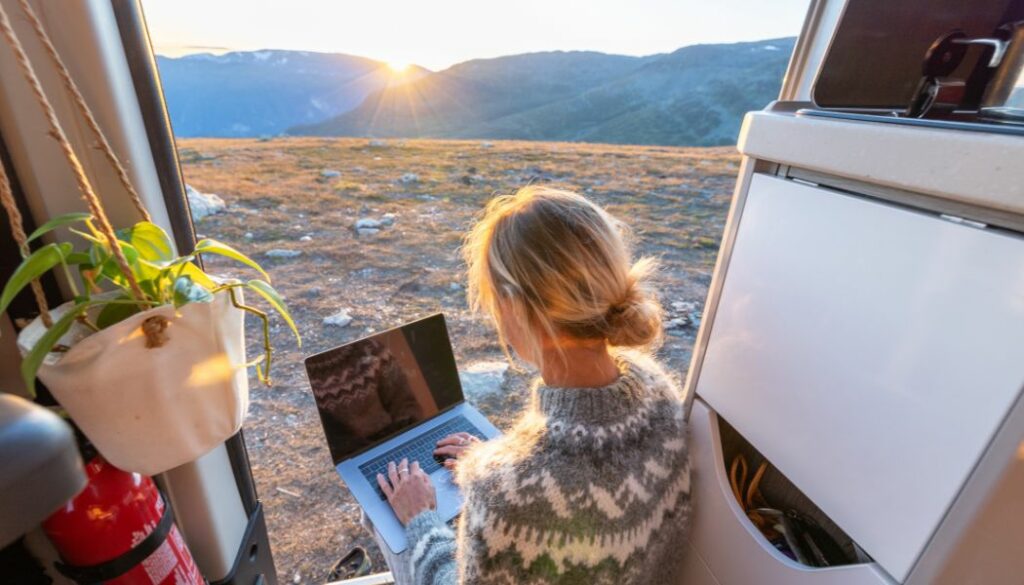 Welcome to an exciting journey where work meets adventure! Ever dreamed of exploring different countries while continuing your job? In this blog, we're delving into the world of digital nomads and highlighting 9 incredible remote work programs abroad.
These programs open the door to a life where your office can be a beach in Bali or a cozy café in Paris. So, we'll explore countries offering remote work visas and work abroad programs. Get ready to discover the perfect blend of work and wanderlust, as we show you how to work from the most breathtaking corners of the globe. Let's start this awesome journey together!
So, if you're dreaming of mixing work with travel and you currently spend your days in front of a screen, becoming a digital nomad may be the answer to finding your perfect remote work fit.
The Rise of the Digital Nomad
Popularized in the 1997 book Digital Nomad by Tsugio Makimoto and David Manners, a Digital Nomad is defined as someone who travels the world, working from their laptop. A digital nomad is often self-employed or an individual contractor.
Corporations can be less comfortable with their employees working from another country, though some do allow this, and others allow a number of days per year. There is a growing list of US companies that accept applicants residing outside the country. However, it is still easier to be your own boss to live the digital nomad dream.
There are currently 35 million digital nomads living and working worldwide. This figure has risen dramatically from 10.9 million in 2020. Most of these workers are white, single, earning over $115,000 annually.
It all starts making sense when you think about how people can work legally in other countries. There are choices for everyone who dreams of working abroad. In the next part, I'll talk about the ways you can work from another country. This also includes getting a special visa, doing quick trips on a tourist visa, or joining special programs. You can even be an au pair or teach English. Lots of options for your dream job abroad!
Digital Nomad Visa
If you want to work from a different country, you need a special visa called a remote work visa. Not many countries offer this visa. It lets you work online for a company in a different country, usually where you were born.
If you want to work in another country, you can get special permits or residency. So, these let you work for local employers, not just online. But getting these visas can take a while and there are rules you must follow. The fastest way is often by showing you have a lot of money or a high income. Or, if you have citizenship rights, like being born there or being married to a citizen.
Getting visas can cost a lot of money and take a long time. This leads to many digital nomads flouting the system and finding another way…
Tourist Visa
Some digital nomads work online without the right visa by using tourist visas. So, if they're in a country on a tourist visa and it's about to expire, they leave briefly and then come back. This makes their visa valid again.
In this way, a three or six-month tourist visa can allow the holder to remain in a country for years. Remote work on a tourist visa is somewhat of a grey area, as the visa conditions were created before technology made remote work functionally possible for the millions of digital nomads who now enjoy this freedom.
While technically illegal, it is difficult to differentiate between a vacationer catching up on a few emails and a full-time digital nomad.
Remote Work Programs Abroad
If you like having a plan for your global work trip, there are companies that can also help with that. They organize trips for remote workers. These trips have a set place to work and things to do. So, you pay them, and they arrange everything for you, from a few bucks to a lot.
If You Can't Do (remote work programs abroad), Teach.
The cheapest way to become a digital nomad is by teaching English in the country you want to stay in. There are lots of chances to do this. The pay might not be high, but anyone who speaks English can do it.
Remote work in another country has been common in one particular industry for a long time before digital nomads began trending. While the French term au pair dates back to the 19th century, the noun came into use in the 1960s. Becoming an au pair allows workers to live in another country, usually in a different speaking country, and exchange childcare for accommodation and board, as well as the opportunity to immerse in another culture.
Examples of Remote Work Programs Abroad & Special Visa Examples
If you're ready to pack your laptop and notepad next to your swimsuit, consider these 9 examples of remote work abroad:
Berlitz Language School teaches English and other languages to professionals worldwide, including locations such as Greece, Pakistan, the Philippines, and Qatar.
WiFi Tribe provides work abroad programs in a group setting to destinations like Peru, Bali, Costa Rica, Kenya, and Sri Lanka. The groups are curated based on an online personality test to create community while you travel (and work).
Mexico is one of the most popular countries for digital nomads from the US. With little requirement for a visa, good internet connections, and also a growing number of co-working spaces. Mexico is a simple choice for many.
Apply for a 'Zivno' visa for the Czech Republic to work remotely and legally in the region. Although time-consuming and documentation heavy, the financial requirement is relatively small, at around US $7,000.
Another cost-effective option is Costa Rica's digital nomad visa, which costs less than US $200 to apply for. So, you'll also need proof of a steady monthly income of US $3,000 or more.
South Africa is set to be the next country in line to offer a similar visa to Costa Rica's. More info to come!
Many digital nomads reside in Thailand illegally, performing border runs to reset their visas. You can obtain a remote work visa for Thailand, but the cost is prohibitive for most. Proof of US $100,000 savings and a minimum of US $50,000 health care insurance, plus an annual income of over US $80,000, is the base requirement for the visa. If you can afford it, Thailand is one of the favorite locations of worldwide digital nomads.
Agent Au Pair recruits young people from over 50 countries worldwide to live in America, providing childcare for the families they stay with.
The Barbados Welcome Stamp allows the holder to reside on the Caribbean island, working remotely for an overseas employer. A successful application costs US $2,000 for an individual and US $3,000 for a family. Holders must also earn a minimum of US $80,000. The visa is valid for 12 months with the option to renew.
Why I Wrote This:
Hybrid and remote work ranked number 2 in our recent Top Hiring Trends blog. At Ongig, we're convinced that being open to recruiting remote workers is an important way to attract top talent in many industries — and our mission is to help you write awesome JDs. So, try our Text Analyzer job description software with a free demo.
Shout-Outs: