The Amazon high volume hiring spree continues. The e-commerce giant now hires 1,400 people a day.
"Amazon added 427,300 employees between January and October, pushing its work force to more than 1.2 million people globally, up more than 50 percent from a year ago." — The New York Times
Here are 8 tips on how Amazon does such high volume hiring.
Amazon High Volume Hiring [8 Tips]
1. Create a "Career Day"
The Amazon high volume hiring was supported by Amazon Career Day, held on September 16, 2020. What is usually an in-person hiring event, went fully virtual because of the pandemic. Creating a virtual event like Amazon Career Day is an easy way to reach a large number of potential candidates. Business Wire reports that:
"More Than 300,000 People Attended the Event and Over 380,000 Applied for a Job at Amazon."
Before the event, Amazon tweeted to promote its career day. One tweet featured a video from a new employee and his excitement to "get back to work".
We're getting excited for #AmazonCareerDay on September 16th! Watch Amazon Scout help kick off the event, offering this new employee a special welcome to the company. 🤝 Learn more here: https://t.co/mPuVoQ0HHW pic.twitter.com/uNaJivyHEU

— Amazon (@amazon) September 14, 2020
2.  Pay more than traditional retail work
The Amazon high volume hiring initiative includes paying $15 per hour versus the traditional $13.19/hour for retail work. By offering a higher hourly rate, increased overtime pay, and sign-on bonuses, you can attract more potential candidates. According to the New York Times, Amazon does all 3. On top of the $15 hourly rate:
Amazon offered workers an extra $2 an hour and increased overtime pay as incentives
Amazon said it would pay bonuses; $300 for full-time employees and $150 for part-time employees
Some of Amazon's job ads highlight sign-on bonuses of up to $3,000 and COVID-19 precautions. These sign-on bonuses are also listed in the headline of Amazon job postings on Indeed: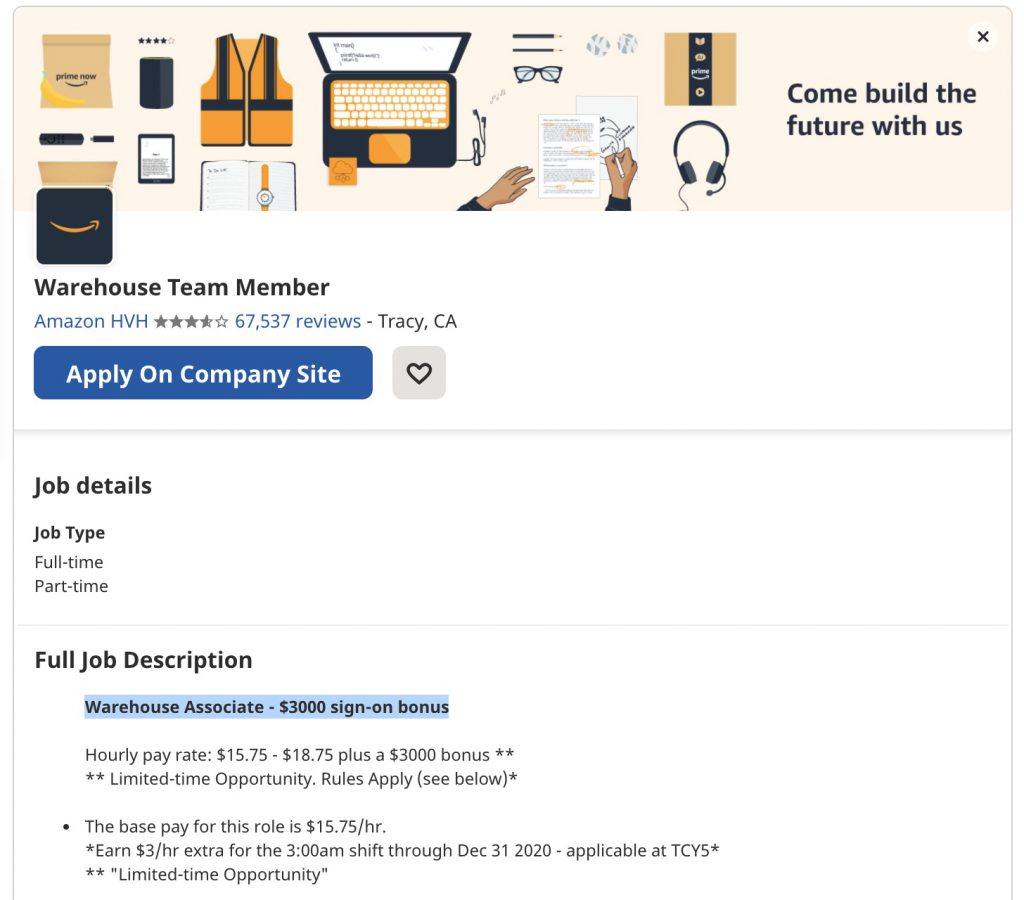 3. Build relationships with companies reducing staff
Thousands of employees have been laid off since the start of COVID-19 in early 2020. Another way Amazon high volume hiring was achieved was by partnering with companies forced to reduce their workforce. Amazon made a seamless hiring process for their furloughed or laid-off employees. Ardine Williams, the vice president for workforce development at Amazon, built relationships with companies like American Airlines, Marriot, and Uber. She said in a recent interview with the New York Times:
"We dedicated a group that did nothing but connect with organizations who were furloughing people, whether it was temporary or permanent. That allowed us to take a skilled, quality work force, and very quickly and easily move them into opportunities that were appropriate at Amazon."
Using an automated talent acquisition infrastructure, potential candidates could apply and get hired completely online, without talking to anyone.
(Editors note: For a list of COVID-related layoffs and available talent, visit Ongig's Talent Airport.)
4. Use a Portfolio Approach to Hiring
Another tip for going on a hiring spree like Amazon is to use a portfolio approach to hiring. A labor historian at the University of California, Santa Barbara said no other American company has hired so many workers so quickly. But how? Amazon high volume hiring has been supported by getting the word out about job openings using a mix of sources such as:
television — Amazon tv ads include stories from hardworking warehouse employees like Ricardo who speaks sign language.
billboards — Amazon advertises on billboards across the U.S., in cities and rural areas.
direct mail — Direct mail pieces from Amazon feature their "on the spot" job offers for warehouse associates
job boards — Amazon jobs are posted on various job boards including Linkedin, Indeed, FlexJobs, and Glassdoor.
staffing agencies — Getting the word out about Amazon high volume hiring
Amazon was able to hire more people than "the hiring that entire industries carried out in wartime, such as shipbuilding during the early years of World War II or home building after soldiers returned" (source: New York Times)
5. Create an "Easy Apply" system
To boost its hiring spree, Amazon uses an easy apply system for hourly positions. Candidates apply online, attend a virtual appointment for identification, and then orientation before their first day.
A recent post from an applicant on Indeed shows just how quickly the process moves:
"I applied for Amazon for the Prime Now Whole Foods Shopper position last night, 08/10/2020 – selected my shift, scheduled my New Hire Event (scheduled for 10:00 AM today, 08/11/2020), etc. Went to my New Hire Event this morning and gave my supporting documents so they could complete Section 2 of the I-9 form, did the drug test, and took my badge photo. By 2:00 PM THAT SAME DAY, I got an email confirming my first shift (next Thursday, 08/20/2020), and my MyDocs (filling out a W-4, signing the official letter, and acknowledging a plethora of contracts). I completed my MyDocs this afternoon and my job status on the amazon.jobs website is "Start Date Scheduled". I am baffled at how quickly everything came together, especially after reading countless horror stories on this site and many others about other applicants whose process took weeks and was delayed dramatically, some didn't work out at all."
Ryan Fan also wrote about his experience with Amazon's easy apply system on Medium. Fan said:
"A few weeks ago, I had just completed an application to work in a warehouse for Amazon. I had watched a video and completed a quiz showing that I knew that to stow items — heavy goes on the bottom, light goes on top. About 20 minutes later, Amazon emailed me that I had the job at the shift I desired. The email said to come into the warehouse recruiting office in Baltimore to take a photo for my ID and have my official documents, like my social security number and passport, ready to be scanned."
Fan's experience was quick, but he also said he was conflicted about never speaking to a human during the application process. Something to consider. The automation process, he said, is thought to eliminate unconscious bias giving more candidates the opportunity to be hired.
Don't need a resume for Hourly Jobs
Another plus, hourly workers do not have to submit a resume when using the easy apply system. Here's a preview of the steps on Amazon's careers page: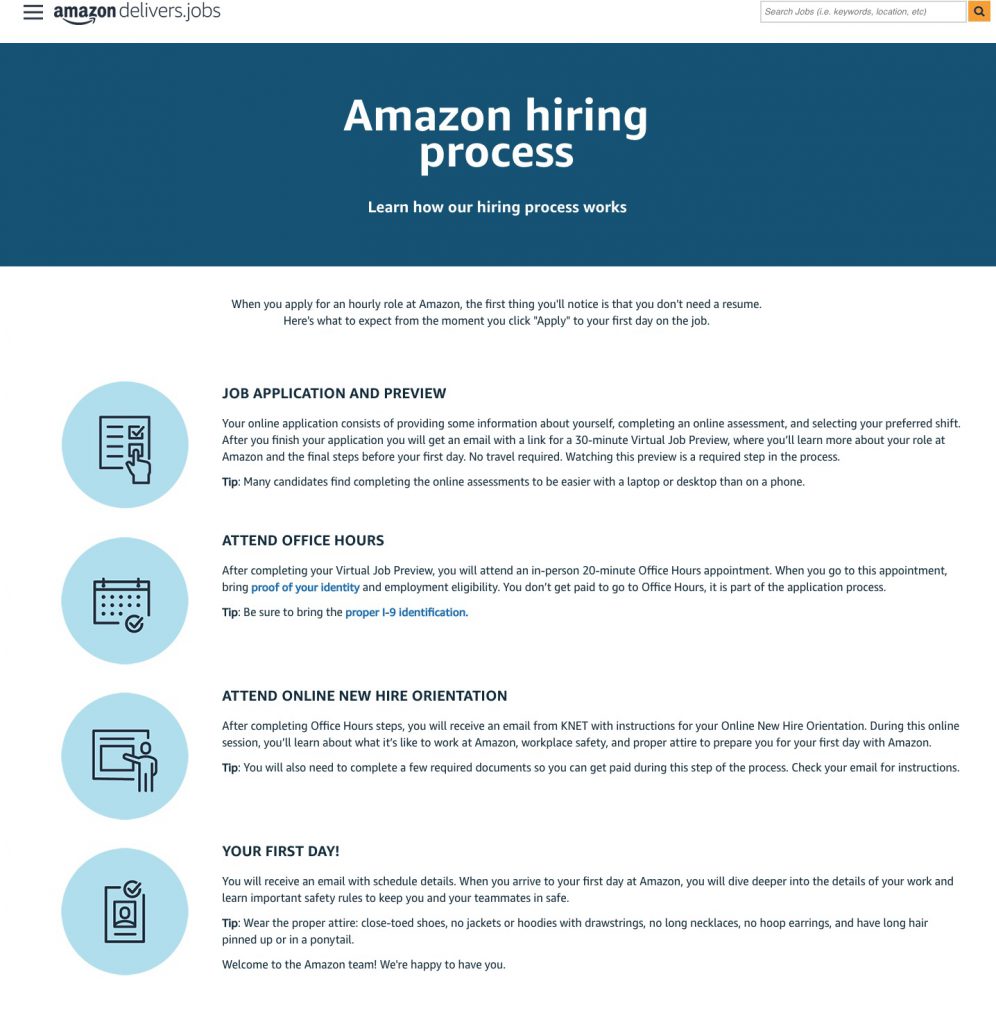 6. Be Inclusive through an "Exclusionary List of Biased Terms"
Along with the Amazon hiring spree, Amazon engineers built an internal Wiki page that lists unconsciously biased terms in an effort to be more inclusive. The internal wiki named, "Alternative Phrasings to Unconscious Bias in Communication", lists exclusionary words and how to replace them in their everyday language.
Other companies like Twitter and Apple have created similar lists to remove bias from their coding language. They are also weaving more inclusive language into their job descriptions and diversity reports in an effort to hire a more diverse workforce. Here is a sample list of exclusionary words Twitter Engineering tweeted in July: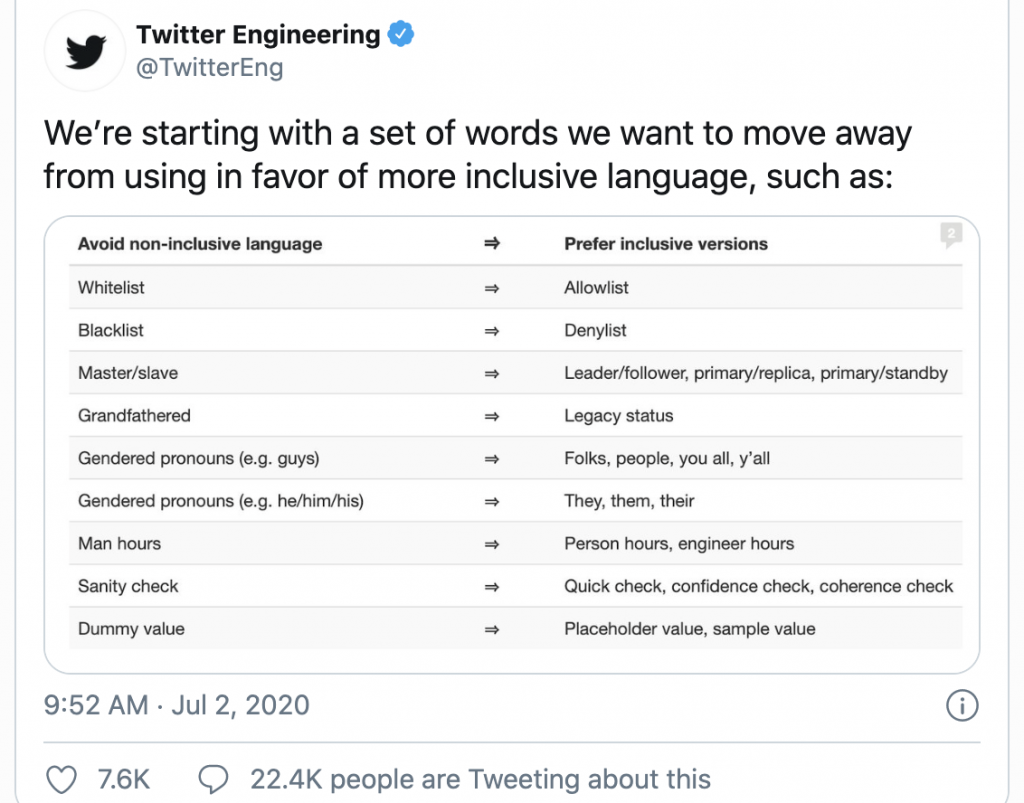 Like Twitter, Amazon is removing words like "blacklist", "brown bags", and "master/slave" from their language. By doing this, Amazon is creating a more inclusive workplace that can create a larger pool of potential hires.
(Editor's note: Ongig's Text Analyzer can help you remove exclusionary words from your job descriptions, diversity reports, and more.) 
7. Set goals for hiring and diversity
As a part of Amazon high volume hiring efforts, Amazon has set goals for hiring diversity. The 2019 Amazon diversity report shows a breakdown of gender, race, and ethnicity in the workforce (pictured below). Will the 2020 Amazon diversity report show an increase in workforce diversity? We will post an update once it's published. It will be interesting to see if the boost in hiring also boosts diversity stats.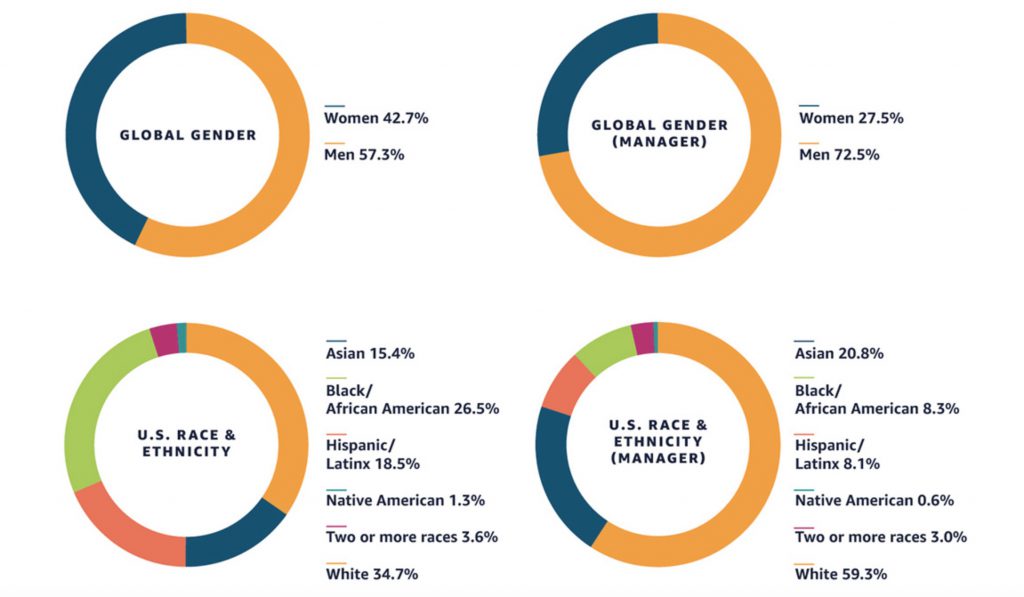 8. Invest in training programs
Amazon also invests in training and benefits which are attractive to new employees. In July, SHRM reports that:
"Amazon has announced plans to retrain 100,000 workers—almost one-third of its U.S. workforce—by 2025. The more than $700 million initiative amounts to a $7,000 investment per employee."
Training and re-training are vital to a growing workforce and potential employees look for companies who offer training opportunities. For Amazon, some of these training opportunities led to part-time employees being hired on as full-time employees.
WHY I WROTE THIS?
My team and I here at Ongig are on a mission to eliminate boring and biased job descriptions. As part of this, we want to highlight tips and tricks for innovative hiring efforts.
Shout-Outs