Why aren't people hiring women? A report from LinkedIn says that 13% of hiring managers are more likely to click on a male candidate than a female one, even though they might have the same experience and skill set.
This inequality also affected those who choose to become mothers. Mothers who have college degrees or even advanced degrees have difficulty re-entering the workforce after spending a few years off raising their children.
But the call for gender diversity, especially with hiring employees, has been an ongoing campaign. Finally, it's been gaining traction, and more and more companies are rising to the call of gender equality in the workplace. With Uber hiring women drivers, online retail giant Amazon hiring single moms and military spouses, and President Trump hiring women in the White House, the call for equal work opportunities is being heard.
If you are looking for qualified, professional women to join their team, here's a curated list of websites dedicated to helping women get back to the workforce.
1. Text Analyzer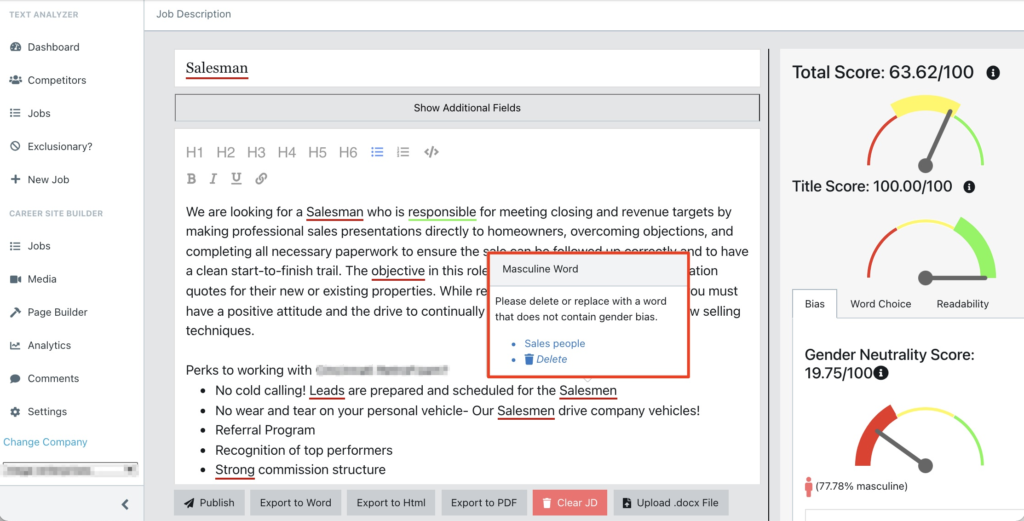 Sometimes, the way companies word their job description can scare off women who are the best match for the job or make them think that the company is not hiring women. Ongig's Text Analyzer software analyzes your job postings. It optimizes your text to eliminate all biases (gender, race, religion, hiring pregnant women, and more.) In this way, it helps you get the best talent to fill the position.
2. Apresgroup
The Apresgroup is dedicated to hiring moms who want to return to the workforce by posting jobs for moms returning to work. The site also offers counseling to help prepare women for current work environments. If you want to hire, Apresgroup can give you a list of curated women who match the skill set your company is looking for.
3. The Mom Project
The Mom Project was founded by former Pampers CEO Allison Robinson in 2016 when she read a Harvard report that says 43 percent of women don't return to work when they have families. She also wondered why people aren't hiring women. She wanted to change those statistics, so she started the website. The site believes no woman should choose between career and family. This website connects accomplished women to companies who share this sentiment. The website offers resume services, upskilling, mentoring, and a job board hiring stay-at-home moms.
4. Fairygodboss
Fairygodboss is a hiring website designed to connect employers with qualified and professional women across all fields (finance, tech, retail, etc.) in the United States and worldwide. The site offers you unlimited job postings, social media job posts, and customer support to facilitate hiring.
5. Women 2.0
Women 2.0 focuses on diversity, gender, and inclusion in the tech and startup industry. They offer support to workplaces to promote inclusivity and support the hiring of women and minorities. The site has resources for founders and professionals to grow their companies with qualified professionals and their careers.
6. Women Who Code
Women Who Code is a nonprofit organization that provides tech and engineering companies professional and qualified women to fill the roles. Professional women who have technical backgrounds can apply to different technical jobs worldwide. Companies looking to hire can choose from an exclusive community of technical professionals through several subscription packages.
7. Career Contessa
Career Contessa is a career resource website focused on helping women get the job they deserve. The site offers a curated list of jobs or emails directly to their emails every week should they choose. They also advise and do career counseling. If you want to access the diverse pool of women's talent, your company can advertise job opportunities for $100 per post. Each post is live for 30 days.
8. Squared Away
Being a military wife involves a lot of moving around. Not being in one place for long makes it hard to hold on to a job or even get hired for one. Squared Away hires military spouses and hiring moms as virtual workers wherever they are in the world. They can work at home or as part of the support team. Companies looking to hire military spouses can choose from four basic options starting from $600 a month.
9. Women For Hire
Former ABC TV personality Tory Johnson founded Women For Hire. It's a regular job board that connects women to different work positions. It also has a separate tab for women who are looking for remote jobs. Employers fill out a form, and a representative will contact them if they're interested in posting jobs at the site.
10. In Her Sight
In Her Sight is a website that is also helping women connect with companies that are hiring women. They have resources and job boards with various job opportunities for everything from on-site to remote. But what is unique to this site is women that who worked for a specific company can rate it and share their experience. This rating provides women a more informed choice when they are choosing a company to work for. For employers wanting to post jobs, the site requires a form to be filled out.
With the help of these websites, companies that champion a gender-equal workforce are on their way to finding professional, competent women to join their workforce.
Why I Wrote This
Ongig's Text Analyzer software helps remove gender bias and any other exclusionary words. We'd be happy to analyze your jobs to show you examples of masculine words. Wouldn't you like to find bias before your candidates do?
Shout-Outs