There are loads of companies that have been called out for sexist bias based on their name, logo, motto, jingle, or another identifying mark. The global push for more gender-inclusive brands is causing many of them to make changes.
What does gender-inclusive mean?
"Gender-inclusive" is defined as:
"The notion that all services, opportunities, and establishments are open to all people and that male and female stereotypes do not define societal roles and expectations."

Source: Maryville University
For the purpose of this article, "Gender-inclusive" is a concept that supports removing gender bias language or symbols from things like products, company names, ads, logos, and language. You can think of gender-inclusive as the opposite of sexist.
To be gender inclusive, companies have started removing sexist language or images from their products and messages. Many brands are moving away from sexist ads and sexist commercials too.
6+ Brands Changing to Avoid Sexist Bias
I found 6 brands making changes to remove sexist bias. Over the years, these somewhat controversial brands:
replaced sexist language with more inclusive language (names/jingles/taglines)
changed offensive logos, sexist logos, or masculine logos
have renamed products
Here's how these brands have changed:
Ace Hardware changes jingle to avoid sexist bias
Ace Hardware was ahead of the curve when it comes to removing sexist bias. In 1989, Ace changed their longtime jingle from:
"Ace is the place with the helpful hardware man"
to
"Ace is the place with the helpful hardware folks"
Mattel launches gender-neutral dolls that remove sexist bias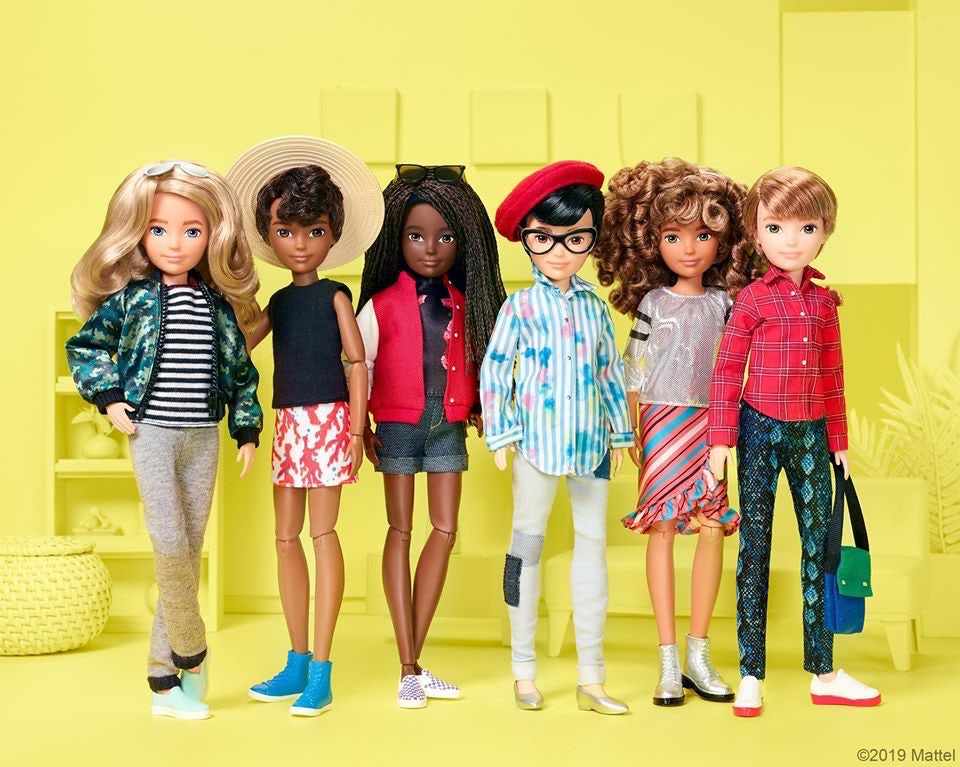 Toymaker Mattel recently launched a series of gender-neutral dolls. In the past, these dolls have been known as controversial brands due to sexist images or features.
Mattel's new gender-neutral dolls do not have male or female features and can be styled in various outfits or hairstyles. Kim Culmone, Senior Vice President of Mattel Fashion Doll Design, said:
"Through research, we heard that kids don't want their toys dictated by gender norms. This line allows all kids to express themselves freely, which is why it resonates so strongly with them. We're hopeful Creatable World will encourage people to think more broadly about how all kids can benefit from doll play."

source: Mattel
Disney changes gender biased dress code policies
Disney is making moves to stop sexist bias by changing their Disneyland theme park employee dress code. The new dress code allows employees to choose,
"gender-inclusive hairstyles, fingernail styles, jewelry and theme park costumes that provide more flexibility of personal expression"
A recent statement from the Disney Parks blog says:
"We want our guests to see their own backgrounds and traditions reflected in the stories, experiences and products they encounter in their interactions with Disney, and we want our cast members — and future cast members — to feel a sense of belonging at work."

source: The Press Enterprise
Kleenex renames "mansize" tissues to avoid sexist bias
In 2018, Kleenex joined the list of renamed brands when the parent company Kimberly-Clark announced it would re-brand its "Mansize" tissues. The change came after being called out by a consumer on Twitter:
Kleenex responded to the tweet by saying the brand recently made changes and re-named the tissues "Extra Large" instead of "Mansize".
Mr. Potato Head joins gender inclusive brands by dropping "Mister" from name
In early 2021, Hasbro toys announced they would join brands changing their logos by dropping the "Mr." and "Mrs." from their Mr. Potato Head products. This change is in an effort to remove sexist bias from their logo and brand as a whole.
Hasbro Senior VP, Kimberly spoke up about the change due to sexist bias:
"Kids want to be able to represent their own experiences. The way the brand currently exists—with the "Mr." and "Mrs."—is limiting when it comes to both gender identity and family structure."

Source: Fast Company
Scotch-Brite changes sexist logo
After being called out in a LinkedIn post for having sexist logos and packaging, Scotch-Brite promised change.
The cleaning products brand used a Bindi woman's face on some of their packagings, but not others, leading to the viral post about sexist bias.
Parent company 3M responded to the call for removing sexist bias:
"we recognize that household chores are equally shared by all family members, and we understand the need to make the product packaging gender neutral."

source: Mint
Lufthansa switches greetings to gender-neutral language
Lufthansa Group's airlines historically greeted passengers with "ladies and gentlemen." But they're changing that to be more gender-inclusive. Here are some examples of how they will welcome passengers:
"welcome aboard guests"
"good morning here on board"
The airline said why they want to make the change:
"Diversity and equality are core values for our company and our corporate culture. From now on, we want to express this attitude in our language as well — and show that diversity is not just a phrase, but a lived reality,"

source: CNN
Big brands are also gender neutralizing their products
The list of 4 gender-neutral clothing brands (and other beauty brands) is also growing rapidly. Here are gender-inclusive brands making a statement in beauty and fashion:
Chanel
Fashion giant Chanel is one of the top gender-inclusive fashion brands. In a recent Instagram video, singer Pharell is shown wearing the brand's unisex bag.
The gender-neutral bag is "designed for comfort and freedom no matter who wears it". (source: CEO Magazine)
Fenty Beauty
Music superstar Rhianna's "Fenty" gender-neutral brand is marketed to everyone, including gender non-binary.
Rhianna's brand is not gender biased. She said:
"No matter who you are, you deserve to have great skin,"

source: Rolling Stone
Gucci
Gucci is also breaking barriers of sexist bias with its gender-fluid clothing. Designer Alessandro Michele told GQ their stance on gender-inclusive brands:
"seems only natural… it's the way I see the world."
Kirrin Finch
Kirrin Finch also joins the growing list of gender-neutral clothing brands. The brand, mostly made in NYC, is inspired by menswear but:
"create gender-defying fashion for the female and non-binary body"

source: Ecocult
Some brands also called out for sexist commercials, ads, and products
While some companies are making changes to battle sexist bias, many others have been called out over the years for sexist commercials, sexist ads, or sexist branding. Here are a few from more recent times:
Amazon
A pop-up tent being sold on Amazon is being blasted by a female camper in Scotland for having sexist bias in their ad. The ad, shown below, says "Women can easily get it done":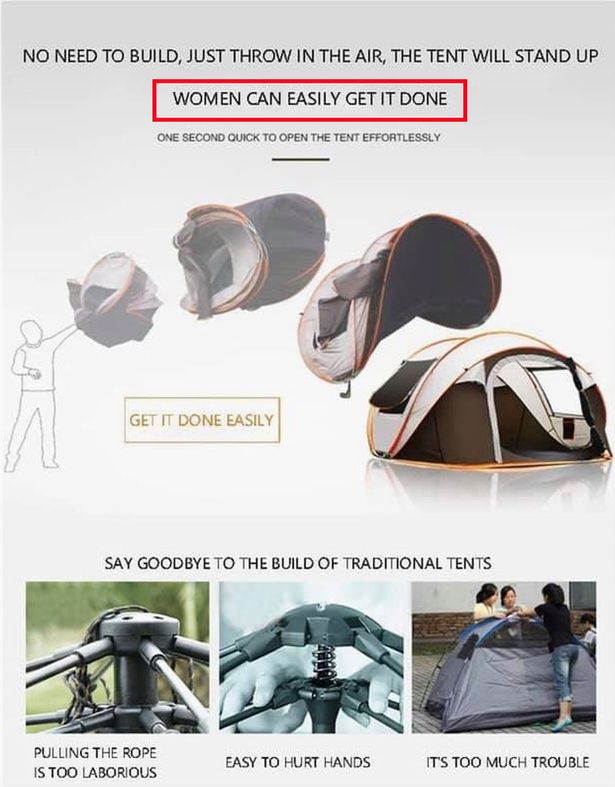 KFC
A KFC ad in Australia was recently slammed for promoting sexist bias. The ad shows a woman dressed in a short outfit who adjusts herself while looking at her reflection in the window of a car. The woman realizes 2 young boys have been watching her.
KFC's response to the sexist bias claims said:
"We apologize if anyone was offended by our latest commercial. Our intention was not to stereotype women and young boys in a negative light."

source: New York Times
Is Lego sexist?
Lego has faced backlash over the years for selling toys to kids based on gender stereotypes. Lego has historically produced many more Lego sets geared for boys than girls.
A Lego message to parents dating back to the 1970's said:
"The urge to create is equally strong in all children. Boys and girls. It's imagination that counts. Not skill"

source: Good Housekeeping
But some parents say the company is still selling sexist bias along with their gender-specific toy sets.
Peloton
In 2019, a holiday ad for Peloton sparked outrage over sexist bias.
The ad sparked controversy over gender-biased roles because it shows a husband giving his wife a bike to get into shape. People also complained that the woman was portrayed negatively as "weak" and "in need of approval" from her husband.
Peloton didn't offer an apology for the sexist ads, but they responded to the backlash saying:
"While we're disappointed in how some have misinterpreted this commercial, we are encouraged by, and grateful for, the outpouring of support we've received from those who understand what we were trying to communicate."

source: Inc.com
Volvo
Is Volvo on the list of sexist brands? A Swedish feminist blogger says yes. Volvo is another one of the controversial brands that have been called to make changes, specifically to its logo.
The blogger, Petra Rees said in a post on LinkedIn:
"How is it possible that in 2021 one of the world's biggest carmakers still uses the male symbol as its logo?"

source: Remix
She also suggested a more gender inclusive logo shown below: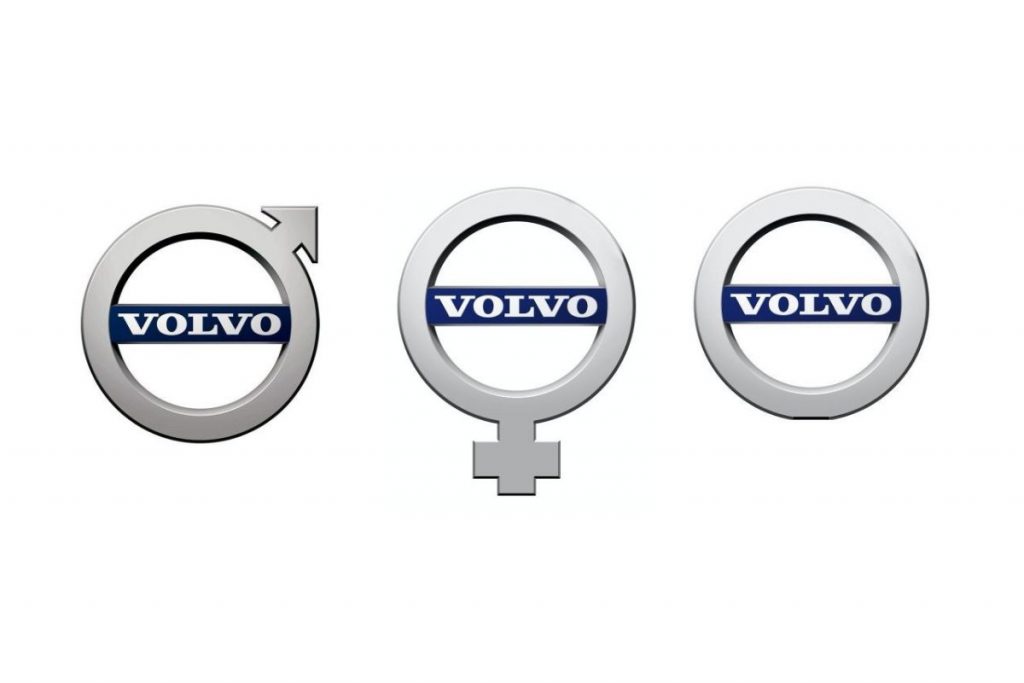 Brands might need to change to remove sexist bias
Ongig's CEO Rob Kelly observed that many companies might also need to change their corporate brand name due to masculine or sexist bias in his blog Will "Masculine" Companies Need to Change their Name?. Here are some of the brands with names that use gender bias language:
Sexist language in mottos is another change that might happen too:
The Department of Veterans Affairs motto has been accused of being "exclusionary" and "outdated."
That motto quotes President Abraham Lincoln's second inaugural address in 1865:
"To care for him who shall have borne the battle and for his widow and his orphan."
It's still TBD if brands will make changes due to sexist bias. But if the momentum around removing gender-biased language and images keep building, I think more brands will start changing their names, logos, mottos, and more.
Even the U.S. Congress in removing sexist bias by changing exclusionary language. Check out our blog, The U.S. Congress' New Gender Neutral Language [14 terms are a no-no], to find out what sexist language and sexist terms are being replaced.
And, check out our blog 20+ Top Brands Changing Their Name to Avoid Racial Bias for more on brands changing due to other types of bias.
Why I Wrote This
Ongig is passionate about diversity & inclusion and eliminating bias of all types (gender, race, age, and disability). Ongig's Text Analyzer helps remove sexist bias from job descriptions. Click our demo request button if you'd like to learn more.
Shout-Outs