More companies are reporting diversity and inclusion statistics than ever before. We found 6 employers whose diversity stats impress us. The 6 do well in:
% of women and people of color in leadership roles
% of board members who are people of color (POC)
% of BIPOC (Black, Indigenous, People of Color) employees
% of neurodiverse hires
% of employees embracing diversity in the workplace
To stay accountable for lofty diversity goals, many companies are sharing their diversity stats publicly. Here are the 6 companies that do a great job showing off their DEI statistics:
Accenture Diversity Stats
Stand out D&I stat: High D&I stats for women and gender diversity 
Accenture's diversity in the workforce stats for women really stood out to me. Last year, 48% of their new hires and 44% of promotions were women. The image below highlights more diversity and inclusion stats from Accenture:

Accenture came in at #5 on the DiversityInc Top 50 list in 2020, along with 49 other companies setting the bar for D&I stats.
One of the reasons: they work with a nonprofit, Girls Who Code, to focus on the advancement of women in STEM (science, technology, engineering, and math) and closing the gender gap in tech. This program might just directly correlate to the number of women in their workforce.
Eastern Bank Diversity and Inclusion Statistics
Stand out D&I stat: High DEI statistics on people of color and racial diversity 
Eastern Bank's diversity stats are high for people of color. Their lead director and president are both Black, and:
1/3 of the bank's board are people of color (POC)
17% of the management committee are POC
40% of new hires are POC
The charts below show the % of women in various roles at Eastern Bank, but what caught my eye is the growth in POC diversity stats (in various levels) at Eastern Bank since 2010.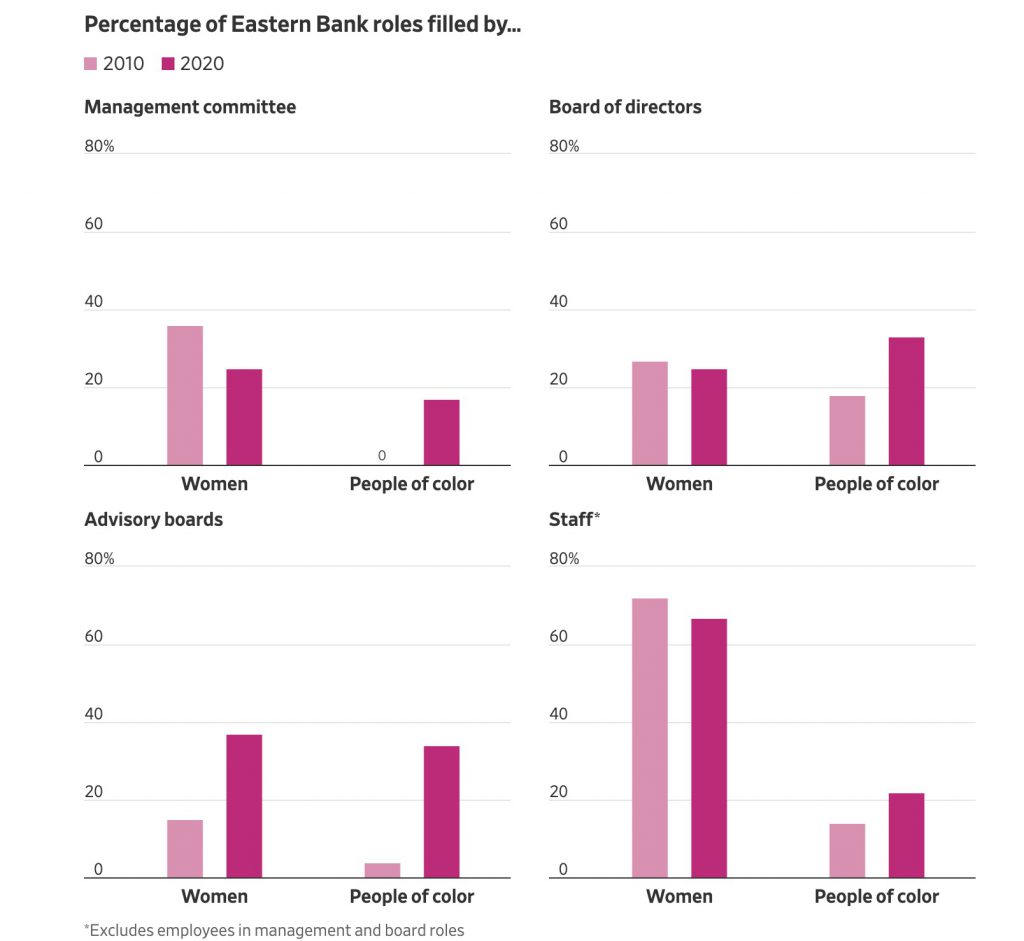 The bank's growth in overall D&I stats is improving, but Bob Rivers a chairman at the company, told the Wall Street Journal:
"Certainly, we are proud of the progress we have made, but we are mindful that we have a long way to go…It's hard work, but it's doable work."
L'Oréal Diversity and Inclusion Stats
Stand out D&I stat: High D&I stats for gender diversity  
L'Oréal's diversity stats for women really caught my attention. In 2020, this global beauty brand reported:
70% of the total workforce are women
64% of managers are women
53% of board members are women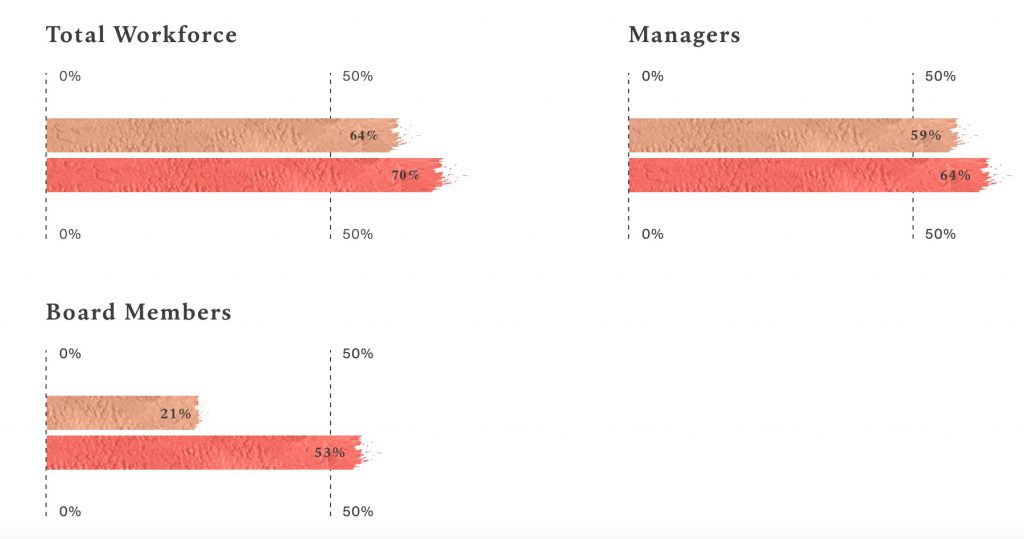 L'Oréal ranked #1 globally in 2020 for gender equality by Equileap, and they have closed the median gender salary gap by 10% since 2007. Outside of gender equality, L'Oréal's diversity and inclusion metrics show a +64% increase in employees with disabilities since 2014.
Netflix Inclusion Statistics
Stand out D&I stat: High inclusion statistics for women and people of color
I recently wrote a blog called 7 Takeaways from Netflix's First-Ever 'Inclusion Report'. The diversity stats in the report show that in 2020:
more than 46% of their US workforce and 42% of its leaders were Black, Latinx, Indigenous, Middle Eastern, Asian or Pacific Islander
women made up just over 47% of the workforce
The inclusion report is also filled with unique takeaways on how to "be better" at inclusion, how to measure diversity, and how to create special programs (internal & external) to help support D&I.  Like other companies, Netflix's efforts to boost their DEI statistics are working, but there's still room to grow. The VP of Inclusion Strategy, Vernā Myers, still thinks they can get even higher diversity and inclusion statistics:
"We've made good progress over the last three years. You can dig into the trends in the footnotes. But let's be clear, we're not where we want to be and we need to do better. We have a lot of work to do to attract more underrepresented folks to our company. So we've created a team and plan to do that.
In the footnotes, you will find charts like this one on global race & ethnicity trends: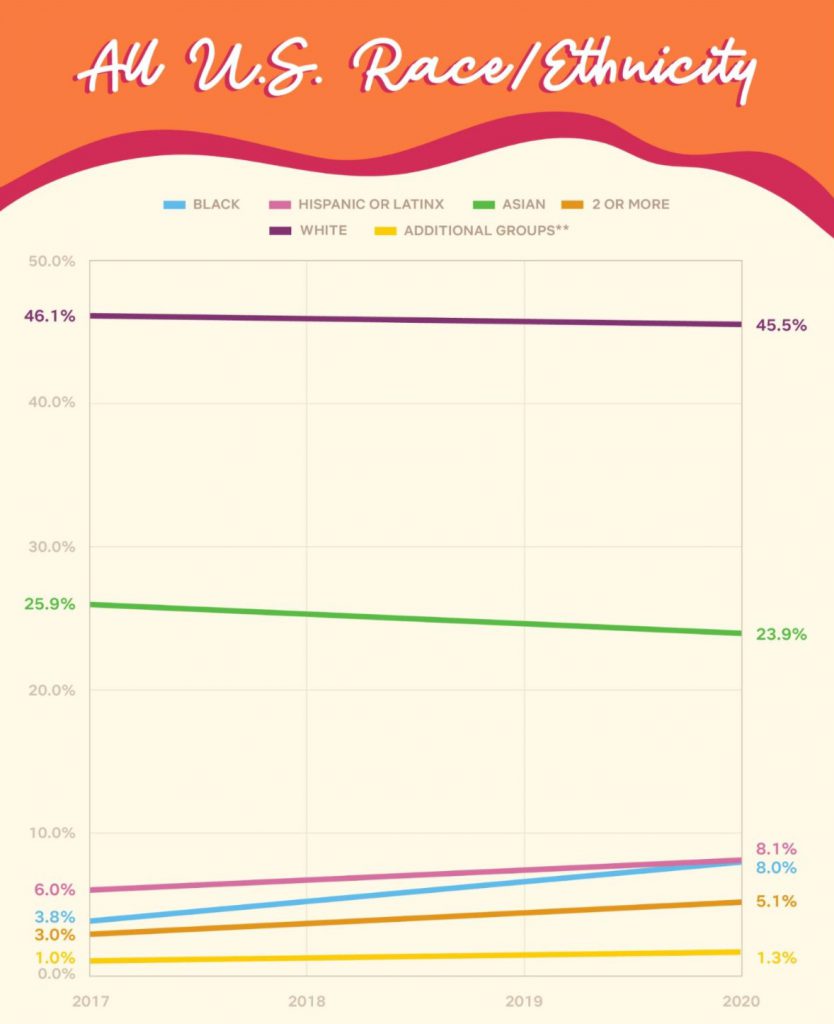 SAP Diversity and Inclusion Statistics
Stand out D&I stat: High diversity stats for neurodiversity and ethnicity 
SAP's inclusion statistics are very unique. Their diversity and inclusion page highlights high diversity stats that other companies simply don't. For example:
the # of nationalities represented at SAP (150+)
the % of employees that embrace workplace diversity (87%)
the # of neurodiverse employees hired through programs for people with Autism (180+)
Other diversity statistics from SAP are shown here: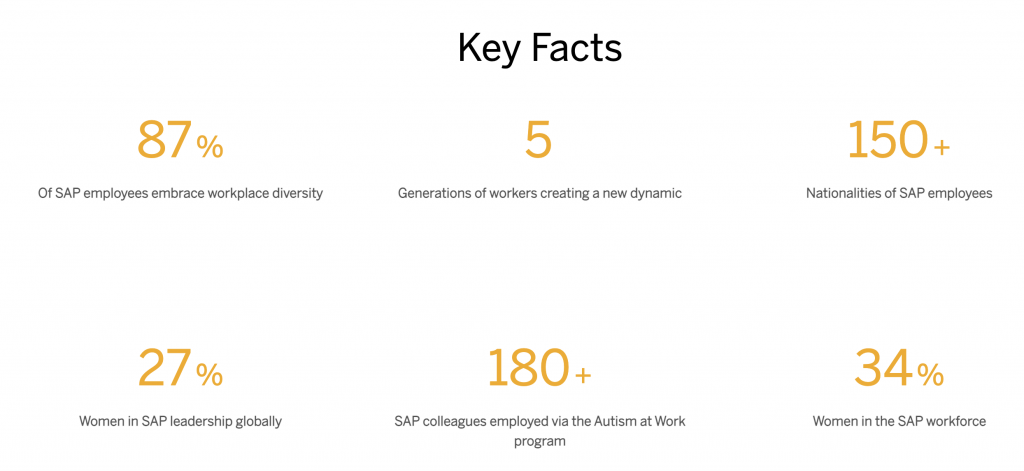 SAP also highlights their 80+ "Employee Network Groups" and 400k customers in more than 180 countries. Well done, SAP!
Tesla DEI Statistics
Stand out D&I stat: High diversity stats for underrepresented communities
Tesla spotlighted some high DEI stats in their 2020 Diversity, Equity, and Inclusion report. When I read it, I immediately noticed their diversity and inclusion metrics around underrepresented communities (Black, African American, Hispanic, Latinx, Asian, Pacific Islander, Native American, Native Hawaiian, and Alaska Native communities.) Here's a quick recap:
underrepresented communities make up 60% of their workforce

33% of their Directors and VPsare from underrepresented communities
43% of Tesla executives reporting directly to the CEO are from underrepresented communities
68% of all new hires and 65% of 2020 promotions were from underrepresented communities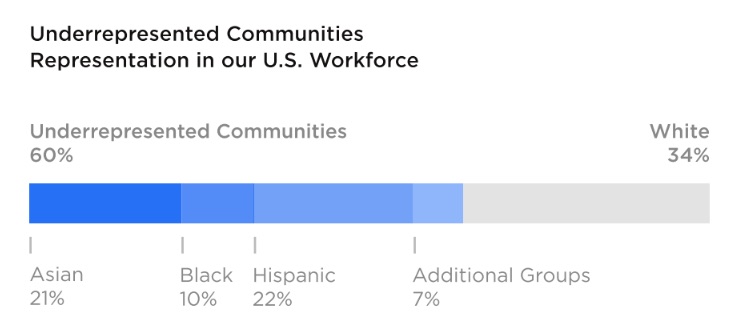 Fortune 500 Companies Diversity Statistics
For the first time ever, the 2021 Fortune list will include a new insight, diversity in Fortune 500 companies. When the updated list goes live later this year, viewers can sort companies by their self-reported diversity and inclusion stats. By doing this, as a part of a broader diversity initiative, Fortune aims to "make corporate diversity disclosure the new standard of doing business". (source: HR Dive)
Other Companies Whose Diversity & Inclusion Statistics are High
Here are a few other companies with high diversity and inclusion statistics. We found these diversity stats in the Wall Street Journal. WSJ reported that:
"These disclosures are voluntary but nudged by a new Securities and Exchange Commission regulation, along with investor interest."
Chipotle — 38% of the U.S. workforce is Latinx
PepsiCo. and Mondelez International  — both reported that around 40% of global managers are women
Cummins — 50% of executives are women
Tyson Foods — 25% of the U.S. workforce is Black
Colgate-Palmolive — 40% of executives are women
WHY I WROTE THIS
We're passionate (here at Ongig) about eliminating biased job descriptions. Ongig's Text Analyzer helps grow diversity, inclusion, and belonging in the workplace. Click our demo request button if you'd like to learn more. As more diversity and inclusion statistics are released in 2021, we'll keep adding to this list.
Shout-Outs