Netflix's first-ever inclusion report was released on January 13th. Like similar reports, it includes diversity and inclusion data. But we found 7 takeaways about inclusion and diversity at Netflix that are too good not to share. The inclusion report, published by Vernā Myers, VP of Inclusion Strategy, shows an in-depth look at internal Netflix diversity with a race, equity, and inclusion lens.
Vernā and other Netflix leadership are featured in a YouTube video called "Sowing the Seeds: Inclusion Takes Root at Netflix" that dives deeper into what's in the inclusion report and the inclusion strategy at Netflix.
In this diversity and inclusion video, Vernā says:
"My team's vision is to equip everyone with a diversity lens, which is to say that as they do their job, they're thinking about who's not here. Are we gathering all the perspectives? We are all deserving of opportunity."
You can watch it here:
Now on to the 7 takeaways from this unique diversity and inclusion report:
1.Hire a Director of Inclusion Recruiting
Netflix has a dedicated Director of Inclusion Recruiting, Kabi Gishuru. Gishuru guides the inclusion programs for recruiting, including employee training and using inclusive hiring practices to increase Netflix employee diversity. The inclusion report says:
"Recruiters play a vital role in finding candidates, interacting with them, and advising hiring managers. The inclusion recruiting programs team built a training curriculum to do this more inclusively, with topics like: spotting bias in the interview process, sourcing candidates in non-traditional ways, and helping hiring managers identify the perspectives missing on their teams. More than 200 people on our recruiting team have completed one or more courses in the program."
The focus on inclusion programs for recruiting at Netflix is supported by the data collected from 2017 to October 2020. Here are some data points we found:
women make up half of Netflix's workforce (47.1%) [including the leadership level]
almost half of Netflix's U.S. workforce (46.4%) and leadership (42.0%, director level and above) are from 1 or more underrepresented race and/or ethnic backgrounds [including Black, Latinx or Hispanic, Indigenous, Middle Eastern, Asian, and Pacific Islander backgrounds]
in the last 3 years, the number of Black employees in the U.S. doubled to 8% of the workforce and 9% of the leadership
According to their leadership, there is still work to be done, but the inclusion report does show growth towards more inclusion and diversity at Netflix.
2. Partner with Niche Sourcing Networks
One of Netflix's inclusion programs for recruiting focuses on building diverse networks. This means getting managers and leadership to look outside of their typical networks instead of hiring people like them. Diversity at Netflix is supported by partnerships with organizations like:
The inclusion report also mentions hosting events for Netflix executives to meet "underrepresented senior leaders in their industries." The pandemic put a halt to in-person events, but the inclusion programs recruiting team hosted virtual events like the DJs and Discussions series to strengthen their bond with Black, Latinx, LGBTQ+, and Asian American candidates.
3. Create your own Bootcamps for underrepresented groups
Along with training and virtual events for employees, diversity at Netflix is being achieved by "creating access for emerging talent."
In 2020, Netflix partnered with Norfolk State University and ed-tech company U2 to launch their first-ever "Netflix Virtual HBCU Boot Camp." The program aims to promote the training and recruitment of more Black tech leaders.
In the Bootcamp:
130 students are accepted to participate in 3 program tracks (Java Engineering, UX/UI Design, and Data Science)
university faculty partner with guest lecturers from the tech industry
Netflix SMEs serve as mentors to students
2U advisors provide career coaching and support
A spotlight on this inclusion initiative says:
"If we open the door for people, they'll open the door for others. We're finding more ways to do that with different skills, industries and communities."
Accepted students receive a Netflix scholarship to attend and course credit.
4. Add Equal Pay and Benefits to your Inclusion Strategy
Equitable pay and inclusive benefits are also part of the inclusion strategy at Netflix. The inclusion report highlights 2 policies that are in place for transparency and equity. The first is for equitable pay:
"We practice 'open compensation,' which means the top 1,000 leaders (directors and above) at the company can see how much any employee is paid. This encourages open discussions about pay disparities. Outside of the transparency, our talent team routinely analyzes pay across the company to look for disparities, including an annual compensation review. In both cases, when we find pay gaps, we rectify them."
The second is for inclusive benefits:
"We want our benefits to work for everyone. Our flexible parental leave policy is gender-blind. We offer a family forming benefit to support employees on their fertility, surrogacy, or adoption journey. It's available to employees regardless of marital status, gender, or sexual orientation. And we cover comprehensive transgender and non-binary care in our U.S. health plans. Outside of the U.S., we're exploring how we can expand transgender coverage."
Netflix's take on benefits and equal pay are aimed to make employees feel "recognized in company policies and practices" regardless of their gender identification, religion, or family responsibilities.
5. Craft a Different Inclusion Strategy for each Department
Another unique highlight from the inclusion report is the idea of using a different inclusion strategy for each department. It is a well-known fact that there is an underrepresentation of women and people of color in tech. So the inclusion strategy would be different than, say, the administrative department.
The report says a special group of 6 leaders on the inclusion team focus on building inclusion programs tailored to employees. This moves inclusion forward in each department.
For example, Wade Davis, VP of inclusion for the product and technology teams, aims to increase the number of women, Black, and Latinx employees for tech roles. Part of his inclusion strategy is to remove exclusionary practices and leading coaching sessions for product leaders. This is one example from the inclusion report:
""train the trainer" group coaching sessions, where the inclusion team guided product leaders on a self-assessment of where they've historically hired from and how they can evolve that practice to bring in people from different backgrounds. Leaders in this session go on to lead the same coaching sessions themselves with their direct reports."
Another example is from Darnell Moore, Director of Inclusion for Content and Marketing. With a focus is on on-screen representation on-screen and behind the camera, Moore's team attended a series of virtual "Inclusion Institutes" that:
"unpacked topics like colorism and the representation of transgender and non-binary folks, and people with disabilities.
Netflix also has models for its talent, legal, finance, and operations teams to bolster their individual diversity and inclusion goals.
6.Niche down your ERGs to Include Multiple Groups of URMs
The Netflix inclusion report also highlights Employee Resource Groups (ERGs) and their inclusion strategy role. The report says their ERGs:
"are vital to creating this sense of inclusion and belonging. ERGs are communities of employees who create space to connect on their shared experiences. We have 15 ERGs serving Latinx, veteran, Black, and disability communities to name a few."
Below are logos from the 15 ERGs listed on the Netflix inclusion page: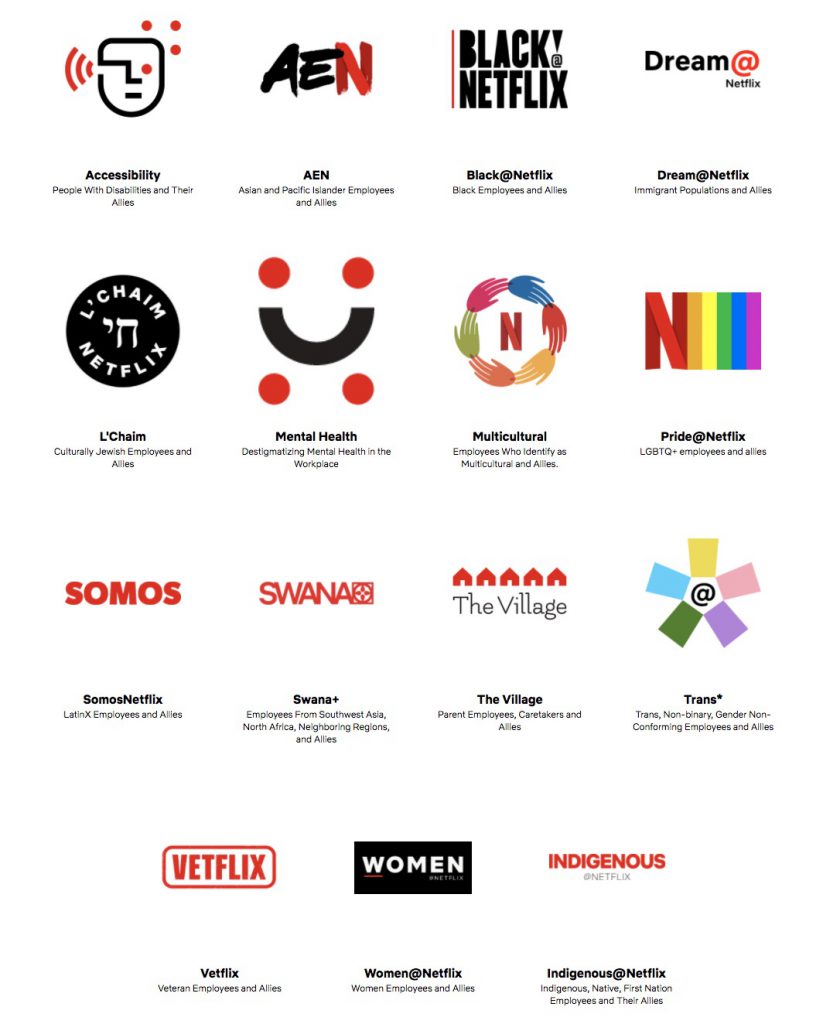 7. Set a roadmap for your Diversity & Inclusion Strategy
When the inclusion report was published this month, TechCrunch reported:
"Netflix's representation of people of color at the leadership level is not perfect, but it's certainly better than that of its counterparts in the tech industry. The company's leadership team is 15.7% Asian, 9.5% Black, 4.9% Hispanic and 4.1% of Netflix's higher-ups are mixed race."
The inclusion report closes with a roadmap to what's ahead for Netflix diversity and inclusion. The remarks are honest and transparent. Here of their areas of focus moving forward:
do a much better job at recruiting Hispanic or Latinx and other underrepresented folks into all areas, including leadership
learn more about topics of inclusion and representation outside of the U.S.
looking beyond hiring goals at the entire employee experience [retention, promotion, tenure, and compensation among underrepresented employees]
exploring ways to measure Netflix employee diversity and "inclusion health" moving forward
Why I Wrote This
Ongig is on a mission to help eliminate boring and biased job content. With diversity and inclusion statistics in the spotlight, there is a growing focus on diversity data to support inclusion. Ongig's Text Analyzer enables employers to write more inclusive content that can help attract more diverse candidates and support diversity and inclusion goals.
Shout-Outs