Diversity in the workplace is not a new topic, but the Black Lives Matter (BLM) movement has shined a new, very bright light on it in recent months. Many companies are making major moves inspired by #BlackLivesMatter. For example, VMware's CEO announced (on CNBC) that hiring managers will now have to consider at least one candidate of color and one woman.
Here is a list of 25 companies we found who are making moves inspired by Black Lives Matter. Some of the companies listed below are using Black Lives Matter on their job pages. Others are openly supporting the Black Lives Matter movement…and diversity in the workplace.
Apple
A diversity report from ChannelE2E reports:
"CEO Tim Cook said the company was starting a $100 million Racial Equity and Justice Initiative focusing on criminal justice reform and expanding opportunities for people of color."
Aramark
The career page says:
"Why Aramark?

Our employee efforts have even been recognized by many notable organizations, including the Human Rights Campaign, Black Enterprise Magazine, CAREERS and Latino Magazine. Whether it's through our comprehensive benefits packages or our diversity and inclusion efforts, we seize any opportunity to support our employees and make them feel like they are part of something greater."
Braver Media Group
A note in Braver Media Group's job descriptions:
Media Coverage: The Federalist: This Group Got Black Lives Matter And Tea Party Leaders To Talk. Can The Rest Of Us?
Catchafire
The Catchafire organization uses this in one of their job ads:
"We have an opportunity to display a billboard next to a major freeway in our area at no cost, to express our solidarity with Black Lives Matter. We need the billboard designed in a format that billboard printers could use. Vector? We have the text, a selection of photos (check for format suitability), and some examples of our preferred design. We need a super-quick turnaround. Less than a week, if possible."
Citigroup
Mark Mason's (CFO at Citigroup) blog titled "I can't breathe." went live on the companies website in late May.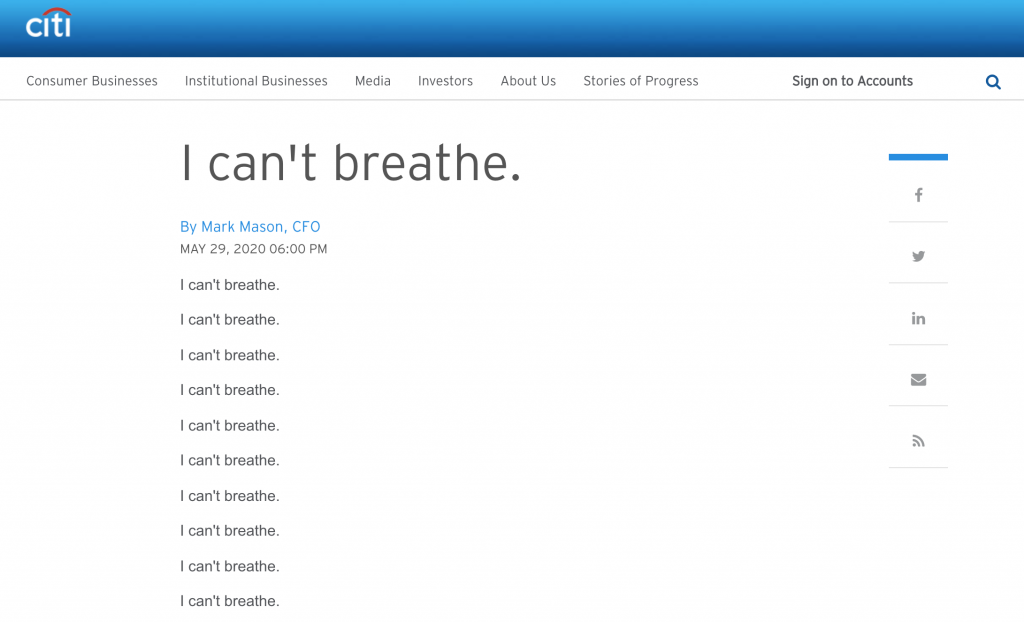 Clock'd
Job descriptions on the Clock'd career page include:
"It is abundantly clear that our community is in pain. COVID-19 made it clear that the injustices in our systems are deep and the death of George Floyd was the catalyst towards systematic change. We at Clock'd wholeheartedly support the protesters and believe that Black Lives Matter."
Drafted
Drafted's homepage shows a black and white image reading "Black Lives Matter" before entering their homepage.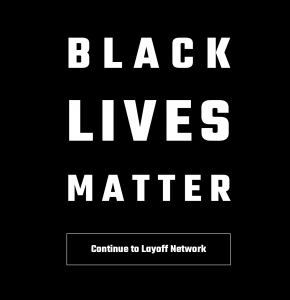 Facebook
Channel E2E's diversity and inclusion progress report notes:
"Facebook plans to increase racial diversity among its own upper ranks, pledging to have 30 percent more people of color, including 30 percent more black employees, in leadership roles over the next five years."
Food52
Food52's job descriptions include:
"In this time of national reckoning, we at Food52 are having hard conversations about our role in a food media landscape that overlooks marginalized voices. We're committed to building a community that values and honors the contributions of the Black, Indigenous, and POC communities to our shared culinary experience—starting with the Food52 family. You can read about our support of the Black Lives Matter movement here. As part of an ongoing initiative, we are focusing our efforts to put diversity, equity, and inclusion at the center of our hiring process and our company culture—and build a team that better reflects our desire for equal representation in everything we do. Our goal is systemic change at Food52."
Gold's Gym
Gold's CEO Adam Zeitsiff wrote a blog post called "Our Commitment to Equality and Change" Racism has no place in our gyms, our communities or in our country.
Black lives matter. Black lives are an important part of the Gold's Gym family and the global fitness community. Gold's Gym has always opened our doors for anyone who wants to be a part of our family. Now is the time to further open our hearts and minds and act as a brand to help spur change by:
Creating a diversity taskforce to examine our organization from a 360-degree view, to identify where we can strengthen our commitment to inclusion and acceptance and implement programs to do just that.
Engaging team members to understand their thoughts and feelings and asking for their ideas on the most important and active ways we can continue to fight for racial justice.
Identifying ways to better incorporate our longtime no-tolerance policy into our company mission, vision and values to explicitly and proudly state that people of any color, race, religion and orientation are always welcome here.
Creating a home on our website to share updates and progress on our commitment to diversity and inclusion.
Identifying local community organizations committed to eliminating racial inequality that need our support.
Google & Alphabet, Inc.
Joe Panettieri from ChannelE2E reported:
"Google and parent company Alphabet Inc. are committing more than $175 million to advance Black businesses and entrepreneurs and are moving toward increasing representation of people of color in their leadership ranks."
Halliday Center for Psychotherapy and Wellness, Inc.
An excerpt from a recent job ad:
"We seek diversity in our treatment modalities as well as in our clinical treatment team. Our team stands together with the Black Lives Matter movement."
Hewlett Packard Enterprise (HPE)
A pop up message on the top of HPE's careers page says:
"HPE stands firm against racism and is committed to unconditional inclusion. We have a responsibility to shape a world that is equal for all people."
National Black MBA Association
An active job posting includes:
"About NBMBAA Chicago Chapter

The mission of this great Organization is dedicated to establishing partnerships that result in the creation of intellectual and economic wealth in the black community."
Netflix
Netflix's job page says this about inclusion:
You collaborate effectively with people of diverse backgrounds and cultures
You nurture and embrace differing perspectives to make better decisions
You are curious about how our different backgrounds affect us at work, rather than pretending they don't affect us
You recognize we all have biases and work to grow past them
You intervene if someone else is being marginalized
Orca Swim School Inc.
Orca Swim School includes Black Lives Matter in job ads: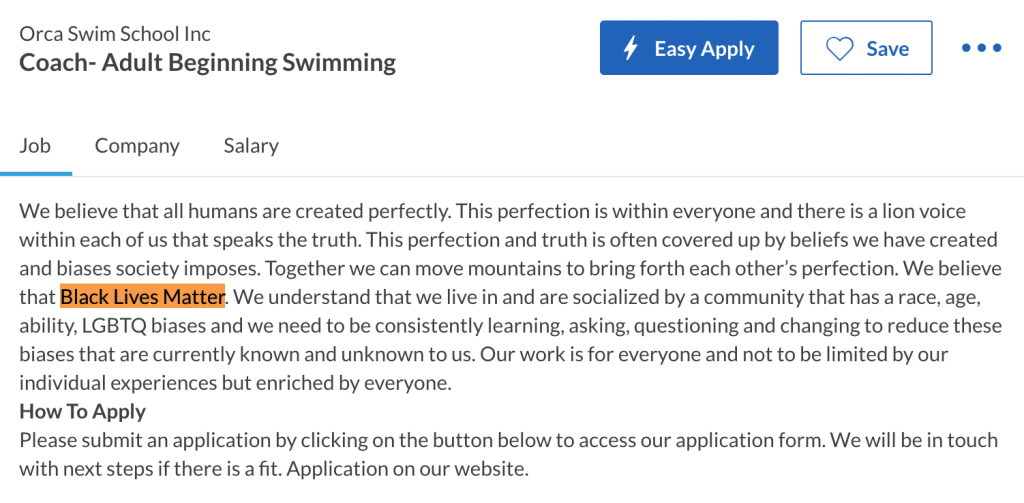 Red Bear Brewing Co.
This California Brewing company includes Black Live Matter in their job ads: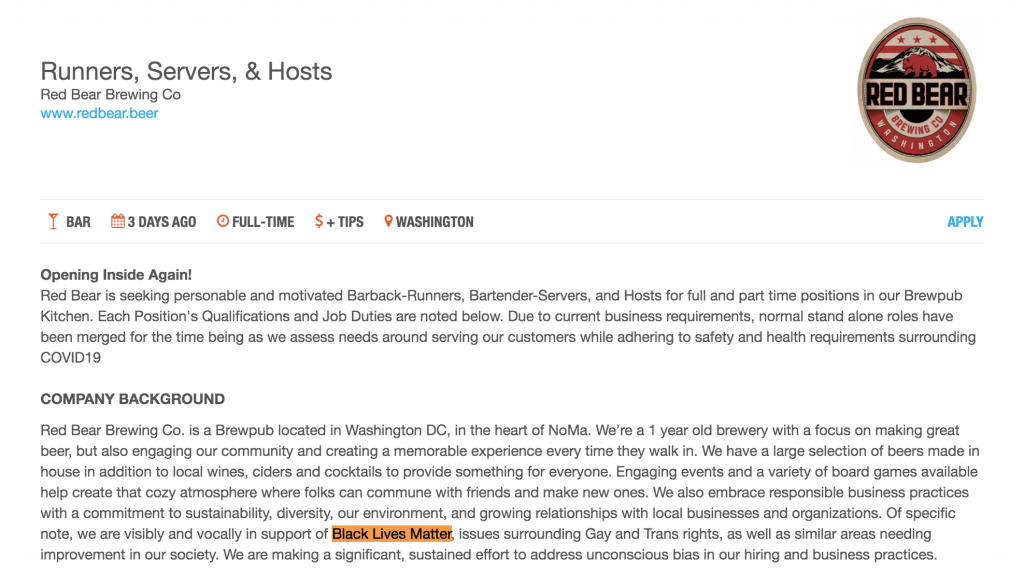 Reddit
Founder and former CEO of Reddit, Alex Ohanian, stepped down from the board and asked that his seat "go to a black board member", according to TechCrunch.
The former CEO tweeted:
"I've resigned as a member of the reddit board, I have urged them to fill my seat with a black candidate, + I will use future gains on my Reddit stock to serve the black community, chiefly to curb racial hate…"
Y Combinator CEO, Michael Seibel, has since filled the board position according to The Verge.
Salesforce
Salesforce recently published a blog called "8 Ways to Stand in Support of the Black Community".

Slack
An active job ad on Slack's career page says:
"Ensuring a diverse and inclusive workplace where we learn from each other is core to Slack's values. We welcome people of different backgrounds, experiences, abilities and perspectives. We are an equal opportunity employer and a pleasant and supportive place to work."
Starbucks
Starbucks published a story on its website that says:
"Black lives matter and Starbucks is committed to doing our part in ending systemic racism."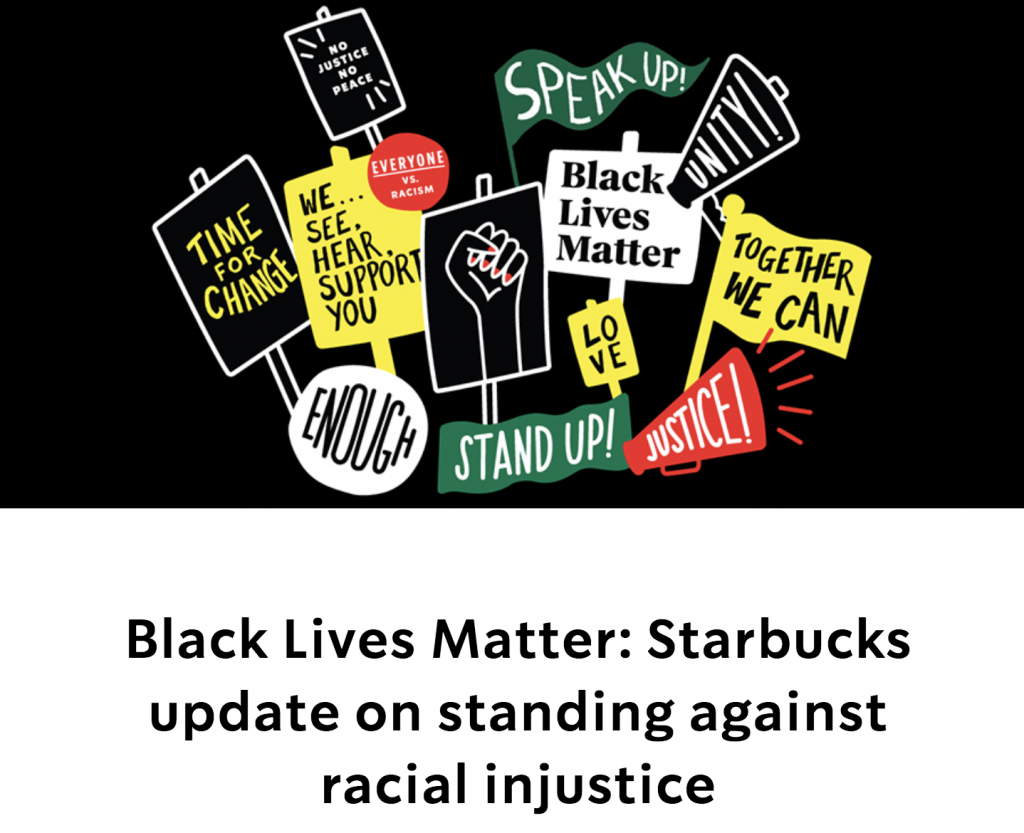 Transgender Law Center
An active job listing says:
"Applications are reviewed on a rolling basis until the position is filled. Please submit your application as promptly as possible. We cannot respond to telephone or email inquiries. Transgender Law Center is proud to be an affirmative action employer. Black people, People of color, women, persons with disabilities, and persons who are lesbian, gay, bisexual, transgender, gender nonconforming, or intersex are particularly urged to apply."
VMware
The CEO of VMware speaks out about #blacklivesmatter in a recent article:
"We've focused lots more on gender than race, and now we need to put emphasis on those areas together…Now we're saying every position has to consider gender and race…"
VMware will not fill any positions without interviewing candidates from both underrepresented groups.
WeWork
A recent newsroom post on WeWork's website says:
"George Floyd. Breonna Taylor. Ahmaud Arbery. We say their names and honor their memory. We condemn these and all acts of racism and violence toward people of color. We stand shoulder to shoulder with the Black community during this time of injustice."
Supporting Black Owned Businesses
Investopedia's article on the Top African American-Owned Businesses in the U.S. says:
"There are over 2 million African American owned businesses in the U.S., according to the Census Bureau."
These 2 top black owned businesses include statements about diversity on their career pages:
Bridgewater Interiors:

Bridgewater Interiors takes seriously our role as a leading Minority Business Enterprise, and we use this platform to help advance the conversation surrounding the importance and necessity of a diverse workforce.
Vista Equity Partners: Culture of Excellence, We are committed to fostering a culture of excellence, diversity and inclusivity.
As the #blacklivesmatter movement grows, we suspect so will the support for black owned businesses, and increased awareness for diversity in the hiring process.
Thanks to all of these folks for providing valuable content to help me research Black Lives Matter on Job Pages.
Monica Bowie's blog on 8 Ways to Stand in Support of the Black Community
Joe Panettieri's report on Technology Industry Diversity & Inclusion
Mark Mason's blog on I can't breathe.
Clock'd Easy Apply Volunteer Page
Nick Statt's article on Reddit names Y Combinator CEO Michael Seibel as Alexis Ohanian's replacement
The Halliday Center for Psychotherapy and Wellness, Inc.'s Job Listing on Linkedin
Drafted's website drafted.us
Starbuck's story on Black Lives Matter: Starbucks update on standing against racial injustice
Aramark's Career Page
WeWork's article on WeWork's commitment to black-owned businesses
Cathafire's volunteer position Volunteer: Display Materials Design for Delaware County Literacy Council
Transgender Law Center's Director of Communications job listing
Blavity's Career Page
Red Bear Brewing Co.'s Job Listing on PoachedJobs.com
HPE's Careers Page
Eric Rosenbaum's article on No job-hiring process will end unless minority candidate is interviewed: VMware CEO Pat Gelsinger
Braver Media Group's Jobs on Linkedin
Taylor Hatmaker & Ingrid Lunden's article on Alex Ohanian steps down from Reddit board, asks for his seat to go to a black board member
Orca Swim School's Job Listing on Glassdoor
Netflix's Jobs Page
Food52's VP of Brand Partnership Job Listing
National Black MBA Association's VP, Technology Communications Job Listing on Linkedin
Linkedin's Jobs Page
Why I Wrote This
We're passionate (here at Ongig) about writing the best job descriptions. Biased job descriptions (race, gender, age, and disability) are the villains we go after and conquer. Ongig's Text Analyzer helps conquer those villains and turn you and your newly written job descriptions into the hero! Click our demo request button if you'd like to learn more.