Need to hire a virtual assistant? I've hired 5 in my career and thought I'd  share the virtual assistant job description template I use for these hires. I like to think I get better each time I write a new JD to hire a VA.
And special thanks to my friend Ramit Sethi of I Will Teach You to Be Rich.
Some consider me to be a job description pro, but I happily learned a few new tips from Ramit's Delegate & Done program which included a whole section on how to hire a virtual assistant.
For more tips on writing job descriptions, check out our How to Write a Job Description — Best Practices & Examples.
Virtual Assistant Job Description Template
Virtual Assistant to the CEO
Are you organized and
trustworthy
?
I'm looking to hire a virtual executive assistant. Bluntly, I'm looking for a detail-oriented, perfectionist.
Please note: You MUST have at least 2+ years as a Virtual Executive Assistant for a CEO or business owner.
Pay will increase based on performance
On any single day, you might do these
types
of tasks:
CRM — Responding to prospects who reach out to us every day to request a demo and tagging new prospects

Selecting a Holiday Card Video to send out to our community every December

Writing real thank you notes (and getting me simple stationery)

Sending LinkedIn invitations to prospects

Reviewing LinkedIn messages to me and responding and inputting into our CRM

Creating Google Docs — E.g. Helping to make a Google Slides presentation look better!

WordPress – optimizing articles I write

Finding a great service provider/new software solution
Scheduling Travel (flights, rental car)

Scheduling Medical appointments

Filling out the rebate form for my contacts lenses (once a year)
I'm a fair but demanding boss. You should enjoy negotiating deals, finding the best travel arrangements and be fun to work with.
If you're looking for a slower role, this is not for you.
Flexible Location & Hours
You can work anywhere in the United States.

This is a part-time role and has room to become full-time. You'll start with 10 hours per month and then we'd discuss whether it makes sense to work more

together

.

The main hours you should be available should match my main working hours (6:30 am PT to 5:30 pm PT on weekdays).
And here's a screenshot of the same Virtual Assistant Job Description Template with some comments from me on a few of the sections:
My Virtual Assistant Job Description Template (with comments)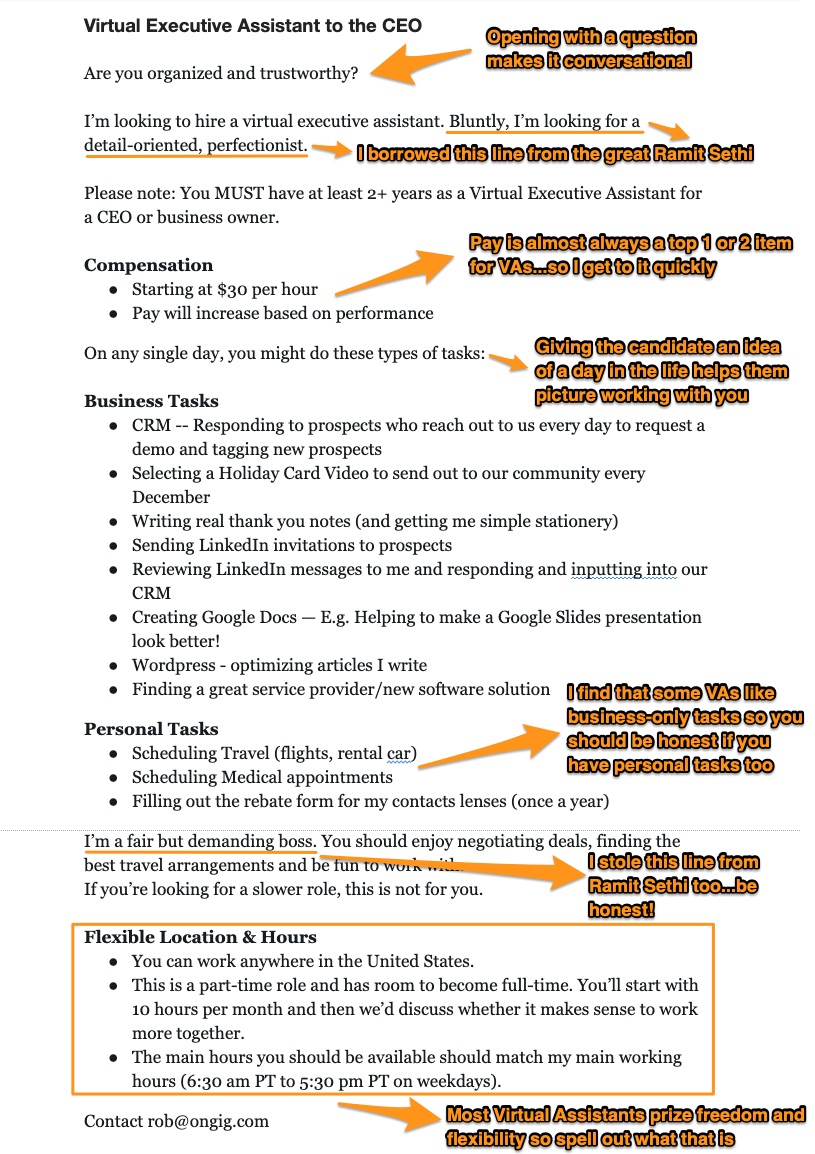 How does the virtual assistant job description template score on our pro JD writing tool?
Finally, I ran my virtual assistant job description template through Ongig's Text Analyzer software.
This showed me an overall total score of 96.25/100 (100 being most effective) with a decent title length.
The Text Analyzer scoring showed that the JD was gender-neutral: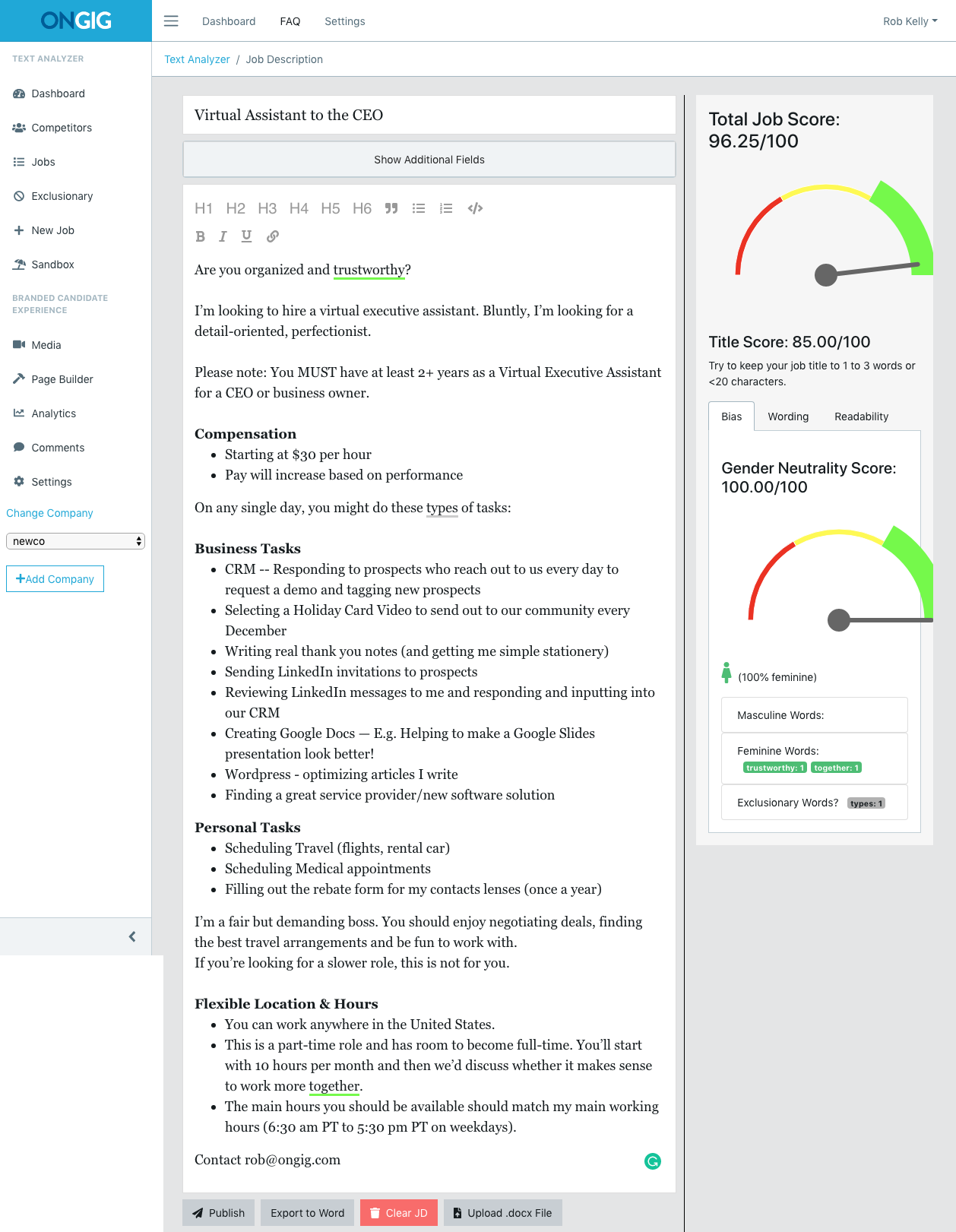 .
..and that the JD had effective wording such as the proper word count and not too many adverbs: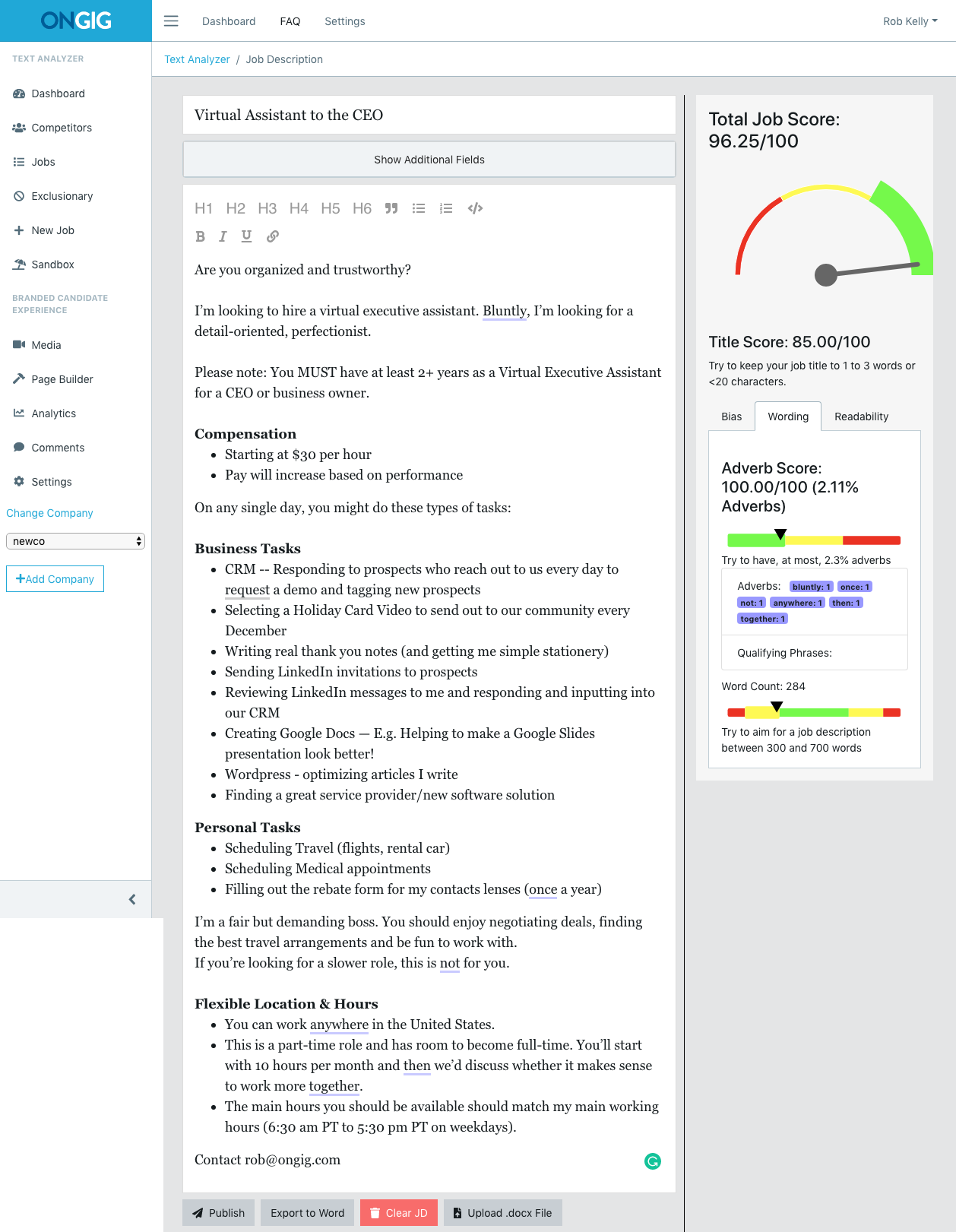 …and that the JD was highly readable (notice: it's written at the 5.95th grade reading level). Busy candidates appreciate you writing in Plain English as we reported on in Why I Write my Job Postings at the 8th Grade Level  (or Lower!).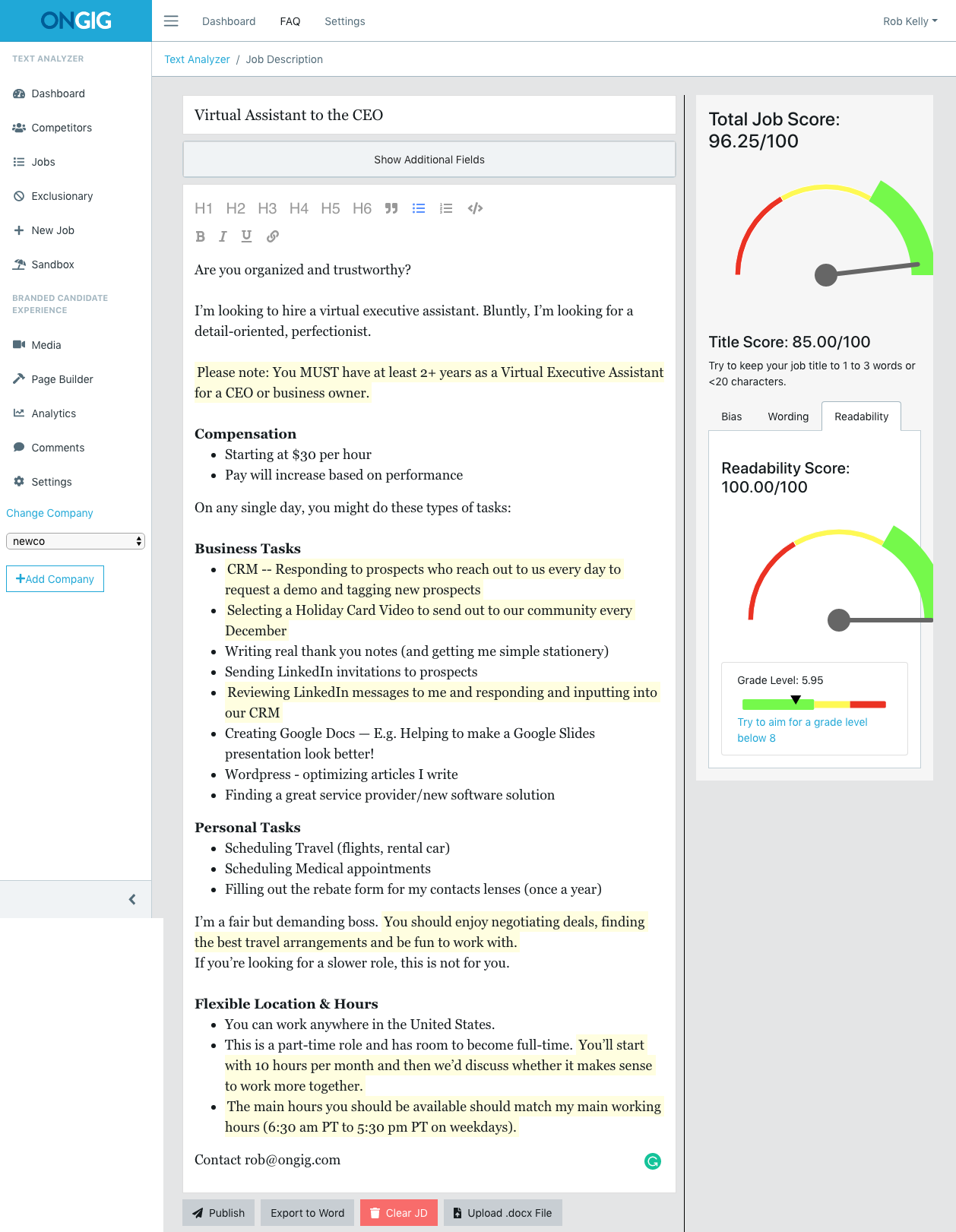 Why I wrote this?
I shared this virtual assistant job description template because I thought it might be useful to some of you. I spend a lot of time thinking about job descriptions as part of my job as Chief Ongiggitizer at Ongig where we're on a mission to transform job descriptions. If you'd like to learn more about our job description software (including Text Analyzer! (featured above!), just click the demo request button on this page or explore Ongig.com.