Do your job postings have clinical-sounding words? Do they sound "prescriptive". Perhaps they look like an attorney wrote them — full of "legalese".
Your job posting should, of course, be an ad…not a legal contract. Check out the beginning of this nursing job ad below (analyzed by Ongig's Text Analyzer job description software).  Ongig's software flags the phrase "in accordance with" as a "Complex Word" because it's not necessary.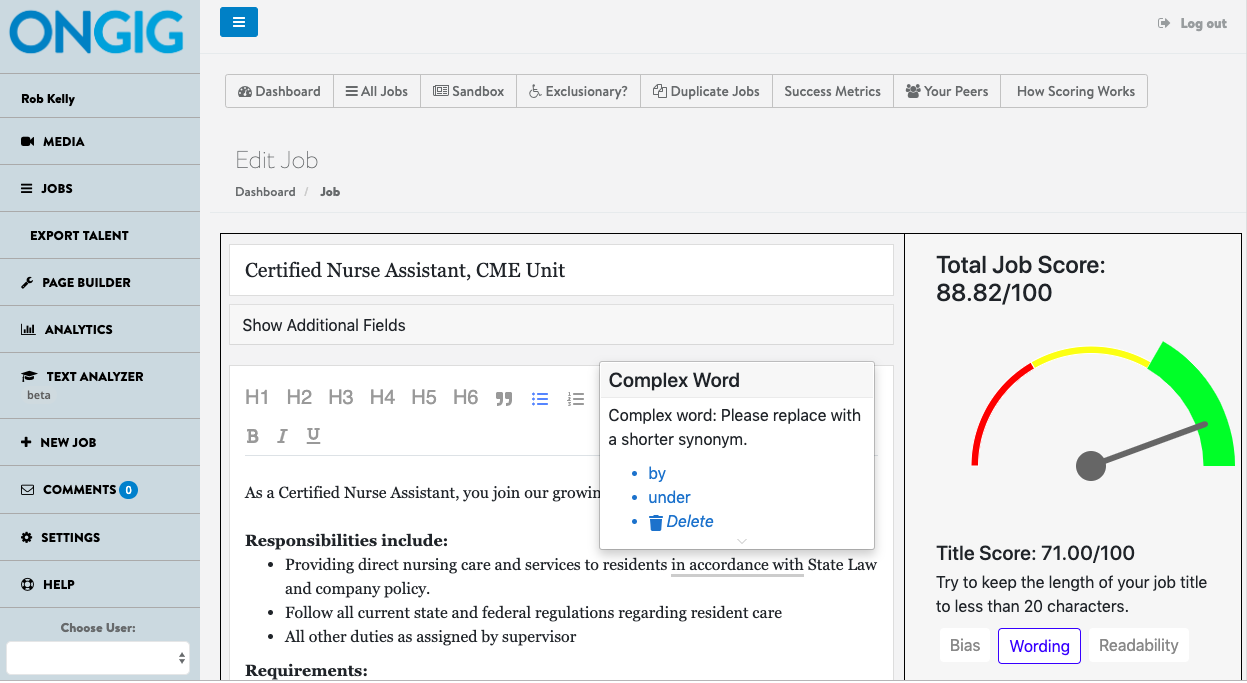 You could replace "in accordance with" with a simpler word like "under".
So instead of having:
"Providing direct nursing care and services to residences in accordance with State Law"
You could have:
"Providing direct nursing care and services to residences under State Law"
Below are 50 such legalese-sounding phrases to avoid in your job postings. I've included synonyms (in parentheses) to use as their replacement.
As a consequence of (because)
As of the date of (from)
At this point in time (now, then)
By means of (by)
Comply with (meet)
(it is) compulsory (you) must
Considerable (great)
Despite the fact that (although)
Due to the fact that (because
During which time (while)
For the duration of (while, during)
For the purpose of (to)
For the reason that (because)
Give consideration to (consider, think about)
Has the capacity to (can)
Hereby (now, by this) (or delete)
If and when (if, when)
In a number of cases (some (or say how many
In accordance with (by, under)
In accordance with (by)
In order that (so that)
In order to (to)
In relation to (about)
In the absence of (without)
In the course of (during)
In the event of (if)
In the near future (soon)
Intend to (will)
Irrespective of (despite, even if)
Is able to (can)
(It is) mandatory (you) must)
May in the future (might, could, may)
Moreover (and, also, as well)
Notwithstanding the fact that (although)
Numerous (many)
On the grounds that (because)
On numerous occasions (often)
Ordinarily (usually, normally) (or delete)
Prior to (before, after, as)
Nevertheless (but, however, even so)
Notwithstanding
Subsequent to (after)
The fact that (delete)
The (vast) majority of (most)
The question as to whether (whether)
To the extent that (if, when)
Until such time (until)
Whether or not (whether)
With regard to (about, for)
With respect to (about for)
Here are some other lists of needless words with their synonyms:
For more tips on writing job descriptions, check out our How to Write a Job Description — Best Practices & Examples.
Why I wrote this?
Ongig is on a mission to transform job descriptions. Our Text Analyzer software flags unnecessary and biased words. Please click the demo request button on this page if you'd like to learn more about Text Analyzer.