When Cynet Systems, an Inc. 5000 company out of Ashburn, Virginia, had its job posting debacle last month, I decided not to write about it.
Cynet CEO Nick Budhiraja and his team had reached out to Ongig (we have software that helps avoid such issues). I thought I'd hold off on giving my take on it until the dust settled.
It's a month later and I'm gonna share a few thoughts on the situation in case it's useful. If you already know about the situation, you can skip down below to the "5 Lessons".
In case you missed it, here's a recap of what happened with Cynet's now infamous "preferably caucasian" job posting. Below that are my 5 learnings.
Cynet Posts a Job with "Preferably Caucasian" as a Requirement
It began on the night of Friday, April 26th when Helena McCabe, a coder and painter, noticed something strange about a Cynet job posting for an Account Manager (Pharma) in Tampa Florida. The job posting, which was on LinkedIn, included "Preferably Caucasian" in its opening lines. Here's her first Twitter post on it.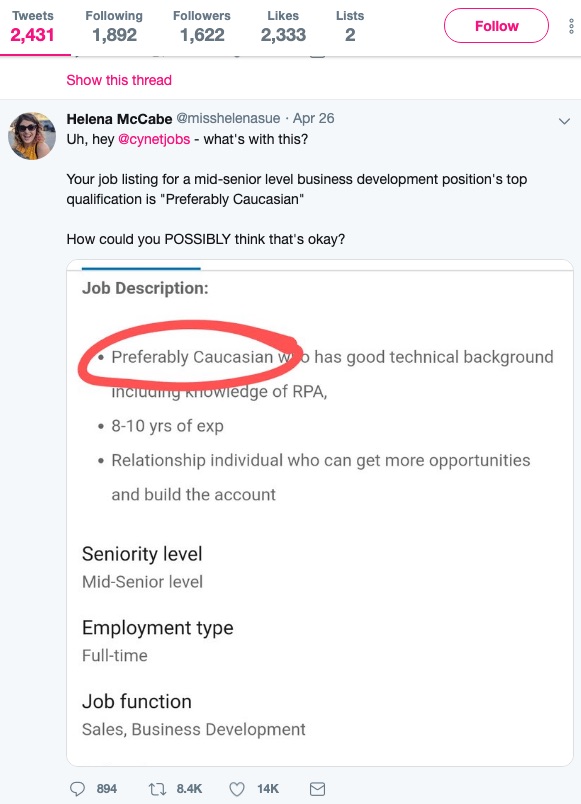 She then tweeted about it again: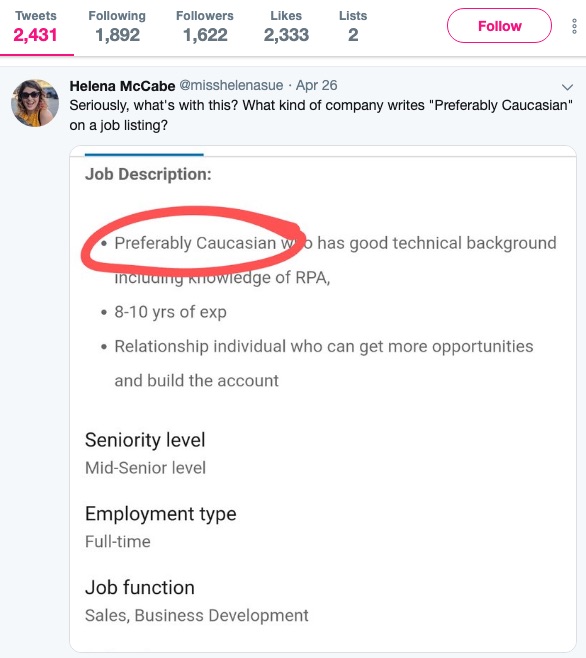 Helena also included a link to the job posting (which Cynet quickly took down):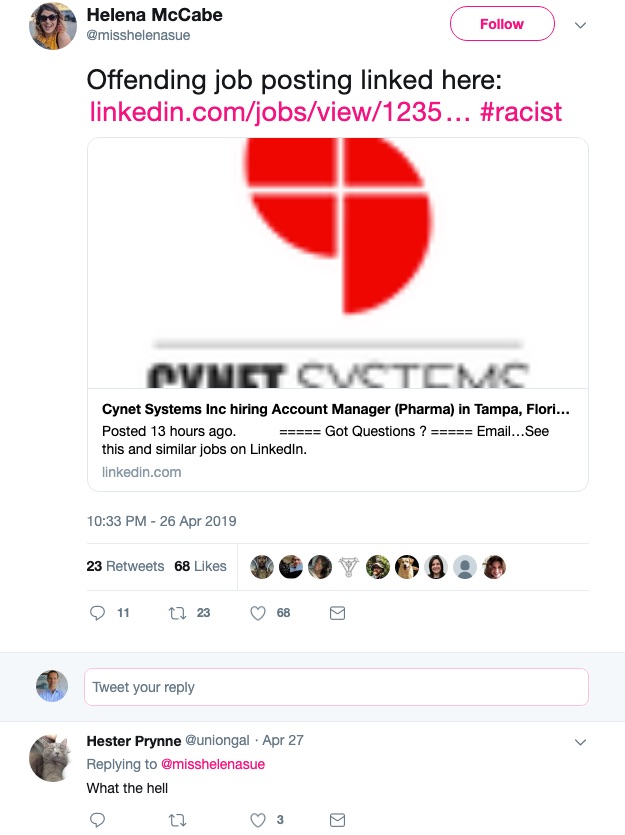 The Racial Job Posting Goes Viral in the Twittersphere
Needless to say, Helena's tweets went viral. Here are the stats of her main tweets:
14,401 likes
9,133 comments
8,486 retweets
That's just on Twitter.
Cynet Apologizes & Terminates Employees Responsible for "Inappropriate" Job Posting
On Sunday nearly 48 hours after Helena's first tweet, Cynet admitted the mistake and said it terminated those involved.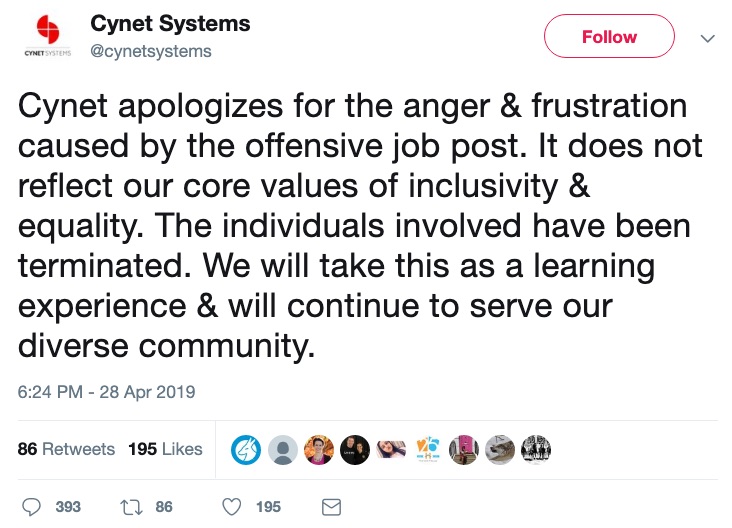 The mistake was so significant that Cynet apologized on their home page: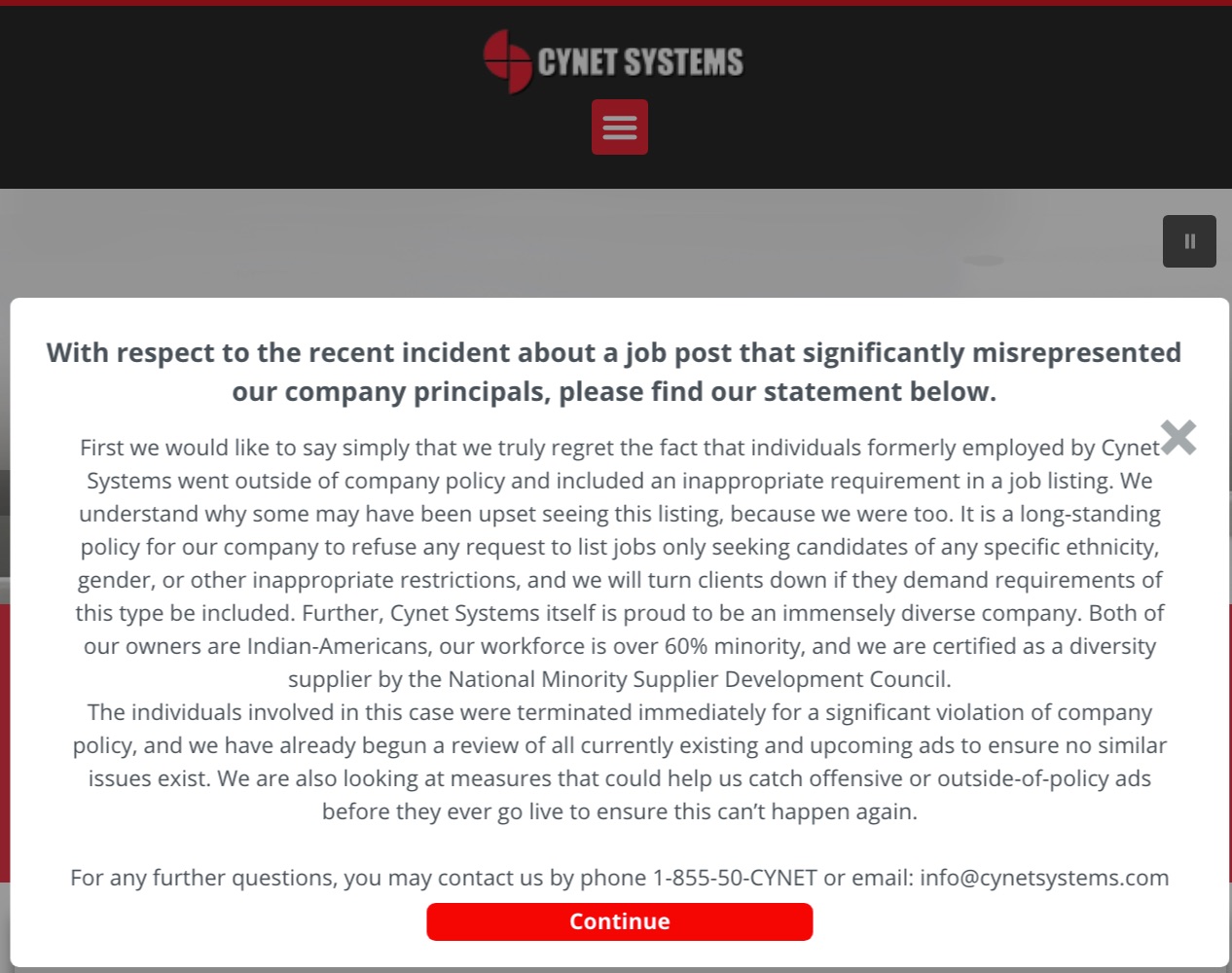 Cynet then apologized again on Twitter: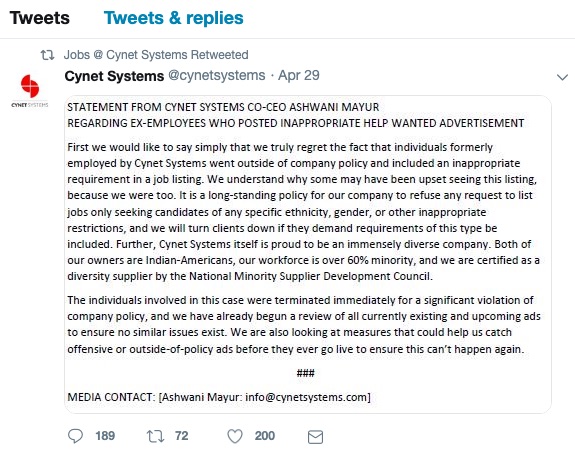 The Mainstream Press Runs with the "Preferably Caucasian" Job Posting Story
But the damage was just beginning. Within a few days, on April 29th and April 30th, the major press started to pick up on the story. Everyone from CNN, NBC, CBS, Fox News, Huffington Post and Inc Magazine reported on the story.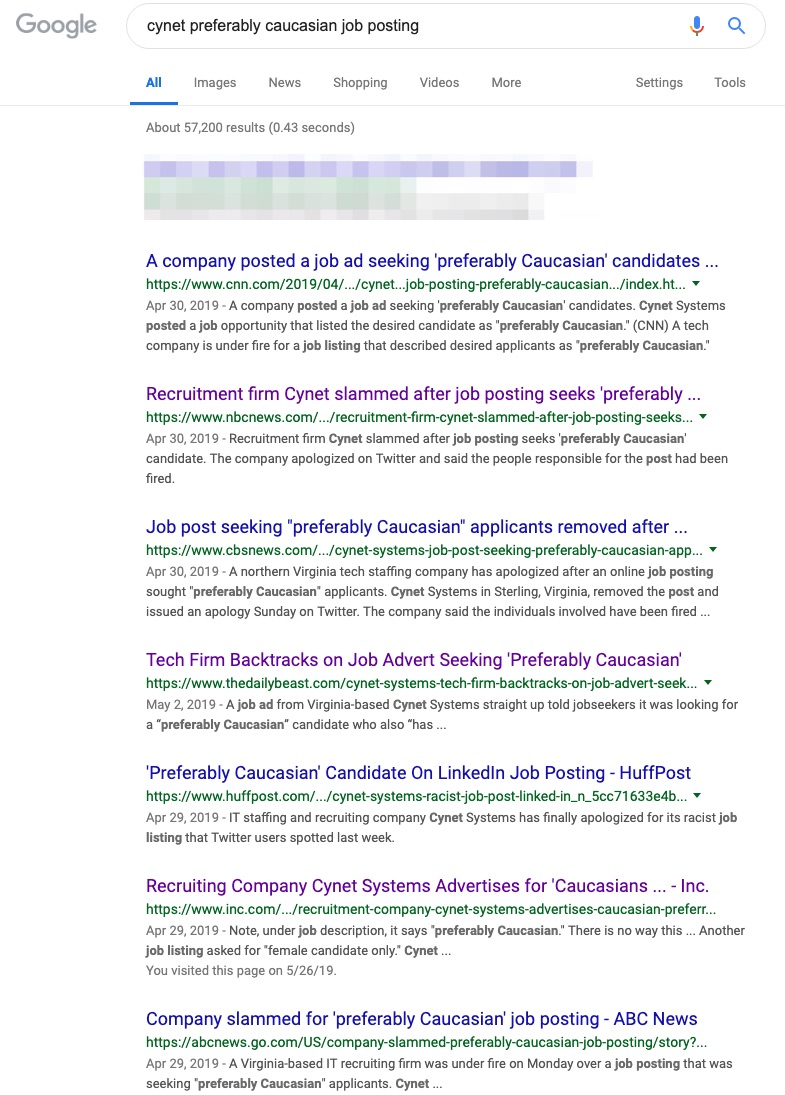 The Twittersphere Uncovered More Biased Job Postings that Cynet Put Out
The thing about Twitter, and social media, is that there are a ton of people who are very willing to dig into a hot topic.
@TheLouVentures on Twitter pointed out this Cynet had a separate job posting (for an Account Manager) that asked for "Female Candidate Only".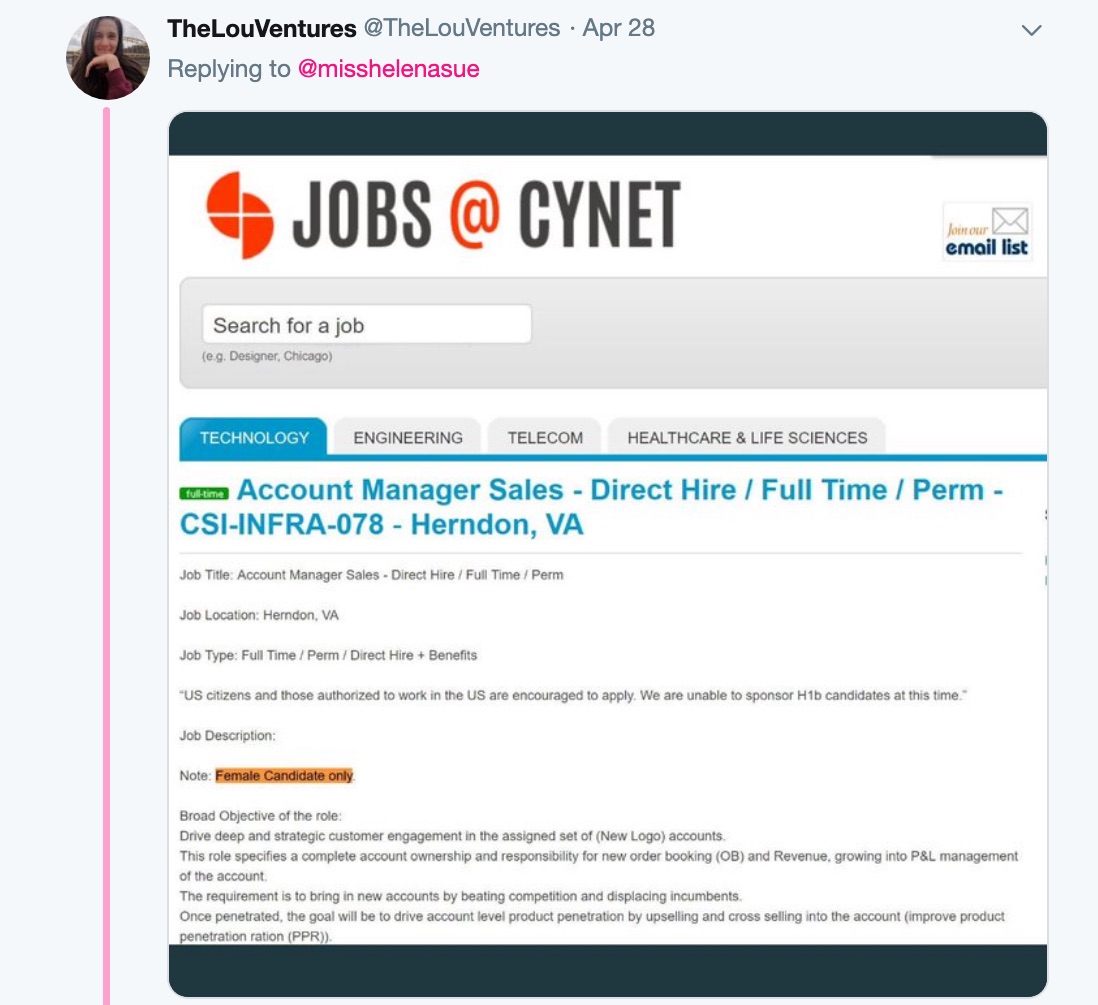 And then Nick Scialli, a software engineer, discovered that Cynet had recently published one more job posting that asked for a "female only".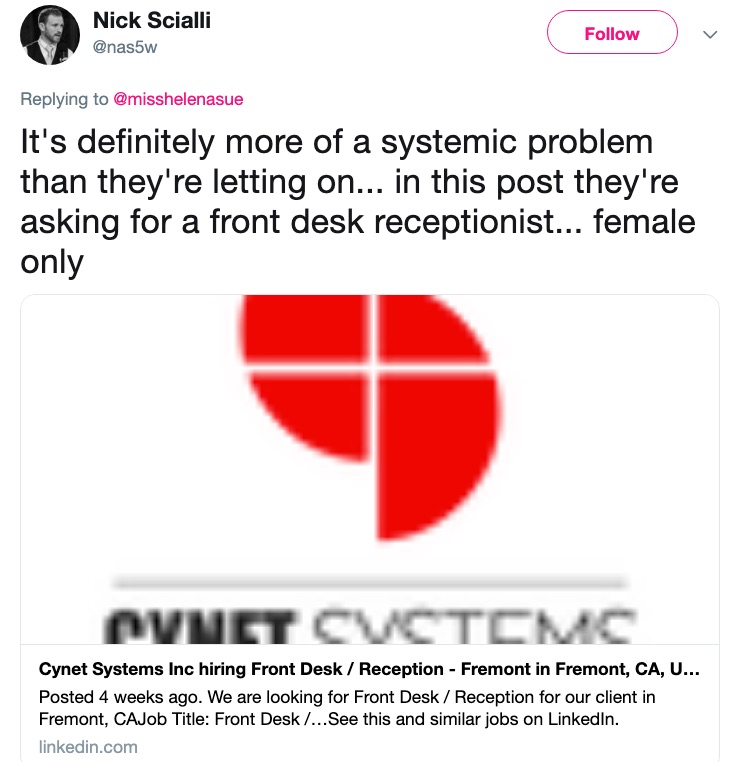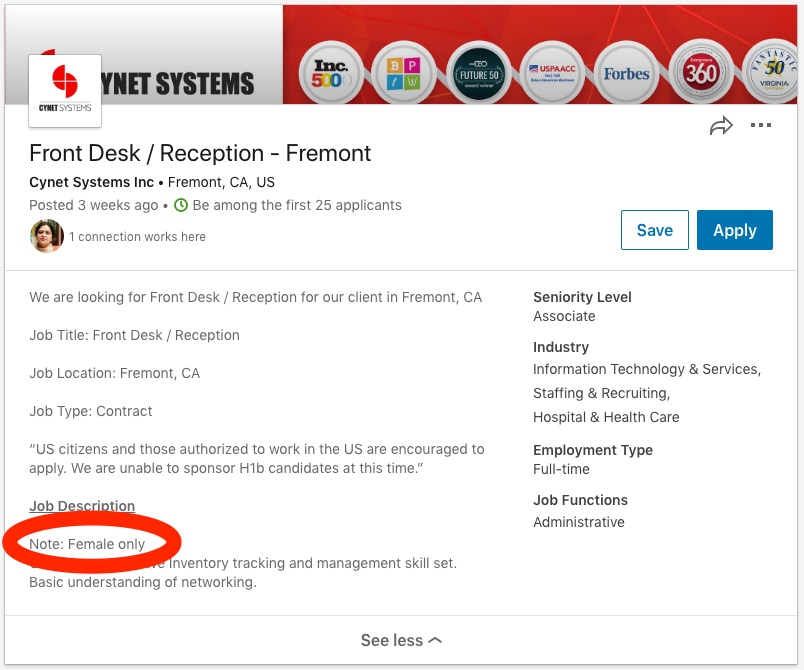 5 Lessons Learned from the Preferably Caucasian Job Posting Debacle
With a month's reflection, here are a few thoughts:
1. You Are Who Your Job Postings Say You Are
Words matter and 1 or 2 words can get you in deep trouble. Perception is reality.
You are who/what your job postings say you are. It doesn't matter just what diversity certifications you have (Cynet had) or your Employer Brand rating (Cynet's is 4.0/5 with 89% CEO approval).
All it takes is a couple of biased words to make bias your new reality.
You could do worse than to heed Warren Buffett's advice:
"It takes 20 years to build a reputation and 5 minutes to ruin it. If you think about that, you'll do things differently."
2. Social Media & Individuals Can Be Just as Important as the Mainstream Press. 
It was Helena, a coder/painter, who found the "Preferably Caucasian" job posting.
The major press followed up with solid articles.
But it was a coder/painter named Helena who brought what turned out to be an awesome dialogue to light.
3. An Isolated Incident isn't Always Isolated
Cynet's problems first emerged when Helena caught the "Preferably Caucasian" language.
But it turns out that this wasn't a one-time thing:  The Twittersphere also found the "female-only" language in other Cynet job postings.
If something this bad happens to you, don't assume it's the first/only time.
You're going to have to review your entire process.
4. You Should Filter All Job Descriptions for Bias
I recommend that you review every job description before it gets posted on a public or internal job board.
I know companies who do this with a manual process (e.g. an HR person sanity-checks every job before it gets posted). They look for inappropriate or illegal language.
Ongig's Text Analyzer software flags offensive/exclusionary phrases for you.
5. Use a Crisis Like this to Make Yourself Smarter
Cynet's unfortunate event could be your good fortune.
I hope this article has some helpful insights for you.
While I have experience in job posting effectiveness and bias, I continue to learn.
For example, I found a couple of great new writers through this Cynet debacle: Jon Hyman and Suzanne Lucas:
Jon's Cynet post is here: I Really Thought People Knew Better Not to Advertise Jobs 'for Whites'. That led me to his piece called No matter what the producers of #Hamilton tell you, race is never a BFOQ (Bona Fide Occupational Qualification). Jon also reminded me to do a refresher on EEOC's Facts About Race/Color Discrimination).
Suzanne wrote about the Cynet debacle here for Inc.: Recruiting Company Cynet Systems Advertises for 'Caucasians Preferred' and 'Female Candidate Only.' Here's What Happened Next. That led me to another useful post she wrote called Why Women-Only Chariot Could Crash which also mentioned the BFOQ (see EEOC's Bona Fide Occupational Qualification for more on its definition).
Both Jon and Suzanne found Cynet's actions unacceptable.
For more tips on writing job descriptions, check out How to Write a Job Description — Best Practices & Examples.
Why I wrote this
The Ongig team and I recently launched Ongig's Text Analyzer Cloud software to help write better job ads to attract top-tier, diverse talent . Text Analyzer also gives you insurance against costly bias mistakes.