There's a big disconnect between what candidates and employers think is important, according to the Hinge Research Institute's Employer Branding Study, a survey of 800+ professionals. They split up the audience into 2 camps:
Talent-Evaluators (aka Employers): Professionals involved in their firm's recruiting and hiring process. This group responded to questions about how they search for and evaluate potential employees.
Candidates: Professionals rarely involved in the recruiting process. This group responded to questions about how they search for and evaluate potential career opportunities.
The graphic below shows survey results of the top channels employee-candidates use during their job search (blue bar) compared with the top channels talent-evaluators (green bar)) think candidates are looking for jobs on.
You see the clear disconnect between employee-candidates and talent-evaluators in the percentage differentials for each job search channel.
The top 3 channels with the big percentage differentials represent under-budgeted/under-utilized recruiting channels of employers:
LinkedIn: 20.2%
Firm Website: 17.4%
Recruiter/Staffing Firms: 17.3%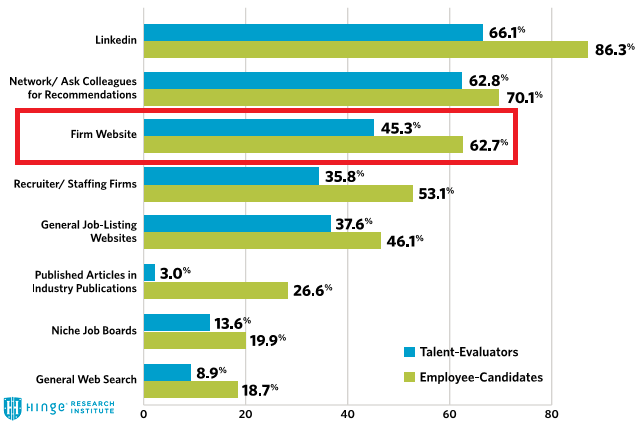 Two other Interesting highlghts of the report:
"Nearly two-thirds (63%) would visit a firm's website directly. Meanwhile, less than half (45%) of talent-evaluators indicated having a section of their website dedicated to recruiting."

"While most professional services firms have a careers page on their website, it may not be getting the attention it deserves. If a career section of a firm's website isn't consistent with its employer brand, it could fail to attract the right type of candidate. Or worse — it could be turning talented professionals away."
Out of those top 3 channels, your company career site is the thing you as an employer have the most control over.
Ongig cares about this because we help companies optimize their company career site including job search, job descriptions and candidate experience.