I stumbled upon some creative titles for sales reps recently. Here are 15 I found most useful…or just plain silly.
Enjoy!
1. Cast Member (Retail Sales Associate)…Sephora uses "Cast Members" for their associate sales titles. Disney also uses "Cast Member" (for any employee who works at the Disney Store or at Disney Parks).
2. Educator (Retail Sales Associate)…Lululemon uses "Educator" for their sales roles.
3. Guide (Retail Sales Associate)…Origins, a cosmetics company, has Guides offering free facials and handling transactions.
4. Head of "Show me the Money!" (Sales Rep) as seen in this funny clip from Jerry Maguire. FASTSIGNS also uses "Head of Show Me The Money" in the body of their Sales Manager job posting.
5. Muse (Retail Sales Associate)…Kate Spade uses "Muse" for their sales associate titles
6. Head Handshaker (Sales Rep)…I spotted this creative title for an Account Executive at California-based biz, Review Wave: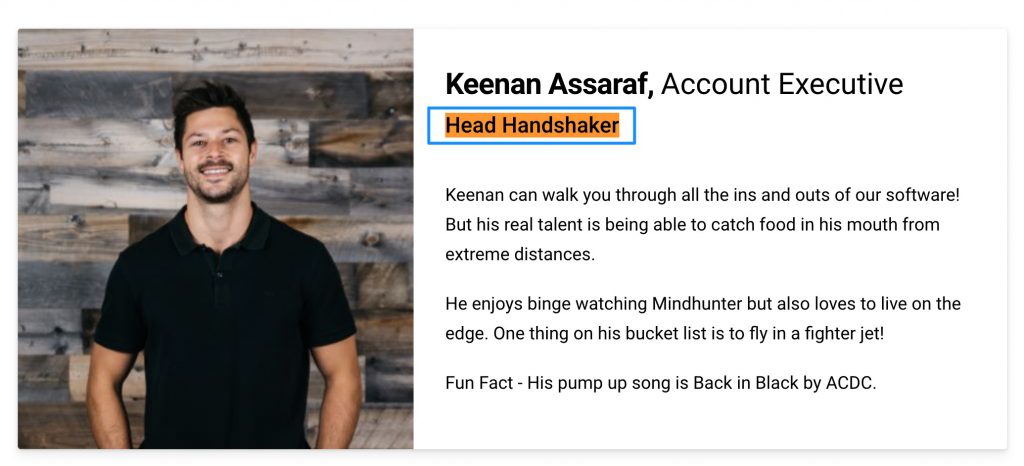 7. Lead Door Knocker (Outbound Sales Rep)…this one is a nod to the door-to-door sales that were common in the 1950s and 1960s.
8. Rainmaker (Sales Rep)…I found this one in quite a few job postings for software & online sales roles (e.g., Articulate, Osano, and Live Nation). These companies are looking for someone to "make it rain"…cash money:
9. Sales Rockstar (Sales Rep)…there 100+ people on LinkedIn using this as their official (or unofficial) job title.
10. VP of ABC ("Always Be Closing") (VP of Sales Team)…a reference to Alex Baldwin monologue ("ABC" = Always Be Closing) from Glengarry Glen Ross movie as seen in this hilarious video clip here:
Note: The last 5 titles for sales reps below are inspired by a list of funny names for sales teams in Liz Moorehead's blog 59 best sales team names that are clever, funny, and only for closers.
11. Proposal Pusher (Sales Rep)…I didn't find any companies using this one yet, but it does give me a mental picture of the ultimate proposal submitter!
12. Quota Crusher (Sales Rep)…you'll find this one on LinkedIn too, mostly as an unofficial job title or a skill.
13. Cash Cow (Sales Rep)…cash cows have large market share with not much investment. Seems like a fitting creative title for a sales rep.
14. Sir Close A Lot (Sales Rep)…a spin-off of Sir Mix-a-Lot, a famously successful American rapper. But, Sir Close A Lot is making deals instead of music.
15. The Closed Won (Sales Rep)…this one is a nod to closing and winning deals.
When you might NOT want to use creative titles for sales reps
Using creative titles for sales reps might be fun, but candidates don't search for them. Choosing titles like "Sales Representative" or "Account Executive" will increase traffic to your job postings. Save "Head of Show Me the Money!" or "Lead Door Knocker" as internal titles for sales reps.
Note: For a list of un-funny titles for sales reps that are most effective for hiring, check out The 16 Best Sales Job Titles.
Other creative & funny job titles
Need more? We list creative names for sales reps and funny job titles from other departments in our blog 100+ Creative & Funny Job Titles [by Department & Position].
Did I miss any? I'm sure there are loads more creative titles for sales reps floating around on business cards, LinkedIn profiles, or social media pages. If you find them, email heather@ongig.com so we can add them to the list.
Why I wrote this?
Ongig's mission is to transform job descriptions. One way we do this is to give you insights into how to optimize your job titles. Check out Ongig's job description software and click our demo request button if you'd like to learn more.