What are the best job titles for sales and business development? If you want more traffic to your job postings, one way to answer that is to look at which sales job titles candidates search for.
The differences can be dramatic.
For example, the title "Sales Representative" gets 4X the search traffic of "Sales Rep".
Below are the 16 top sales titles based on the number of searches they receive on Google. For search query data, I used a combination of search engine optimization (SEO) tool ahrefs and Google's Keyword Planner
Note: Want more job title data? Check out our ongoing series called Job Titles: The Definitive Guide (which includes The 25 Best Marketing Job Titles, The Top 35 IT Job Titles and The Top 50 Software Job Titles). 
The total # of candidates searching the 16 job titles below is much larger than what I list. For example, I didn't count long-tail searches such as "Sales Manager Job in Dallas" or "Best Sales Manager Jobs". My data also doesn't include sales job title searches on job boards (Indeed, LinkedIn, Glassdoor, Facebook, etc.) or the searches on company career sites.
Finally, as a sanity-check, we leveraged data from Ongig's own Job Description software.
Also, we found one major outlier in sales titles. It turns out that the #1 most searched title is "Sales Associate". It's most common use is in retail. Since many of you are not in retail, I've included 2 pie charts below (one without Retail and the other with Retail. The only difference is that the first chart excludes Sales Associate.
Enjoy!
Sales Job Titles that Candidates Search for the Most (without Retail)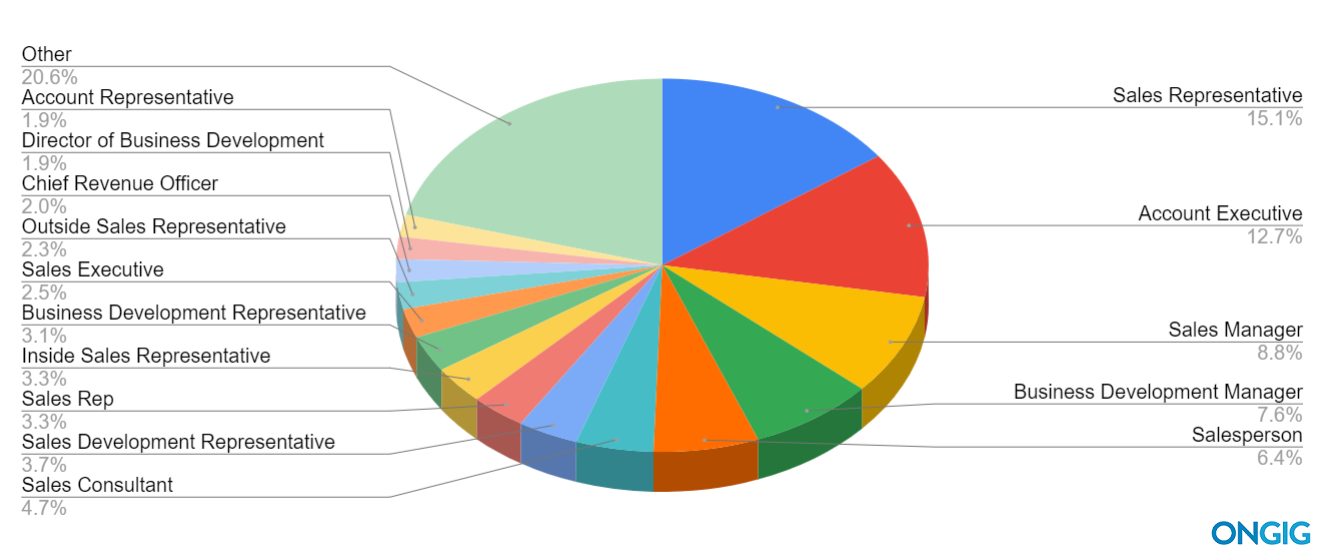 Disclaimer:  Many of the sales jobs' titles overlap each other — they are not distinct job roles. Also, the data below is quantitative and more is not always better. For example, if you are hiring someone who exclusively sells in the field, you might want to test going with "Outside Sales Representative" instead of "Sales Representative".  The latter might get you higher-quality candidates. To help you understand what other employers use for sales job titles, I also include the # of job postings there are on Indeed.com. There's, of course, an arbitrage play here. I explain that at the bottom of the article. Another note: I didn't include Account Management roles (Account Manager, Client Relations Manager, Customer Success Manager, etc.) that do involve some selling — I left them out because they are often focused on keeping clients (versus finding new clients). 
Sales Titles that Candidates Search for the Most (with Retail)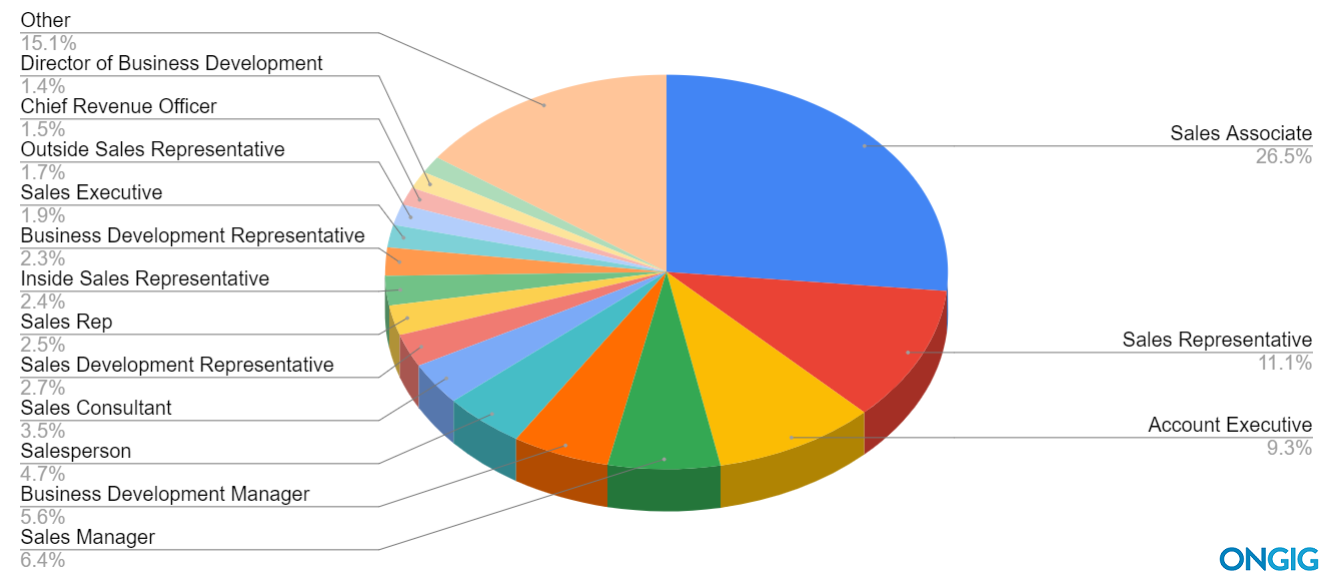 1. Sales Associate
The Sales Associate job title is mainly used in retail.
Take Walmart, for example: currently, 666 of their sales jobs titles contain "Sales Associate".
Retailers use Sales Associate for many in-store sales titles. Job duties include:
Greeting customers
Locating products
Doing price checks
Operating cash registers
# of Google Searches per month:  37,900
# of Results on Indeed.com: 148,582
2. Sales Representative
The Sales Representative title is usually used for a general sales role whose job is to showcase and sell solutions to organizations. They may sell from within the office or out in the field.
If you want to get more specific, you'll see below that there are plenty of alternative sales titles for sales representatives including ones with modifiers like Inside/Outside Sales Representative (#9 and #12 below!).
Warning: You might be tempted to use "Sales Rep" since it's shorter, but candidates search "Sales Representative" 4X the times they search "Sales Rep". You can see the search volume for "Sales Rep" lower down in this list at #8.
# of Google Searches per month:  15,800
# of Results on Indeed.com: 42,775
3. Account Executive
The Account Executive job title is used for sales roles that both:
Create new business (prospecting); and
Grow existing business
At Salesforce.com, for example, Account Executive is the most common sales title they use (438 AE jobs are open as I write this). Salesforce uses the Account Executive title for sales titles related to both new business and growing existing business.
Salesforce has AE job titles by product/business line (Account Executive, Marketing Cloud), customer size (Account Executive, SMB) and location (Commercial Account Executive – Pennsylvania).
# of Google Searches per month: 13,300
# of Results on Indeed.com: 16,312
4. Sales Manager
A Sales Manager typically runs a sales team. They are responsible for hiring and retaining the sales team and reporting to Directors/VPs of Sales.
In smaller organizations, a Sales Manager might still do sales themselves (that combination is sometimes called a "Player-Coach").
# of Google Searches per month: 9,200
# of Results on Indeed.com: 26,894
5. Business Development Manager
The term "Business Development" is used in many sales titles. The most popular biz dev sales title is Business Development Manager which is usually either:
A classic sales position (similar to the Sales Representative or Account Executive); or
A strategic partnership position (this is more common in the high-tech space). Sales skills are still useful here but partnership deals often do not involve money exchanging hands so cold-calling type sales skills are not critical.
# of Google Searches per month: 8,000
# of Results on Indeed.com: 4,638
6. Salesperson
It might sound boring, but many companies still use"Salesperson" for their sales jobs' titles.  It's often supplemented by a qualifier word such as whether they sell inside or outside the office:
Inside Salesperson
Outside Salesperson
…or what they are selling. E.g.:
Energy Salesperson
Toyota Salesperson
Advertising Salesperson
The Salesperson job title is usually a broad term to identify a role that closes new business.
# of Google Searches per month: 6,700
# of Results on Indeed.com: 5,229
7. Sales Consultant
It might surprise some of you to see that Sales Consultant ranks among the top 10 sales job titles.
Most employers use the Sales Consultant job title to describe a general sales position that requires a consultative approach.
# of Google Searches per month: 4,950
# of Results on Indeed.com: 19,821
8. Sales Development Representative
The Sales Development Representative (or SDR) sales job title is an inside salesperson focused on outreach, prospecting and lead qualification. This sales job title typically focuses on prospecting outbound leads. They qualify the lead and hand it off to another salesperson to close.
The Sales Development Representative title has some overlap with the Business Development Representative (a title mentioned lower down in this list below).
# of Google Searches per month: 3,850
# of Results on Indeed.com: 1,889
9. Sales Rep
"Sales Rep" is a shortened version of "Sales Representative" (the #1 searched sales job title mentioned above).
# of Google Searches per month: 3,500
# of Results on Indeed.com: 4,497
10. Inside Sales Representative
An Inside Sales Representative typically works inside the office (or home) as opposed to out in the field. Their sell via the phone, email or web versus an Outside Sales Rep who sells in person.
An Inside Sales Representative is often used to close SMB (small and medium-sized businesses) businesses or consumers.
For example, Yelp uses gives the Inside Sales Representative title to salespeople who call upon restaurants and cafes to buy advertising on Yelp.com.
# of Google Searches per month: 3,450
# of Results on Indeed.com: 3,639
11. Business Development Representative
There are multiple uses of the title "Business Development Representative" in sales jobs. Titles in sales including some overlap with the Sales Development Representative (SDR) title.
Both the BDR and SDR titles are typically used for early sales career roles. Both tend to be focused on generating new business.
The Sales Talent Agency defines the BDR as as focused on:
"qualifying inbound marketing leads." (versus the SDR's focus on outbound leads)
Sales Automation Expert Jessica Magoch points out:
"Business Development reps traditionally are responsible for creating high level strategic alliances with other organizations who can cross-sell and cross promote. They don't necessarily close business, but are good at creating long-term relationships. For instance, they can develop a relationship with a SaaS marketplace to have your product promoted."
Source: What is the difference between an SDR, LDR and BDR.
# of Google Searches per month: 3,299
# of Results on Indeed.com: 2,119
12. Sales Executive
Sales Executive is a job title used mostly to describe a general sales position. This sales title usually includes growing existing and/or new business.
Aetna, for example, uses Sales Executive for a range of sales positions from a "Sales Executive" (1 to 5 years experience needed) to a Senior Sales Executive ( 8+ years).
# of Google Searches per month: 2,650
# of Results on Indeed.com: 4,494
13. Outside Sales Representative
An Outside Sales Representative does face-to-face sales in the field. This sales title often includes selling to both new and existing clients.
# of Google Searches per month: 2,450
# of Results on Indeed.com: 5,444
14. Chief Revenue Officer
The Chief Revenue Officer (or CRO) is usually at the top of the sales titles hierarchy. They are responsible for all revenue generation whether it comes from sales, marketing or partnerships. CROs often manage teams/departments beyond classic salespeople, such as marketing and customer success.
The title Chief Revenue Officer has been around for decades but Silicon Valley made it super-popular beginning in 2015. That's when it began to be commonly at software as a service (SaaS) companies such as Mixpanel, New Relic and AdRoll (now known as NextRoll). source: The rise of the Chief Revenue Officer: Silicon Valley's new secret sauce (Jim Herbold).
More recently, at companies such as Splunk and Namely, the CRO manages both sales and marketing.
Jim Herbold, a CRO himself, points out that CROs often work closely with the Product team.
The Chief Revenue Officer title handily beat Chief Sales Officer (1,210 searches per month), Director of Sales (1,250), VP of Sales (750), Vice President of Sales (520) and Head of Sales (270).
# of Google Searches per month: 2,080
# of Results on Indeed.com: 28
15. Director of Business Development
The Director of Business Development is among the numerous sales titles used for a combination or one or both of the following responsibilities:
Selling to new accounts
Closing strategic partnerships
The "Director" part can mean that the person manages other people (e.g. it's more senior in the sales titles hierarchy than the Business Development Manager or Business Development Reps mentioned above). But Directors of Business Development are also sometimes individual contributors.
# of Google Searches per month: 2,040
# of Results on Indeed.com: 584
16. Account Representative
The Account Representative is sometimes used for a sales job title (though it might also be a title limited to account management).
State Farm Insurance, for example, uses the Account Rep title for agents who sell. A main responsibility in their Account Rep job descriptions states:
"Develop leads, schedule appointments, identify customer needs, and market appropriate products and services."
And Amazon uses "Account Representative" for numerous sales job titles where the primary requirement is:
"candidates must be comfortable prospecting, cold-calling, and negotiating via phone on both transactional and strategic branding-based deals."
Account Representative sales titles are also used as an alternative to Account Manager in which case the Account Rep is focused on keeping and growing existing business accounts.
# of Google Searches per month: 2,000
# of Results on Indeed.com: 4,684
Sales Titles by Region
A key difference in sales job titles versus most other departments (like IT, Marketing and Finance) is that many sales titles are regionally based (especially at the VP, Director and Manager levels).
A large organization doing business around the world might have a VP/Head of Sales for global regions such as:
APAC (Asia Pacific)
EMEA (Europe, Middle East, Asia)
North America (United States)
LATAM (Latin America) or South America
And a company might have the following types of job titles for just one country such as these titles for North America:
VP of North America Sales
National Sales Director
Territory Sales Manager (Northern California)
Account Executive (Midwest)
Sales Job Titles by Vertical
In a B2B organization, there may also be sales titles based on vertical industry. Examples include:
Business Development Manager (Aerospace)
Senior Account Executive (Retail)
Key Account Sales Manager (Wholesale Fashion)
Creative Sales Job Titles are Fun (but candidates don't search for them).
One of my favorite blogs is Hubspot and they published a great article (A Rep by Any Other Name: 7 Companies that Rebranded Their Salespeople) on companies getting creative with their sales job titles. They featured examples such as:
Kate Spade using "Muse" for their sales associate titles; and
Sephora using "Cast Members" for their associate sales titles
These might be great INTERNAL sales titles and employees are often thrilled to have a non-traditional title.
But just know that if you use such creative sales titles for job postings, you'll get very few candidates searching those terms.
Save your creative sales titles for business cards (not job postings).
Death of a "Salesman" Title?
The phrase salesman is still among the top sales titles For example, Indeed shows 275 job postings with "Salesman" in the title.
And 1,800 people Googled "car salesman jobs", and 300 people searched "retail salesman jobs" in the most recent month. But the Salesman job title is a dying breed because it is masculine. It's no longer used by progressive employers.
Ongig's Text Analyzer flags "Salesman" and other masculine-oriented job titles (see The Top 25 Job Titles that Still Use the Word "Man".
I hope this sales job titles list is useful for naming your own job titles. I welcome your feedback and ideas for other titles for my team and me to research.
Sales Job Title Arbitrage Play? Leverage "Supply and Demand"
As I mentioned earlier, you don't always want to pick sales titles with the highest search volume. The search # is simply the demand. You have to look at the supply of jobs with that title too.
In some cases, there might be an arbitrage opportunity in which you use certain sales titles because there is limited supply of those jobs (e.g. by your rivals).
That's where the Indeed #s come in handy.
Take the Sales Consultant, for instance. It's the #7 ranked sales job title in my list above. But it's also one of the most common sales titles on Indeed.com (19,821 jobs use that title there). Your Sales Consultant title might get lost in such a large sea on a job board. In that case, you might consider using a title that is searched less but has lower relative supply on Indeed (e.g. Sales Rep, Business Development Representative or Sales Executive).
Note: If you liked this article, check out our Top 50 Software Job Titles piece!
Why I wrote this?
Ongig's mission is to transform job descriptions. One way we do this is to give you insights into how to optimize your job titles. Check out Ongig's job description software and please click our demo request button if you'd like to meet with my team to help you transform YOUR job pages.