Marketing 101 is that you need to get a prospect's attention. However, most job descriptions look the same. Here are 10 ideas for you to consider adding to your job pages that will help you stand out.
If you want to see a live demo of any of these, you can request a demo with me or my team. For more tips on writing job descriptions, check out How to Write a Job Description — Best Practices & Examples.

Candidate Chat/Comments
Candidates (especially millennials) want to engage with you. Consider adding an option in which they can ask a question or leave a comment. There are ways to keep this curated (i.e. you approve comments first) so that only constructive comments are included.
Secret: Most candidates won't leave a comment (but they'll respect and trust you more for offering it).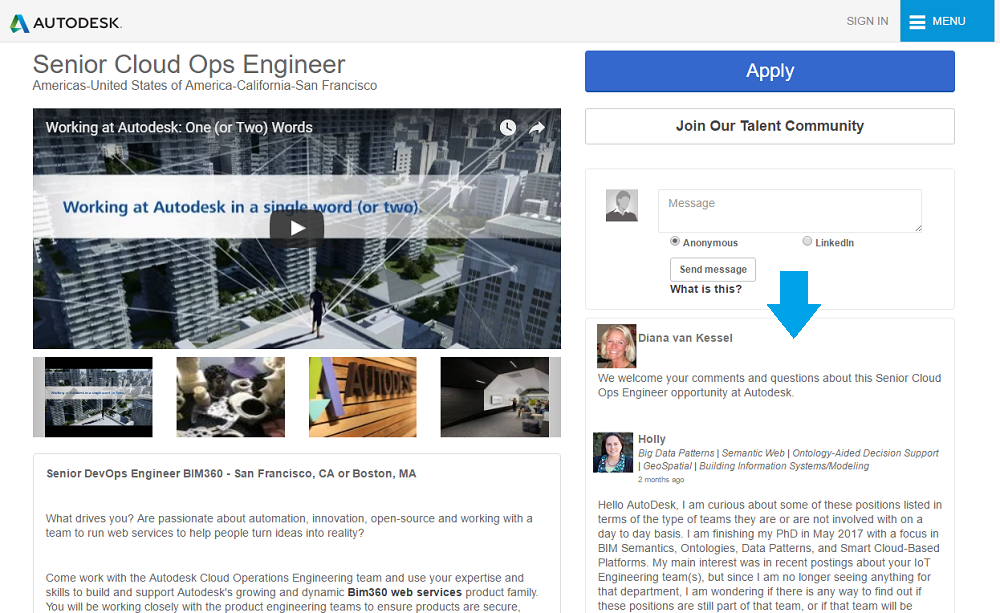 Video
You probably have videos on your Careers page — why not add them to your job pages? You can use a standard company/commercial video or a department/team video or even get down to the job description level. And if you think creating video is hard (I used to think so), it is way easier than you think.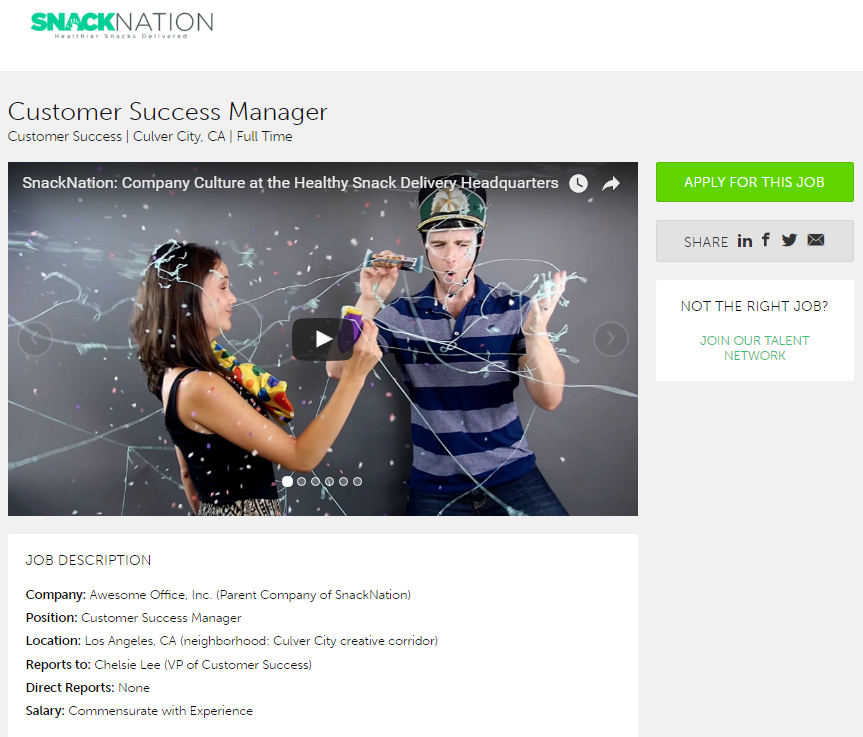 Slideshow / Slideshare
Candidates want to "picture" where they work — so why not use a slide show of pictures representing your culture. This is easy using Slideshare.net and as we've pointed out before, we have seen employers get millions (you read that right!) of views of their slide shows by adding them to their job pages.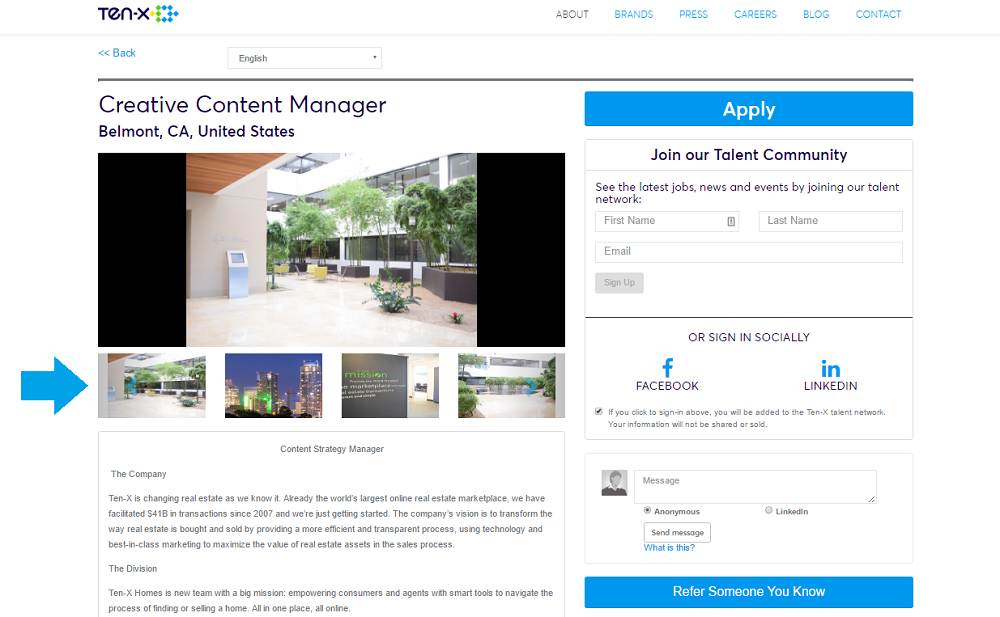 Show Job Req. Owner
Again, the best candidates crave transparency. You have recruiters so why not show who they are. One place to show them is on the JD like Deluxe does here.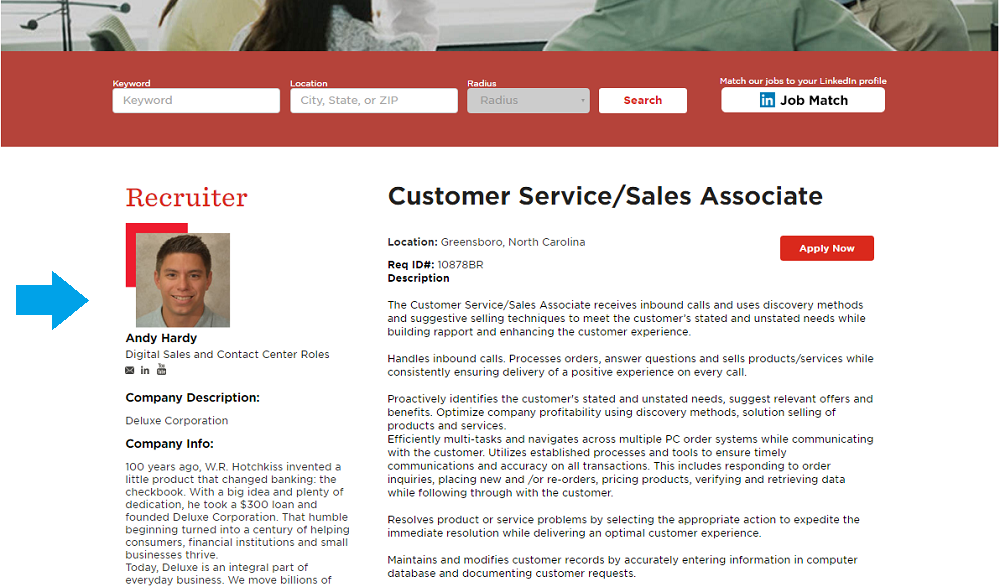 Maps
The physical location of your jobs is important — why not add a map to your job description to help candidates see whereabouts they'd work? This is especially important when you consider that many of the best hires come from outside of town.
You don't have to be Hilton Hotels to do this. Google Maps allows you to freely tap into their mapping data, including showing restaurants, cafes, gyms, etc. nearby!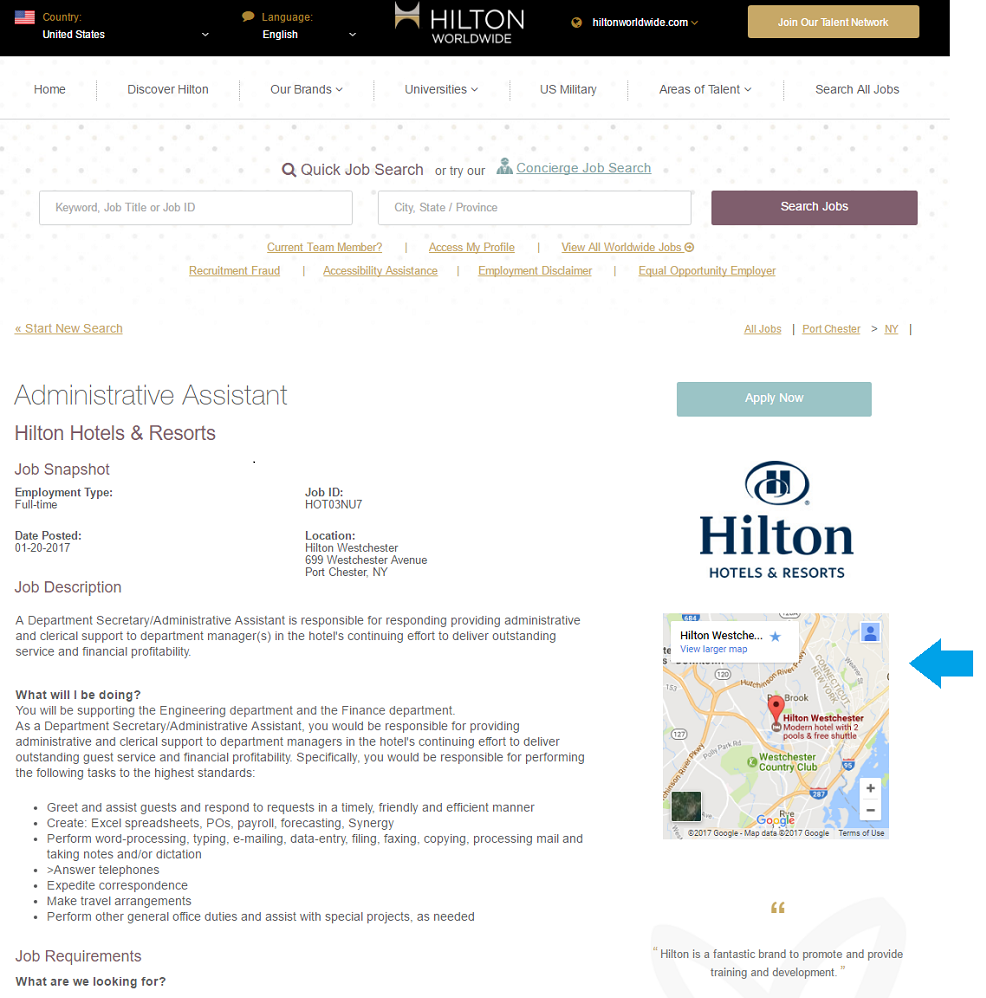 Employer of Choice Awards
If you've won an employer of choice award, why not include the graphic of it right on your job description (like Schneider Electric does here)?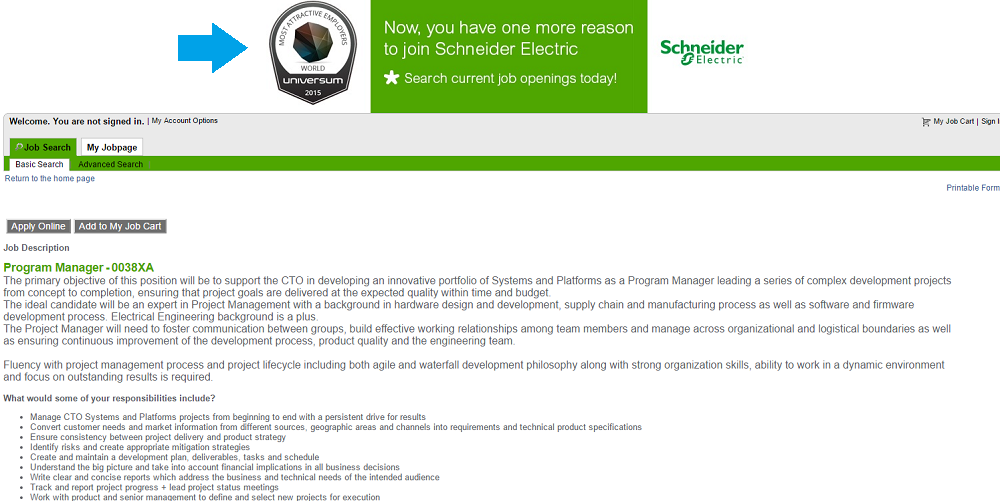 "Similar Jobs" Feed
Only about 11% of people visiting a job page actually apply. For those other 89%, perhaps you could capture them if you showed some jobs that are "similar" to the one they're looking at.
This is also a way to boost the SEO of your job descriptions as the similar jobs section packs your JD with even more keywords in this one it's "Administrative Assistant".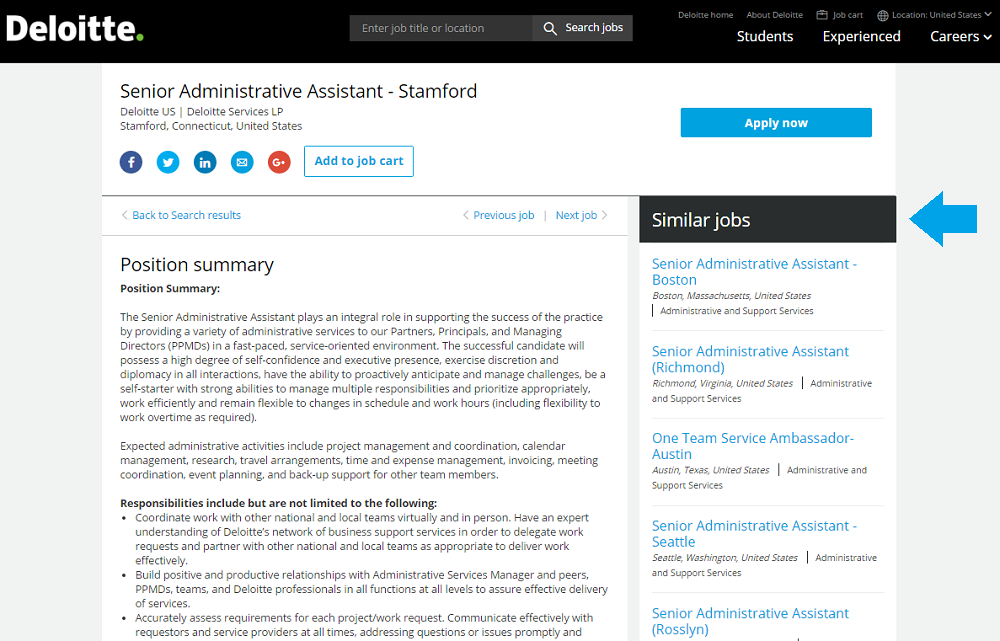 Branded Call-To-Action Buttons
Employers too often overlook adding their branding/color scheme to their main call-to-action. Check out xo communications below — their "xo purple" really helps the Apply button stand out.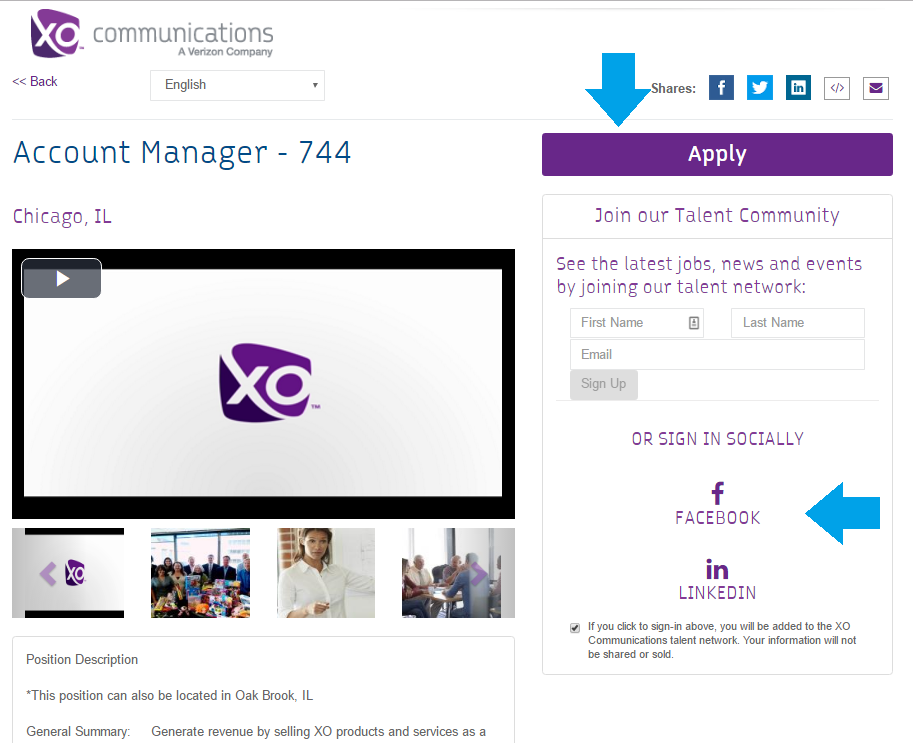 Ratings and Reviews
This one packs the punch of both transparency and social proof. Try adding ratings and reviews of your company directly to your job page. You could use Glassdoor (like Autodesk does below) or you could have your own employees provide testimonials.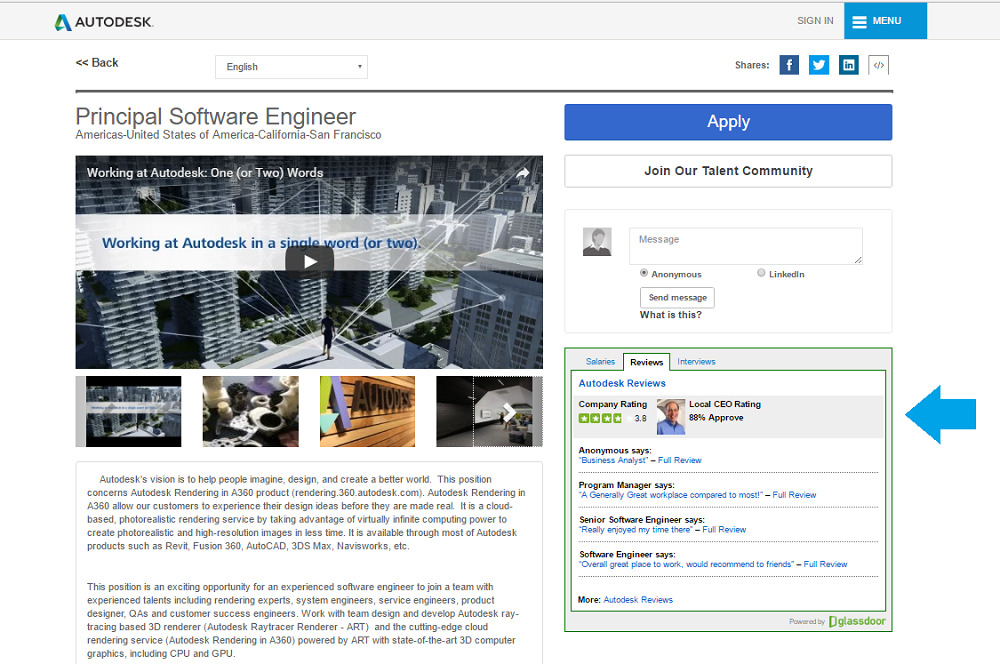 Walkability Score
Many candidates are like me — they want to know how walkable your location is. There are neat tools out there such as WalkScore that take your location and show how walkable it is for the candidate to run errands or get a bite to eat. They even add scores for public transportation and bikes!
Any of these job description widgets are doable and affordable with some technical help. Of course, the Ongig Cloud automatically lets you add all of these and more to your job pages. If that's of interest to you, you can request a demo with me or my team.