Employers get a lot of buzz out of advertising a "dream job". A dream job can be an evergreen position or a special one-time job (see Chief Hiking Officer below).
Here are 5+ examples I found:
Devil's Brewing Company's Chief Hiking Officer
In June, Devil's Brewing advertised an opening for Chief Hiking Officer which could be the greatest of all outdoor dream jobs. The promo video on YouTube described the dream gig and its benefits which include:
Daily Exercise
Fresh Air
Free Beer
Food & Wine Magazine said:
"If you're serious (extremely serious) about hiking, beer, and social media, this could be your dream gig."
Here is the dream job description video from YouTube:
Legoland Dream Job Marketing Page
Dream job alert! Lego received press some press this month about their Master Model Builder job at the LEGOLAND Discovery Center without even using "dream job" on their marketing page.
Talk about childhood dream jobs. The Lego dream job interview process includes submitting a portfolio of Lego builds and competing in a LEGO build-off. Must "Love Lego" to apply.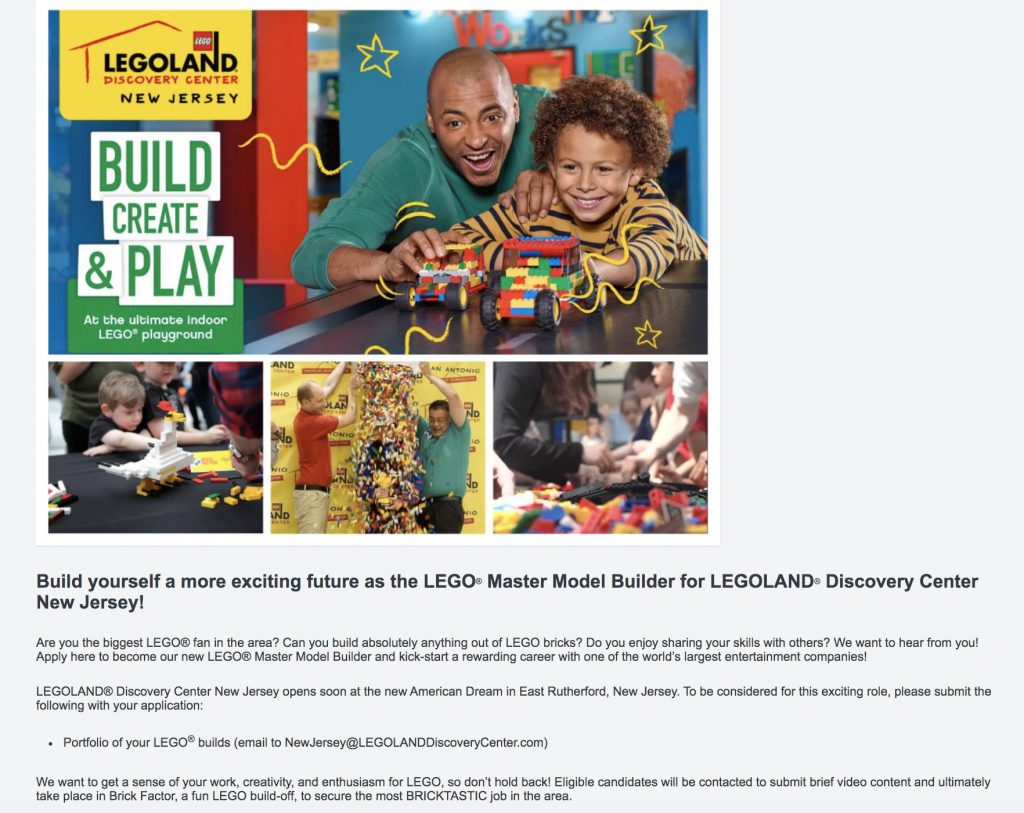 Oscar Mayer
Oscar Mayer's Evergreen Job Description for Wienermobile Navigators is a hot dog lover's dream job. Oscar Mayer's career page almost always has availability for candidates who "always dreamed of working with hot dogs". Another one of those unusual dream jobs, Oscar Mayer "Hotdoggers" drive a giant hot dog mobile to events across the United States.
Their goal, put "A Better Hot Dog in Every Hand."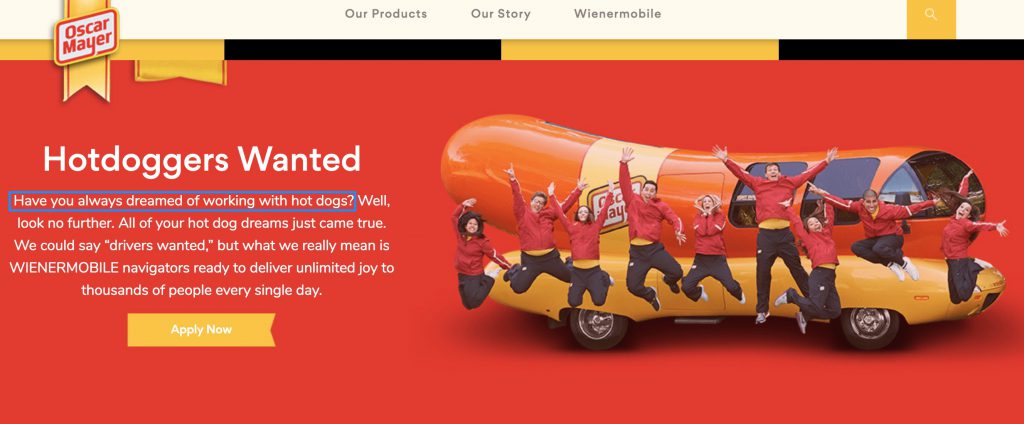 Update: 7,000 people applied and 12 people got accepted. source: NY Times.
Reviews.org — Disney Dream Job
Do you love Disney movies? Reviews.org advertised a Disney dream job this year with the headline "We'll pay you to watch Disney+". Reviews.org also mentioned Social Distancing in the ad. We think there might be a lot more remote dream jobs you never knew existed being advertised post-COVID.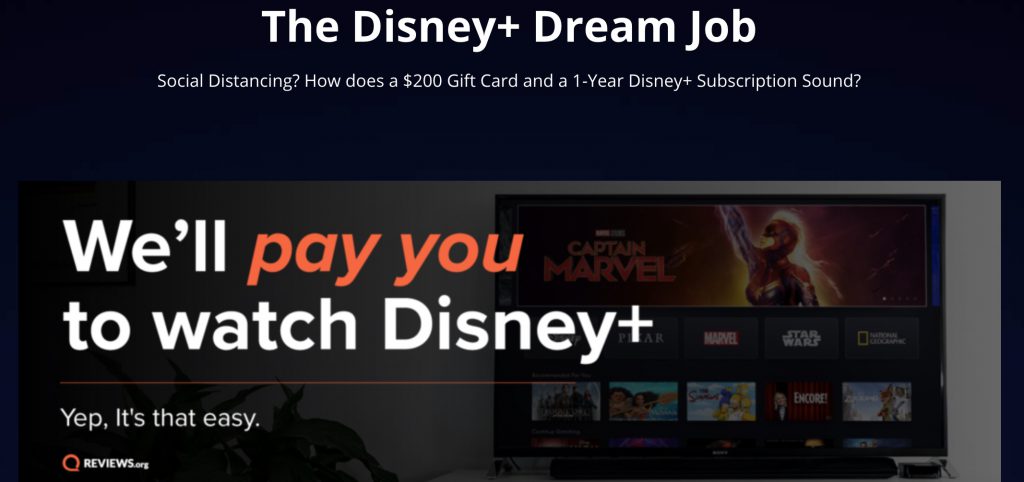 You don't have to be a major brand to do "Dream Job" pages
Major brands are advertising dream jobs, but that doesn't mean companies of any size can't.
US Direct: $1,000 to Watch Shark Week
Make money to watch Shark Week? #dreamjob! US Direct had loads of interest in the #SharkWeekDreamJawb ad. This position was for a seasonal employee who would tweet and share their favorite Shark Week facts. Add this to the list of unusual dream jobs!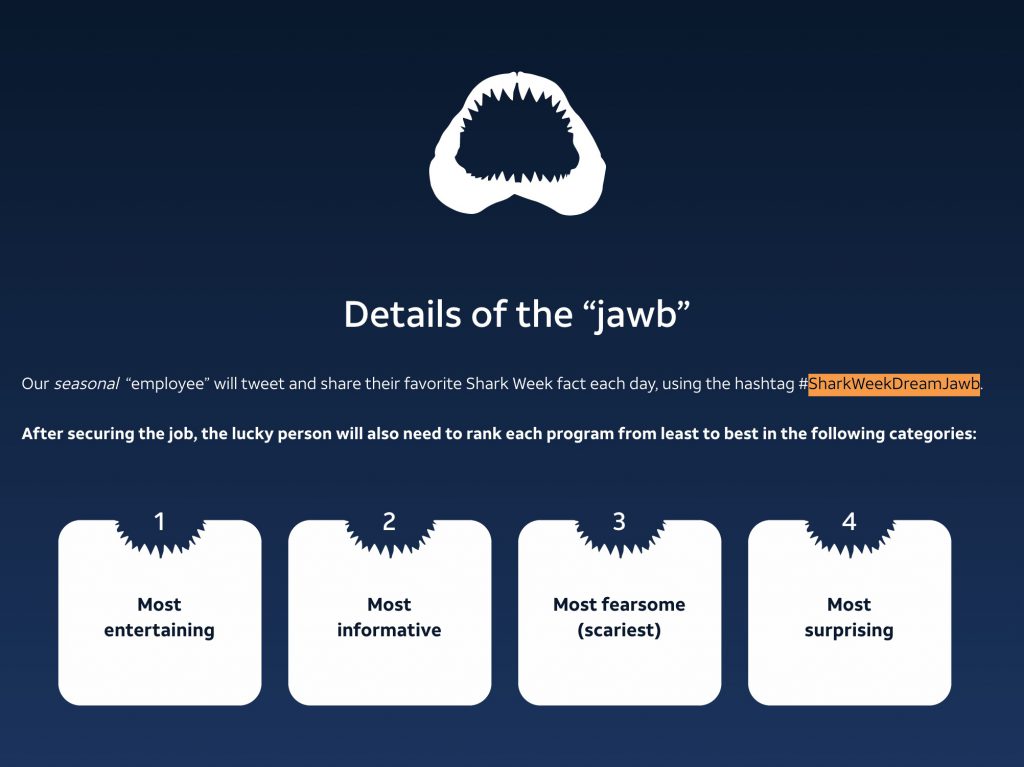 Murphy-Goode Winery
Murphy-Goode Winery posted the ultimate dream job for wine lovers in March 2021. "A Really Goode Job" has a paycheck of $10,000 per month and that covers rent in Sonoma County. The main qualification is "a passion for all things wine."
source: Mental Floss
Kinship
Even if you don't have a huge consumer brand selling beer, hot dogs, or Disney, you can still do something like Kinship. They dedicate a page called "Tell Us About Your Dream Job!" and treat it as a talent community lead capture page.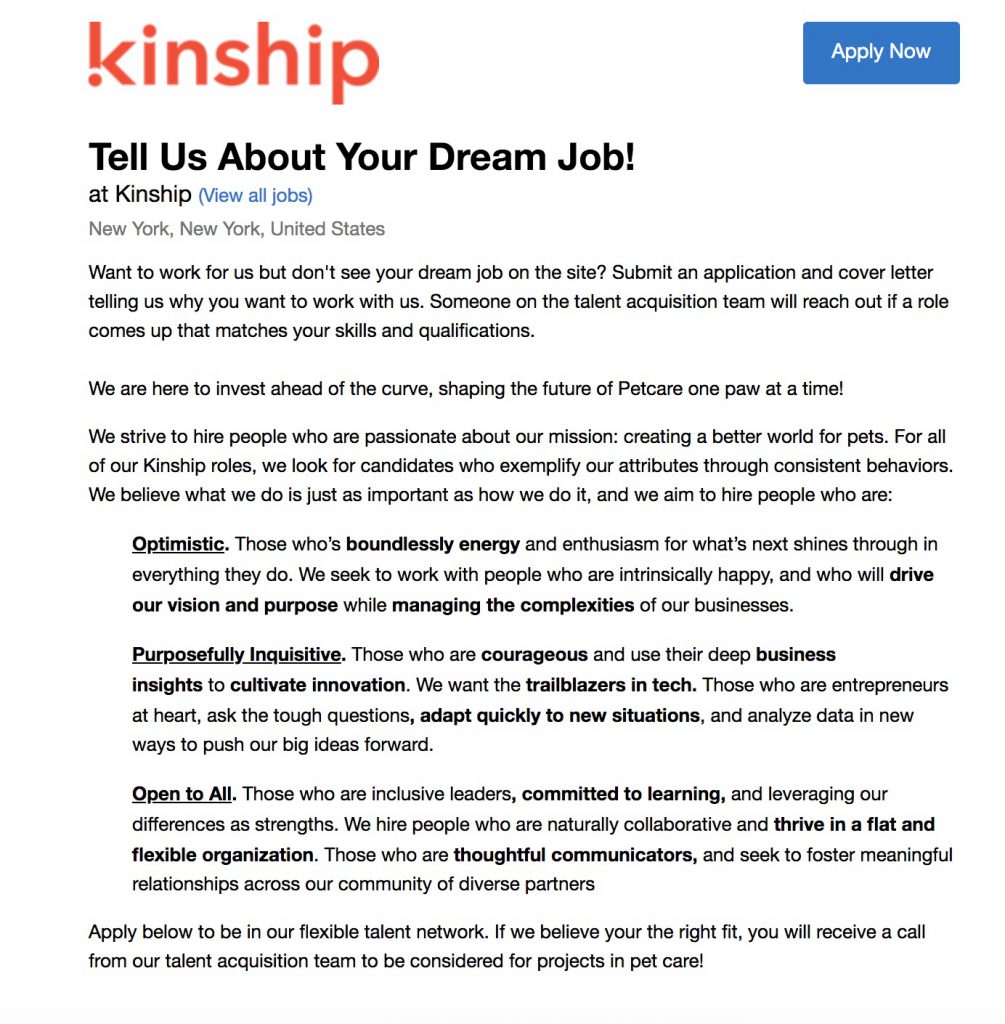 You don't have to call it a "Dream Job" (the press might do it for you)
The jobs below did not necessarily mention "dream job" in a job ad or have a dream job marketing page, but I think they are a hit for anyone looking to find dream jobs. Videogamer, cross-country beer explorer, ice cream taster, and more…sign me up!
Dream job alert: Watch 24 hours of true crime documentaries and get paid $2,400
MagellanTV posted a dream job opportunity for 3 "true crime fanatics." The dream jobs pay $100/hour and all you have to do is to binge the streaming service's true crime collection and share on social media.
Here's who they are looking for:
"Our ideal candidates live for True Crime.

They can handle the most menacing serial killer, the goriest details, and don't flinch at the chilling paranormal.

And they love it so much that they're willing to stream it nonstop for 24 hours.

Along with watching, they'll be documenting their True Crime all-nighter on social media so everyone will see if they can hack it… or not. "

source: Fox59
Misfits Gaming Pays 14-Year-Old to Play Fortnite
Kids dream jobs might include becoming a veterinarian or a doctor, but a 14-year-old from New York gets paid to play Fortnite, a highly popular video game. Fox News reported last year that:
""Fortnite" has made a 14-year-old boy $196,000 richer and he's just revealed how. Griffin Spikoski spends anywhere between eight to 18 hours a day playing the video game which has made him an internet sensation. Spikoski records himself playing "Fornite" and then uploads those videos to YouTube."
Nerf's "dream job" for a Chief TikTok Officer Pays $10,000 a Month
Nerf's call for a Chief TikTok Officer (CTO) might make the list of dream jobs for social media lovers. The position is only temporary, but the lucky candidate gains a $10k a month paycheck for 3 months. The dream job JD says:
"you'll spend "up to" three months developing "strategy (read: give our marketing team some clout), [creating] content (make 10-12 epic Nerf TikTok videos each month), and ultimately [setting] the tone for Nerf's debut on the social platform."
McCormick's Taco Lover Dream Job
Spice maker McCormick posted its first-ever job ad for a of director of taco relations. It is a 4-month gig, 20 hours a week, with a $100,000 salary.
Here's are the responsibilities:
"Keeping tabs on taco trends; trolling TikTok, and taking part in virtual calls to learn about taco offerings from taco chefs across the country and sharing those findings with the McCormick team.

The director of taco relations will also be responsible for developing content, including videos of McCormick's social media pages, and must be able to travel to the McCormick headquarters and other taco locations across the country about 10% of the time."

source: WTOP News, A taco lover's dream job — and it pays $25,000 a month, July 13, 2021
Michelob Ultra Pays $50,000 for Chief Exploration Officer
Add this to the list of outdoor dream jobs for travelers and beer lovers, in September Michelob Ultra advertised a role for a CEO (Chief Exploration Officer). A video ad on Travel + Leisure says the CEO will:
"travel in a state of the art van provided by the company, along with gas money and plenty of beer for their days off."
The Chief Exploration Officer also gets to bring along a plus one…dream job alert!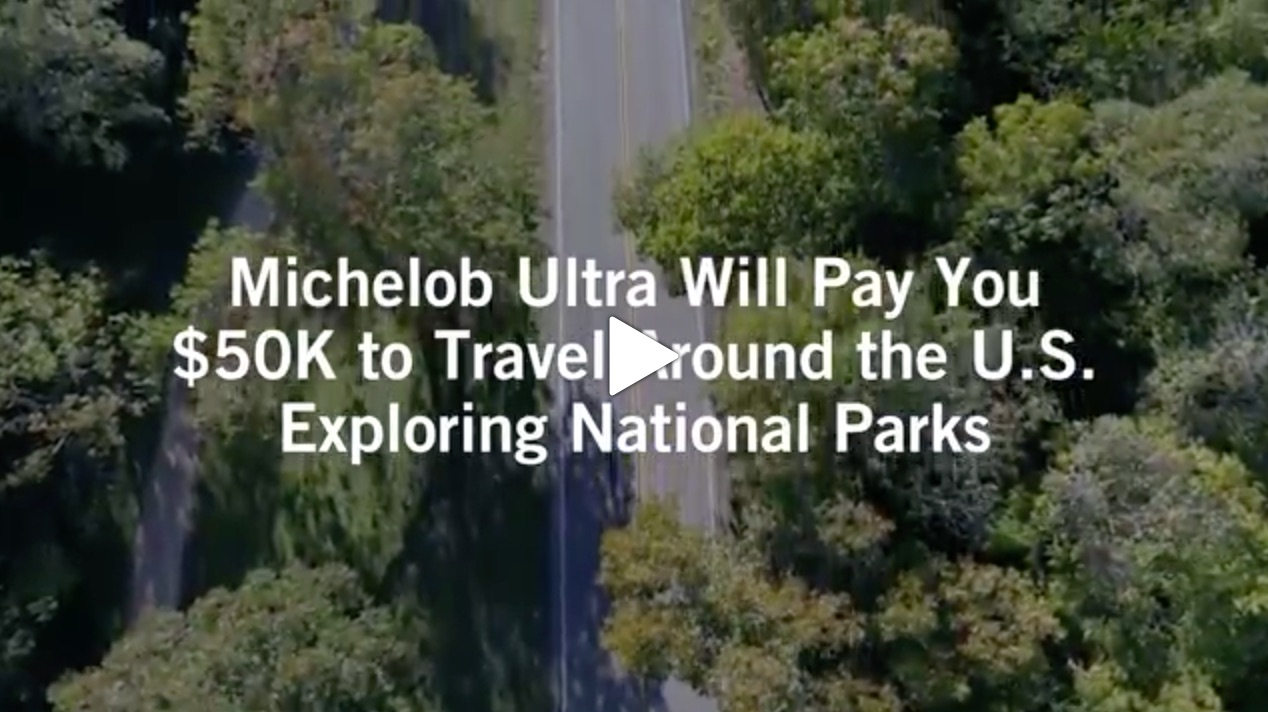 Top Ramen "Chief Noodle Officer" to get $10,000 Payday
This month, Maxim.com did a story on a new Instagram promo celebrating 50 years of Top Ramen. Who wouldn't want to get $10k for their love of ramen? The story said:
"If you're a noodle fanatic or self-proclaimed ramen recipe guru, this dream job is for you. Noodle lovers are urged to take to Instagram — using #HowDoYouTopRamen and tagging @OriginalTopRamen– and share photos of their favorite custom ramen recipes, noodle toppings and memories of Top Ramen, that inexpensive staple of college students and stoners around the nation."
DREAM JOB ALERT: Supermac's is hiring a 'mystery ice-cream taster'
According to The Irish Post:
"IRELAND'S FAVOURITE fast food restaurant is hiring for a super 'chill' new role"
The mystery ice-cream taster role is perfect for or ice-cream loving candidates looking to find dream jobs. Talk about a sweet, dream gig!
Evite creates a dream job called "Professional Party Starter"
Dream job alert for all party starters. The digital invitation provider, Evite, has posted a role for "Professional Party Starter" that is catching the attention of many. Evites job posting says:
"We recently learned from an Evite survey that almost 35% of Americans feel they've become more awkward given the time they've been spending at home, with almost 40% saying they are concerned about no longer being able to make small talk," said Casey Martinez, Senior Manager, Marketing and Communications at Evite. "We're so excited to launch our search for this fun and unique role at Evite. Together, we'll not only help bring people back together, but will also make it easy for everyone to throw or attend their first safe celebration."

source: WFMZ News
CableTV.com and HiSpeedInternet.com search for "horror superfan"
If your dream job is to get paid to watch horror films you are in luck. This dream job pays $1,000 to Binge-watch 24 Hours of Horror Movies.
According to Travel + Leisure:
"The chosen candidate must be over 18 and agree to 24 straight hours of movie-watching (which roughly adds up to 12 to 16 movies). This horror movie connoisseur can choose movies from any streaming service they want and curate their own movie marathon –– including cult classics, big horror hits, or even so-bad-it's-good B-list movies."
Want to create your own "Dream Job"?
In June, Indeed blogged about 25 Dreams Jobs with Salary Info. The post includes a definition of "What is a Dream Job":
"A dream job is a position that combines an activity, skill or passion with a moneymaking opportunity. Dream jobs can be exciting and glamorous like acting or playing music, or they can be prestigious and high-paying like working as a doctor or lawyer. Dream jobs differ from person to person…"
Attributes of a dream job, the article said, include:
Are engaging: Dream jobs keep you engaged and challenged.Dream jobs help others directly or indirectly.
Use your talents: Dream jobs use your specific talents and skills.
Include excellent colleagues: Dream jobs have supportive, capable and kind coworkers.
Maintain a positive workspace: Dream jobs have an upbeat and transparent company culture.
Offer work/life balance: Dream jobs understand the value of and support maintaining a solid work/life balance.
This new hedge fund posting for "Reddit Traders" could make someone's dream job list
Want to make $200k for searching through Reddit? A hedge fund based in NYC, Cindicator Capital is searching for a:
"Reddit-savvy trader who'll manage millions of dollars and comb through Reddit, Discord and Twitter to see what people are saying."
Cindicator recently posted the opening on Linkedin, sending the Reddit feeds wild. (source: CNET, February 10, 2021)
WHY I WROTE THIS
Ongig is focused on creating the most effective job ads for employers. Job ads with creative and punchy content are a great way to engage candidates, and help them find their dream job.
Dream Job Shout-Outs