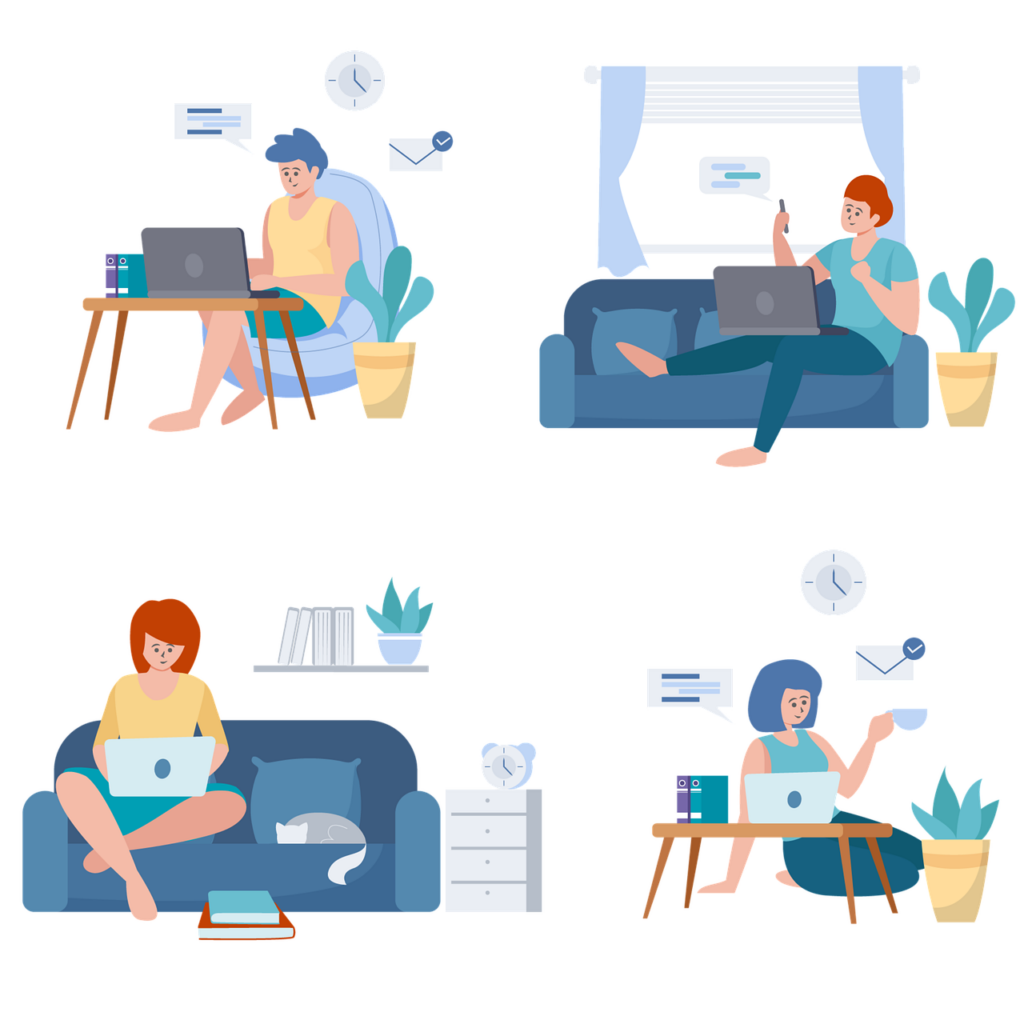 There's a lot to be said about remote work. When you're working from home, you:
can reduce or even eliminate the costs of child or elder care
avoid the expense and hassle of a commute
might be able to set your own work hours
These things are convenient and conducive to a healthy work/life balance.
But with every positive, there are also negatives associated with remote work. Virtual workers can:
experience significant stress or social withdrawals
be more vulnerable than traditional workers to mental health challenges
have problems with communication and collaboration in a remote environment
These things can contribute to errors, inefficiencies, disengagement, and lost productivity.
The good news is, many of the obstacles linked to remote work can be overcome with a bit of strategy, commitment, and most of all: collaboration.
The Unexpected Challenges of Remote Work
For all its advantages, several unique challenges come with working remotely.
For instance, employees may feel literally and figuratively disconnected from their workplace and their colleagues when they are working from home. This contributes to feelings of loneliness, isolation, and depression, which may impact overall performance, productivity, and job satisfaction.
Along with feeling disengaged from the work culture and the team, remote workers may experience increased anxiety relating to their job performance and capacities. They may feel challenged to understand or meet project requirements and work expectations.
They may also find reporting standards and workflows to be vague and muddy. Instead of heading down the hall to meet a teammate in person, they find themselves waiting for a returned phone call or email. This isn't just inefficient, but it's also often frustrating and deeply demoralizing for employees.
And then there are tech-related concerns that often accompany remote work. Virtual employees may fear they lack the technical skills to keep their home office up and running. At the same time, they may resist asking for help, fearing that their colleagues or managers will judge them harshly, or they may even lose the opportunity to work remotely.
Remote workers can also feel significant pressure to be "always on." When your office is also your home, there's often no official end to the workday. Employees who are allowed to work from home may feel obligated to answer texts, calls, or emails at all hours or to try to meet unreasonable project deadlines.
This is the perfect recipe for a severe job-related mental health crisis — from the development of anxiety and depressive disorders to the emergence of debilitating burnout.
Foster Remote Communication
Although the challenges associated with remote work can be significant, there are solutions. As suggested above, one of the core issues with remote work is the employees' sense of isolation.
This is why it's key for HR pros to prioritize collaboration in remote work environments. Often, the best way to begin is by optimizing your remote team's communication strategy.
Supporting highly effective communication in remote teams typically requires a 2-pronged approach.
Your team needs robust and reliable communication technology.
Your team needs a clear and comprehensive communication strategy.
Communication and collaboration tools like Slack and Asana, for example, can you stay connected and communicative throughout the workday, no matter where your team is. Not only will this support efficiency, but it's also going to help remote workers feel more engaged with the overall rhythm and flow of the workplace.
This decreases both anxiety and depression because workers will have the benefit of rapid feedback and ample social interaction (even in a virtual environment). In other words, the right communication tools replicate the feeling of working in the physical office.
But, even the best communication tools are only as effective as the people who use them. This means you must augment them with a good communication plan. At a minimum, you'll want to clearly define expectations and processes, including when employees are expected to be connected to the platform (i.e. during business hours).
And, you'll want to be highly transparent about the flow of information, including defining when and what information is to be reported (and to who). Creating workflows and communication streams also helps your remote teams understand who to contact for the information they need and how to do it remotely.
Create a Virtual Collaboration Space
Along with giving your remote workers effective communication software and a strong communications plan, you'll also want to offer other collaborative platforms. For instance, personalizing your employee intranet system to reflect, align with, and facilitate the specific kinds of work your team does is an ideal way to drive engagement.
If you are leading a creative team, you might implement a collaborative platform with online whiteboarding or freehand drawing functions. This helps your staff do their work more effectively by equipping them with the tools they need to work effectively together in real time. It can also boost morale by emulating the physical work environment, contributing to productivity and engagement.
Prioritize Employee Well-being
Perhaps the most important thing you can do to support collaboration among your remote workers is to prioritize your teams' overall well-being. This might include offering robust mental and physical healthcare services for your remote teams.
You might also offer additional benefits and perks to help your remote teams thrive. These perks might be anything from discounted gym and spa memberships to opportunities to attend company retreats.
Another option is hosting regular opportunities for social interaction. You might plan a monthly gathering at a local park or food hall. Or start a company bowling team. These opportunities to interact face-to-face with colleagues help your remote staff feel like true, and valued, members of the corporate culture, which is essential for collaboration.
But, it's also important to plan for workers who, due to physical distance or some other concern, can't attend in-person social gatherings. You might host an online trivia or movie night each week for your employees and their families — this helps ensure all your employees feel included and integrated into your organization, no matter where they're located!
Why I Wrote This:
Optimizing remote culture collaboration isn't always easy, but it's possible and most definitely worthwhile. The key is to use a multi-pronged approach giving remote employees the tools they need to work well from anywhere. It also means offering opportunities for your remote teams to engage in real-time, both socially and professionally. And, if you offer unique work perks for remote teams, be sure to include them in a special section of your job postings, candidates will notice.
This is a guest post from Ainsley Lawrence. Ainsley is a writer who loves to talk about good health, balanced life, and better living through technology. She is frequently lost in a good book.