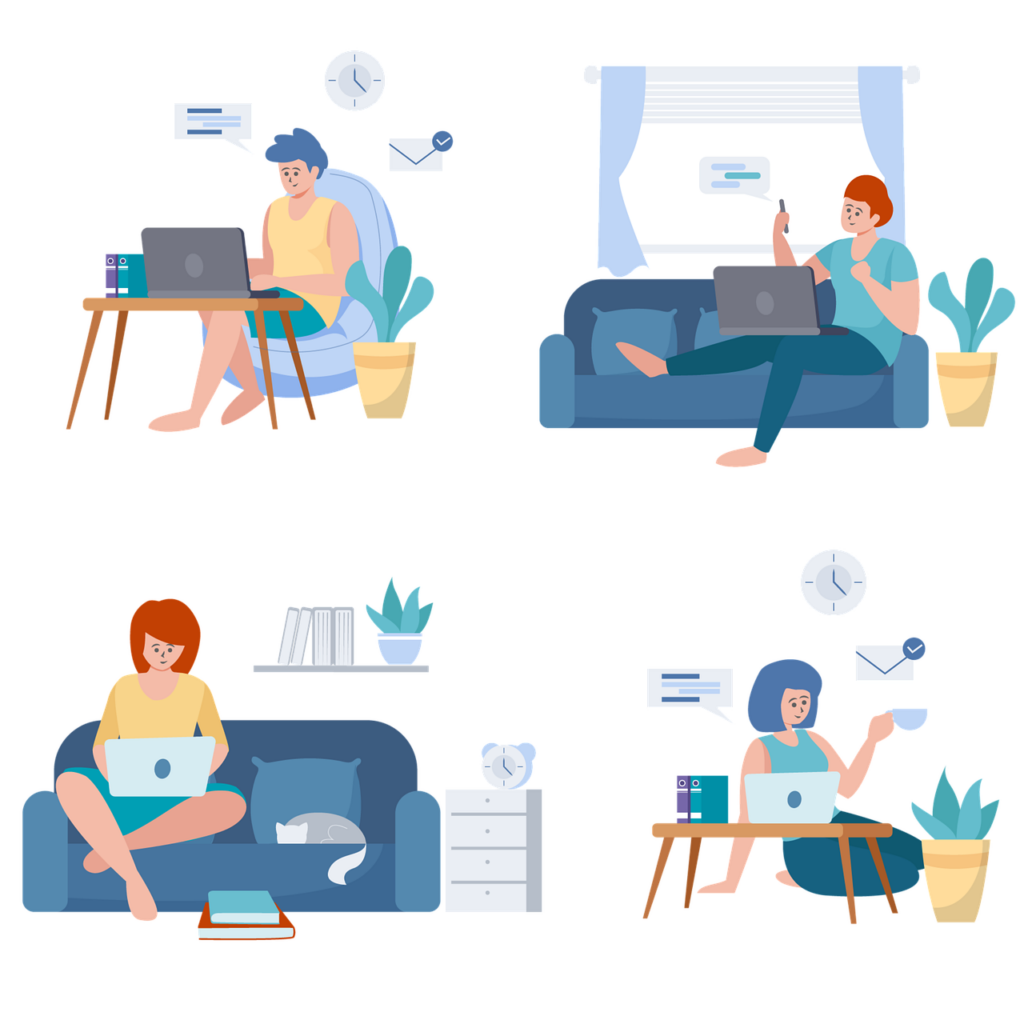 There's a lot to be said about remote collaboration and remote work overall. When you're working from home, you:
can reduce or even get rid of the costs of child or elder care
avoid the expense and hassle of a commute
might be able to set your own work hours
These things are convenient and conducive to a healthy work/life balance.
But with every positive, there are also negatives associated with remote work. Virtual workers can:
suffer significant stress or social withdrawals
be more vulnerable than traditional workers to mental health challenges
have problems with communication and collaboration in a remote environment
These things can contribute to errors, inefficiencies, disengagement, and lost productivity.
The good news is, many of the obstacles linked to remote work can be overcome with a bit of strategy, commitment, and most of all: collaboration.
The Unexpected Challenges of Remote Work
For all its advantages, several unique challenges come with working remotely.
For example, when people work from home, they might feel both physically and emotionally distant from their workplace and coworkers. This contributes to feelings of loneliness, isolation, and depression, which may impact overall performance, productivity, and job satisfaction.  
Remote workers might feel disconnected from the work culture and team. They could also get worried about how well they're doing their job and if they can meet the project requirements and expectations.
Remote workers might also struggle with unclear rules and how things should be done. Instead of talking to a teammate face-to-face, they have to wait for a phone call or email. So, this not only wastes time but also makes employees feel frustrated and unhappy.
Some remote workers also worry about tech issues. So, they might think they don't know enough to set up and use their home office equipment. At the same time, they may resist asking for help, fearing that their colleagues or managers will judge them harshly, or they may even lose the opportunity to work remotely.
In addition, people working from home might feel they have to work all the time. When your home is your office, it's hard to know when to stop. So, they might feel they need to reply to messages or work on projects even late at night, which can be stressful. 
This is the perfect recipe for a severe job-related mental health crisis — from the development of anxiety and depressive disorders to the emergence of debilitating burnout.
Foster Remote Communication
Working from home has its challenges, but there are ways to deal with them. One big problem is that employees often feel lonely, but there are solutions.
This is why it's key for HR pros to focus on teamwork in remote jobs. A good start is to improve how your remote team communicates. 
Supporting highly effective communication in remote teams typically requires a 2-pronged approach.
Your team needs robust and reliable communication technology.
Your team needs a clear and comprehensive communication strategy.
Use tools like Slack and Asana to talk and work together, even if your team is far apart. It makes work smoother and also helps remote workers feel more connected to the workplace.
Using these tools reduces stress and sadness. Workers get quick feedback and can talk to each other a lot, even online. So, it feels like working in a real office.
Having good communication tools is important, but they work well when people use them right. So, you need a clear plan. Be sure to set rules about when employees should be online, like during work hours.
Be very clear about when and what info needs to be shared and with whom. Make clear paths for communication so remote teams know who to talk to and how to get the info they need even though they are not in the office.
Create a Virtual Collaboration Space
Besides providing good communication tools and a clear plan, you can also offer other ways or platforms for remote workers to collaborate. For instance, personalizing your employee intranet system to reflect, align with, and facilitate the specific kinds of work your team does is an ideal way to drive engagement.
If you're in charge of a creative team, you can use a platform where everyone can draw and share ideas. This helps them work well together in real-time. It also makes them feel like they're in the same room, which boosts their mood and makes them more productive.
Prioritize Employee Well-being
Perhaps the most important thing you can do to support collaboration among your remote workers is to prioritize your teams' overall well-being. This might include offering robust mental and physical healthcare services for your remote teams.
You might also offer additional benefits and perks to help your remote teams thrive. These perks might be anything from discounted gym and spa memberships to opportunities to attend company retreats.
Another option is organizing times to hang out together. So, you could have a monthly get-together in a park or food place, or even form a bowling team. Also, meeting in person helps remote workers feel like they belong and are important, which is crucial for working together well.
But remember, some workers can't come to in-person events because they're far away or have other issues. So, you could have online events like trivia or movie nights every week. This way, everyone can join in and feel like part of the team, no matter where they are!
Why I Wrote This:
Making remote teamwork better can be hard, but it's doable and really important. The trick is to use different methods. Give remote workers the right tools to do their job from anywhere. Also, let them socialize and work together online in real-time. And, if you offer unique work perks for remote teams, be sure to include them in a special section of your job postings, candidates will notice.
This is a guest post from Ainsley Lawrence. Ainsley is a writer who loves to talk about good health, balanced life, and better living through technology. She is frequently lost in a good book.