Racial bias has been a hot topic in 2020, but the story behind "Master-Slave" bias dates back to the early 2000s. In tech, master/slave terminology has been used as an industry standard to describe when one piece of hardware controls another. But the phrase has continuously received criticism over the years for being racially biased, stemming from slavery.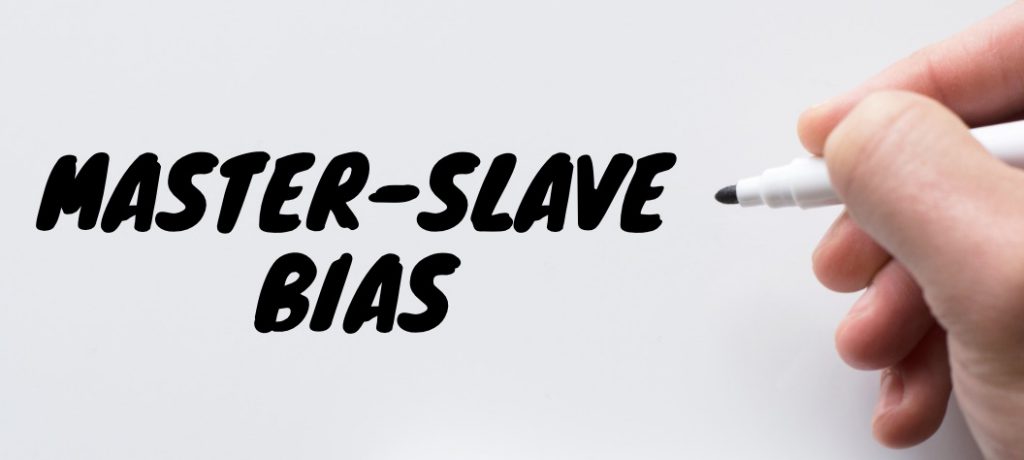 Master-Slave Bias Timeline
The earliest know instance of the master-slave tech bias controversy was November 27, 2003, when a Los Angeles County employee filed a discrimination complaint after seeing video machines labeled with the words "master" and "slave". Although "master" and "slave" were frequently used in the technology industry for years, BBC reported that the division manager at the time, Joe Sandoval, asked Technology firms supplying Los Angeles County with hardware to avoid using the words "master" and "slave" to describe their products. In an email to vendors Sandoval said:
"Based on the cultural diversity and sensitivity of Los Angeles County, this is not an acceptable identification label."
In December of 2004, Los Angeles County relabeled their computer documentation to remove the alleged slur and according to The Global Language Monitor, "master/slave" made the annual list for the Top Politically (In)correct word of the year.
Years later on September 7, 2018, Victor Stinner a Python developer at Red Hat, published pull requests in an effort to avoid master/slave technology. His request said:
"For diversity reasons, it would be nice to try to avoid "master" and "slave" terminology which can be associated to slavery."
Stinner suggested "parent/child" as a replacement which was met with mixed reviews. Later that year, open-source web frameworks like Drupal and Django swapped "master" and "slave" terminology for "primary" and "replica" or "leader" and "follower".
On October 11, 2018, Ongig CEO Rob Kelly observed that there were still numerous instances of "master/slave" being used in job postings on Indeed and other job boards.
Companies Removing Master/Slave Bias
There is a growing list of companies removing "master-slave" and "master/slave" from their source code, job descriptions, and other areas in the wake of the Black Lives Matter movement that was sparked by the death of George Floyd. But some companies like Nikon, Google, and Canon started even earlier.
Nikon
Camera company Nikon dropped the terms "master" and "slave" from their products. An inside source from Nikon told Fstoppers that the company actually did this 20 years ago. The official company statement said:
"These terms were removed from Nikon products in the early 2000s — in the context of the negativity around their connotations. We no longer feature these terms in/on products."
Canon
Canon was one of the first companies to stop using "master" and "slave" in its camera gear. A company spokesperson said they started the phase-out of the words in late 2017 and continue their efforts today for all products.  A recent blog from PetaPixel said:
"In photographic lighting, a "master" device is one that is able to control/trigger a "slave" device. While these terms have been standard in the industry for decades, some have argued that they're unnecessary ones that could easily be replaced with alternatives (e.g. "transmitter" and "receiver")."
Google
In July of 2018, Google started their resistance against biased phrases like "master-slave" with a company "respectful code" policy" That instructed employees to stop using politically incorrect terminology and to edit existing code in order to remove offensive language," according to reason.com. Google is continuing its efforts by removing other terms like "blacklist" and "whitelist" in recent months after the momentum behind the Black Lives Matter movement.
Github [Microsoft]
On June 14, 2020, Microsoft-owned codesharing site GitHub is leading the way in the tech industry to drop the "master/slave" terminology in an effort to stop systemic racism. Business Insider reported that:
"GitHub is working to change its default branch name from "master," making it easy for users to choose their own default branch name for new projects, and releasing guidance and tools for users who want to rename it."
Amazon
On June 24, 2020, Business Insider reported that Amazon engineers recently created an internal Wiki that supports the removal of master/slave bias. The report said:
"The Wiki page lists dozens of words and phrases that may have negative connotations implied by the use of color, or that have a specific history that relates to racial discrimination.
In the Amazon internal Wiki, the words "master/slave," will instead be called "primary/secondary" or "active/passive,"
Red Hat
On June 30, 2020, Tech company Red Hat announced it would be removing contentious terms like "master/slave" from its source code, documentation, and content to make its products more inclusive. CTO, Chris Wright said in an interview with the News & Observer that:
"He hopes the change will be the start of a more inclusive development community. He said while the conversations have been happening for years, the industry delayed making changes because of the logistical problems involved. Now, though, there is an understanding that the change needs to happen now."
Twitter
On July 2, 2020, Twitter announced that it was removing terms like "master" and "slave" from programming in their engineering teams.
We're starting with a set of words we want to move away from using in favor of more inclusive language, such as: pic.twitter.com/6SMGd9celn

— Twitter Engineering (@TwitterEng)
JPMorgan Chase
On July 2, 2020, Forbes announced that JPMorgan Chase is the first company in the banking industry to remove racially problematic terms like "master" and "slave" from the bank's code. According to Reuters, the change is needed because:
"The terms had appeared in some of the bank's technology policies, standards and control procedures, as well in the programming code that runs some of its processes"
Apple
On July 16, 2020, Apple announced it will be phasing out "non-inclusive language" across Apple's developer ecosystem. According to PCMag:
"Apple's updated style guide now tells developers to substitute the terms with "primary/secondary" or "host/client" in their software programs. If necessary, the master/slave term can still be permitted in the computer coding itself, but the company is calling for developers to use alternative terms in documentation manuals."
Bias in Job Postings and Brands
Today, as I write this on August 13, 2020, the issue hasn't gone away.
For example, there are 77 instances of "master/slave" on LinkedIn, 54 on Indeed and 51 on Glassdoor.
We think the term will start to gradually disappear as more companies get on board with removing bias from their vocabulary.
Ongig's Text Analyzer identifies exclusionary phrases like "master/slave" in job descriptions and suggests alternative words that are more inclusive. Check out the screenshot below to see how it works for this Sr. Database Administrator job description.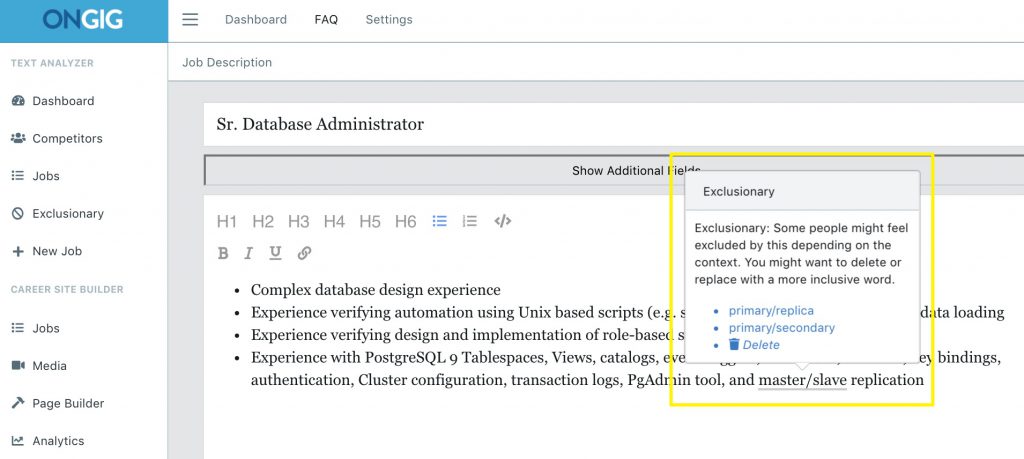 A list of examples of master slave computer terms (especially the nuanced ones like MISO, MOSI, etc.)
Master slave programming language continues to change (e.g., replacing MOSI/MISO with SDO/SDI). The Open Source Hardware Association created a list of master slave computer terms that should be replaced (what they call "depreciated signal names):
MOSI – Master Out Slave In
MISO – Master In Slave Out
SS – Slave Select
MOMI – Master Out Master In
SOSI – Slave Out Slave In
And here's their list of recommended master slave terminology replacements (what they call "new signal names"):
SDO – Serial Data Out. An output signal on a device where data is sent out to another SPI device.
SDI – Serial Data In. An input signal on a device where data is received from another SPI device.
CS – Chip Select. Activated by the controller to initiate communication with a given peripheral.
COPI (controller out / peripheral in). For devices that can be either a controller or a peripheral; the signal on which the device sends output when acting as the controller, and receives input when acting as the peripheral.
CIPO (controller in / peripheral out). For devices that can be either a controller or a peripheral; the signal on which the device receives input when acting as the controller, and sends output when acting as the peripheral.
SDIO – Serial Data In/Out. A bi-directional serial signal.
"Master" in Real Estate
The word "master" also shows up in the real estate industry. "Nationally, 42% of current property listings on Zillow use the term "master" in reference to a bedroom or a bath," according to CNN.
On June 25, 2020, The Houston Association of Realtors recently announced it would be replacing "master bedroom" and "master bathroom" in its listings with "primary bedroom" and "primary bathroom" to avoid racial bias.
The Master/Slave controversy is just one of many racially-biased issues being rapidly changed. The Black Lives Matter movement accelerated many top companies to rethink their alleged racist brands this year.
WHY I WROTE THIS
We're passionate (here at Ongig) about eliminating biased job descriptions (race, gender, age, and disability). Ongig's Text Analyzer helps grow diversity, inclusion and belonging in the workplace. Click our demo request button if you'd like to learn more.
SHOUT-OUTS