More big brands are creating diversity ads as part of their inclusive marketing strategy. I found 10 top brands with ads that show diversity…and many of them have extra-powerful D&I messages.
10 Diversity Ads from Top Brands
Most of these ads with diversity are videos, except for Target's, which is an image of inclusive marketing in action. For each of these ads about diversity, I include what caught my attention and the diversity ad tagline.
Some qualities that make these diversity ads stand out:
Opening Strong — Check out Adidas's "Calling all creators"
One of these 3 Subjects — You can use customers (Microsoft, Airbnb), famous people (Adidas, Nike), or a short story format (OREO)
Music — Using music helps people connect with the ad (Maersk, Proctor & Gamble, Ulta, Starbucks)
A Narrator — Have someone talk in the video to guide the story (Microsoft, Nike)
Here's the list:
Adidas
Diversity ad tagline: "Here to Create"
Adidas's series of diversity ads feature famous actors, fashion icons, musicians, athletes, and more to deliver the message of coming together to create. This diversity ad opens up with "calling all creators" and then shows the group of stars at what looks like a boardroom table talking about connecting with each other through a common mindset. Not focusing on borders, gender, or race.
Airbnb
Diversity ad tagline: "Belong Anywhere"
Airbnb started its "Belong Anywhere" diversity ad series more than 5 years ago, but one of their latest ads with diversity caught my attention. The diversity ad shows the evolution of Airbnb and how they support embracing other cultures. The video shows their guests from around the world, having fun and just…being people.
Maersk
Diversity ad tagline: "Together, All The Way"
In late 2020, Maersk created a catchy diversity ad, "Together, All The Way." Their "An Anthem" is an upbeat rap video highlighting important diversity and inclusion messages creatively. Like other diversity ads, it's all about working together to achieve common goals.
Microsoft
Diversity ad tagline: "When everybody plays, we all win"
In 2019, Microsoft created a diverse ad featuring a new video game controller for people with disabilities. The diversity ad shows real kids playing video games with the adaptive controller and talking about their experience of feeling included, even with physical challenges.
Nike
Diversity ad tagline: "You Can't Stop Us"
Nike did a great job of capturing the motivation of athletes from diverse backgrounds coming together for change. This diversity ad's split-screen view is clever, fading from one athlete to another in each section.
OREO Cookie
Diversity ad tagline: "A loving world starts with a loving home."
OREO's "Proud Parent" commercial is another example of ads that show diversity. This diversity ad tells the story of LGBTQ inclusion through the experiences of 1 family…and their lifelong love of OREO cookies.
Proctor & Gamble
Diversity ad tagline: "Let's talk about the look so we can see beyond it."
Proctor & Gamble's diversity ads are always powerful. This diversity ad caught my attention because of the title, "The Look." The video shows the experience of a Black man and the "looks" he might get daily, then ends with him as a judge presiding over a courtroom and the message, "let's talk about the look so we can go beyond it."
Starbucks
Diversity ad tagline: "Every name's a story #whatsyourname"
Starbucks LBGT+ diversity ad won an award for diversity in advertising in 2019. It's one of Starbuck's ads about diversity, showing the life of Jemma, who prefers to be called James. At the end of the ad, a barista writes "James" on a Starbucks cup, and a happy James takes their coffee with a smile.
Target
Inspiring and Inclusive Marketing
This diversity ad doesn't have a tagline because it's a photo of a child in a wheelchair at Target. The diversity ad for children's clothing is both inclusive and inspiring.
A 2020 article from Forbes says the Target ad "hits the bullseye" for celebrating inclusion and representation. The photo below of two-year-old Ollie was taken by his mother, Demi Garza-Pena. She told Forbes:
"He just stared at it in awe! He recognized another boy like him, smiling and laughing on a display at Target. Oliver sees kids every day, but he never gets to see kids like him."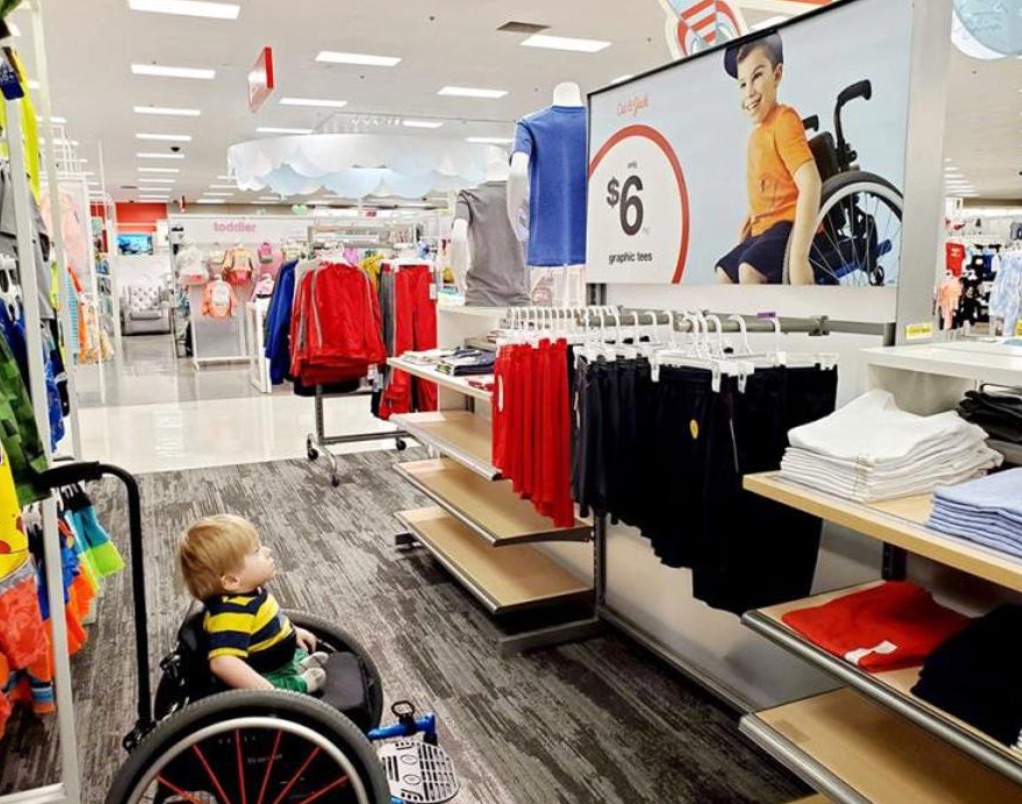 Ulta Beauty
Diversity ad tagline: "Where Dreams Begin"
Ulta Beauty is another example of creative, diverse ads showing people of all colors, backgrounds, and ethnicities. The diversity ad celebrates everyone's "glow" with inspiring music and fun experiences.
Diversity Recruitment Advertising
Most of these diverse ads above are geared towards brand awareness or selling products, but what if they inspired your recruitment ads too? A good example is Hewlett Packard's video recruitment advertising campaign "Reinvent Mindsets".
This series of diversity recruitment ads won the PR Council's Best In-House Diversity Initiative in 2019. Each of these ads about diversity ended with a powerfully inclusive tagline "HP is hiring and talent is our only criteria."
Here are a couple of the video ads that show diversity in HP's workforce:
Why I Wrote This
Ongig's mission is to transform your job ads to attract top-tier and diverse talent. Our Text Analyzer software analyzes every word of your job descriptions to ensure they are inclusive to everyone. You can also use it to analyze language in your diversity ads and recruitment advertising.
Shout-Outs