Companies are more focused on board of directors diversity than ever. The Harvard Business Review says:
"in 2019, a record 59 percent of the directors added to the boards of S&P 500 companies were women or were men belonging to a racial or ethnic minority group."
Here are 5 tips to reach diverse board of directors requirements:
1. Know Your Board Diversity Requirement (It Might Be Law/Mandate)
Board of directors diversity is a hot topic and in some states a legal requirement. Knowing and following the mandates for your company is key.
In November, Compliance Week reported that:
"At least a dozen states, to date, have enacted or are weighing statutes that directly tackle diversity in the boardroom—or lack thereof. While some states mandate strict quotas, others are taking a softer approach by urging diversity efforts through disclosure requirements."
Here are a few state-mandated and SEC-regulated requirements for a diverse corporate board.
California diversity board of directors law
In September, California became the first state to require racial diversity on corporate boards of directors. According to USA Today, The California governor signed a law:
"requiring publicly traded corporations headquartered in California to appoint directors from underrepresented communities to their board."
The law defines a diverse corporate board seat from an "underrepresented community" as:
"a director who self-identifies as Black, African American, Hispanic, Latino, Asian, Pacific Islander, Native American, Native Hawaiian, Alaska Native, gay, lesbian, bisexual or transgender."
Companies that don't comply with the new regulation could face fines. The tiered requirements include:
at least 1 seat on corporate boards to be from an underrepresented community (by 2021)
boards with 4 to 9 people must have at least 2 people from underrepresented communities (by 2022)
boards of 9 or more must have at least 3 people from underrepresented groups (2022)
Other states that mandate a diverse board of directors for public companies include Colorado, Maryland, Illinois, and New York. Hawaii, Massachusetts, Michigan, New Jersey, and Washington State are considering mandatory legislation to increase board of directors diversity, according to a Harvard Law School Forum.
Ohio and Pennsylvania are also considering legislation related to increasing diversity in a board of directors.
Nasdaq Board of Directors Diversity Proposal
Nasdaq is following suit. The National Law Review reports that Nasdaq filed a proposal on December 6th with the SEC that:
"requires each Nasdaq-listed company to disclose specific diversity statistics regarding the composition of its board of directors."
Statements to support the new rules were issued with the proposal. One of them says:
"Nasdaq further believes that a listing rule designed to encourage listed companies to increase diverse representations on their boards will result in improved corporate governance, thus strengthening the integrity of the market, enhancing capital formation, efficiency, and competition, and building investor confidence."
As a part of the proposal, Nasdaq created a Board Diversity Matrix (pictured below) for companies to use when reporting their board of directors diversity.
2. Partner with Black, Women, Latinx, and LGBTQ Professional Networks
Searching outside traditional networks is another way to build a diverse board of directors. Traditionally board members are chosen from certain groups. But companies like the Black Young Professional (BYP) Network are trying to open up more avenues for people of color. Forbes reports that Kike Oniwinde, the founder of BYP, partners with companies like Google, Facebook, Adobe, and Airbnb to increase diversity at all levels.
Other professional networks to look for diverse board members are:
This is only a shortlist, there are loads of other professional networks for underrepresented groups. Many of them partner with companies who are looking for diverse employees or to create a diverse board of directors.
3. Create a Board of Directors Diversity Program [and goals]
Another tip is to create a board of directors diversity program. These programs include updating board diversity policies and launching initiatives to build a diverse corporate board. One way to boost a board of directors diversity program is to join the Board Diversity Action Alliance.
The Board Diversity Action Alliance is led by Ursula Burns, Gabrielle Sulzberger, Teneo, The Ford Foundation, and The Executive Leadership Council. Their mission is:
"taking action to increase the representation of racially and ethnically diverse directors on corporate boards of directors, beginning with Black directors."
Here are a few companies who have joined the alliance:
Mastercard
Pepsi
Uber
Under Armour
UPS
Diverse Board Members Goals
Along with creating a board of directors diversity program, companies like Levi, Mozilla, and Goldman Sachs are setting board diversity goals. Here are their goals/commitments for creating a diverse corporate board:
Levi Strauss & Co. — add an African American person to the board of directors
Mozilla — increase Black representation in the U.S. to 6% at the director level and up (including representation on the Mozilla and Mozilla Foundation boards)
Goldman Sachs — Only take companies public with at least 1 diverse board member, with a focus on women in 2020. And at least 2 diverse board members by 2021.
Examples of Diverse Boards of Directors
In July, The Org published a list of 25 tech companies with the most gender diversity in board of directors. The companies pictured below made the list for having the most gender-diverse boards.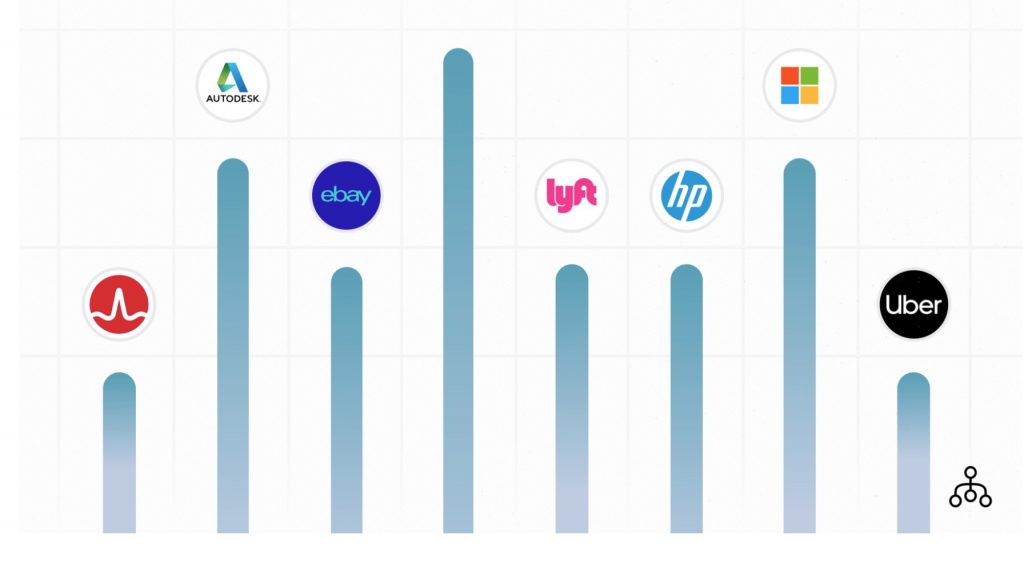 Having a diverse board of directors includes increasing other underrepresented groups too. Here are 4 top companies and the breakdown of their board of directors diversity:
Facebook diversity board of directors — 40% women, 2 board members are Black women.
Target board of directors diversity — 1/3 are women and almost half are Latinx or Black.
Starbucks board of directors diversity — 46% are People of Color and 39%, female.
SurveyMonkey board of directors diversity — equal gender representation —5 women and 5 men— and 20% racially diverse individuals, including 2 women of color.
Amazon board of directors diversity — 5 women and 5 men, 2 being People of Color.
"During 2018, in efforts to increase diversity in top-ranking positions, Amazon adopted the "Rooney Rule" for its board — a policy instituted by the NFL that requires teams to consider minority candidates for coaching and operation-level positions."
4. Remove bias from screening for a diverse corporate board
Removing bias from the screening process for new board members is another way to increase board of directors diversity. Creating a diverse board of directors can be the key to success for your organization.
A blog from TechCrunch on How to Build a Diverse Board says:
"Board diversity offers an array of benefits, including new perspectives that can improve decision-making and reduce "groupthink," access to a broader talent pool, and of course the symbolic power of women and minorities at the top rung of the corporate ladder."
The search process for a board member isn't exactly like hiring for other roles, but there are similarities. When posting an opening for a board member, consider using a tool like Text Analyzer to remove any exclusionary language that might offend people from underrepresented groups. This could include bias based on gender, age, sexual orientation, disability, and more.
The screenshots below show 2 recent postings for board members from Linkedin and Indeed. The first shows a score of 75% masculine for gender neutrality, which could deter women from considering the role.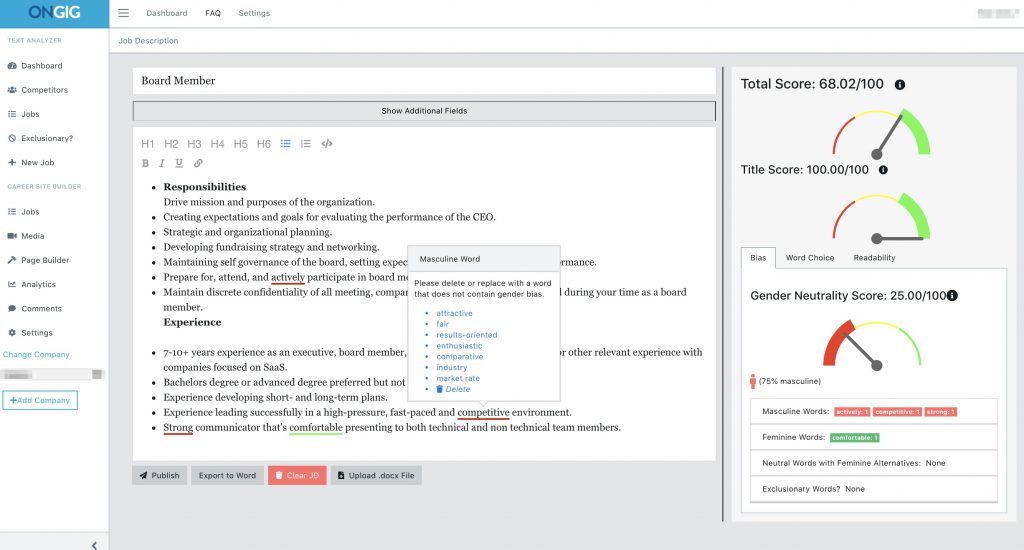 This next screenshot uses "his/her" and "him/her" which might make some people from the LBGTQ community feel excluded: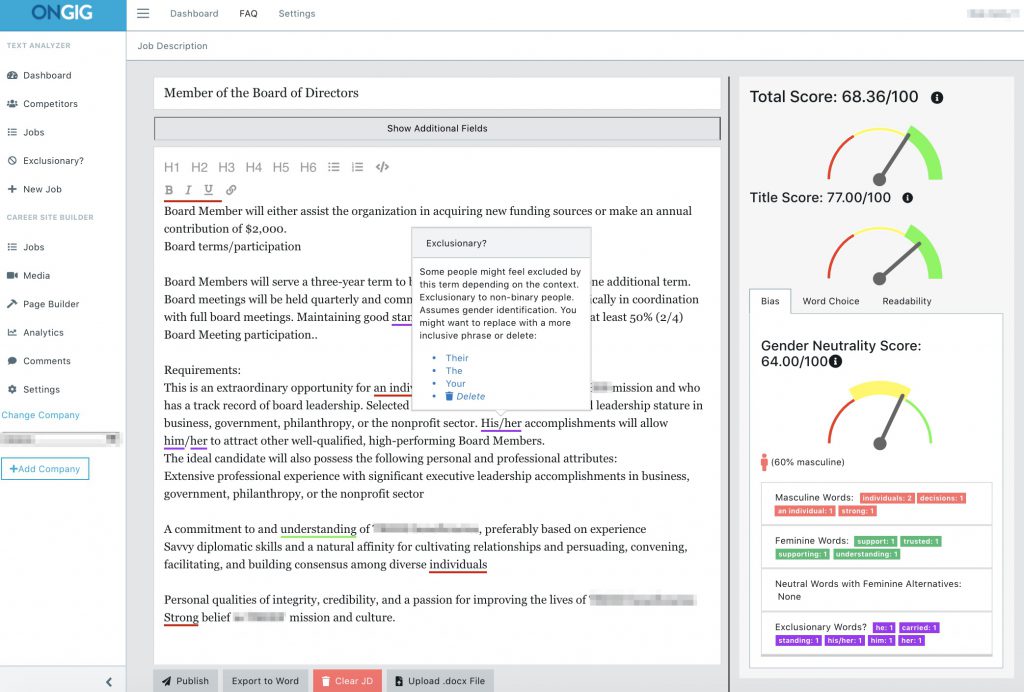 Removing exclusionary language from board of director postings widens the net for finding a more diverse pool of candidates.
5. Hire a board of directors diversity search firm
Most major executive search firms, such as Russell Reynolds, have a diversity practice. There are also some that specialize in board of directors diversity. Hiring a diversity-focused search firm can bring high results when it comes to meeting requirements for a diverse board of directors.
Here are a few examples of companies focused on board diversity:
WHY I WROTE THIS
Ongig supports inclusion in all aspects, including board of directors diversity. If you want to remove bias in your job descriptions, check out our Text Analyzer.
Shout-Outs