Hiring in the healthcare space is unique compared to other industries. There are different types of businesses, from small private practices to large hospitals.
Depending on your healthcare business's type (and size), you'll need to fill different roles (e.g., physicians, nurses, pharmacists, lab techs, admin staff, etc.).
If you're recruiting healthcare professionals, here are 5 mistakes to avoid:
1. Not clearly defining the role
When recruiting for any role, it's important to be clear about what it entails. This is especially true for healthcare positions.
You need to ensure potential candidates understand exactly what the job involves and expectations are. Otherwise, you'll end up with someone who's not a good fit for the position.
Here's an example of a role summary for a registered nurse from Caring Hands Hospital:
"The registered nurse will be responsible for providing care to patients, assisting with procedures, and educating patients and their families about their health. They must have a clean background and be a risk-free employee to patients."
2. Not offering an attractive salary
When you're recruiting healthcare professionals, it's important to offer an attractive salary.
If you don't, you risk losing out on top candidates to other employers willing to pay more. To attract (and retain) the best talent, you need to be ready to pay what candidates are worth.
Prioritize experience and tie it to salary. When it comes to healthcare, experience matters. Make sure that you hire employees who have relevant experience in the healthcare field. And, always list salary info in your job descriptions (even if it's just a range). This is the #1 thing they look for during a job search.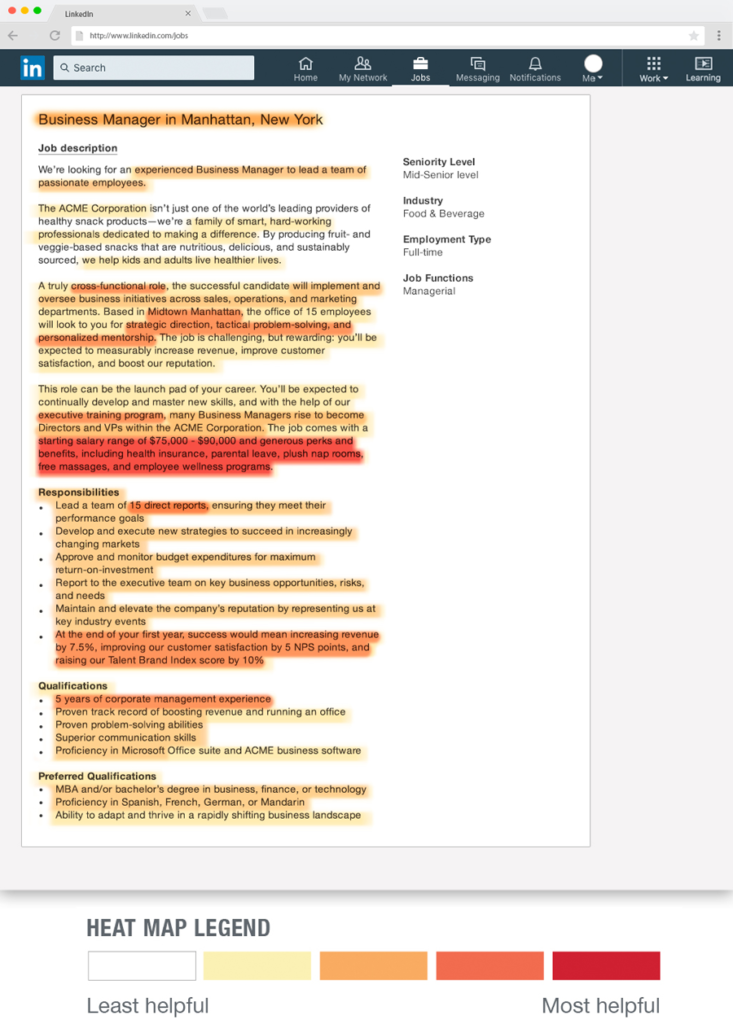 Also, consider continuing education and training. While experience is important, continuing development is also helpful. Be sure to consider both, so you hire people willing to advance and learn. If you're hiring for a front desk admin at a medical facility, experience in similar roles is great, but consider other experiences outside the medical industry too.
3. Not asking the right questions
When interviewing candidates, it's important to ask the right questions. This will help you better understand whether or not they're a good fit for the position. When recruiting healthcare professionals, you'll want to ask questions about the candidate's knowledge, skills, and abilities.
Here are some common questions:
How many years of experience do you have in the healthcare industry?
What are your qualifications, skills, and abilities?
Can you tell me about a time when you had to deal with a difficult patient or situation?
Can you tell me about a time when you had to go above and beyond for a patient?
And, pay attention to cultural add along the way. It is important that your employees share your values and are committed to providing quality care.
4. Not checking references
References are essential to the hiring process, yet many employers fail to check them. When recruiting healthcare professionals, ensure you carefully screen all applicants.
This means more than just looking at resumes and cover letters. You should also conduct interviews and thorough reference checks to better understand the candidate's skills and abilities.
Especially in high-risk medical roles like:
Physicians
Nurses
Lab technicians
Pharmacists
Medical assistants
5. Not conducting background checks
Background checks are another key step in the hiring process. Not all companies require background checks, especially if they have a program for former felons. But, in the medical industry, background checks are standard practice.
If you're recruiting healthcare professionals, it's essential to conduct background checks to ensure candidates are who they say they are, and they have the correct qualifications (e.g., BS in nursing, phlebotomy certification, etc.).
Hire the best healthcare pros
Avoiding these five mistakes will help you successfully hire healthcare pros. The most important thing is to have people who you trust and have integrity. People who are dedicated to their work and committed to the company's success. A healthcare organization can provide high-quality patient care and achieve its business goals with the right people.
Why I wrote this:
Ongig's mission is to create effective and inclusive job descriptions. And starting with the best JDs is essential when recruiting healthcare professionals for your team.
This is a guest post from Sara Morgan. A poet, a writer, and a full-time RVer. Loves fishing with her four-legged friend.