I was chatting with a head of HR friend of mine this week and she needed some help. She was recently named head of HR for a public company and doesn't have a recruiting manager to help grow the team. She also can't make a big public push on the opening yet because of some corporate politics.
Anywhoo…She's got a busy job, and on top of that she is pinch-hitting as the interim Recruiting Manager; so she barely has time to push hard on filling their Recruiting Manager job.
And did I mention she is reporting to the CEO!?
She's in that Catch-22 situation most of us face. How can you be a strategic leader when you're needing to be hands-on 'in the weeds'.
…and how can you be hands-on and nail something (e.g. like recruiting a Recruiting Manager) when you need to be strategic.
I agreed to help. So I decided to leverage my LinkedIn network full of sharp and fun people from all around the HR Industry. Using LinkedIn for recruitment is somewhat of an aged practice, but the cost-free value it brings when leveraging a big network is almost unparalleled (having a big network increases your share and tag upside).
I put a post on my LinkedIn status about the job while keeping the name of the company anonymous (because of the corporate political stuff).
The Post
Here is the post I put up on my LinkedIn status: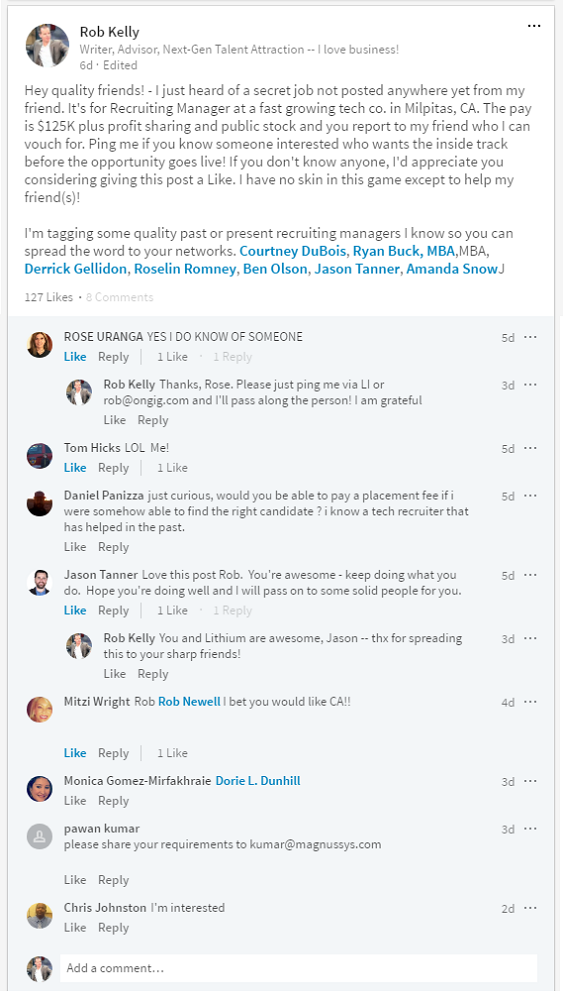 The Results
And here's some #s on the reach that my post had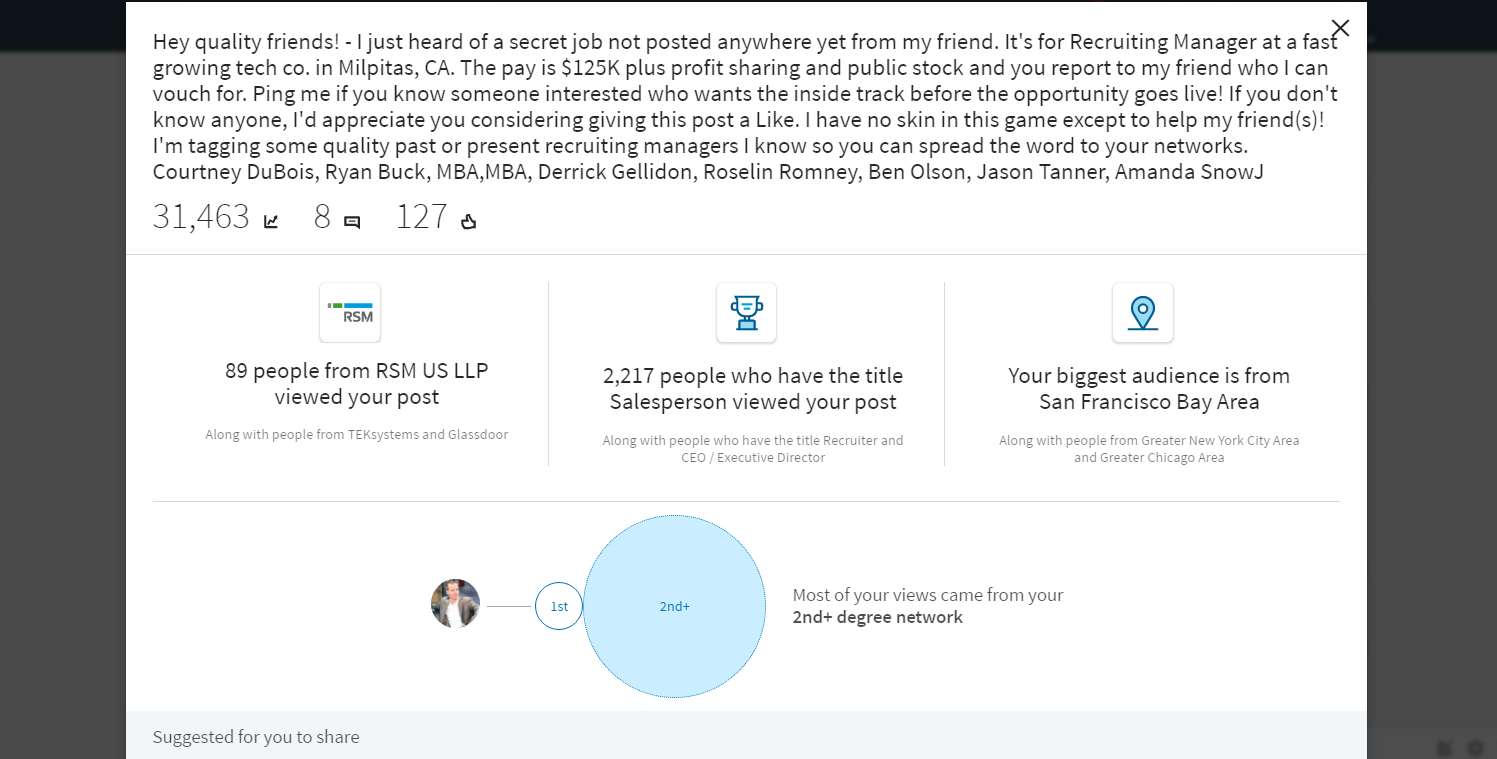 31,000+ views
100+ likes
15 total candidates
7 quality candidates (including one from Google)
Tips On How I Did It
A few tips you can steal from my approach:
Curiosity Sells — I used the language "Secret" company. Piquing curiosity is a proven motivator to get readers to read on (check out 10 Easy Tips on Writing Headlines for 9 other tips like this).
Specificity Sells — I gave specifics so my network/candidates would trust me.
Pay — I also gave specifics on the pay and profit share. Too often recruiters don't include the amount of pay (some fear it's too low). I included pay so that A) it would alienate the non-prospects (a marketing philosophy all recruiters need to know!) and B) attract those candidates for whom the pay is interesting; and C) it helps a job stand out versus any other job post that excludes pay; and D) $Pay is a proven value — you have to show value/benefits to your prospect and in this quick blurb I wrote I didn't know enough about my friend's company to be able to share much else in value about the opportunity.
Social Proof Sells — I asked 3 friends with big networks to Like the post.
More Social Proof — I tagged excellent Recruiting Managers I know (not because I thought they'd be interested but because they might know others or at a minimum would be flattered to be tagged in a positive light).
Middleman = Bigger Deal — Playing the middleman elevates the value of the job — This has been proven. In just about any business transaction, when you have a middleman involved it raises the perceived value of the transaction (in this case, the fact that I was helping out a friend (as opposed to him reaching out alone) made this a bigger deal.