Do you use Taleo?
If you do, your job descriptions on a phone probably look like the old "help-wanted" ads your parents once used to find jobs…but even worse-looking because they have to fit on a tiny screen!
This is no knock on Taleo — it was designed to track, not attract candidates. Taleo has dominated the ATS space with an estimated 5,000 clients at last count, and a $1.9 billion sale to Oracle.
If you are sticking with Taleo yet want your jobs to be more attractive on mobile, Ongig can take every job from your Taleo feed and turn it into an "interactive job ad" — just like the one Autodesk (pictured) used to upgrade its Taleo job ads.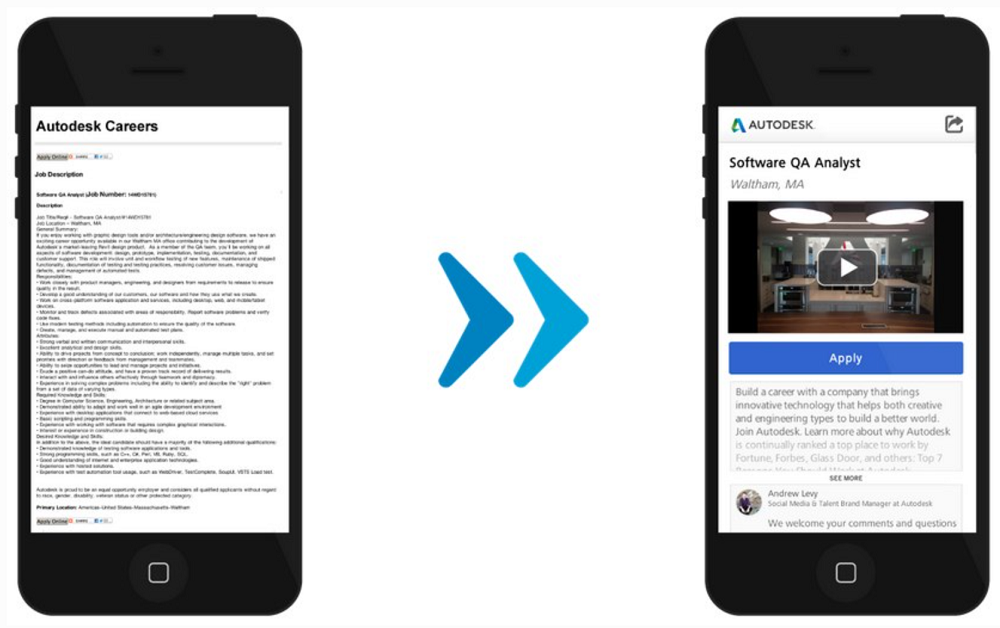 Check out last week's Entrepreneur Magazine's Attract More Talent With Video Job Ads to learn more about interactive job ads (Starbucks, Twitter, Pepsi and Yelp are mentioned as early adopters).
Ongig clients using Taleo (like Autodesk) add media and a commenting system to every Taleo job req. They also get the benefit of responsive design which means that every job is optimized based on what device your candidate is viewing them on.
The result?
You'll have the best-looking, and most effective, jobs in your space (see Video Job Ads Get 487% Pop Over Text Job Ads). You'll also see more social sharing of your jobs including by your own team (see The Best Network for Sharing Jobs for a good breakdown on data of social sharing of jobs).
And you still get the compliance wins that Taleo provides you!
Here are the main steps of Ongiggitizing your Taleo jobs:

1) Easily upload any corporate pictures and video you have to Ongig's exclusive Media Library
The Ongig platform can help you find and add the media to your Library whether it's on YouTube, Facebook, your Web site, Instagram or anywhere else. Finally, all your media in one place! (this media will later get added to your Taleo job reqs).

2) Tag your media based on how it's relevant to working at your company
We recommend you start your tags by location and department (fields in Taleo). For example, if you have 3 pictures of your London office, you can tag those "London". If you have a video related to what it's like to work on your Engineering or Sales teams, tag those "Engineering" or "Sales". If your CEO or CTO is in a killer video, you can tag those two for easy retrieval later.

3) Ongig Auto-tags your Taleo jobs with relevant media
Ongig will then add your media to your Taleo job feed based on the department and location fields from Taleo's job descriptions. Any time a new job comes into your Taleo system, you're going to see media auto-added to it. You can even set a default piece of media to every job ad (perhaps your latest excellent video).
To see how your Taleo jobs can look on mobile, just call us or click "Request Demo" on Ongig and we'll schedule an introductory call.
Here's to you using better tech to recruit better talent!