Job titles are an important part of the professional landscape. When searching for a new position, the job title is top of mind for potential candidates, and also what recruiters or hiring managers focus on when creating a job description. Job titles stand out, but should job titles be capitalized? It depends on how you plan to use them.
Are job titles capitalized?
Writing in a professional setting may call for capitalizing job titles. Depending on the type of communication piece you are writing, you will want to follow a style guide. Popular online grammar tool, Grammarly says:
"The capitalization rules for titles of books, movies, and other works vary a little between style guides."
The most popular style guides are:
AP — Associated Press
APA — American Psychological Association
The Chicago Manual of Style
MLA — Modern Language Association
The Oxford Guide to Style
Larger companies even have their own style guide to create a unified vision and brand. But across the board, the consensus for when to capitalize job titles is when the job title comes before a name or to remain professional when addressing a business colleague. According to Indeed,
"There are certain instances in which a job title should be capitalized. This can be on resumes, cover letters, emails or other professional documents."
Job titles appear in both written documents or digitally on places like a Linkedin profile or job posting. Here are some examples of when to capitalize job titles.
Do you capitalize job titles in a job description?
Yes (mostly). After perusing 50+ job titles and job descriptions, we found that job titles are always capitalized in these instances.
On career pages, you will see job title capitalization in job listings. Recruiters and hiring managers work hard on crafting job titles and job descriptions, the company logo along with the job title in capital letters makes the listing stand out on a job board.
All of these open positions were listed on Linkedin within the last 2 weeks. Note the capitalization of the titles.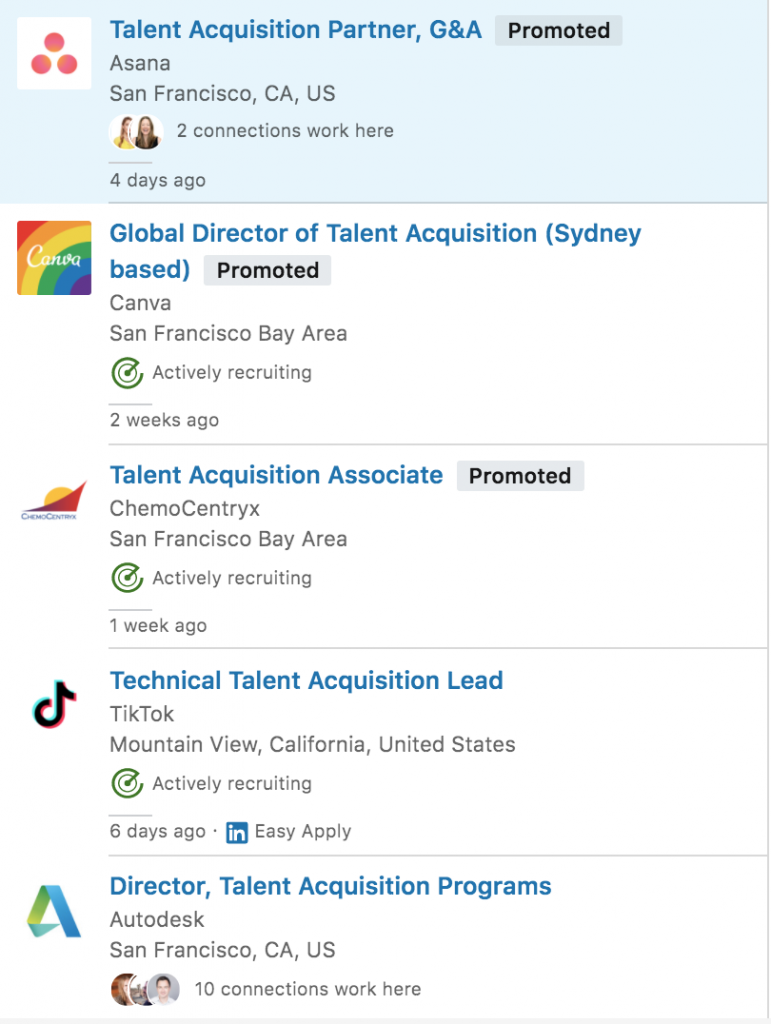 Capitalizing Job Titles in an Email Signature
Your email signature lets people know who you are and what your role is in an organization. When including your signature in an email, do job titles get capitalized?
The answer is yes. Here are a couple of examples:
Regards,

Sally Simpson, Director of Human Resources
and
Cheers,

CEO, Your Top Company

Donald Davids
Even if your job title is on the more creative side…your title is Collector of Business Cards (Business Development Rep), you still want to capitalize your job title when it is deemed appropriate. Check out 100+ Creative & Funny Job Titles [by Department & Position] for some interesting job title ideas.
Should Job Titles be Capitalized In a Cover Letter?
It is common practice to capitalize a job title when referring to a specific role in a cover letter. For example:
I am applying for the position of Brand Manager at…
or
I am writing this letter in reference to the Social Media Manager position at Company XYZ…
When to Capitalize Job Titles in a Resume
A resume is another instance of when to capitalize job titles. When building a resume or CV (Curriculum Vitae) you should use capital letters when listing past job titles as headers. This gives the reader's eye a break in between lines and highlights your past experience for hiring managers. When referring to a role in the body of your resume you should use lowercase letters. You will see both instances in the sample resume template from The Balance below: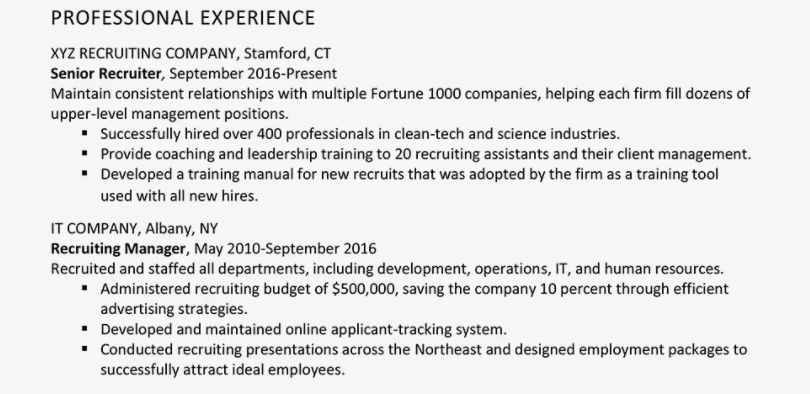 Do you capitalize job titles in a sentence?
Are job titles capitalized in sentences? Yes, but if you are referring to a profession versus a formal job title, use lowercase letters. Here is an example of when not to capitalize from wikiHow:
"Don't capitalize unofficial titles or common nouns. When the job title refers to a profession or class of jobs rather than to a specific or official title, do not put it in uppercase.

For instance, "Janice Buckley is a microbiologist," or "Here are some tips from painter John Green." In both cases, these job titles are being used to describe a profession rather than an official title, so they shouldn't be capitalized."
If you are not directly speaking about the job title, there is no need to use capital letters. The Fairygodboss's article on cleaning up your resume talks about when to capitalize job titles in a cover letter. She says,
"…if your cover letter doesn't explicitly state the role you're applying for (and it doesn't have to, that could be in the email subject line) and you just mention joining the team, you won't have to capitalize that (example: "I'm excited to discuss how I'd contribute to the sales team," not "I'm excited to discuss how I'd contribute to the Sales Team")."
What words don't you capitalize in a title?
Now that we've covered when to capitalize job titles, and when not to…here are some words you don't need to capitalize in job titles any time.
"of" — for example: VP of Marketing
"the" or "to" — e.g., Assistant to the President
"in" — for example: Director of Sales in Tech Markets
I recommend you make them lower-case to provide contrast to your more important words "Marketing," "President," "Sales."
Thank you, experts on Capitalizing Job Titles!
Why I wrote this?
My Ongig team and I share this research on job titles because it's related to our mission: to transform job descriptions. Check out Ongig.com to learn more.