What are the optimal Communications job titles?
I asked my team to help me analyze which Communications/Public Relations job titles work best. In this mini-report (the latest chapter in Ongig's Job Titles: The Definitive Guide, you'll find guidance on:
Communications Job Titles Hierarchy — The standard for Communications/PR department positions, including; Leaders, VPs, Directors, Managers, Individual Contributors and Entry Level Communication Jobs
The 20 Most Searched-For Communications Titles — A pie chart of the top 20 Communications/PR positions that candidates search for on Google.
Communications Job Titles and Descriptions — A list of the top 20 Communications/PR job titles and descriptions that employers request.
Communications Versus Public Relations Job Titles
We entitled this article "The Top 20 Communications Job Titles", but we could have easily called it "The Top 20 Public Relations Job Titles". Communications and PR are interwoven. Some argue that public relations deals only with the "public" (external) while "communications"is broader (both public and internally). That's certainly true.
Large enterprises might, for example, have both a "PR Director" (sometimes called an "External Communications Director) and an Internal Communications Director".
Some small to medium-sized businesses will use only PR (and not "Communications) in their job titles because the internal communications role is more easily done by the CEO and other leadership.
Titles for Communications professionals are especially tricky given that their positions may or may not be part of the Marketing team.
Although roles such as Public Relations Manager fall under Multimedia Job Titles, many other Multimedia roles do not fall within the scope of this chapter of the guide.
"Marketing" Versus "Communications" Job Titles
Many employers have Communications/PR combined with Marketing. We chose to separate Communications/PR titles from Marketing because many large public-facing companies have a C-Level job title for both departments (e.g. a Chief Communications Officer heading Communications/PR and a Chief Marketing Officer heading up Marketing.
Companies with both a Chief Communications Officer and a Chief Marketing Officer include:

Netflix
Univision
Dun and Bradstreet
If you'd like to see our analysis of Marketing titles, we did a similar analysis here: The Top 25 Marketing Job Titles [Ranked by Search Volume].
Communications/PR Job Titles Hierarchy
Here's a typical org chart for a Communications team. Below that are longer lists of examples of job titles for the 6 major levels of Communications positions: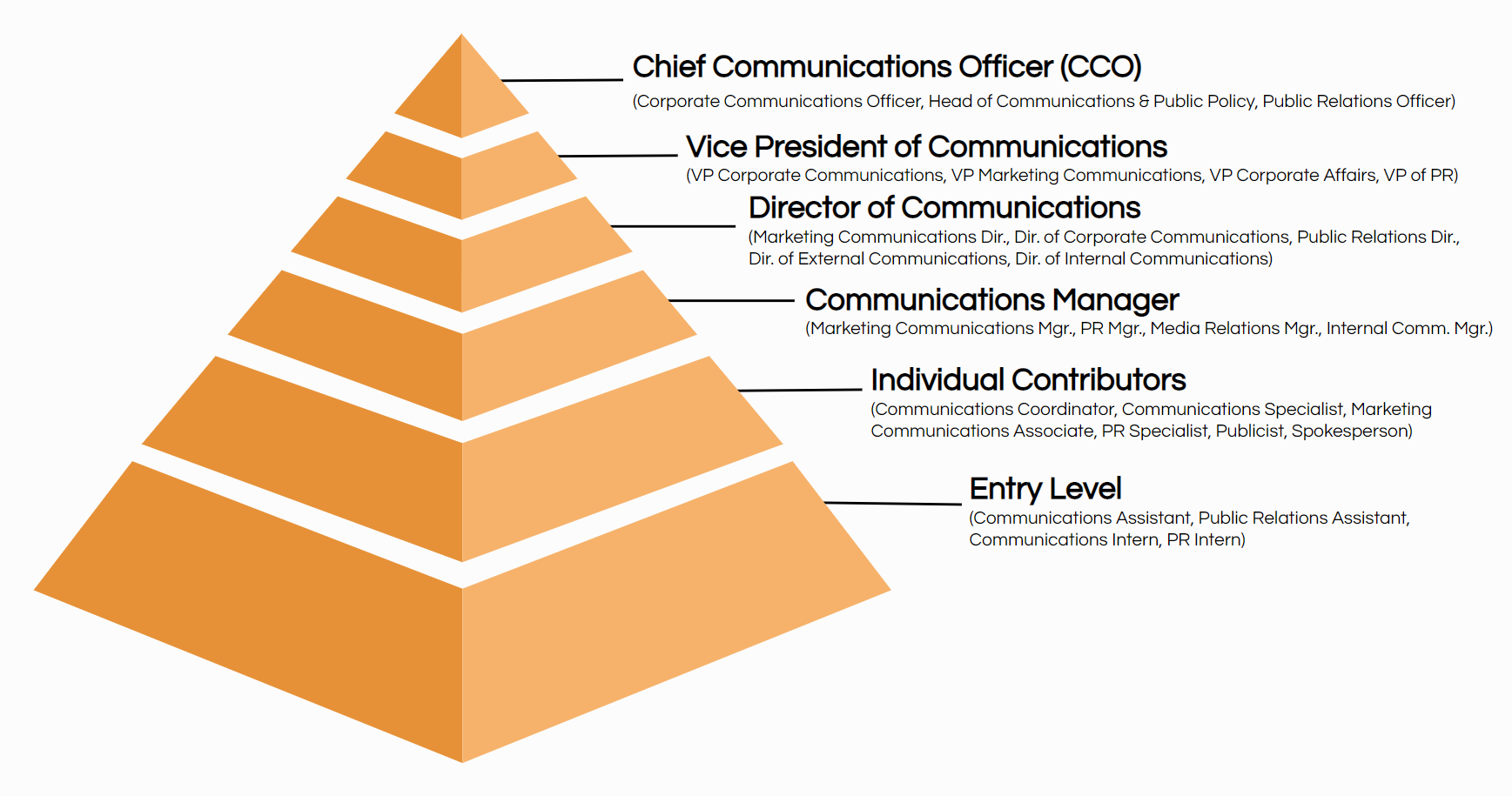 Job Titles for Communications Leaders
The head of Communications usually reports to the CEO except when Communications is part of marketing. At Intel, for example, Chief Communication Officer Claire Dixon reports to Chief Marketing Officer Michelle Johnston Holthaus (source: Intel Appoints Claire Dixon as Corporate Vice President and Chief Communications Officer)
Examples of the job titles for Communications leaders includes:
Chief Communications Officer (CCO)
Chief Communication Officer (CCO)
Public Relations Officer (PRO)
Corporate Communications Officer (CCO)
Head of Communications & Public Policy (E.g. Rachel Wetstone (now Chief Communications Officer for Netflix) held the position of Senior Vice President of Communications & Public Policy at Google and Uber before that.
Head of PR
Head of Public Affairs
Chief Experience Officer (Comerica's James H. Weber serves this position which runs Marketing and Communications)
Chief Public Relations Officer (CPRO)
VP of Communications Titles
Examples of Vice President level Communications titles include:
Vice President Communications
Vice President Corporate Communications
Vice President Marketing Communications
Vice President External Affairs
Vice President Corporate Affairs
Vice President of Public Relations
VP Media Relations
Director of Communications Titles
Here are some ideas to use for director-level Communications titles:
Director of Communications
Public Relations Director
Director of External Communications
Director of Internal Communications
Marketing Communications Director
Director of Corporate Communications
Director of Media Relations
Director of Public Affairs
Corporate Affairs Director
Director of External Affairs
Media Director
Managers of Communications Job Titles
Examples of manager-level Communications titles include:
Communications Manager
Marketing Communications Manager
PR Manager
Media Relations Manager
Public Affairs Manager
Online Communications Manager
PR & Events Manager
PR & Communications Manager
External Affairs Manager
Communication and Marketing Manager
Corporate Affairs Manager
Internal Communications Manager
PR and Events Manager
Manager of Public Relations
Technology Communications Manager
Individual Contributor Communications/PR Titles
Examples of individual contributor Communications titles include:
Communications Coordinator
Communications Specialist
Marketing Communications Associate
Corporate Communications Specialist
PR Specialist
Publicist
Public Relations Coordinator
Spokesperson
Marketing Communications Specialist
Public Affairs Specialist
Public Affairs Officer
Communications Officer
Public Information Officer
PR Account Coordinator
Public Information Specialist
Media Relations Coordinator
Entry-Level Communications Job Titles
Examples of entry-level Communications titles and entry level communications jobs include:
Communications Assistant
PR Assistant
Communications Intern
PR Intern
Public Relations Trainee
Public Information Assistant
Public Relations Administrative Assistant
Top 20 Communications/PR Job Titles (Candidates)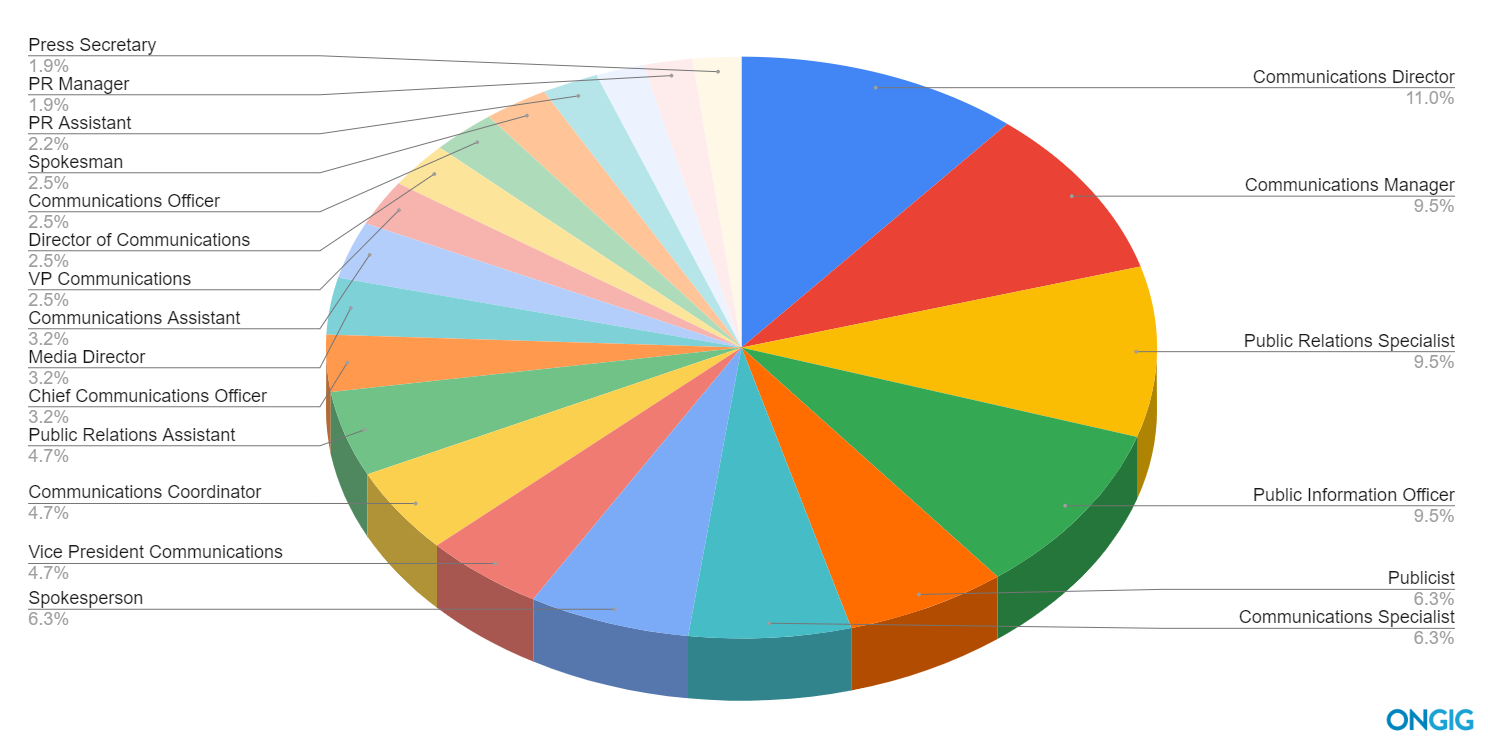 Top 12 PR Job Titles and Descriptions/Communications Jobs Descriptions
(Employers)
Below are the top 12 PR job titles that employers request job descriptions for on Google.
I've included a brief communication job description for each as well as the # of job title searches per month.
Communications Coordinator
A Communications Coordinator promotes an organization or a product. A Communications Coordinator writes press releases and coordinates with journalists for the posting of news stories. Other tasks of a Communications Coordinator include researching and writing reports or other informational pieces about an organization and distributing them accordingly.
# of job title searches per month: 400
Director of Communications
A Director of Communication oversees both internal and external communications for an organization. A Director of Communication creates internal print or digital pieces to promote communication inside the organization. A Director of Communications also assists in the development of marketing and communications plans and leads the development of external communication pieces that are shared with journalists or other external partners to promote the organization and its goals.
# of job title searches per month: 350; Communications Director: 300
Media Director
A Media Director leads the flow of communication between a company and the media. A Media Director builds key relationships with external partners and directs the implementation of strategic communications plans. A Media Director also:
Directs the monitoring of media coverage
Organizes press conferences
Serves as a company spokesperson
Manages crisis communications plans
# of job title searches per month: 250; Marketing Communications Director: 70
Public Relations Specialist
A Public Relations Specialist creates media releases and develops social media plans for an organization. A Public Relations Specialist is also responsible for creating and maintaining the public image of an organization. The daily tasks of a Public Relations Specialist include responding to media requests, helping clients effectively communicate with the public, draft speeches, arrange media interviews, and maintain a company's positive image and identity.
# of job title searches per month: 200; PR Specialist: 200; Public Relations Coordinator: 100
Publicist
A Publicist manages publicity for companies, public figures, celebrities, and films. A Publicist effectively communicates a brand's message to its target audience by doing the following tasks:
Writing press releases
Creating media kits
Creating social media content
Setting up publicity events
Tracking media coverage
# of job title searches per month: 200
Marketing Communications Manager
A Marketing Communications Manager, also known as a MarCom Manager, leads market research initiatives and develops pricing and budget strategies for an organization. A Marketing Communications Manager creates and implements plans to increase a company's market share. Other tasks of a Market Communications Manager include coordinating an organization's message to its partners and providing approval for marketing and communications collateral.
# of job title searches per month: 200
PR Manager
A PR Manager, commonly known as a Public Relations Manager, leads the public relations department or a PR firm. A PR manager coordinates the public relations team and oversees the planning of external communications pieces. A PR Manager is a liaison between the public relations team and the media or external marketing firms that promote a product or organization.
# of job title searches per month: 150
Public Relations Director
A Public Relations Director is responsible for leading and directing the creation of strategic public relations initiatives for a client or organization. A Public Relations Director oversees the coordination of interviews with media and may also serve as a lead spokesperson. Another responsibility of a Public Relations Director is to manage team members tasked with creating press releases, media kits, and talking points for speeches.
# of job title searches per month: 150; Director of Public Relations: 80
Communications Officer
A Communications Officer, common in government organizations, is responsible for event planning, media relations, and public affairs issues for organizations. A Communications Officer also creates and distributes internal communications for an organization. A Communications Officer tracks the effectiveness of communication and makes recommendations for improvement for senior management.
# of job title searches per month: 150; Public Information Officer: 150
Communications Specialist
A Communications Specialist supports the public relations department within and organization and is responsible for writing both internal and external communications. A Communications Specialist writes newsletters, responds to media requests, and writes press releases under the direction of a PR leader. A Communications Specialist may also be tasked with scheduling and coordinating press-related events.
# of job title searches per month: 100; Marketing Communications Specialist: 100
Chief Communications Officer
A Chief Communications Officer, or a COO, is responsible for leading the communications or public relations department for an organization. A Chief Communications Officer works with senior management to develop and implement communications strategies and goals. A Chief Communications Officer acts as a spokesperson for an organization by responding to media requests and making public appearances to speak about the mission of their organization.
# of job title searches per month: 80
Public Affairs Specialist
A Public Affairs Specialist serves as an advisor to senior management for communications-related information. A Public Affairs Specialist is tasked with communicating an organization's identity and goals in a positive light in the media. A Public Affairs specialist often works with a public relations team to manage the development and distribution of external communication pieces to the media, potential partners, or government agencies.
# of job title searches per month: 80
Thank you, Experts on PR Titles!
In addition to the sources cited above, special thanks to these experts on PR titles:
Why I wrote this?
My Ongig team and I share this research on Communications job titles to help you optimize your own titles. This supports our mission to transform job descriptions. Check out Ongig.com to learn more.