Brands big (and small) are adding "coronavirus vaccine required" language to their job postings. A new analysis by Indeed Hiring Labs shows "job postings per million that require vaccinations" are up 90% in August compared to July.
McDonald's lists their vaccine requirements in 2 places (at the top of the requirements section and at the end of their JDs). Here's an example of :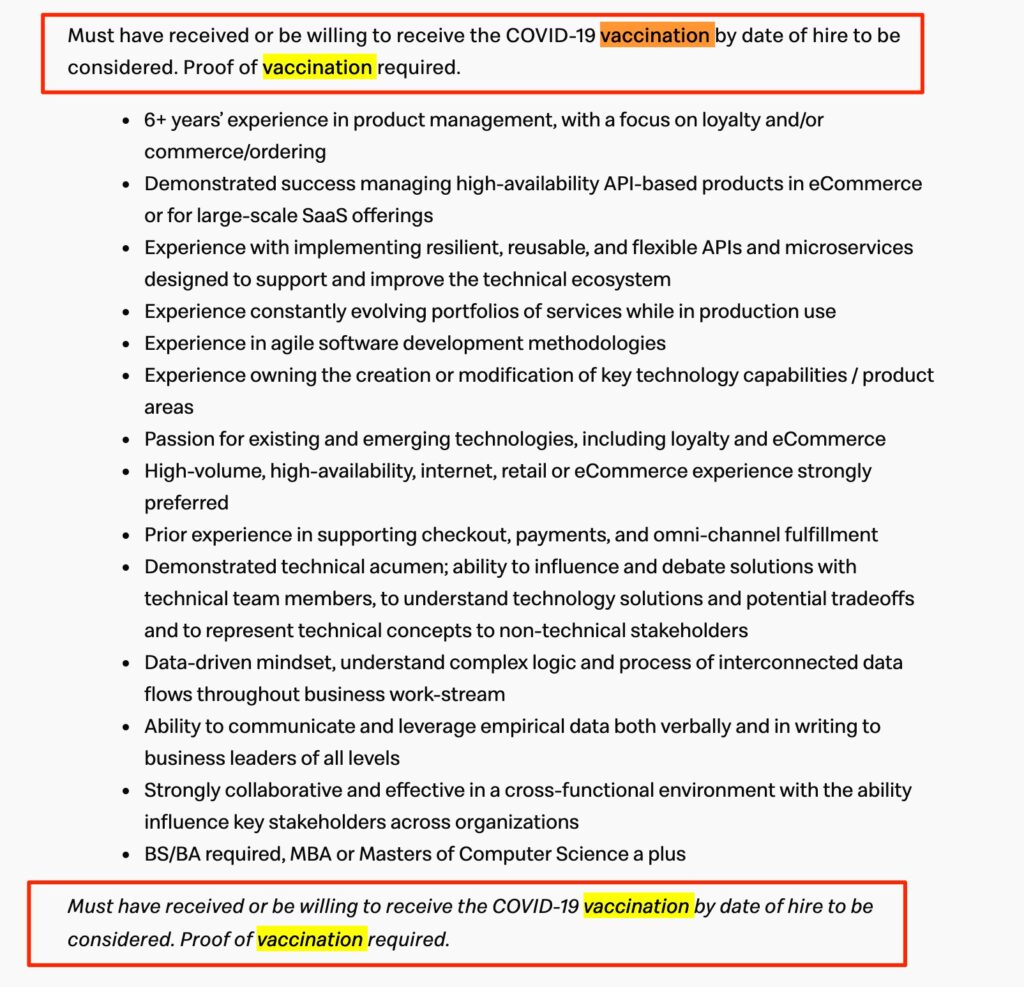 15 companies "requiring" new hires to be vaccinated
Here are 15 other examples of language for jobs that require vaccinations I found on Indeed. Some are COVID-specific, others have vaguer vaccination language. These might be helpful if you need to create your own "vaccine requirements".
Mandatory COVID-19 and flu shot vaccine required to be considered for employment — Aramark
Proof of COVID-19 Vaccine (required) — Proctor & Gamble
Where permitted by applicable law, must have received or be willing to receive the COVID-19 vaccine by date of hire to be considered for U.S.-based job, if not currently employed by Delta Air Lines, Inc. — Delta Air Lines
Successful applicants for this position must be fully vaccinated against COVID-19 as a condition of employment. — Tyson Foods
At Molson Coors, the health and safety of our people is our number one priority. That's why all offers of employment in the U.S. where legally permitted are contingent on the candidate showing proof of being fully vaccinated against Covid 19 (currently one dose of the Johnson & Johnson vaccine or two doses of the Pfizer or Moderna vaccine) to pass the pre-employment requirements. Individuals with medical issues or religious beliefs or practices that prevent them from getting the vaccine may request an exemption from the vaccine requirement. — Molson Coors Beverage Company
COVID-19 considerations: Vaccine Required for All New Hires — Better Homes and Gardens Real Estate Metro Brokers
Harvard will require COVID vaccination for all Harvard community members who will have any on-campus presence. Individuals may claim exemption from the vaccine requirement for medical or religious reasons. — Harvard Business School
All full-time and part-employees of the Utah Jazz are required to be fully vaccinated by October 8, 2021 (fully vaccinated is defined as two weeks since your final dose). Mandatory vaccinations support our commitment to making our workplace and public facilities as safe and welcoming as possible. — Utah Jazz
Must be vaccinated and must have vaccine card on you at all times — Vegetable and Butcher
Must have Covid Vaccine — NHT Global
Individuals hired for KNA positions that require in-person travel and/or interactions must be fully vaccinated against COVID-19 unless otherwise prohibited by law. KNA complies with federal, state, and local laws with regard to accommodations related to this policy. — Kaplan
Requires COVID19 vaccination (or valid waiver) upon hire. — Caracole Inc.
Following extensive monitoring, research, consideration of business implications and advice from internal and external experts, Gilead has made the decision to require all U.S. employees and contractors to receive the COVID-19 vaccines as a condition of employment. "Full vaccination" is defined as two weeks after both doses of a two-dose vaccine or two weeks since a single-dose vaccine has been administered. Anyone unable to be vaccinated, either because of a sincerely held religious belief or a medical condition or disability that prevents them from being vaccinated, can request a reasonable accommodation. — Gilead Sciences
Note: Some of the examples above include legal information about opting out of vaccine requirements. Be sure to check the regulations in your state before adding the "coronavirus vaccine required" language to be safe!
Will vaccine bonuses be the new trend?
During my search for vaccine requirements in JDs, I found companies like Amazon are also listing vaccine bonuses or incentives in their job ads. Amazon is offering a sign-on bonus AND a $100 bonus for new hires showing proof of vaccination on their 1st day: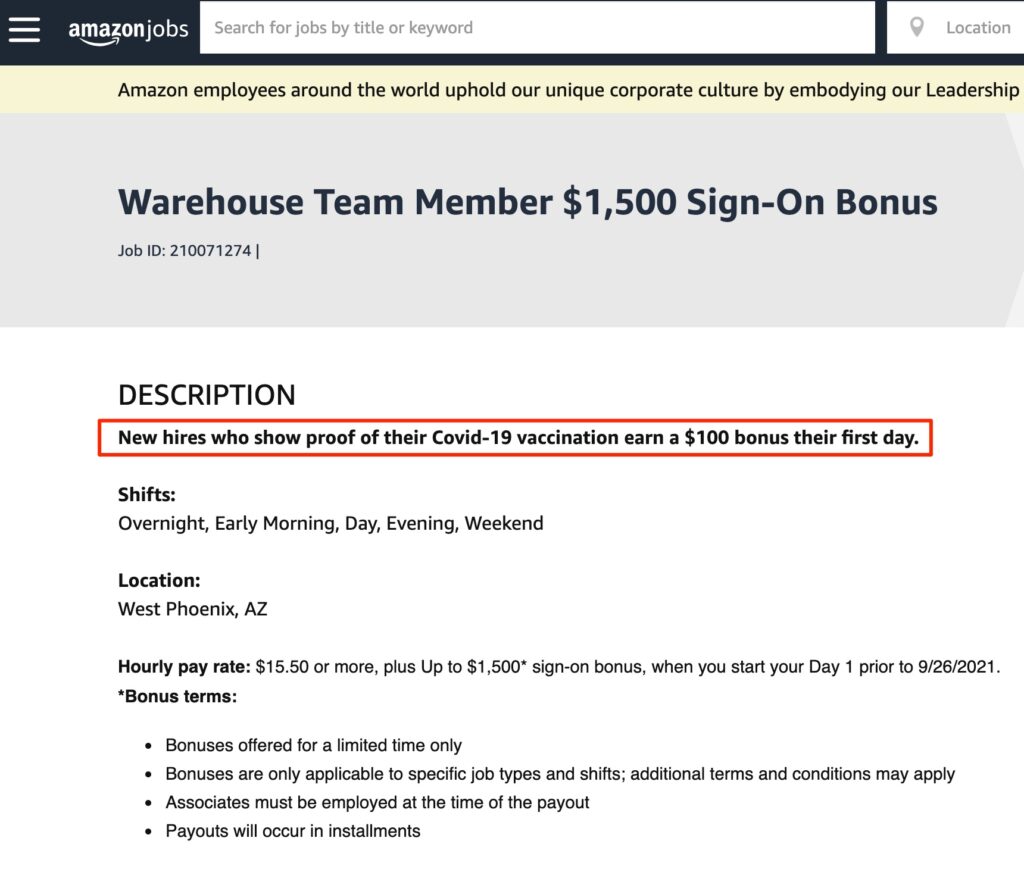 Here are 5 other examples of companies offering cash or perks for getting the COVID-19 vaccine:
$25 Covid-19 Vaccination Bonus — YMCA
Sign on Bonus and Vaccine Bonus offered through September 30, 2021 — BAART Programs
$300 Covid Vaccine bonus — Aurora Housing Authority
$500 Signing Bonus + 100 COVID vaccination bonus — United Distributors
Cornerstones has a comprehensive policy to protect the health and safety of its employees, program participants and visitors, and follows the guidelines of the US CDC regarding masks, screening and vaccine incentives. — Cornerstones
Why I Wrote This?
Ongig's mission supports creating the best job descriptions in the world. So we are always on the lookout for new JD trends. We can also scan your job postings for bias & more. Just click the demo request button to learn about Text Analyzer!
Shout-Outs: