We have become all too familiar with phrases like "Social Distancing", "Pandemic Policies", "the New Normal", and "COVID-19 Safety Guidelines" since the pandemic starting sweeping the world in early March.
Now, COVID-19 has pushed many companies to implement "COVID Considerations" into their hiring process. Below are 18 companies that now include COVID-related considerations" within their job ads. These considerations speak to:
The Interview Process
Work from Home Guidelines
Travel Restrictions
Technology Requirements
Training New Hires
Here is a list of companies who include COVID Considerations in current job openings:
General Health & Safety Statement (Cargill)
Cargill values health & safety as a whole:
COVID-19 Considerations: As the COVID-19 pandemic continues to impact the world, it is our responsibility to help keep our employees, customers, partners, communities and the world healthy and safe. To preserve our ability to nourish the world in a safe and responsible way.
"How We Protect Employees" + Emergency Sick Leave (Imperfect Foods)
Imperfect Foods (I'm a customer!) has an entire section of their job postings explaining how they protect employees from COVID. Notice they also have an Emergency Sick Leave policy for staff that has a confirmed case of COVID:
How we are protecting employees from COVID-19

At Imperfect Foods, employee health and safety is our top priority. We have implemented processes and precautions to prevent the spread of COVID-19 in our facilities. We provide gloves, masks, and hand sanitizer to all essential employees who must report to work. Before entering our warehouse, employees have their temperatures checked. In addition, we take great care to ensure frequently touched surfaces are sanitized throughout the day and all warehouses are fully sanitized weekly.

We have also implemented an Emergency Sick Leave policy providing full-time and part-time employees 2 additional weeks of paid time off and up to 26 weeks paid leave if they have a confirmed case of COVID-19.
Non-Essential Travel Restrictions (Deloitte)
Deloitte positions require travel, but only when it is safe to do so:
Travel up to 80% is required for this role (while 80% travel is required for this role, due to COVID 19, non-essential travel has been suspended until further notice)
Ability to travel up to 20% (while 20% travel is required for this role, due to COVID 19, non-essential travel has been suspended until further notice)
We're Following the Law (Axis Construction)
Axis Construction is sticking to laws and regulations related to COVID-19:
COVID-19 considerations:
We are adhering to CDC, State and local orders with regard to COVID-19. In the office we have a flexible schedule and offer remote work.
Remote to On-Site Transition (Condé Nast)
Condé Nast will transition from remote to onsite:
During the current period of Covid related lockdown, this will start as a remote position, but transition to onsite in New York City when the office reopens.
Front Line from Home During COVID-19 (AT&T)
AT&T offers front line workers the option to work from home, temporarily:
Take the lead at the front line of our company from the comfort of your home (during COVID-19) or with our team in the Tulsa, OK Call Center.
This position has been designated as an optional Work from Home opportunity on a temporary basis due to COVID-19 and will transition back to the AT&T Call Center located at 2029 S. Sheridan Rd. in Tulsa, OK. Applicants must be willing and able to be physically based in the call center.
Closely Monitoring the Evolving Situation (Facebook)
Facebook has created a flexible interviewing process:
COVID-19 update: Protecting the health and safety of our communities — including our teams and of those considering a career at Facebook — is our highest priority. We continue to closely monitor the evolving situation and we appreciate your understanding and flexibility with any related changes to our interviewing process.
Remote Working due to COVID-19 (Apple)
Apple simply says employees:
May need ability to work remotely due to COVID-19.
Implementing Processes Promoting Safety & Other Requirments (Amazon)
Amazon has implemented new processes for training, requires work from home technology specifications, and is monitoring travel restrictions:
Amazon is closely following the 2019 Novel Coronavirus Disease (COVID-19), and implementing processes that promote the safety of our employees, candidates, customers, and communities.
Some occasional domestic/international travel will be involved (when safe to do so per COVID-19 safety guidelines)
Internet speeds of at least 10Mbps download and 3Mb upload (org will be WFH during COVID-19 protocol)
Travel up to 50% (Post COVID-19 restrictions)
Training classes will be offered online during COVID-19 social distancing measures and will be offered in-person in the future, both in small and large class sizes.
About Us Statement Includes "Remote Work" Statement (Poll Everywhere)
Poll Anywhere takes a stance on their hybrid-remote work model:
Our company has seamlessly transitioned to working fully remote due to our hybrid-remote model (approximately one third of our team was fully remote before COVID19).
Training and Working from Home during COVD-19 (Citigroup)
CITI allows for at-home training and work during the pandemic:
The health and safety of our colleagues and their families, as well as our clients, potential candidates, and the communities we serve, are of the utmost importance. Due to the COVID-19 situation, this role will temporarily be performed remotely. The successful candidate will train and work from home until such time as it is determined that role will move back into the Florence worksite full-time.
Travel Restrictions (Google Taiwan)
At Google, visa and travel restrictions set the stage for hiring in Taiwan:
Due to the current health crisis related to COVID-19 and the escalating visa/travel restrictions in place, we're currently unable to extend offers to anyone who cannot work from Taiwan due to lockdown visa/travel restrictions, or other restrictive measures until further notice. Consequently, we will be prioritizing candidates who can start in this location by set date as expected. We're keeping the situation under review and would adjust our position should the restrictive measures be removed later on.
Virtual Interviews (Sargent & Lundy)
Sargent & Lundy makes it clear that all interviews will be done remotely:
Our commitment to hiring the best talent in the industry and helping them thrive professionally is stronger than ever. Because the health of our employees and candidates is a top priority, we will be conducting our hiring process virtually and conducting interviews via phone or video until further notice. We will provide candidates selected for interviews with all the required instructions. Thank you for your interest in Sargent & Lundy.
Health & Safety Statement (DelCor)
DelCor has a sweeping sentence smack in the middle of their job postings stating:
The health and safety of our employees and clients is a top priority for DelCor. Due to the circumstances surrounding COVID-19, this hire will start off working remotely and will only visit client sites upon request. All interviews will also be conducted remotely for the time being.
COVID Training (RDH (Dental Business))
RDH (a dental business) emphasizes that they have a COVID training program:
COVID-19 considerations:
We have a written training program with well established protocols that the entire team helps with. We have a dedicated person to breakdown and disinfect the hygiene rooms plus we rotate rooms so it stays vacant for an hour between patients. There's more!
Blanket Statement (Vital Energy)
Vital Energy uses this simple, plain english statement that they care:
COVID-19 considerations:
We are doing everything we can to keep our team and customers safe. This means individual offices or widely spaced work stations; regular cleaning, masks and hand sanitizer, and work from home options, when possible.
Retail: "Must Wear Face Masks" (Starbucks)
Starbucks wrote this in their "COVID-19 Considerations" section for Barista jobs:
COVID-19 considerations:
Covid considerations: face mask must be worn while working.
Mentioning that Staff is Choosing to Work in Office (Salnick & Fuchs)
Salnick & Fuchs (law firm) makes this unusual statement that their staff all opted to work in the office:
COVID-19 considerations:
We follow all rules and are sensitive to all COVID considerations. Because of the nature of our business we have remained open the entire time. We had a few days where the staff was given the option to work remotely but everyone preferred the office.
COVID Response Career Pages Too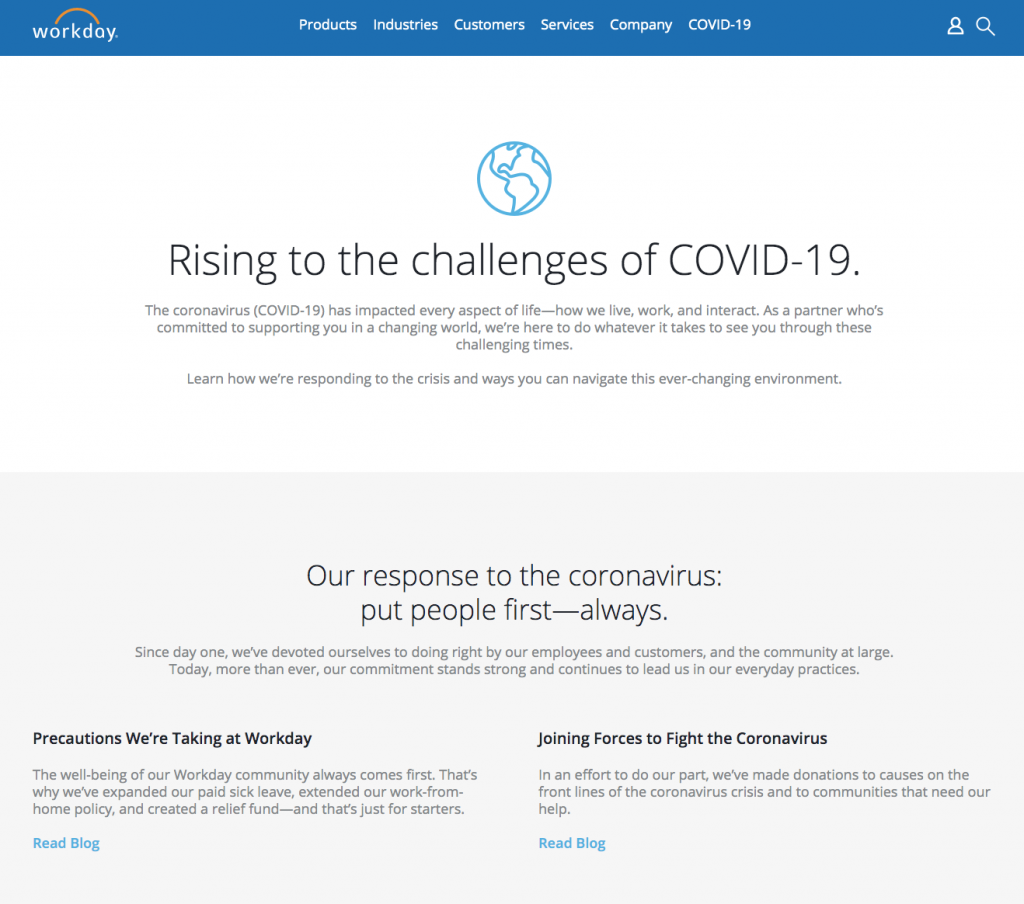 Along with COVID Considerations being included in job ads, companies like Workday, Salesforce, HPE, Disney, and Zoom have created COVID-19 response pages that guide candidates, employees, partners, and clients through navigating the new normal as it relates to their business. These pages provide more information on:
Workplace precautions
Donations to communities in need
Remote workforce management
HR & policy changes
So as we continue to navigate the uncertainty of the effects of COVID-19 on the employment landscape, it is good to know business leaders and hiring managers are taking note of the changes that must be made to create a safe and flexible environment for all.
Why I wrote this
This supports our mission to transform job descriptions. Job ads are key to influencing candidates and convincing them to apply. Check out Ongig.com to learn more.