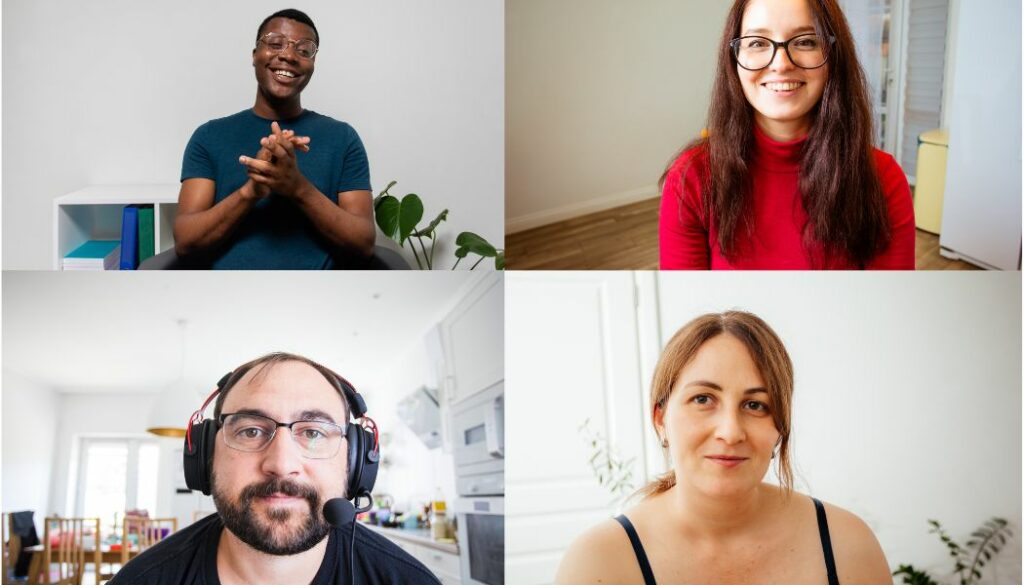 With the ongoing shift towards remote work, many companies are finding it challenging to maintain a sense of team unity and foster strong relationships with their remote employees. A study published by Harvard Business Review shows that remote employees tend to quit at higher rates than their office-based peers.
Fortunately, virtual team-building activities are a great solution to this problem by offering fun and engaging opportunities for remote workers to collaborate and connect.
This post explores 8 of the best virtual team-building activities for remote workers, with tips on how to run them successfully. These activities will bring your team closer together and boost morale — even your most zoom-shy workers!
4 Benefits of Virtual Team-Building Activities for Remote Workers
If you have remote workers, it is more important than ever to invest in team building, even when it's online. Here are some of the benefits:
Improved communication and collaboration – Remote workers may find it difficult to know who to contact with various questions and where to go for help. Virtual team-building activities allow for improved communication and make it easier for remote employees to reach out for help when they need it. It also helps remote workers understand each other's communication styles, strengths, and weaknesses.
Increased morale and motivation – Team building activities can be fun! When remote workers are brought together, even in an online environment, it improves morale and motivation. Your remote workers will feel like they are part of a team, and this will reduce feelings of isolation.
Enhanced problem-solving skills – Many of the activities we'll be describing below require creative thinking and problem-solving skills. They will challenge your workers to think and keep an open mind while working towards a common goal.
Promotes work-life balance – Virtual team building activities provide remote workers with a break from the daily grind, which can help to reduce stress and promote a better work-life balance.
8 Virtual Team-Building Activities
Now let's dive into the activities:
Virtual Game Night
Virtual game nights are a great way for your remote workers to get to know each other. Games provide structure and eliminate the need for awkward small talk. They are a great, low-key way for team members to get to know each other in a relaxed setting.
If you are planning a virtual game night, consider multiplayer games where all players are working towards a common goal. These types of games are very popular and can improve communication and build trust.
Some examples of these are virtual escape rooms and virtual board games like Pandemic, Jaws, and Unfathomable. In these games, all players are on the same team and everybody wins or loses together. This means that nobody is singled out as a winner or a loser, which might cause some anxiety in a (virtual) workplace setting.
When planning a virtual game night, make sure that the games are inclusive and accessible to all team members, regardless of their skill level or interest. You'll also want to make sure that no additional software or setup is required, which could cause technical issues and ruin the fun.
Virtual Lunch and Learn
A virtual lunch and learn is where teammates are brought together online to learn a new skill or subject while enjoying lunch. In a traditional office, training sessions and meetings are often held over the lunch hour. This is the same concept but in a remote environment. They are a great way to educate and engage remote workers while also promoting team building.
You could host a guest speaker session where you invite an expert from your industry to speak on a relevant topic. During the session, encourage questions and discussion from remote workers to increase interaction.
Another great option is to offer lunch and learn sessions that focus on professional development or skills training. These can be hosted by someone from within your organization, or you can feature a specific team member. Let's say you have a remote sales team – you can have your top sales performer speak about their approach and what is working for them, then allow time for Q&A. Teammates love to learn from each other!
Virtual Coffee Breaks
Virtual coffee breaks are a simple and effective way to foster team building among remote workers. They can be run via video conference, instant messaging platforms, or social media. They help remote workers build relationships, promote informal communication, and improve team morale.
A coffee chat session is a very informal session with no specific agenda, where team members can simply get to know one another. You can also play "coffee roulette," where you use a random generator to mix and match team members or even include different departments and have scheduled 1:1 coffee breaks.
You could have coffee break trivia using a tool like Kahoot or Quizlet to create quizzes on fun topics like pop culture, history, or science. This can be a fun way for workers to bond over shared interests and engage in a little friendly competition!
Virtual Book Club
Virtual book clubs are another great way to foster team building among remote workers. Just like in-person book clubs, a book would be selected and a date set to meet and discuss. Many corporate book clubs feature texts related to professional development – for example, a book about improving sales skills or by a marketing expert. However, they don't need to be. The book can be about anything! Just make sure that it's inclusive to all members of your organization and does not feature inappropriate content.
A best practice may be to offer several book clubs featuring different genres of texts, so remote workers can pick the one that best suits their interests.
Virtual Mentoring
Virtual mentoring sessions are a great way for remote workers to learn from eachother. You could have online mentoring sessions to discuss job descriptions for example. Ongig's job description software helps you to remove bias from your job postings and attract more qualified applicants. It looks at exclusionary words that may cause unintended gender bias, as well as exclude certain races/ethnicities from applying.
If you have job openings at your company, Ongig could be a great tool to include during a virtual mentoring session. It may reveal biases that you were completely unaware of in your job postings – including those written by ChatGPT.
You could also look at resume examples during a mentoring session and discuss how to improve your resume in preparation for a job promotion or interview.
Virtual Office Olympics
You may remember the "Dunder Mifflin Olympiad" in the 2nd season of "The Office", where Jim and Pam created an office Olympics that included metals made out of yogurt lids. Since then, the idea of office Olympics has gained steam in traditional office settings. Remote workers need not be excluded – you can have a virtual office Olympics!
Events can include typing races using typingtest.com, name the song, scavenger hunts, or Slack games. Prizes can be awarded to the winning teams, including gift cards or company swag.
Virtual Team Challenges
Virtual team challenges can be a really fun way to engage a remote team and build trust and communication skills. Examples include virtual escape rooms, virtual charades or Pictionary, or even group fitness challenges.
There are a number of apps and websites offering group fitness challenges. You could have workout challenges where your team is working towards a certain number of cumulative workouts, or even take a virtual yoga class together. For this type of event, make cameras optional, as some workers may be uncomfortable participating with their cameras on.
Virtual Charity Events
Virtual charity events are a great way to build team morale while giving back to the community.
Virtual charity auctions are online auctions where participants can bid on items and services donated by businesses and individuals. These items can be anything from art, travel packages, luxury items, or classes. The proceeds from the auction go to a charitable cause.
Virtual charity concerts are another really fun option that can include all of your remote workers. These are online music events where musicians perform for a virtual audience. They can be free or ticketed, with proceeds going to your charity of choice.
It may seem like galas need to be done in person, but it's actually possible to have a virtual gala! These events can include live auctions, musical performances, and speeches from charitable organizations.
Tips for Successful Virtual Team-Building
When planning your virtual team-building event, make sure to consider team members' time zones and availability. Make sure your event is not planned too early or too late for a certain time zone, and keep in mind that it can be difficult to get team members to attend events after work hours.
Give clear instructions about any software that may be needed. For example, if you are doing a virtual escape room and it requires a specific plug-in, communicate that ahead of time so that you don't run into any technical glitches.
Discuss your expectations around participation, and encourage participation from all team members. You are doing this to build camaraderie, after all!
After the event, make sure to follow up and request feedback. You can use a tool like SurveyMonkey to get anonymous feedback. Use this information as you start planning your next virtual event!
With the shift towards more remote work over the past few years, it is more important than ever to invest in virtual team-building activities. Virtual team-building activities can allow for improved communication, increased morale, greater problem-solving skills, and higher employee retention.
If you are not doing virtual team-building activities yet, it is not too late to start! We encourage you to try some of the ideas in this article. Don't forget to request feedback so you can fine-tune these activities over time!
WHY I WROTE THIS:
At Ongig, we aim to simplify the process of editing job descriptions. Our software is designed to assist you and your team in crafting inclusive and effective JDs to attract all types of employees (including remote). To discover more, please don't hesitate to request a demo.