Hiring and recruitment are necessary for keeping a company going. It's inevitable to introduce new faces to your organization down the road as teams mature and pass on the baton. But here's the rub – modern companies face high turnover rates and poor employee retention. People leave their companies at a staggering rate before the handovers are in order.
That's because hiring and recruiting the right people for specific roles can prove highly challenging, especially with a workforce. What's more, talent acquisition has become increasingly tricky as candidates gain wider access to workforce data and resources.
Quantifying the blood, sweat, and tears for any role within a company has become super easy. For example, hopeful candidates can simply visit Glassdoors or any popular social hangout (e.g., LinkedIn) to get a good idea about an entry-level software designer's latest industry salary rate.
As it plays out, concealing significant information during the hiring process has become a bold and ill-advised move. But employment mistakes go beyond that. We've highlighted some of the common missteps in the recruitment and hiring scene to help you hire the right fit with greater success.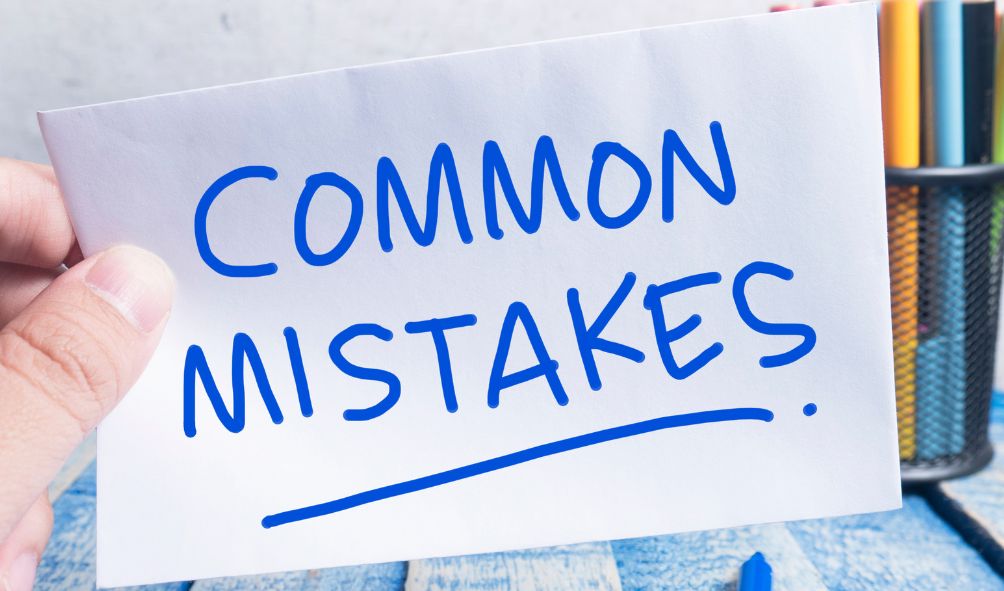 1. Talking Rather Than Listening During The Interview
The interview is an opportunity to see if your candidate is truly a match for the job. It's when you can discover more about a prospect's personality, skills, and experience through active listening.
Open-ended interview questions gather much-needed insight to decide if someone complements your workplace culture. Unfortunately, recruiters and HR managers may spend more time discussing their company values and expectations than listening during the interview.
A one-sided interaction results in a wasted opportunity to hone in on a candidate's suitability for the job by exploring beyond their academic qualifications and employment history.
You can improve your active listening during interviews by:
Making eye contact and genuinely paying attention to the key points covered by the interviewee.
Avoiding unnecessary interruptions and letting prospects complete what they have to say.
Summarizing the key points at the end of the interview to ensure accuracy.
2. Relying On The Main Interview
When it comes to interviews, employers often sieve through hundreds if not thousands of applications before settling for a hire."The process is time-consuming and isn't cost-effective for the organization, especially for junior role vacancies.
Mass interviews can help determine the right fit. However, the logistics and scheduling involved are tedious and costly, and you might lose valuable talent in a drawn-out process. That's where a preliminary remote interview can come in handy.
Short phone calls or Zoom interviews allow hiring managers to ask strategic questions to clarify the vague parts of a job application. These remote interactions should be quicker than full-fledged interviews and help improve your assessments before advancing the candidate along the hiring funnel.
Some essential questions to consider for a preliminary remote interview include:
Requesting specific details about a listed soft skill, such as communication and teamwork.
Checking if a hire is actively engaged in their job search across multiple companies.
Asking candidates about their understanding of your company culture and how they plan to collaborate with the rest of the team.
The initial remote interview also gives job prospects a sense that you're interested in following up on their application so they may hold out on other job offers to give your company extra time in finalizing a decision.
3. Overlooking References
Professional references and testimonials paint a clearer picture of a candidate's overall efficiency and reliability. That's because some prospects may lack the skills to present themselves effectively. A candidate who doesn't ace a first-round interview might offer winning experience in handling complex projects.
Also, trustable references help you verify a candidate's CV information. A study from ResumeLabs revealed that 36% of applicants openly admit to lying on their resumes. To make matters worse, 56% would stretch the truth to seem more qualified for a role.
External references from sources like certified employers and former co-workers provide the missing pieces for a comprehensive and accurate assessment of your candidate's work ethic and capabilities.
4. Rushing Through Recruitment
At times, employers may quickly hire from the first pool of candidates that respond to a JD, especially for high-volume jobs. Such scenarios commonly occur for urgent vacancies where employers desperately need all the help they can get within a short time frame.
Yet, this is a mistake that your hiring team should avoid as much as possible. Ineffective hires lead to disengagement and high turnover alongside excess re-hiring expenses (these include pricey advertisements, HR scheduling, and productivity gaps during the hiring process). Gallup reported that 74% of disengaged employees actively seek a new job.
A high turnover ultimately harms your company's reputation and compromises future hiring campaigns.
Instead, your company should conduct thorough skills and personality profile assessments for each hired role. Check that a candidate has a healthy combination of the right attitude and abilities to perform in a given role for the long term before inviting them on board.
5. Overloading Job Requirements
Some employers may become overly ambitious to ensure that a hire fits their role perfectly. For example, they might call out for a candidate with ten skills when the hire only needs five of those skills to perform their duties and responsibilities well. Overstacking hiring criteria could turn away highly qualified individuals who might feel incompetent for the job.
As such, you should carefully evaluate a role's specific tasks and responsibilities and shortlist the critical skills and experiences needed to achieve those duties. Alternatively, you could hire a candidate with basic skills and offer on-the-job training and upskilling opportunities as part of a career progression package.
6. Muddling Up The JD
The JD is a vital component in your company's hiring and recruitment. A concise and accurate JD helps you secure the most suitable candidates from all backgrounds for building an inclusive workplace. For that, you'll need to eliminate all inherent biases and exclusionary terms from your JD. Common JD dealbreakers include biases against nationality, ableism, gender, race, age, and religion.
Workforce research shows that candidates have varying priorities in their job expectations depending on their demographic. For example, women of color favor flexible work opportunities, financial benefits, and PTO policies. Consider including certain incentives and terms if you plan to attract candidates from specific groups.
7. Underutilizing Technology
Alas, manually vetting each JD via antiquated tools like MS Word or Excel is a frustrating and often error-prone endeavor.
You might miss out on offensive or inefficient wording in your revisions, limiting your JD's impact. These could trigger negative feedback and reviews from applicants (and words travel far and wide in the digital world) that discredit your company. 55% of job seekers avoid applying for a job if they've heard a negative review about the company.
The good news is that advanced digital technology offers simplified methods of tying up the loose ends in your recruitment processes (e.g., JD optimization). These days, HR managers with non-existent coding knowledge can confidently boost their talent acquisition efforts by leveraging powerful and user-friendly tools.
Posting On Social Media
Relying on conventional hiring channels like your company website or classified ads loses out on candidates who carry their job searches elsewhere.
Research shows that 79% of job seekers turn to social media platforms for their searches. Uploading your JDs on popular social sources like LinkedIn and Facebook Groups can help broaden your search for the right candidate. Consider adding live video streams that give prospects a behind-the-scenes glimpse of your company culture before the first engagement.
Fine-Tuning JDs With Ongig
Ongig is a JD solution that helps your company increase the number of quality candidates in your hiring and recruitment campaigns. The platform applies expertly researched (and continuously improved) algorithms that analyze your JDs, detect the slightest hints of biases, and propose friendlier, inclusive replacements.
You'll have access to a real-time score of your JD structure, including breakdowns of male and female-coded words that affect your cost per application. The Ongig solution empowers your team with persuasive write-ups for grabbing the attention of top-tier talent (by polishing descriptions according to what they're seeking in a job!).
Ongig also supports your hiring campaigns with automated JD management through flawless formatting, checking against the latest hiring, legal, and DEI practices. That way, you can scale and re-work your JDs as needed without trudging through the technical stuff.
Why I Wrote This:
Ongig is dedicated to eliminating boring and biased JDs forever through inclusive hiring. We believe that our revolutionary Text Analyzer software has features to empower companies to find the most talented hires without unconscious bias. Request a demo to learn more.
Shout-Outs: