The BIPOC acronym has exploded in social media and in news stories.  But, what does BIPOC mean? And why is it one of the hottest (and controversial) words in diversity?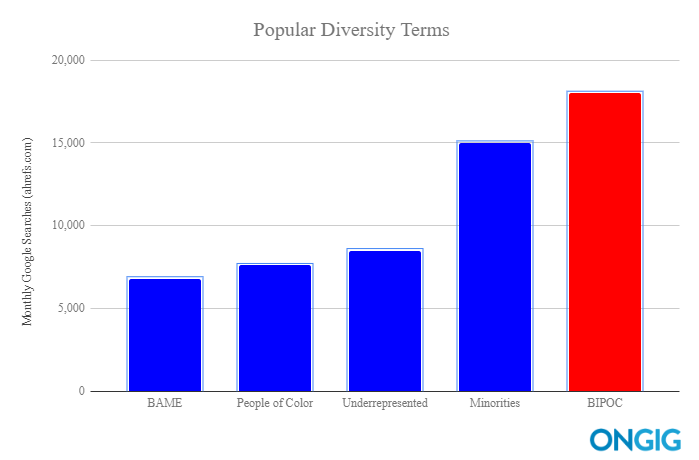 Questions about the BIPOC Acronym
In this post, we will answer some of the most-searched-for questions and phrases around the BIPOC acronym including:
"BIPOC meaning" (117,000 queries per month on Google)
"What does BIPOC stand for?" (8,000 queries/mo.)
"What does BIPOC mean? (4,500 queries/mo.)
"BIPOC definition" (3,700 queries/mo.)
"BIPOC define" (70 queries/mo.)
"BIPOC meaning definition" (30 queries/mo.)
"BIPOC stand for" (20 queries/mo.)
"What does the word BIPOC mean?" (10 queries/mo.)
BIPOC Meaning
What does BIPOC stand for? BIPOC is an acronym for Black, Indigenous, People of Color.
BIPOC (pronounced "Bye-Pock") is intended to be used in place of "people of color" and is more inclusive of underrepresented groups, according to Cindu Thomas-George, an Experienced Diversity, Equity, Inclusion Advisor, and professor of Communication Studies.
The BIPOC acronym first surfaced on July 31, 2013 on Twitter with this tweet:
Shout out to @EricPride @ToTNG @MissHC @Aim_4_Greatness & @headonist Thanks for supporting/following us #GrindToronto #BIPOC #Toronto

— GRIND (@GrindToronto) July 31, 2013
BIPOC gained a lot of momentum in May 2020 (see BIPOC: What does it mean and where does it come from?), around the same time as the Black Lives Matter movement starting growing across the United States.
<span data-mce-type="bookmark" style="display: inline-block; width: 0px; overflow: hidden; line-height: 0;" class="mce_SELRES_end"></span><span data-mce-type="bookmark" style="display: inline-block; width: 0px; overflow: hidden; line-height: 0;" class="mce_SELRES_end"></span>https://www.youtube.com/watch?v=VxTr-uucstU
CBS News has reported on the BIPOC acronym recently too saying that:
"People are using the term to acknowledge that not all people of color face equal levels of injustice. They say BIPOC is significant in recognizing that Black and Indigenous people are severely impacted by systemic racial injustices."
Verywell Mind's article on What Does the Acronym BIPOC Mean? defines BIPOC and breaks down the BIPOC acronym to explain what each letter means and why it is included:
"Blackrefers to mid- to dark-toned complexions who often have African or Caribbean ancestry and who are often the descendants of people who were enslaved. Indigenous refers to groups native to the Americas who were here before the colonization by Europeans. This includes Native Americans, as well as Indigenous peoples from the Americas who have later immigrated to the U.S. People of color is an umbrella term to refer to non-white individuals who often face discrimination. Non-white people include those who have Asian, Middle Eastern, Indian, and Pacific Island heritage, among others."
BIPOC vs POC
BIPOC is quickly being used as a replacement for POC (people of color) in the diversity and inclusion space.
POC has been used to identify any group of people that is not white.
In A Guide to Culturally Conscious Identifiers and Emojis, there are tips and suggestions for the proper use of BIPOC vs. POC (other diversity acronyms, and emojis). The blog says:
"BIPOC aims to offer more nuance and inclusion than POC…We use the term BIPOC to highlight the unique relationship to whiteness that Indigenous and Black (African Americans) people have, which shapes the experiences of and relationship to white supremacy for all people of color within a U.S. context."
In her YouTube video The Evolving Language of DEI: POC vs. BIPOC, Thomas-George gives a case for leaving "people of color" behind and using BIPOC to acknowledge the individual experiences, identities, and histories of Black and Indigenous People.
And it gets trickier. If you're in the UK, then the question is: Do I use BIPOC vs POC vs BAME (see below).
What does BAME stand for?
"BAME". The acronym BAME is mostly used in the UK and stands for Black, Asian, and Minority Ethnic.
Just like POC and BIPOC, BAME is an acronym being used to promote inclusivity and diversity.
In summary, BIPOC seems to be trending over POC to be more inclusive. But if you're in the U.K., then use BAME. Or the UK Government style guide suggests using "people with a mixed ethnic background."
The Bipoc Project
The BIPOC Projectis a Black, Indigenous, People of Color Movement focused on the positive aspects of the BIPOC acronym. Their goal is to build "authentic and lasting solidarity among Black, Indigenous and People of Color (BIPOC), in order to undo Native invisibility, anti-Blackness, dismantle white supremacy and advance racial justice."
The BIPOC Project's offerings include 3 half-day and full-day workshops designed for:
BIPOC leaders seeking to leverage their own identities as well as resources, tools and networks to advance anti-racist change;
Organizations looking to establish and run effective BIPOC affinity groups and caucuses as part of larger organizational initiatives to create multicultural anti-racist organizations;
Movements looking to mobilize diverse BIPOC groups around various issues and platforms; and
Groups seeking to integrate an intersectional analysis within BIPOC racial justice organizing.
BIPOC Controversy & Confusion
BIPOC has been met with confusion — and even controversy. As the New York Times reported, some people think that BIPOC means bisexual people of color.
Check out this tweet:
Not being cheeky, but I missed the memo on "BIPOC"; I'm assuming "Bisexual People of Color" with it being pride month and the bisexual memes in full force, but it's being used globally so figuring that can't be right

— Fenrir / #846 (@WolfmansBone) June 12, 2020
Some argue BIPOC is too broad?
Gabby Beckford a travel blogger from Packs Light, talks about why the terms BIPOC and POC cause confusion (seee Which is the correct term? Black vs. BIPOC vs. African American vs. POC vs. BAME). She instead recommends:
"When in doubt: be specific. Not simple enough? Basically, if you're talking about Asian issues, say Asian, if you're talking about Black issues, say Black—same goes for Indigenous-Americans, Latinx, Asian-American, African American, etc. Don't be lazy and use terms like BIPOC or POC when you really should be more specific because it erases that specific races' history and unique voice. When you're referring to a specific daughter or son's grades you don't say "the kids got a D in Biology". Be specific!"
Janus Adams, a key figure in the desegregation of NY city schools, believes that the term BIPOC is a distraction. His thoughts were recently quoted on CBS News:
"As long as this country has been in existence, it's been a racial moment. The idea that White people are White people, but everybody else is a group? I have no problem with that for an alliance or organization because there are similar experiences of racism. But the idea that identity should be conflated, I think is ludicrous."
Adams thinks identifying Indigenous Americans by their individual tribes is more acceptable.
But BIPOC has its defenders:
Confusion can cause controversy, and there are people who see the pros for using BIPOC, but others not so much. A recent article from Her Campus thinks in order to embrace diversity, why not use BIPOC until we find something better:
"Black people and indigenous communities have been through quite a lot and if just slightly adjusting our languages makes them feel seen, then what really is the price? Even if there will be another more evolved term to use, we don't have it yet and we do have this one!"
Will BIPOC become a standard?
Despite its controversy, "BIPOC" and "Black, Indigenous, and People of Color" is starting to show up more often in job descriptions and in diversity goals at top companies. DocuSign's search for an Inclusive Talent Director lists "Development for Underrepresented and BIPOC Employees" under job responsibilities.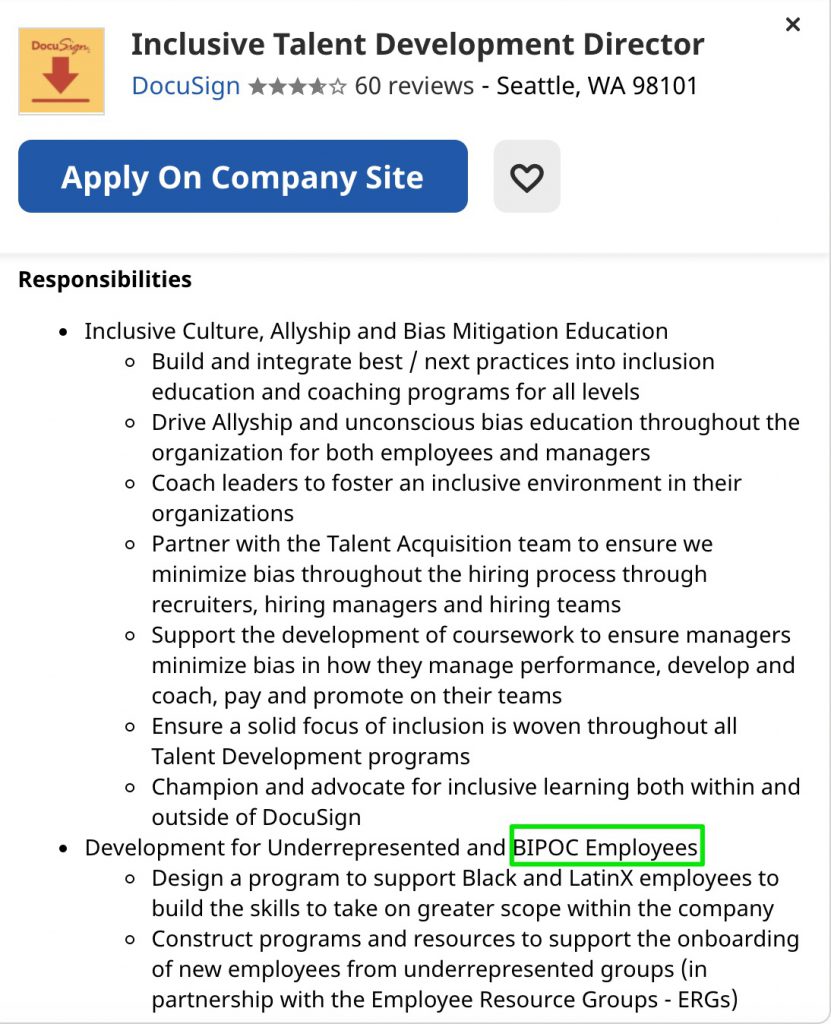 According to Business Insider, 60 companies including Adobe, Best Buy, and Ralph Lauren commit to interviewing at least one BIPOC candidate for every senior level job. Because the diversity and inclusion landscape is constantly changing, and some consider the BIPOC acronym to be divisive, it is unclear if BIPOC will go or stay, but we definitely have our eye on it.
WHY I WROTE THIS
With Diversity and Inclusion in the spotlight, employers need to optimize their diversity strategy. Ongig gives employers the ability to create landing pages/microsites and more diverse job descriptions with our Text Analyzer by eliminating bias of all kinds.
SHOUT-OUTS