How would you like 70%+ more quality candidates surfing around your career site? If yes, you're going to want to read on!
On Oct. 12th, As I strode over from the old-fashioned MGM Grand hotel (where I was staying) to the tony Venetian Resort on the Vegas Strip, I was more than a bit nervous.
I was about to speak at Google's booth at the HR Tech show about the future of job search. Speaking about Search with Google is sort of like chatting about gravity with Isaac Newton.
But my nervousness quickly turned to excitement as I stepped on stage of their Booth's mini-theatre…because my message was simple and I had data from 140,000 job search queries to prove it!:
"Career Site Job Search is Dead"
The job search you employers offer candidates to find a job on your career site is dead.
Caput.
Google is nailing the first nail in the old career site job search's coffin with their newest A.I technology (A.I job search was the very topic that Google invited me to speak about at HR Tch). Disclaimer: Ongig and Google are partners on this A.I.-based job search.
First, let's do a little post-mortem on current career site job search.
Why the Old Job Search is Dead
The search technology is so bad that many company career sites have to force the candidate to jump through hoops before they see a job.
For example, a handful of you might ask a candidate whether they are entry-level or experienced or based in the U.S. or Overseas (and, in retail, employers often force the candidate to pick "Corporate Careers" or "Restaurant Employment")

That's immediate friction so you've begun the candidate experience off on the wrong foot (the busiest/best candidates require the least friction!).
But perhaps you don't have that problem with your job search.
Still read on…
Chances are that many of your job search pages bring up multiple fields that the candidate has to consider.
Does this Taleo-based job search look familiar?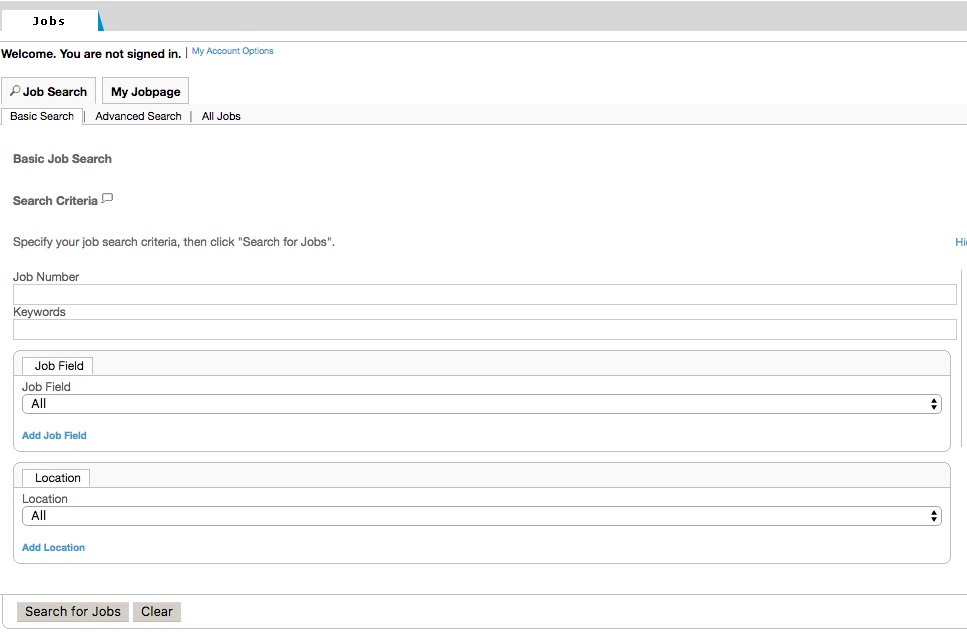 …or how about this one from Kenexa-Brassring: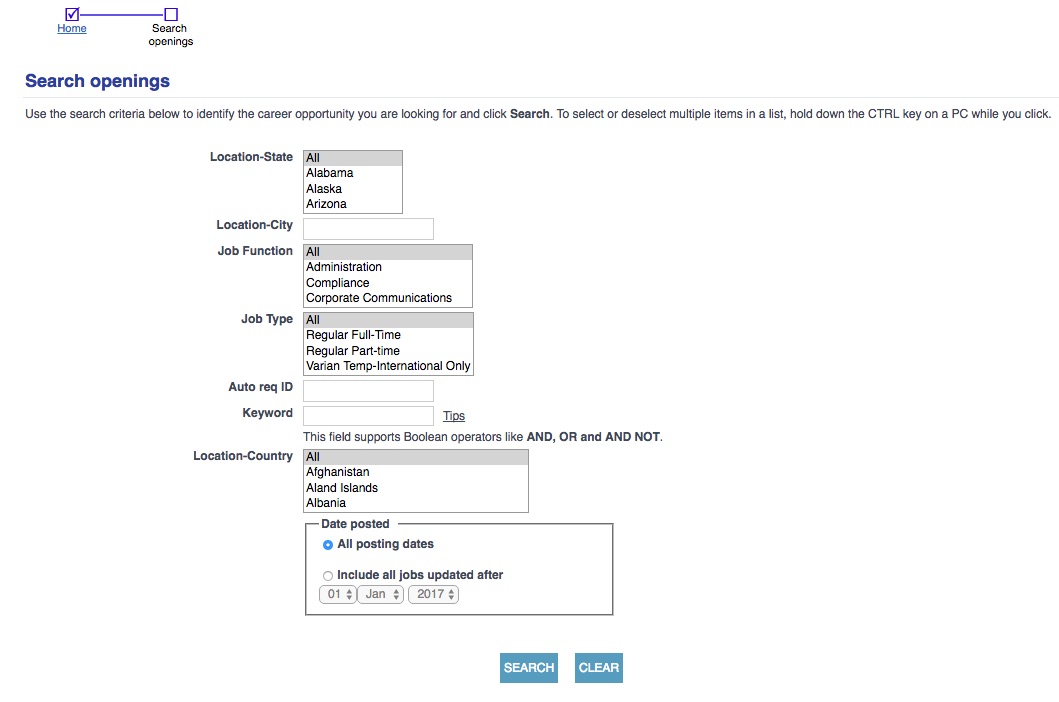 How many of the best candidates do you think will take the time to do such a complex search?
The candidate suddenly feels like they're standing in line at the DMV (if you're a reader outside the U.S., "DMV" = Department of Motor Vehicles (notorious for long lines).
Ok, perhaps some of you might think you're out of the woods cuz you've reduced the search fields to just two fields (typically "Keyword" and "Location") like Midmark below.

While that certainly looks better, I will show you below how the candidate experience, if a candidate fills out those fields, is still poor.
The Main Problems with Applicant Tracking System Job Search
The problem is that most employers rely on their ATS for their job search.
And this is not to pick on ATS's — they are designed to "track" (not "attract") candidates. ATS's have a host of other important features to build and keep up for you.
If you're using your ATS's job search technology/approach (or even some customized version of it) then chances are your search is limited to what some call "keyword-only search" and are seeing the following problems:
Too Many False Positives — Keyword-only job search typically only gives you an exact match type result. E.g. If a candidate searches "Sales" they are going to get only jobs that mention the word "Sales" somewhere in their job description. That creates a ton of "false-positives" such as showing you jobs with sales in the title that aren't a pure sales job (e.g. "Sales Engineer"); or even any job that mentions "Sales" such as a customer service job whose job description mentions supporting the "Sales" team.
Abbreviations are Missed — Candidates also often search for jobs using abbreviations or acronyms. They may search "SW Dev" for a Software Development job and will almost always get zero results from keyword-only search.
Concepts are Missed — Candidates also do "concept searches" such as "Manufacturing Jobs in Texas" or "Biz Dev near me". A.I.-based job search understands that "NYC" should include nearby surround areas like New Jersey and Long Island (not just New York City).
Misspellings — Plenty of candidates misspell words (e.g. "Huoston" instead of "Houston"). Old Job Search misses those 99% of the time.
Dumb Search — Keyword-only search also doesn't get smarter. E.g. If a candidate searches for "SW Dev", doesn't see any results but then searches "Software Development" and DOES get a positive job result…the keyword-only job search system doesn't learn this pattern (i.e. next time a candidate searches "SW Dev" they will still get zero results!
Heck, a VP of Partnerships at a public company even told me that he couldn't find his own jobs (ones he was trying to fill!) when he searched on his applicant tracking system job search!
How's that for crappy candidate experience.
We are Now a 1-Click World
Enter Google. Google has changed everything related to how we search for things.
You type in some words and click (or tap).
Question: In all of your Google searches, what % of time have you NOT found something valuable related to your search? For me it's about 1%.
And wouldn't you agree that Google searches are getting better (not worse) over time?
That's why our Ongig team is super-proud about partnering with Google on the new Artificial Intelligence-based technology called Cloud Job Discovery. Ongig can now offer a vastly improved company career site job search to job seekers, candidates, and employers.
The Future of Career Site Job Search is…Now!
Some people call this new approach to job search "intuitive search" or "A.I.-based job search".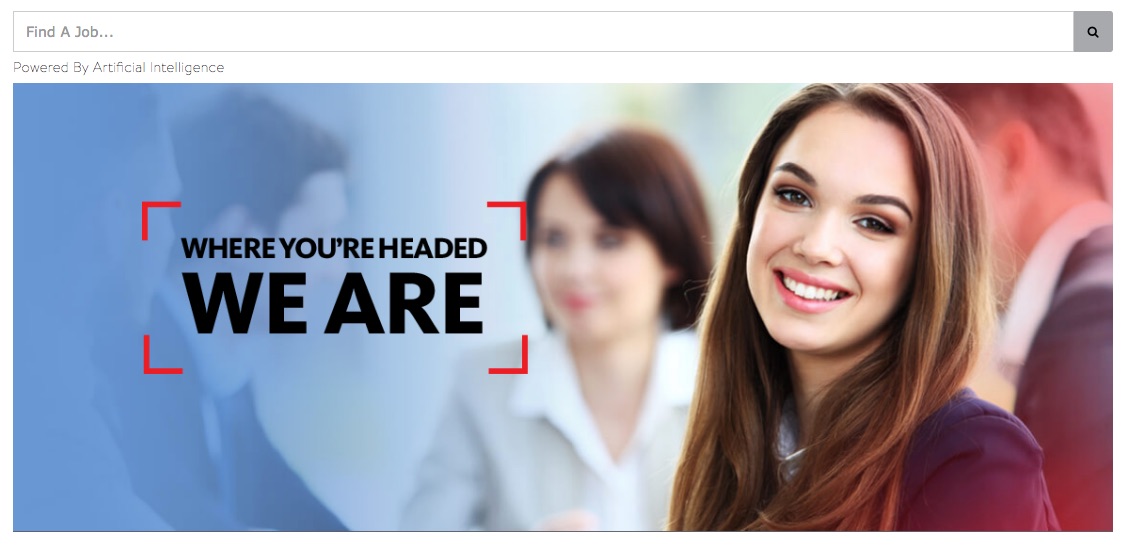 Either way, the candidate experience is now much better.
Some highlights of how career site job search will now be better and why you should care:
Just One Click — The candidate won't be forced to jump through hoops (there will be just one search box (à la Google)).
False Positives Reduced — The technology is smart enough to know that a candidate searching "Sales" is more likely to want a sales job than some random job that mentions "Sales" in it — so you'll see the Sales jobs first!
Abbreviations Understood! — Abbreviations of most kinds are understood. The candidate can type in short-hand.
Concepts are Understood! A candidate can search your jobs just like they would search Google (using a string of words such as "Software Developer near Seattle")
Misspellings — The search technology now knows many of your misspellings and will give you the results as if you were the world's best speller.
It Gets Smarter! — This search technology uses "machine learning", meaning that the system learns what candidates want and don't want and gives them better and better results.
But who cares about features if you don't get bottom-line results.
Boosting Traffic by 73% & Applications by 31%!
Back to the Venetian Resort in Vegas where I was wrapping up my talk at Google's booth.
I had just showed the employers in the audience how Ongig A/B Split-tested 140,000 candidate searches using the new Google-based A.I-based technology…with amazing results:
The number of job searches rose 73.8%
The number of applications rose 31.2%
You can see why my nervousness had quickly melted away. I had just shown employers how they can truly move the needle on 2 things most every head of recruiting cares about: Pipeline and Candidate Experience.
There's nothing like delivering some positive news to get a crowd on your side!
If you want to boost traffic and applications to your company career site, please ping me at rob@ongig.com, message me on LinkedIn, or Request a Demo. I'd love to show you how you can experience the same amazing results.