Forty-two percent of the Fortune 500 use a career site self-service tool for a reason. It lets them change their career pages on the fly. That lets you solve just about any recruiting-related problem.
Need a new Interns page: Bam! Need a new diversity page: Bam! Need to leverage the newest AI search technology from Google: Triple Bam!
Here are 12 top career site self-service tools:
Headline: Transform your career site and your job postings
Sub-Headline: Ongig's Career Site Builder gives you A.I.-based career site job search (in partnership w/ Google) and the #1 most dynamic job postings in the world.
Ongig Career Page Design Features:
Artificial intelligence-based job search partnership with Google
Image, brand-enhanced, and video job descriptions (with media library!)
SEO & Mobile-optimized
Recruiting widgets like Google Maps, Glassdoor, Talent Community, and walkability scores
Email job alerts
Auto-generated landing pages with a career page website template
Source-tracking analytics including apply rates
Diversity & Inclusion/JD Rewriting — Option to add Text Analyzer to eliminate bias and enhance job description writing
Headline: How do you immerse someone into your company — before they've walked in the door.
Sub-Headline: Showcase your culture, your leadership, your development opportunities, and pathing. And pair your jobs with relevant content that tells your story. Your TalentBrew Career Site is the nucleus of your engagement strategy – filled with insights that captivate and inspire candidates to act.
TalentBrew Career Web Page Design Features: 
Active job feed with faceted search
Job alerts and talent community
Self-service design with branded templates
Quarterly analytics
Widgets and external site portability
Headline: Phenom career sites
Sub-Headline: Attract and engage candidates with personalized job recommendations and content
Phenom People Company Career Page Design Features: 
Employer branding
Seamless apply process
Best-fit job recommendations
Recruiting chatbot
Digital accessibility
Headline: Create World-Class Career Sites that Reinforce your Brand
Sub-Headline: Powered by machine learning and optimized for Google, iCIMS Attract enables employers to find and engage job seekers and connect them with roles that need to be filled.
iCIMS Career Page Inspiration Features: 
Powered by machine learning and Google optimized
End-to-end analytics with dashboard
Intuitive job search
Recruitment landing pages
Career site branding
Note: iCIMS Attract is based on Jibe Software, a candidate experience solution iCIMS acquired.
Headline: Bold and Beautiful
Sub-Headline: We build beautiful career sites with purpose, from search through application. Because when talent finds what they need, you get the talent you want.
SmashFlyX Website Career Page Design Features: 
Real-time chat assistant
Personalized content and landing pages
Cohesive branding
Enhanced job descriptions with rich content
Conversion tracking
Note: SmashFlyX is a solution that Symphony acquired when it bought Smashfly Technologies, an employer brand, and candidate experience tool.
Headline: Make a first impression that lasts.
Sub-Headline: Showcase your unique employer brand, provide individualized experiences to every candidate and get insight to drive improvement.
Beamery Career Landing Page Features: 
Purpose-built branded career site self-service tools
Dynamic individualized content
Flexible editing and content arrangement
SEO search capabilities
Multilingual and accessible
Headline: Enhanced Responsive Career Site
Sub-Headline: A core component of the platform, Clinch's machine learning-powered career sites are designed to precisely match the corporate look and feel for a seamless candidate experience.
Career Opportunities Web Page Features: 
SEO optimized and accessible career page template
Unlimited pages and microsites
Dynamic content and personalization
Full blogging engine for career site self-service
AI-powered candidate experience
Note: Clinch is a candidate experience solution that was acquired by PageUp.
Headline: Attracting Talent
Sub-Headline: Talemetry Career Sites empower you to recognize, recommend and deliver relevant, targeted mobile and social-friendly content that showcases your employer brand, so you can engage and convert talent on an individual level.
Talemetry Career Page Design Features: 
Targeted mobile and social-friendly content
SEO sites and job listings
Google machine learning
Employer branding
Talent network promotion to passive candidates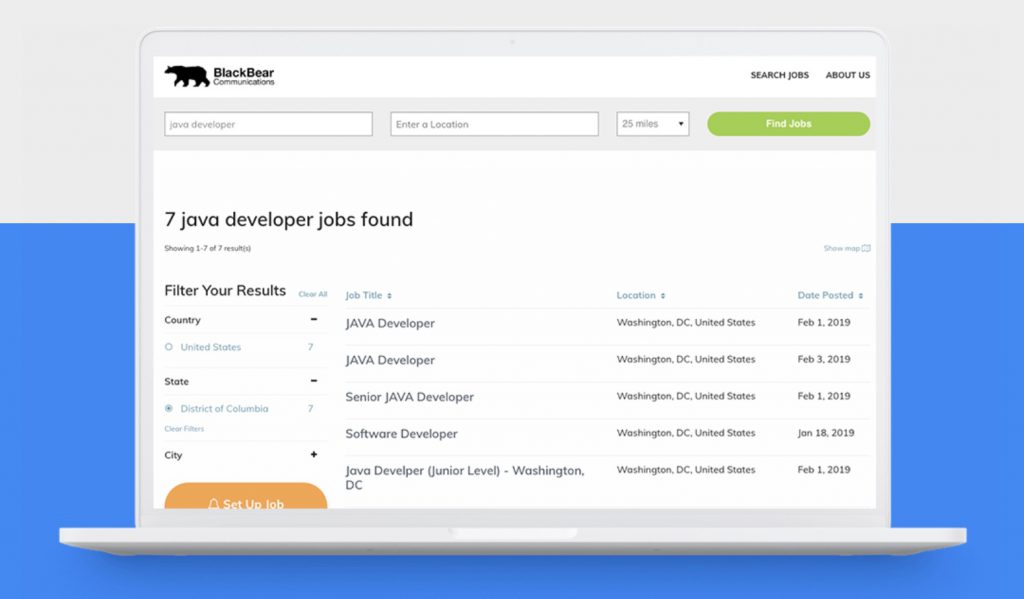 Note: Talemetry is a candidate experience solution that was acquired by Jobvite.
Headline: A Comprehensive Toolset to Attract Talent & Broadcast Your Employment Brand
Sub-Headline: Today's workforce is socially-savvy, making it critical to have a seamless candidate experience that offers an engaging, mobile responsive application and a comprehensive social recruiting strategy to compete for top talent.
Career Page Inspiration Features:
Custom career pages
Job board integrations
SEO support
Talent community campaigns
Referrals engine
Headline: Candidate experience starts with your personalized career site
Sub-Headline: Hire more inbound applicants with Eightfold AI
Company Career Page Features:
Job matching
Integrated chatbot
Personalized talent acquisition content
Qualifications and requirements transparency
Built-in SEO
Headline: Talent Relationship Management
Sub-Headline: Talent is ideas, creativity, insights, knowledge, and leadership. Identify and nurture top talent and there's no end to what they'll accomplish.
Career Page Design Features: 
Mobile-responsive sites
Candidate profile dashboard
Linkedin application integration
Mobile device applications
Career-immersive designs
Headline: Creating bold experiences, one career site at a time.
Sub-Headline: Ruffling feathers with modern design and innovative technology to create bold creative experiences–accessible by all.
Recruit Rooster Career Page in Website Features: 
Google talent job search
Vibrant videos and photos
Broach candidate audience reach
Career site self-service templates
Performance-tracking analytics
Why I wrote this
Company career pages are aa large part of digital recruiting. The goal is to attract and engage candidates and get them to apply. Ongig's Career Site Builder helps employers create awesome job pages with career site self service tools, artificial intelligence-based search, instant microsite pages, and dynamic job descriptions.