What are the best insurance job titles? I reviewed 50+ of the most-searched-for by candidates (and employers!) to find out. This is the latest chapter in Ongig's series called Job Titles: The Definitive Guide.
In this article, you'll find:
The top 20 most-searched-for insurance agency job titles — A column chart of the top 20 insurance positions titles candidates search for on Google.
5 insurance job titles and descriptions — A list of the top 5 insurance agency job titles and descriptions employers request.
Insurance brands who use these top job titles on their career page, Indeed, or LinkedIn.
The difference between insurance agent and broker.
A comparison of underwriter vs actuary — are they the same?
Note: Many insurance job titles are used across different industries (e.g., health insurance agent, life insurance underwriter, home insurance broker, etc.). For the purpose of this article, I focus on general insurance job titles and descriptions.
The Top Insurance Job Titles Candidates Search For
Below is a list of the top 20 insurance agency job titles that candidates search for on Google (source: ahrefs). I found this by measuring # of searches for "[Insurance Job Title] Jobs" — it's fair to assume most of those queries are by candidates.
The Top Insurance Positions Employers Need to Fill
While candidates search for the 20 jobs above, employers tend to care most about filling just 5:
Insurance Agent
Actuary
Claims Adjuster
Insurance Underwriter
Claims Adjuster Trainee
I got that data by looking at ahrefs and plugging in "Name of Insurance Job Title" and the phrase "Job Description" — then measuring how many Google queries there are per month for each. It's not perfect — but it's fair to assume such queries are made by employers looking to write an insurance job description.
Here's the breakdown of searches: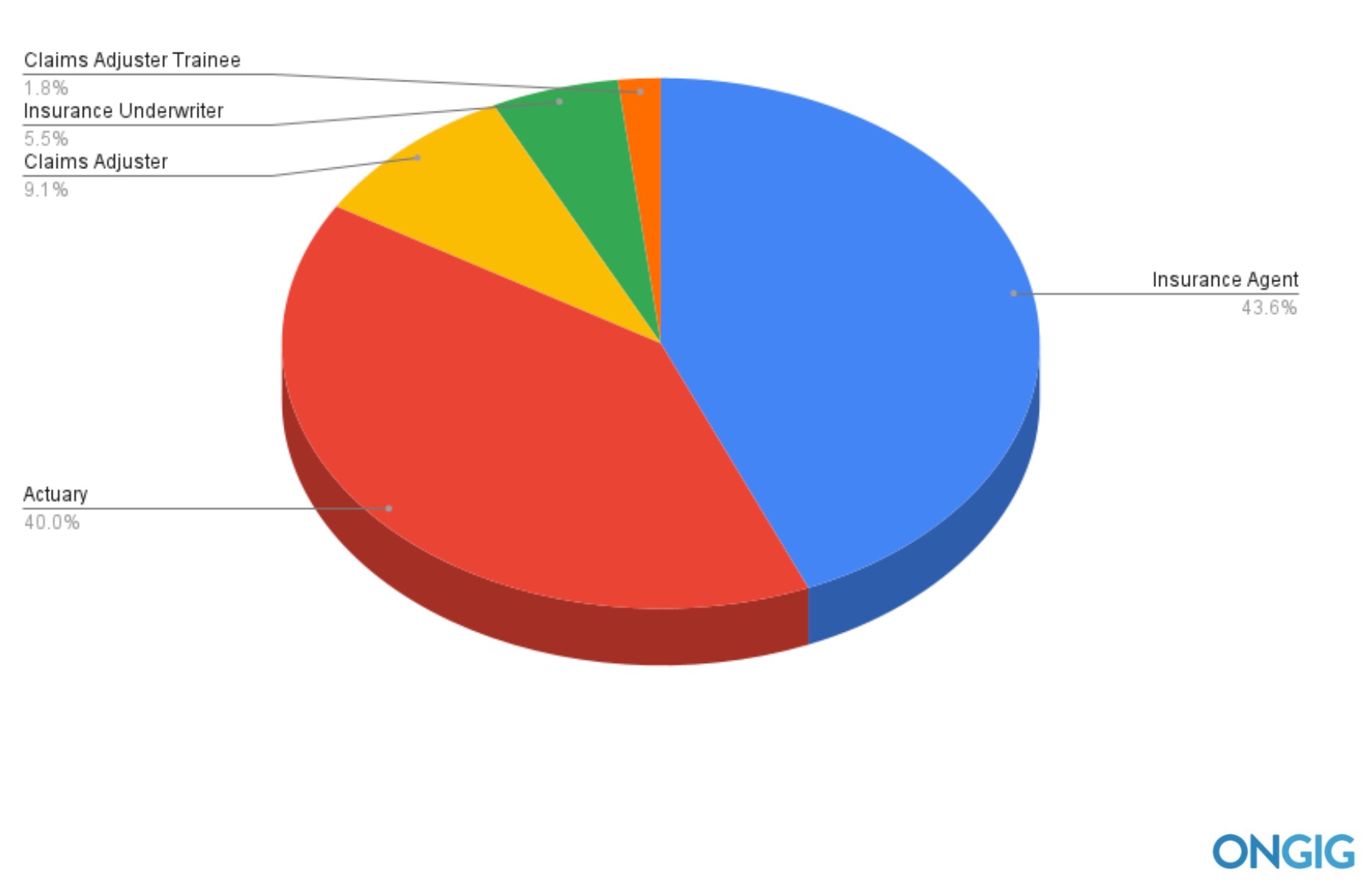 Here are 5 mini descriptions for the insurance positions titles most-searched by employers, along with:
examples of brands that use each title
alternative job titles (& brands that use them)
the # of searches per month on Google for each
Insurance Agent
An insurance agent sells insurance plans to meet the needs of their clients. Examples of insurance they sell are life, health, property, business & more. Insurance agents either work for larger companies or are self-employed.
Some insurance job duties for an agent are:
Creating custom insurance plans for clients
Completing paperwork to initiate new plans
Calculating premiums and payment options
Attending networking and informational events
Brands like AAA, Allstate, Colonial Life, and Farmers Insurance use "insurance agent" as a position title.
Alternative titles & brands using them:
Insurance Broker (GP Finacial)
Insurance Product Manager (Edward Jones)
# of job title searches per month: 1,200
Actuary
An actuary assesses risks by using statistics, financial theories, and mathematics. There are many types of actuary jobs, depending on the industry. The most common duties to list in an insurance actuary job description include:
Estimating the success or probablity of decisions
Cost projecting for events like natural disasters, deaths or sicknesses of employees
Designing strategies and insurance policies to reduce financial risks
Aon, Blue Cross Blue Shield, and Kaiser Permanente use "actuary" as a job title.
Alternative titles & brands using them:
Actuarial Analyst (AIG)
Chief Actuary (GE Capital)
Insurance Actuary (Liberty Mutual)
# of job title searches per month: 1,100
Claims Adjuster
A claims adjuster evaluates insurance claims to determine who is liable. To make these decisions, they are tasked with:
interviewing witnesses
reviewing police reports
compiling evidence from various sources
creating reports detailing damages related to a claim
reviewing policies to know what is covered (or not covered)
A claims adjuster also negotiates claims and manages payouts to policyholders for government organizations, insurance agencies, health insurance carriers & more.
Brands like Liberty Mutual, Travelers, QBE Insurance use "claims adjuster" as a position title.
Alternative titles & brands using them:
Claims Specialist & Claims Manager (Nationwide)
Claims Analyst (Centene)
Insurance Adjuster (USAA)
Claim Adjuster (Farmers Insurance)
Claims Representative (GEICO)
# of job title searches per month: 250
Insurance Underwriter
An insurance underwriter uses data and special software to evaluate and analyze risk when insuring people or assets. Insurance underwriters also create pricing plans for acceptable risks. They also reimburse clients based on their insured amounts in the event of damage or other issues.
CSAA, Progressive Insurance, and State Farm use "insurance underwriter" as a job title.
Alternative titles & brands using them:
Chief Underwriting Officer (AIG)
Underwriter (The Hartford)
# of job title searches per month: 150
Claims Adjuster Trainee
A claims adjuster trainee (also known as an insurance intern) supports a licensed claims adjuster. Some common tasks for this role are:
performing research on various types of insruance claims
investigating claims to determine the cause of an event
interviewing witnesses or claimaints for liability purposes
assisting with negotiations and claim settlements
Allstate, Gallagher Bassett, and Progressive Insurance use "claims adjuster trainee" as a position title.
Alternative titles & brands using them:
Adjuster Trainee (Progressive Insurance)
Insurance Adjuster Trainee (Sentry Insurance)
Insurance Intern (AIG)
# of job title searches per month: 50
2 common questions about insurance job titles
These 2 questions came up the most during my search for the best insurance job titles:
1. What's the difference between insurance agent and broker?
Insurance agents and insurance brokers are the same, depending on who you ask. They both technically "sell insurance" in some way. But there are differences:
— Agents represent insurance companies. Brokers represent their clients.

— Brokers have a fiduciary duty to their clients, which agents do not. This means that agents do not play an advisory role in the process as brokers do. Agents can explain the coverage in detail but in the end, it's up to the person or business purchasing the coverage to decide whether the insurance product fits their needs properly.

— Agents can bind coverage since they work for the insurer, brokers cannot. This means that when a customer is ready to buy from a broker, the broker must obtain a binder from an insurance agent or directly from the insurance company.

— Certain agents may be obligated to sell specific insurance products, brokers do not have such requirements.

source: Embroker
2. Underwriter vs actuary — are they the same?
The difference between underwriter vs actuary causes confusion, even for seasoned insurance professionals. Here's why they aren't the same:
| Underwriter | Actuary |
| --- | --- |
| must pass an accredited program, plus on-job training with certified underwriters | must pass 10 exams to be qualified |
| receives an applicant's application for insurance and decides if the applicant is insurable or not | determines appropriate premiums to charge based on different characteristics, like gender, age, income, and geographical location |
| Underwriters with experience often become actuaries. | Actuaries are often more qualified/certified than underwriters. |
source: LinkedIn
Why I wrote this?
Part of Ongig's mission is to help you create better JDs. Job titles are a huge part of that! Check out Text Analyzer to see how our software transforms your job titles and job descriptions.
Shout-Outs